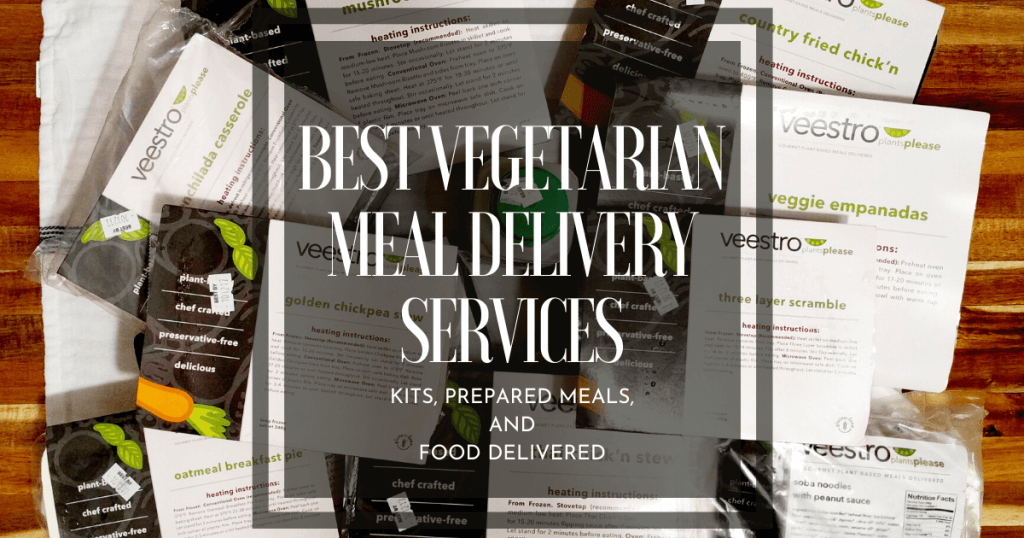 Best Vegetarian Meal Delivery Services
| | | | |
| --- | --- | --- | --- |
| Service | Type | Starting Price | Summary |
| Purple Carrot | Meal Kit | $ 9.99/serving | The 2-serving plan comes with three dinners per week, and the 4-serving plan comes with two dinners per week. Add breakfasts, lunches, and snacks to either plan as needed. |
| Sun Basket | Meal Kit | $ 10.99/serving | Choose a plan with 2, 3, or 4 dinners per week and 2 or 4 servings per meal. |
| Green Chef | Meal Kit | $ 9.99/serving | With the 2-person plan, get three dinners for two people per box; with the 4-person plan, get two dinners for four people per box. |
| Blue Apron | Meal Kit | $ 7.49/serving | Choose the 2-serving plan with 2 or 3 recipes per week or the 4-serving plan with 2-4 recipes per week. |
| Marley Spoon | Meal Kit | $ 6.99/serving | Plans for 2 or 4 people, with 2-4 meals per week. |
| Gobble | Meal Kit | $ 11.99/serving | Choose a plan with three or four dinners per week and two or four servings per meal. |
| Hello Fresh | Meal Kit | $ 7.49/serving | With the 2-person plan, receive between 2-5 recipes per week; with the 4-person plan, receive two or three recipes per week. |
| Dinnerly | Meal Kit | $ 4.29/serving | The 2-person box includes 3-6 recipes per week; the family box (4 servings) includes 3-6 recipes per week. |
| One Potato | Meal Kit | $ 7.32/serving | Choose a plan with 2 or 3 dinners per week and between 2-6 servings per meal (this plan is excellent for larger families!). |
| Snap Kitchen | Prepared | $ 9.58/meal | Choose a plan with 6 or 12 meals per week. |
| Splendid Spoon | Prepared | $ 9.00/meal | Choose the breakfast + lunch plan (5 smoothies + 5 bowls), lunch-only plan (5 bowls), or the breakfast + lunch + reset plan (5 smoothies + 5 bowls + 1 full-day reset). |
| Trifecta | Prepared | $ 10.29/meal | Choose a 5- or 7-day plan, with your choice of between 1 and 4 meals per day. |
| Fresh N' Lean | Prepared | $ 9.33/meal | Choose a 5- or 7-day plan with your choice of 1, 2, or 3 meals per day. |
| Factor 75 | Prepared | $ 11.00/meal | Choose 4, 6, 8, 12, or 18 meals per week, then customize your box with desired breakfast, lunch, and dinner entrees. |
| Sprinly | Prepared | $ 16.06/meal | Choose a plan with 6, 12, or 18 meals per week. |
| Freshology | Frozen | $ 8.57/meal | Choose a 5- or 7-day plan, with two or three meals per day |
| Daily Harvest | Frozen | $ 7.99/meal | Choose a weekly subscription with 9, 14, or 24 items per box or a monthly subscription with 24 items per box. |
| Revive Superfoods | Frozen | $ 4.99/meal | Choose a weekly subscription with 9, 12, or 24 cups per box or a monthly subscription with 12 or 24 cups per box. |
| BistroMD | Frozen | $ 9.50/meal | Choose a 5- or 7-day plan, with breakfast, lunch, and dinner or just lunch and dinner. |
| Plantable | Frozen | $ 12.92/meal | Get started with the Quickstart (1-week) or Reboot (4-week) program, or order a la carte with the Build Your Own Box option. |
| Veestro | Frozen | $ 11.00/meal | The A La Carte and Chef's Choice plans come with 10, 20, or 30 meals per delivery. The 5- and 7-day Weight Loss Plans come with 15 and 21 meals, respectively. |
What is Vegetarianism?
For some, vegetarianism is a diet; for others, it's a lifestyle. In general, vegetarians don't consume meat, whether it's red meat, poultry, seafood, fish, or any other animal killed for food. However, there are no clear-cut lines to define vegetarianism. Some people are lacto-vegetarians who eat dairy; some are ovo-vegetarians who eat eggs; and others are lacto-ovo vegetarians who consume both dairy and eggs. Pescatarians will eat fish and seafood, pollotarians will eat chicken, and semi-vegetarians mostly eat a plant-based diet but will eat some meats. But whatever their preference, each vegetarian avoids meat to some extent based on health, religious, spiritual, environmental, cultural, or ethical considerations.
What are the Benefits of a Vegetarian Lifestyle?
In general, vegetarianism is considered one of the healthiest lifestyles and diets. But there are also significant environmental benefits, and for some, an additional perk is a happier wallet. Let's investigate some of the most common benefits of eating a vegetarian diet:
Health Benefits
The health benefits of being a vegetarian include lower risks of cardiovascular disease, cancer, and diabetes.
Heart Health
Eliminating red meat intake can help preserve heart health. Several studies have linked red meat to increased risk of cardiovascular disease due to meat's high levels of saturated fat.
Reduced Threat of Cancer
For many years, experts have associated meat consumption with an increased risk for cancer. Studies have found evidence that the incidence of overall cancer is lower among vegetarians. The phytochemicals in plants help protect cells from damage and inflammation.
Lower Risk of Type 2 Diabetes
Because vegetarians consume more whole grains, vegetables, fruits, legumes, and nuts while eating less unhealthy fats, they are less likely to have type 2 diabetes. According to the National Center for Biotechnology Information (NCBI), a vegetarian diet may be more beneficial than medication for diabetes management.
If you're a vegetarian for health reasons, that doesn't mean it's okay to replace meat with processed foods. Focus infusing your diet with a variety of whole veggies, fruits, grains, seeds, and nuts and get plenty of exercise. Make sure you get sufficient nutrients to stay healthy. It's a good idea to ask your healthcare professional about supplements, especially Vitamin B12, which you'll only find in animal products.
Environmental Benefits
Vegetarianism is a more ecologically-sustainable eating option. The majority of meat on U.S. tables comes from animals raised in factory farms. Animals are crowded in tight spaces and given antibiotics to prevent diseases caused by overcrowding. They often receive growth hormones that allow them to fatten quickly. To compound things, these animals often feed on sewage sludge and grains that cause intestinal problems.
The result of factory farm breeding is animal suffering, significant pollution to groundwater, streams, rivers, and a massive impact on greenhouse gas emissions. These practices produce more greenhouse gases than all the world's transportation systems combined. Each time you replace one pound of beef with one pound of vegetables, it saves a whopping 1,850 gallons of water.
Happier Wallet
Eating a veggie diet might seem pricey, especially if you buy organic. But when you compare the average cost of $8 per pound for meat to 75 cents per pound for carrots or $2 for a head of cauliflower, you can easily understand how the savings add up.
Vegetarian Meal Kits
Cooking healthy, delicious meals that align with your vegetarian lifestyle is hassle-free and even fun with a vegetarian meal kit – no meal planning and no grocery shopping – just quick cooking and delicious eating. When you get vegetarian meals delivered, there's no more worrying about what to eat or how to prepare it. Top-quality fresh ingredients and step-by-step easy to follow recipes are delivered right to your home. From doorstep to table, most of your meals will be ready to eat in 30 minutes or less.
Convenience and quality arrive all wrapped up in one vegetarian meal box. Recipes are custom designed by in house nutritionists and professional chefs who work hand-in-hand to ensure that each meal is nutrient-dense, balanced, flavorful, and easy to cook. Whether you're an experienced cook who simply doesn't have time to meal plan and shop or a newbie cook who needs some support, you can't go wrong with the following vegetarian meal kit services.
Purple Carrot
See Purple Carrot reviews here
Purple Carrot is a plant-based vegetarian meal service that offers breakfast, lunch, dinner, and yummy snacks delivered to your door weekly. Click 'Pricing' on the home page and select either the 2- or 4-person plan. Though all Purple Carrot's meals are vegetarian, you can additionally set your account to default to recipes that are High-Protein, Quick & Easy, Gluten-Free, or Chef's Choice. Or, you can completely customize your order each week.
Spicy Almond Butter Noodles with Gai Lan & Yellow Squash and Gnocchi Al Pesto with Charred Green Beans & Lemon Zucchini are just a couple of the tempting dinners you'll find on the menu. Breakfast options range from Golden Milk Chia Pudding to Kale and Tempeh Chorizo Scramble. On the 'Menus' page, just click on the meal image to view each recipe along with a detailed ingredients list.
Meal Plan Summary: The 2-serving plan comes with three dinners per week, and the 4-serving plan comes with two dinners per week. Add breakfasts, lunches, and snacks to either plan as needed.
Price: Starting at $9.99/serving (for the 4-serving plan).
Delivery Area: Purple Carrot delivers everywhere in the contiguous U.S.

Sun Basket
Offering USDA organic ingredients in all its breakfasts, lunches, and dinners, as well as snack options, Sun Basket also provides a Vegetarian Meal Plan. Find the vegetarian menu by clicking 'Menu' on the home page, then under 'Dinners,' select 'Vegetarian.' You can additionally sort meals by cooking time, calories, and dietary preferences. Start your subscription by selecting 'How it Works' from the home page navigation bar. You'll choose two or more dinners from the weekly menu, with the option to tack-on additional meals or snacks.
With pre-prepped meal kits and new oven-ready meals, Sun Basket's tantalizing dishes come together quickly. Try the mouthwatering Mushroom Tostadas with Pinto Beans and Cabbage Slaw or Pappardelle with Wilted Spinach, Sweet Peas, and Fresh Ricotta. Add a variety of snacks like dairy-free yogurt, oatmeal cups, wellness shots, soups, bowls, and homemade sauces to round out your order.
Meal Plan Summary: Choose a plan with 2, 3, or 4 dinners per week and 2 or 4 servings per meal.
Price: Starting at $10.99 per serving.
Delivery Area: Sun Basket delivers everywhere in the contiguous U.S., except for parts of Montana, North Dakota, and New Mexico.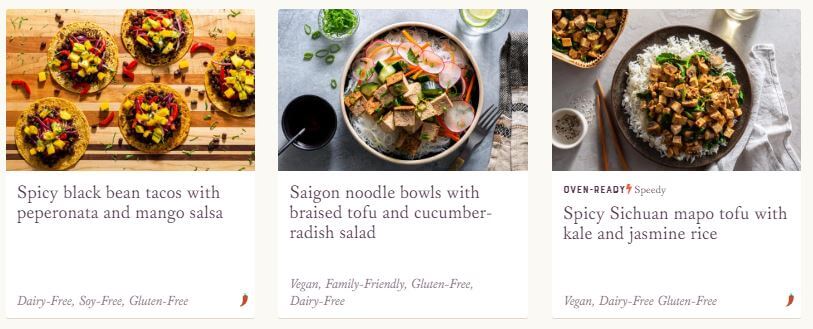 Green Chef
Proudly certified organic by the USDA, Green Chef delivers sustainably-sourced ingredients along with tried-and-true recipes for you to create delicious, homemade meals easily. While Green Chef offers meal plans that work with several diets, the company has one that caters specifically to vegetarians. On the navigation bar, click 'Menu' then select 'Plant-Powered.' This plan offers vegetarian and vegan main and side dishes with three recipes per week; each recipe has two servings. Even if you're cooking for one person, this plan is great because you'll cook both servings at once and enjoy the leftovers for lunch or dinner the next day.
Each week you'll select from seven vegetarian recipes which you can combine into delicious meals like Artichoke 'Crab' Cakes with Quinoa, Sautéed Zucchini, and Walnuts. The Cheesy Pesto Veggie Paninis are easy to cook and look scrumptious. Shipping is a flat fee of $7.99, and you can cancel your subscription at any time.
Meal Plan Summary: With the 2-person plan, get three dinners for two people per box; with the 4-person plan, get two dinners for four people per box.
Price: Starting at $9.99 per serving (for the plant-powered plan).
Delivery Area: No input

Blue Apron
At Blue Apron, farm-fresh is front and center as it celebrates the best of seasonal harvests. This weekly subscription service requires no commitment, so with a week's notice, you can cancel, pause, or skip a week. The Vegetarian Plan includes either two or three recipes per week. Each recipe serves two people and shipping is free. Blue Apron also offers vegetarian Blue Apron X Beyond Meat recipes on its Signature Plan.
Click 'On the Menu' from the navigation bar, then click on '2 Serving Vegetarian' to see the delicious dishes you'll make with farm-fresh ingredients. Some of the recipes you might whip up include Black Bean & Caramelized Onion Tacos with Roasted Zucchini or Pesto & Goat Cheese Fettuccine. Most recipes require between 25 to 45 minutes to cook.
Meal Plan Summary: Choose the 2-serving plan with 2 or 3 recipes per week or the 4-serving plan with 2-4 recipes per week.
Price: Starting at $7.49 per serving (for the 4-person signature plan).
Delivery Area: Blue Apron ships everywhere in the contiguous U.S. Enter your zip code during sign up to see what delivery options are available in your area.

Marley Spoon
Marley Spoon partners with Martha Stewart to deliver gourmet meal kits, including vegetarian meal boxes. Of its 22 weekly recipes, Marley Spoon usually offers about five veggie recipe options. When you click on 'View Menu' you'll see tantalizing images of that week's recipes. Simply look for those tagged as 'Vegetarian.'
Martha-inspired recipes include dishes like Creamy Gnocchi with Spinach, Peas, & Crispy Parmesan Panko or Korean Veggie Stir-Fry with Cellophane Noodles & Sesame, both of which you can cook in under 30 minutes. The service also offers a veggie Super Green Smoothie with Chia Seeds as well as veggie Sous-Vide Egg Bites if you want to up your protein. All ingredients arrive in sorted baggies specific to the recipe and 6-step recipe cards with photos to make cooking easy, fast, and fun.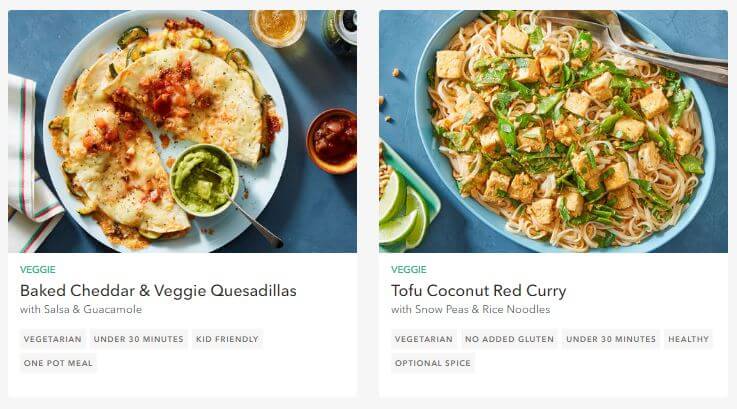 Gobble
Each week, Gobble highlights at least four vegetarian dinner recipes that are ready to eat in 15 minutes or less. All of the ingredients for your meal will arrive peeled, chopped, and marinated to save you time. And of course, recipe cards are included so you won't miss a beat.
Find the vegetarian recipes on the 'Upcoming Menus' page. They're tagged 'Vegetarian Favorite' with a small leaf symbol. Some of these veggie faves are Plant-Based Meatballs with Tuscan Kale & Basil Pesto Spaghetti or California Veggie Burger with Avocado & Jalapeno Ranch Dressing and Sweet Kale Salad. Veggie meals are also tagged with typical allergens such as milk, eggs, wheat, soy, and tree nuts to help you further refine your selections.
Meal Plan Summary: Choose a plan with three or four dinners per week and two or four servings per meal.
Price: Starting at $11.99 per serving.
Delivery Area: Gobble delivers everywhere in the contiguous U.S., except for Minnesota, Montana, North Dakota, South Dakota, and Nebraska. The newer lunch subscription service is not yet available in Arkansas, Colorado, Florida, Georgia, Kansas, Louisiana, Minnesota, Montana, North Dakota, North Carolina, Oklahoma, South Carolina, Tennessee, Texas, and Wyoming.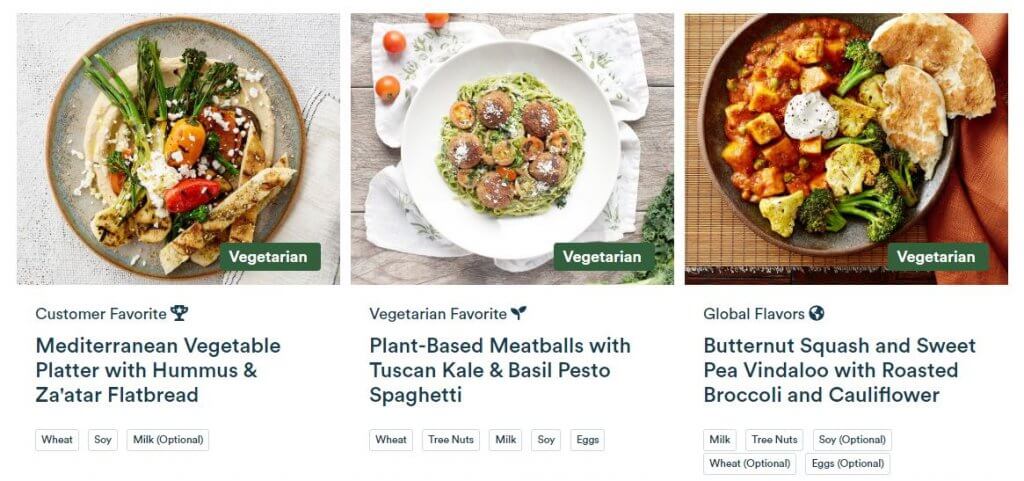 Hello Fresh
As a vegetarian, you care about the environment, and so does Hello Fresh. Endorsing a "green" philosophy, this meal kit service supports an ethos of sustainability. Hello Fresh prevents unnecessary food waste, streamlines its supply chain, and reduces greenhouse gas emissions to help you maintain a carbon footprint 25% lower than store-bought groceries.
To find Hello Fresh vegetarian meals, click 'Our Plans' on the home page navigation bar, then on the 'Personalize Your Plan' page, select 'Veggie.' Customize your plan with 2, 3, or 4 recipes per week that serve either 2 or 4 people. You can look forward to customer favorite veggie recipes like the Hello Fresh Hall of Fame, Sweet Potato & Poblano Quesadillas. And you can't go wrong with Roasted Garlic & Veggie Flatbreads with White Sauce, Mozzarella & Chives. Yum!
Meal Plan Summary: With the 2-person plan, receive between 2-5 recipes per week; with the 4-person plan, receive two or three recipes per week.
Price: Starting at $7.49/serving (for the 4-person plan).
Delivery Area: Hello Fresh delivers everywhere in the contiguous U.S.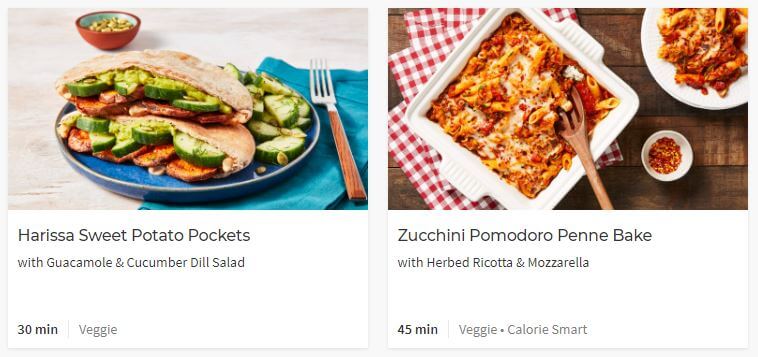 Dinnerly
Dinnerly is all about simplicity. This low-cost meal service uses fewer ingredients in its recipes to ensure that sure cooking is fast and easy while keeping prices down, which makes its vegetarian meal delivery kit one of the most affordable options.
Dinnerly offers at least four delicious vegetarian dinner entrees on its weekly menu. Click on 'View Menu' from the navigation bar to see the tagged vegetarian recipes. Recipes cook up super-fast with only six ingredients per dish. You'll enjoy the rich flavors of dishes like Oven-Fried Ravioli with Tomato Sauce & Zucchini and Indian Veggie Masala with Rice & Yogurt. You can also add vegetarian smoothies to your weekly order. In addition to selecting your recipes, you can also choose your favored delivery day, so you'll receive the kit when you need it.
Meal Plan Summary: The 2-person box includes 3-6 recipes per week; the family box (4 servings) includes 3-6 recipes per week.
Price: Starting at $4.29 per serving.
Delivery Area: Dinnerly delivers to most of the contiguous U.S. To check delivery in your area, go to sign up, choose your box, and then enter your zip code.
Promo Code: Click here to see the latest offer.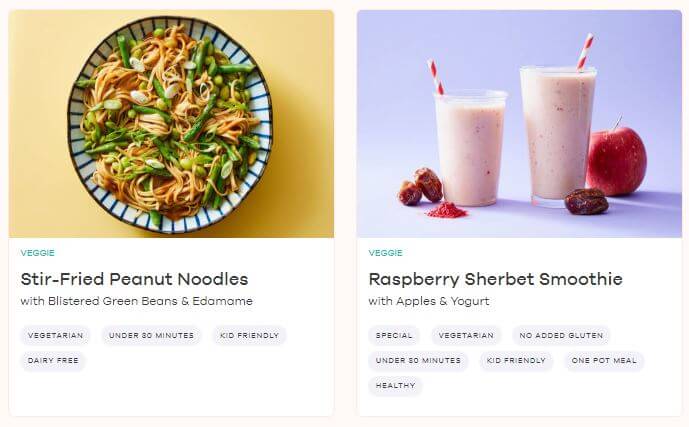 One Potato
If you're looking for an organic vegetarian delivery service that's family-friendly, One Potato fits the bill. One Potato allows you to select a plan that works for anywhere from two to six people, with two or three meals per week. You can even add yummy smoothies and cookies to your order! Indicate your vegetarian meal preference by selecting the 'Vegetarian Box' Plan when you sign up.
To see the typical vegetarian selection, visit One Potato's 'On the Menu' page, and click on the 'Vegetarian Box.' The menu will highlight vegetarian options in red. Soon, you'll be cooking up delicious meals, many geared for children's taste buds, like Fusilli with Chia Seed Pesto and Roasted Broccoli or Pea-lafel with Hummus and Greek Salad. Scroll on down to see more veggie options under 'One Potato Family Favorites.' All ingredients are pre-measured and pre-chopped to make cooking a snap.
Meal Plan Summary: Choose a plan with 2 or 3 dinners per week and between 2-6 servings per meal (this plan is excellent for larger families!).
Price: Starting at $7.32 per serving (for the 6-person family plan). Special child pricing too!
Delivery Area: One Potato currently delivers to Arizona, California, Colorado, Idaho, Nevada, Oregon, Utah, and Washington (specific zip codes excluded), as well as parts of Montana and New Mexico.
Promo Code: Use code FIRST20 at checkout for $20 off your first order.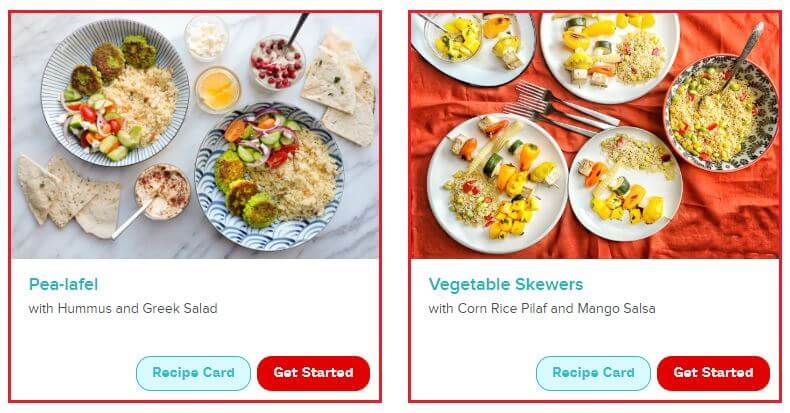 Other Meal Kits
We get a lot of questions about which meal kit services offer vegetarian meals. Here are the answers to the most commonly asked questions:
Does Home Chef have vegetarian meals?
While Home Chef does offer some vegetarian meals, the weekly menu typically has only two options. If you're looking for a meal kit that really caters to vegetarians, try one with a vegetarian- or plant-based plan like those offered by Purple Carrot, Sun Basket, or Green Chef.
Vegetarian Prepared Meals
Eating a vegetarian diet is good for you and good for the planet, but creating balanced veggie meals takes effort and time. When you're running short on one or the other, or both – no worries – you can still eat super-healthy, super-delicious plant-based meals that you don't have to cook. Prepared vegetarian meal delivery is like having a personal chef.
The services we list here focus on transforming the freshest ingredients into an amazing variety of tasty meals, often inspired by cuisines from all over the world. In-house dietitians and nutritionists make sure each vegetarian meal is nutrient- and flavor-balanced. Then, professional chefs masterfully cook the curated ingredients into a tantalizing meal that often surpasses restaurant quality.
Unless you have the time and talent, delicious vegetarian meals are a challenge to pull together when you're doing the cooking on your own. Ready-to-eat vegetarian meals help reduce your stress and up the ante on the quality of what you eat.
Snap Kitchen
Offering loads of variety, Snap Kitchen's vegetarian plan provides ready-to-eat meals that are created by a registered dietician and cooked for optimal flavor and texture by a professional chef. This service focuses on using superfoods that promote maximum health benefits.
When you sign up, you can choose to receive either six or twelve meals per week, then indicate your preference for the Vegetarian Plan. While Snap Kitchen will prefill your box with top-rated plant-based meals, you have the complete flexibility to edit your order. Choose from healthy, filling lunches and dinners like Cauliflower Satay Bowl, Over Easy Sweet Potato Hash, and Roasted Veggies with Cucumber Tahini. And waking up isn't so rough when you can look forward to a breakfast of Banana or Almond Butter Pancakes. As you customize your vegetarian box, you can see the calorie count for each meal plus the total calorie count and price for the entire order.
Meal Plan Summary: Choose a plan with 6 or 12 meals per week.
Price: Starting at $9.58 per meal.
Delivery Area: Snap Kitchen currently delivers to 38 states, including Alabama, Arkansas, Connecticut, Delaware, Florida, Georgia, Illinois, Indiana, Kansas, Kentucky, Louisiana, Main, Maryland, Massachusetts, Michigan, Mississippi, Missouri, New Hampshire, New Jersey, New York, North Caroline, Ohio, Oklahoma, Pennsylvania, Rhode Island, South Carolina, Tennessee, Texas, Vermont, Virginia, and West Virginia. They also deliver to parts of Arizona, Colorado, Iowa, Nebraska, New Mexico, Wisconsin, and Wyoming.

Splendid Spoon
See Splendid Spoon reviews here
The only challenge you'll have when you order from Splendid Spoon is trying to decide which of its 40 meals to choose from – all Splendid Spoon meals are plant-based and yummy. This ready-to-eat service offers breakfast and lunch in the form of smoothies, soups, and grain bowls that are low in sodium and sugar but packed with flavor and nutrients.
You can sit back and let Splendid Spoon curate your weekly menu based on your preferences or choose meals yourself. Sit down to a nutrient-rich Green Goddess Quinoa Bowl topped with Greens and a Citrus Dressing or the Cuban Black Bean Bowl filled with Plantains & Black Beans. You can order Wellness and Detox Shots, tasty smoothies like Dragon Fruit Berry and Cacao Almond, plus many more tantalizing flavor-filled recipes.
Meal Plan Summary: Choose the breakfast + lunch plan (5 smoothies + 5 bowls), lunch-only plan (5 bowls), or the breakfast + lunch + reset plan (5 smoothies + 5 bowls + 1 full-day reset).
Price: Starting at $9.00 per meal for the breakfast + lunch + reset plan.
Delivery Area: Splendid Spoon delivers everywhere in the contiguous U.S.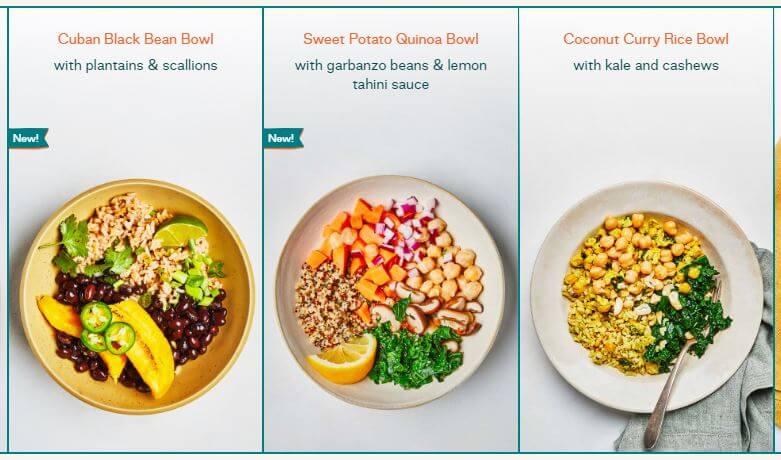 Trifecta
Organic vegetarian meal delivery is a click away. Trifecta's breakfast, lunch, and dinner options rotate weekly, so you'll never face flavor burnout. Science-backed meals are macro-balanced for maximum nutrition, and Trifecta always deliveries them fresh, never frozen.
Click on 'Meals' in the navigation bar and then choose the 'Vegetarian Plan.' Each meal on this plan has an average of 20 grams of protein, 18 grams of fat, 50 grams of net carbs, and 400 calories. One of the major concerns of a vegetarian diet is getting ample protein, especially if you're an athlete. Thankfully, some of Trifecta's vegetarian meals contain Beyond Meat burgers, which provide 20 grams of protein in every 4-ounce portion. Sample meals include Butternut Squash & Kale with Chickpeas, or Garlic Rice Pasta & Cherry Tomatoes – and if you're craving for some bread to spread your apple butter on, try the Pumpkin Almond Loaf.
Meal Plan Summary: Choose a 5- or 7-day plan, with your choice of between 1 and 4 meals per day.
Price: Starting at $10.29 per serving (for the vegan and vegetarian plans).
Delivery Area: Trifecta delivers to all 50 states.
Promo Code: No discount offers currently available.

Fresh N' Lean
See Fresh N' Lean reviews here
Organic, nutrient-dense, fresh, and ready-to-eat, Fresh N' Lean meals taste delicious and provide high-quality nutrition. Although this service doesn't offer an exclusive vegetarian plan, it does offer two protein-packed vegan plans from which to choose. Just click on 'Meal Plans' then scroll down to find either the standard or the low-carb vegan plan.
Breakfast, lunch, or dinner – any Fresh N' Lean vegan meal is ready-to-eat in under three minutes. For breakfast, you can enjoy Apple Cinnamon Oatmeal, and for lunch, a satisfying and nutritious entrée of Herb Roasted Potatoes and Brown Rice with Green Beans. At the end of the day, you can relax over a tasty dinner of Maple Parsley Carrots with Tofu. Oh! And there are snacks too. Choose from Cinnamon Maple Almonds, Coconut Almond Buttercups, and more.
Meal Plan Summary: Choose a 5- or 7-day plan with your choice of 1, 2, or 3 meals per day.
Price: Starting at $7.93 per serving (for the vegan standard plan).
Delivery Area: Fresh N' Lean delivers nationwide!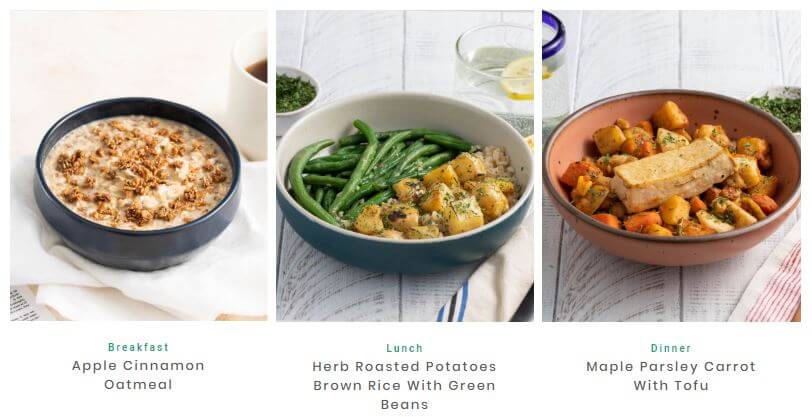 Factor 75
Factor 75 offers anywhere from four to six vegetarian meals on its weekly menu. This service always uses non-GMO produce, and when possible, sources organic ingredients. Find vegetarian meals by clicking on the 'Current Menu' on the navigation bar, then look for the 'V' symbol below the meal image.
Peanut Buddha Bowl, Indian-Style Vegetable Rice, and Tomato & Roasted Vegetable Risotto are just a handful of the vegetarian recipes you'll find on the rotating menu. But Factor 75 doesn't just stop at the dinner table – you can also add cozy soups like Tomato Basil Soup or Broccoli Power Greens Soup. If you feel you need a little support with your vegetarian lifestyle, Factor 75 offers a free 20-minute consultation with an expert dietitian. One- and three-month coaching packages are also available.
Meal Plan Summary: Choose 4, 6, 8, 12, or 18 meals per week, then customize your box with desired breakfast, lunch, and dinner entrees.
Price: Starting at $11.00 per meal.
Delivery Area: Factor delivers everywhere in the contiguous U.S.
Promo Code: No discount offers currently available.

Sprinly
Sprinly is all about freeing up your precious time while helping you maintain a healthier lifestyle. This meal service does this by providing all-organic, all-vegan, and fully-prepared delivered meals. Once you set up your account with your preferred meal plan, you can choose your meals. Click on the 'Weekly Menu' in the navigation bar to see images of that week's yummy choices.
In-house nutritionists and chefs work side-by-side to create nutrient-dense meals from the highest-quality ingredients. Some of these tasty dishes include Amalfi Lentil Bolognese with Gluten-Free Pasta and Cashew "Parm," a Mediterranean Oasis Bowl with Baked Falafel and Dill Tahini, or the 'almost as good as desert' Almond Ginger Quinoa Bowl with Roasted Sweet Potatoes and Sliced Apples.
Meal Plan Summary: Choose a plan with 6, 12, or 18 meals per week.
Price: Starting at $16.06 per serving.
Delivery Area: Sprinly currently ships to Michigan, Ohio, Pennsylvania, Indiana, Kentucky, West Virginia, Northern Virginia, Buffalo, New Jersey, Delaware, Washington DC, Maryland, Nashville, and the Greater Chicago Area (anywhere within 75 miles of Chicago). Check availability in your area here: https://www.sprinly.com/check-availability/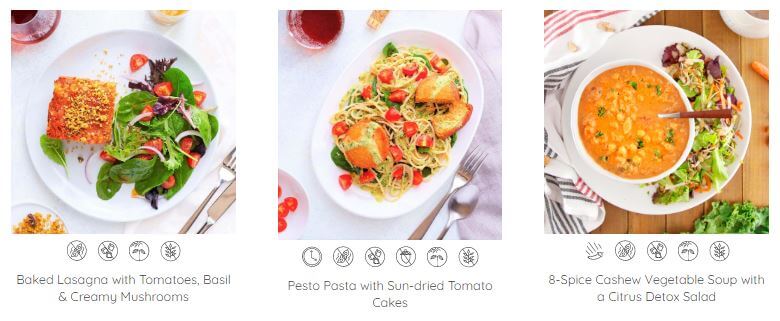 Vegetarian Frozen Meals Delivered
Workdays are busy and stressful, and unfortunately, your work probably doesn't end at 5:00. You're still meeting tight schedules like getting to a yoga class or the gym while carpooling and making sure the kids get to soccer practice. When you get home, you're helping with homework and staying caught up with friends. How do you squeeze in time to meal plan, shop, and cook? With today's hectic schedules, it's more important than ever to stay nourished by making sure you and your family can sit down to a healthy, balanced, vegetarian meal.
Vegetarian frozen food delivery frees you from incessant meal planning, grocery shopping, and cooking so you can focus on everything else. Do you "see" brown and beige when you think of frozen meals? You'll be very pleasantly surprised that top-quality ready-to-eat vegetarian frozen meals feature a beautiful rainbow of nutrient-rich colors. The below vegetarian frozen meal services make your vegetarian lifestyle convenient with an array of healthy plant-based meals.
Freshology
The nutritionally-balanced Freshology Vegetarian Plan is dietitian-approved for controlled carbs, cholesterol, fat, and sodium. Chefs infuse recipes with proteins in the form of eggs, dairy, beans, and some soy, so these vegetarian dishes keep you full. Additionally, Freshology flash-freezes its breakfast, lunch, and dinner entrees for ultimate freshness and convenience.
To review the vegetarian meal options, scroll down to the 'Vegetarian Menu' on the home page, then click on 'View Sample Menu.' Breakfast delights include Blueberry Pancakes with Soy Sausage and Quinoa Egg Bites. Tasty lunches range from Spanish Stuffed Peppers to Mushroom Ravioli while satisfying dinners include Black Bean Chili and Vegetarian Penne with Tomato Sauce. The menu changes weekly and rotates over a five-week period. Once you receive your first order, you can customize your menu, so you get exactly the meals you love.
Meal Plan Summary: Choose a 5- or 7-day plan, with two or three meals per day
Price: Starting at $8.57 per serving.
Delivery Area: Freshology delivers everywhere in the contiguous U.S.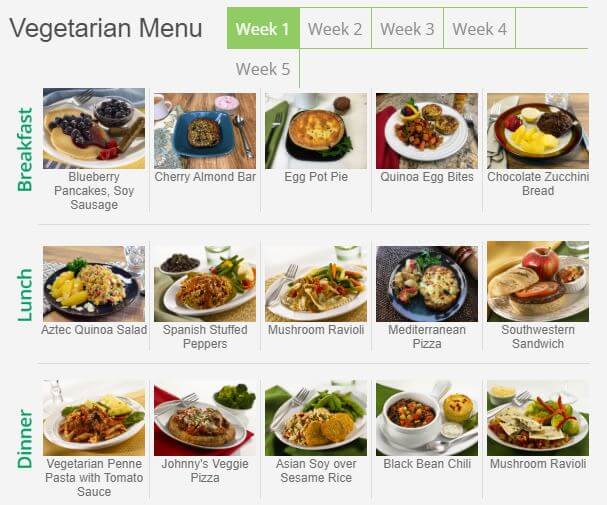 Daily Harvest
See Daily Harvest reviews here
When you're on the go, grabbing from your stock of frozen Daily Harvest smoothies, flatbreads, soups, scoops, bites, lattes, and harvest, oat, and chia bowls, will keep you satiated. All Daily Harvest foods contain organic plant-based ingredients, so you can feel confident that you're healthily maintaining your vegetarian lifestyle.
It's easy to navigate through the Daily Harvest site. Simply click 'Browse' in the navigation bar, select a food type you'd like to know more about, then make your healthy selection. For instance, the Brussels Sprouts & Tahini Harvest Bowl will provide you with 124% of your daily Vitamin C dose. A superfood latte? You bet! Hot or cold, you can enjoy the healthful benefits of a Coffee & Almond or Ginger & Turmeric Latte. Yum.
Meal Plan Summary: Choose a weekly subscription with 9, 14, or 24 items per box or a monthly subscription with 24 items per box.
Price: Starting at $5.49 per item.
Delivery Area: Daily Harvest ships to 95% of addresses in the continental U.S. To see if they deliver to your zip code, click the "Get Started" button on the homepage and enter your zip code and email address.
Promo Code: $40 Off Your First Box (exclusive to BoxedMealz)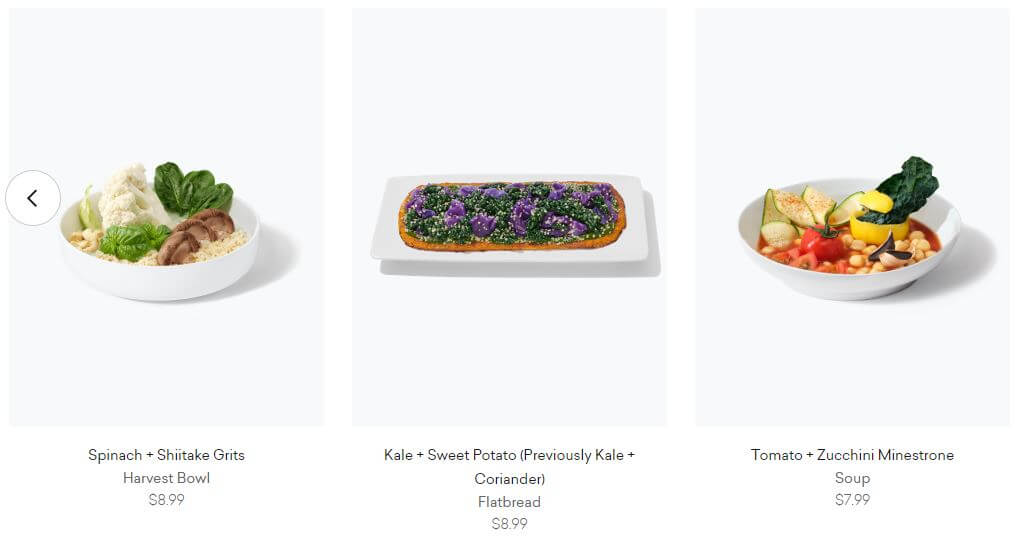 Revive Superfoods
See Revive Superfoods reviews here
Delivering ultra-healthy smoothies, bowls, and supermeals to your door, Revive Superfoods is a vegetarian food delivery service worth exploring. You select the superfood cups you want, then with zippy shipping, they arrive at your home or workplace pre-portioned and frozen for your convenience.
You can subscribe to a weekly box of 9, 12, or 24 cups or a monthly box with 12 or 24 cups. Imagine having your freezer stocked with nutritious plant-based foods that will help you stay healthy while tasting dang delicious. It's easy to filter your preferences by ingredients or health benefits. Are you looking for cleansing detox foods? Try the Cheery Cherry bowl or the Grass is Greener smoothie. How about something that's immunity-boosting? Go with Caul It Couscous or Carrot Spice bowl.
Meal Plan Summary: Choose a weekly subscription with 9, 12, or 24 cups per box or a monthly subscription with 12 or 24 cups per box.
Price: Starting at $4.99 per serving for the 24-cup box.
Delivery Area: Revive Superfoods delivers across most of Canada and the contiguous U.S. Check deliverability to your zip code at check out or contact customer service at hello@revivesuperfoods.com.
Promo Code: Get 50% off your first order with code SUPER50.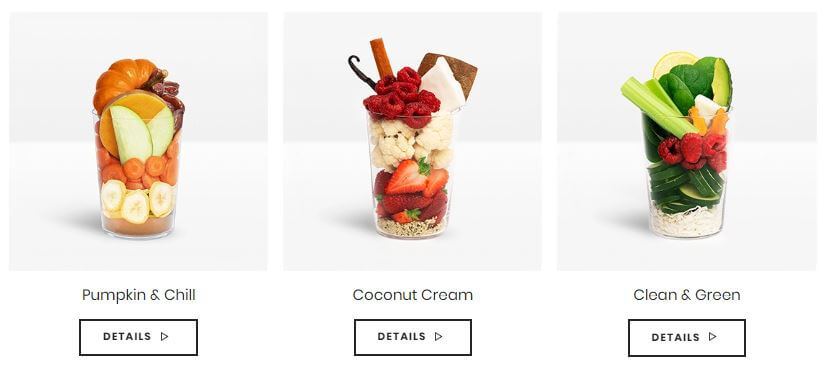 BistroMD
BistroMD offers a vegetarian diet meal delivery plan that satisfies. From breakfast, lunch, and dinner, you can choose flash-frozen meals that are nutritionally balanced, fiber- and antioxidant-rich, and great tasting. Whether you want to lose weight or simply enjoy eating delicious chef-prepared meals, having them delivered to your home is the ultimate convenience.
Finding the vegetarian plan is tricky. You do a lot less clicking around the site if you google 'BistroMD vegetarian plan.' A specific page opens that is dedicated to vegetarian meals. Once you select the vegetarian plan, you can customize your order to your needs. To help you stay on top of your diet or lifestyle, BistroMD delivers meals weekly with delicious choices like Eggplant Lasagna Casserole, Mediterranean Quinoa Salad, and Moroccan Lentil and Sweet Potato Stew.
Meal Plan Summary: Choose a 5- or 7-day plan, with breakfast, lunch, and dinner or just lunch and dinner.
Price: Starting at $9.50 per serving for the 7-day full program.
Delivery Area: BistroMD delivers everywhere in the contiguous U.S.

Plantable
Plantable's goal is to make it easy for busy people to eat a healthy plant-based diet ­– or to help kickstart a new lifestyle. Plantable offers three plans: the Custom A La Carte Box lets you choose 12 meals from over 30 recipes; the Quickstart box is a one week reset of six lunches and six dinners plus a nutrition coach consultation; or the Reboot, a four-week program of six lunches and six dinners each week, plus a coaching call.
Start by selecting the day you want your box shipped, then talk with your coach. When you receive your shipment, you'll enjoy eating nutritious, chef-prepared frozen vegetarian meals. Lunch may include a Hippie Brunch Burrito, while dinner might consist of Thai Coconut Green Curry with Lemongrass Rice.
Meal Plan Summary: Get started with the Quickstart (1-week) or Reboot (4-week) program, or order a la carte with the Build Your Own Box option.
Price: Starting at $13.54 per serving for the Build Your Own Box option.
Delivery Area: Plantable delivers everywhere in the contiguous U.S., plus Alaska.
Promo Code: No discount offers currently available.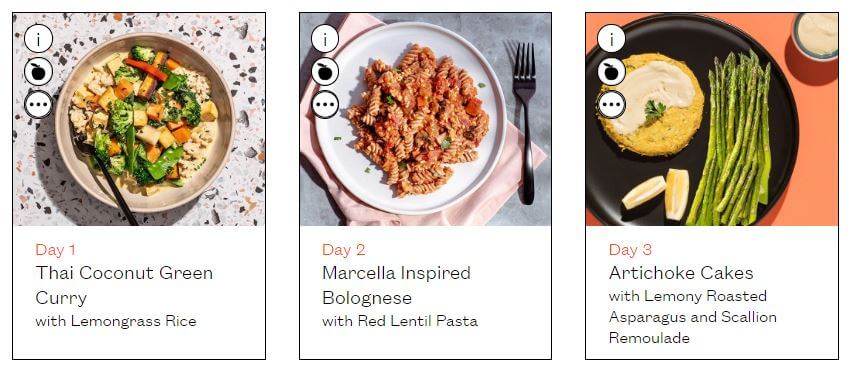 Veestro
You can choose breakfast or lunch and dinner entrees from Veestro's 100% plant-based plans. All meals are free from chicken, meat, fish, dairy, eggs, and honey. The locally-sourced organic ingredients that Veestro uses in all of its meals are flash-frozen to lock-in rich nutrients.
Veestro offers an A La Carte Plan that accommodates six dietary preferences (high-protein, gluten-free, low-calorie, nut-free, soy-free, and kosher). There's also a Weight Loss Plan that totals 1200 daily calories, and a Chef's Choice Plan that includes hand-selected customer-fave meals.
Enjoy a delicious breakfast of Oatmeal Breakfast Pie or Spanish Torta. How about tasty South Indian Coconut Stew for lunch or dinner?  In addition to delicious and satisfying taste, another Veestro perk is that each meal only takes 4 to 5 minutes to heat. Choose a plan, then stock your freezer for ultimate healthy vegetarian convenience.
Meal Plan Summary: The A La Carte and Chef's Choice plans come with 10, 20, or 30 meals per delivery. The 5- and 7-day Weight Loss Plans come with 15 and 21 meals, respectively.
Price: Starting at $9.90 per serving (for the A La Carte and Chef's Choice subscription plans).
Delivery Area: Veestro delivers everywhere in the contiguous U.S.