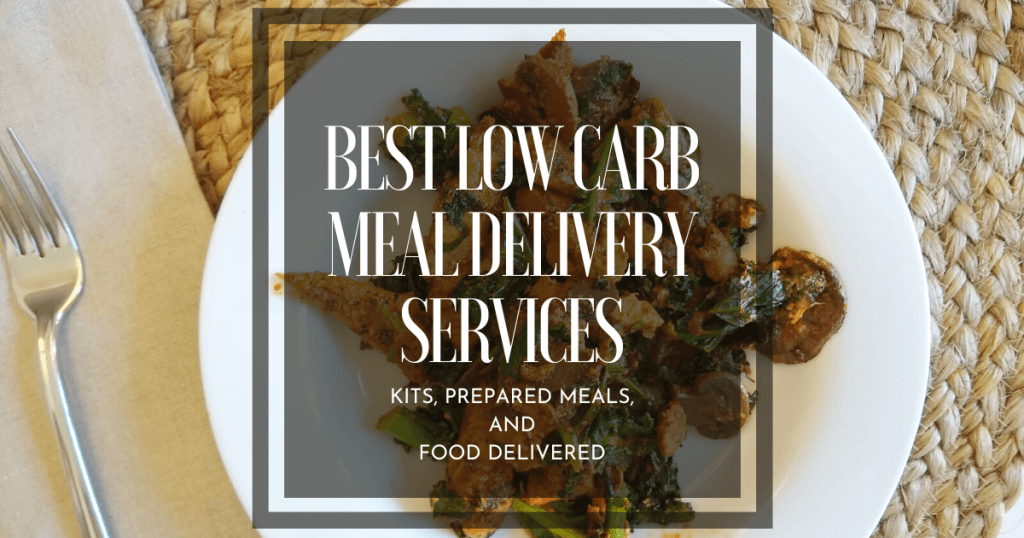 Best Low Carb Meal Delivery Services
| | | | |
| --- | --- | --- | --- |
| Service | Type | Starting Price | Summary |
| Sun Basket | Meal Kit | $ 10.99/serving | Choose a plan with 2, 3, or 4 dinners per week and 2 or 4 servings per meal. |
| Gobble | Meal Kit | $ 11.99/serving | Choose a plan with three or four dinners per week and two or four servings per meal. |
| Green Chef | Meal Kit | $ 9.99/serving | With the 2-person plan, get three dinners for two people per box; with the 4-person plan, get two dinners for four people per box. |
| Home Chef | Meal Kit | $ 9.95/serving | Choose a plan for 2, 4, or 6 people, with 2-6 meals per week. |
| Blue Apron | Meal Kit | $ 7.49/serving | Choose the 2-serving plan with 2 or 3 recipes per week or the 4-serving plan with 2-4 recipes per week. |
| Marley Spoon | Meal Kit | $ 6.99/serving | Plans for 2 or 4 people, with 2-4 meals per week. |
| Snap Kitchen | Prepared | $ 9.58/meal | Choose a plan with 6 or 12 meals per week. |
| Freshly | Prepared | $ 7.99/meal | Choose a plan with 4, 6, 9 or 12 meals per week. |
| Trifecta | Prepared | $ 10.29/meal | Choose a 5- or 7-day plan, with your choice of between 1 and 4 meals per day. |
| Fresh N' Lean | Prepared | $ 9.33/meal | Choose a 5- or 7-day plan with your choice of 1, 2, or 3 meals per day. |
| Factor 75 | Prepared | $ 11.00/meal | Choose 4, 6, 8, 12, or 18 meals per week, then customize your box with desired breakfast, lunch, and dinner entrees. |
| Pete's Paleo | Frozen | $ 9.90/meal | Choose a 5, 10, or 14 meal plan (ideal for 1–2 people) or opt for the Family Plan (5 meals, four servings each). You can also order the Vegetarian Plan (10 meals) or select a minimum of 5 meals from the keto-friendly "Eat What You Love!" frozen meal menu. These bundles are also available: "New You" 4-week plan with meals 3 or 5 days per week; "Pete's Paleo Lite" with seven meals; and "21-Day Sugar Detox". |
| Freshology | Frozen | $ 8.57/meal | Choose a 5- or 7-day plan, with two or three meals per day |
| Daily Harvest | Frozen | $ 7.99/meal | Choose a weekly subscription with 9, 14, or 24 items per box or a monthly subscription with 24 items per box. |
| Ketoned Bodies | Frozen | $ 13.51/meal | Order a la carte or choose a meal plan with 10, 15, 21, or 84 meals. |
What is a Low Carb Diet?
A low carb diet usually limits carb intake to about 30 to 50 grams per day—the diet centers on eating healthy proteins and fats, as well as high fiber veggies. Carbs are considered 'simple' or 'complex' based on how your body metabolizes them and their chemical makeup. A low carb diet avoids processed simple carbs like candy, ice cream, baked goods, white bread and rice, cookies, sodas, sweetened beverages, and energy drinks. It limits complex carbs high fiber whole foods. Think baked potato over French fries. To know if a carb is your friend, simply remember that the lower the fiber, vitamins, and minerals, and the higher the sugar, the worse the food is for you.
What are the Benefits of a Low Carb Lifestyle?
For decades, low carb diets were controversial, but today's scientific studies have established that low carb diets are extremely beneficial and healthy. Studies consistently show that eating a low carb diet can:
Lower Blood Sugar and Insulin Levels
Diabetes and insulin resistance affect millions of people around the globe. Low carb diets are especially helpful for people who have insulin resistance or diabetes. Lowering your carb intake reduces blood sugar and insulin levels dramatically.
Lower Blood Pressure
If you have elevated blood pressure, you're at risk for stroke, kidney failure, and heart disease. A low carb diet is a very effective way to lower your blood pressure, thus reducing your risk of those diseases.
Reduced Appetite
Studies show that when people eat more healthy proteins and fat while reducing carb intake, they aren't as hungry and eat fewer calories.
Reduced Harmful Visceral Fat
We store two main types of fat in our bodies. Subcutaneous fat stores under our skin, while visceral fat usually sits in our abdominal cavity and tends to accumulate around our organs. Excess visceral fat is associated with inflammation and insulin resistance. A low carb diet helps reduce harmful visceral fat and therefore reduces the risk of type 2 diabetes and heart disease.
Reduce Blood Triglycerides
Triglycerides are the fat molecules that circulate in our bloodstreams. Elevated levels of these molecules increase our risk of heart disease. People who eat a low carb diet show a dramatic reduction in blood triglycerides.
Increase "Good" Cholesterol Levels
A balanced low carb diet is high in fat, which is related to an increase in "good" HDL cholesterol levels and a reduction in "bad" LDL cholesterol levels.
Reverse Metabolic Syndrome Symptoms
Another condition associated with the risk of diabetes and heart disease is metabolic syndrome. This condition includes abdominal obesity, elevated fasting blood sugar levels, high triglycerides, low "good" HDL cholesterol levels, and elevated blood pressure. Studies have shown that a healthy low carb diet can reverse the five key symptoms of metabolic syndrome.
Improve Some Brain Conditions
Our brains need glucose to function. If you eat a low carb diet, your liver produces glucose from protein. Extremely low carb intake produces ketones, another fuel your brain can use. One study reported a ketogenic diet is effective in reducing up to 50% of children's epileptic seizures. Currently, scientists are studying ketogenic and low carb diets to see if these improve symptoms of Parkinson's disease and Alzheimer's.
Low Carb Meal Kits
Although you don't need to count calories on a low carb diet, you want to know how many carbs you're consuming. It takes time and effort to plan which low carb foods you need to buy for the recipes you want to cook. Can you carve out that kind of time in your busy schedule?
A low carb meal delivery kit solves the dilemma of trying to figure out which foods align with your targeted carb intake, and which foods you can and cannot eat. You'll receive a box filled with nutritionally balanced proportions of low carb, high-quality ingredients. Just follow the step-by-step recipe cards, and you'll feel like a professional chef when you cook delicious, low carb meals in 30 minutes or less. A low carb meal kit service means no more meal planning and grocery shopping, no more food waste, and no more dieting stress.
Sun Basket
A USDA Certified Organic Handler, Sun Basket offers a carb-conscious meal plan that takes the guesswork out of dieting and cooking. Each serving has 35 grams of net carbs or less, at least 20 grams of protein, and between 550 to 800 calories. Some of this kit's popular carb-conscious recipes include Vietnamese Shaking Beef with Muoi Tieu Chanh Sauce, Thai Turkey Lettuce Cups, and Green Goddess Steak Salad with Roasted Carrots.
All Sun Basket recipes are chef-crafted, and ingredients arrive at your door ready to cook in 15 to 40 minutes. Simply click 'Menu' on the home page, then click 'Meal Plans,' then 'Carb Conscious' to find meals that work with your diet. Start your plan by selecting two or more dinners from the weekly menu. Then you can add breakfast, lunch, and dinner entrees, as well as specialty meats and snacks.
Meal Plan Summary: Choose a plan with 2, 3, or 4 dinners per week and 2 or 4 servings per meal.
Price: Starting at $10.99 per serving.
Delivery Area: Sun Basket delivers everywhere in the contiguous U.S., except for parts of Montana, North Dakota, and New Mexico.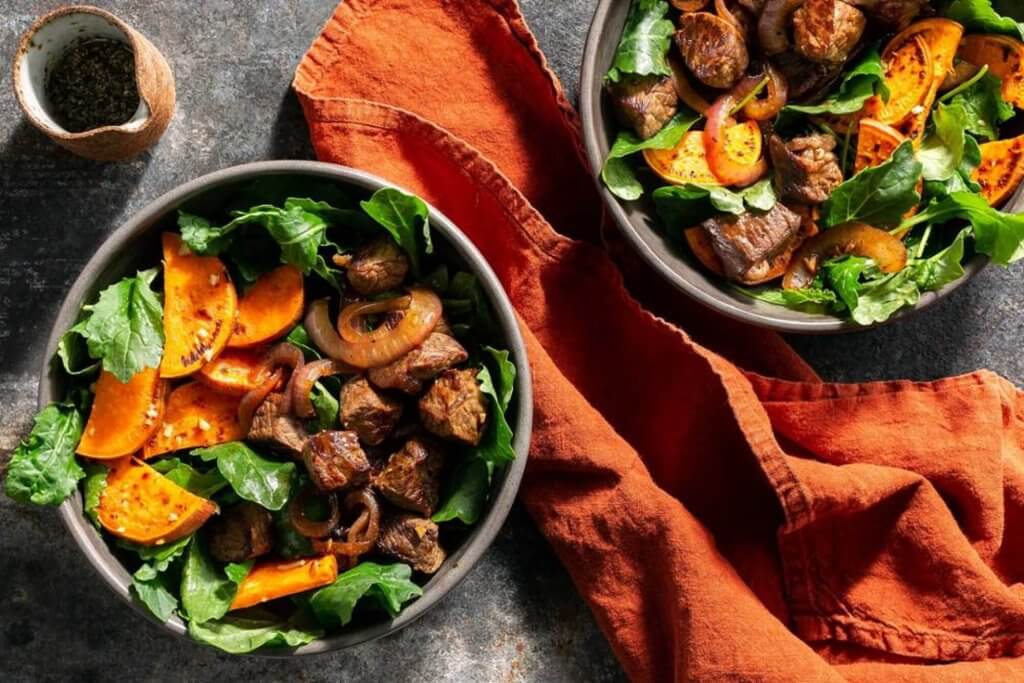 Gobble
Gobble's Lean & Clean Dinner Plan recipes are low carb and contain fewer than 600 calories per serving. Each meal features lean proteins, healthy fats, and no grains. Gobble does all the prep for you. Your ingredients arrive peeled, chopped, and marinated so that from start to finish, you can have a meal on the table in just 15 minutes. Some of Gobble's popular low carb recipes include Mexican-Style Prawns & Vegetables with Black Beans and Steak & Vegetable Sauté with Italian Salsa Verde & Potatoes.
After you place your first order, your membership will auto-renew. Gobble suggests that if you want to try out meals before you commit to additional deliveries, simply skip the weeks you don't want to receive a delivery. Just click 'Lean & Clean' on the home page to get started.
Meal Plan Summary: Choose a plan with three or four dinners per week and two or four servings per meal.
Price: Starting at $11.99 per serving.
Delivery Area: Gobble delivers everywhere in the contiguous U.S., except for Minnesota, Montana, North Dakota, South Dakota, and Nebraska. The newer lunch subscription service is not yet available in Arkansas, Colorado, Florida, Georgia, Kansas, Louisiana, Minnesota, Montana, North Dakota, North Carolina, Oklahoma, South Carolina, Tennessee, Texas, and Wyoming.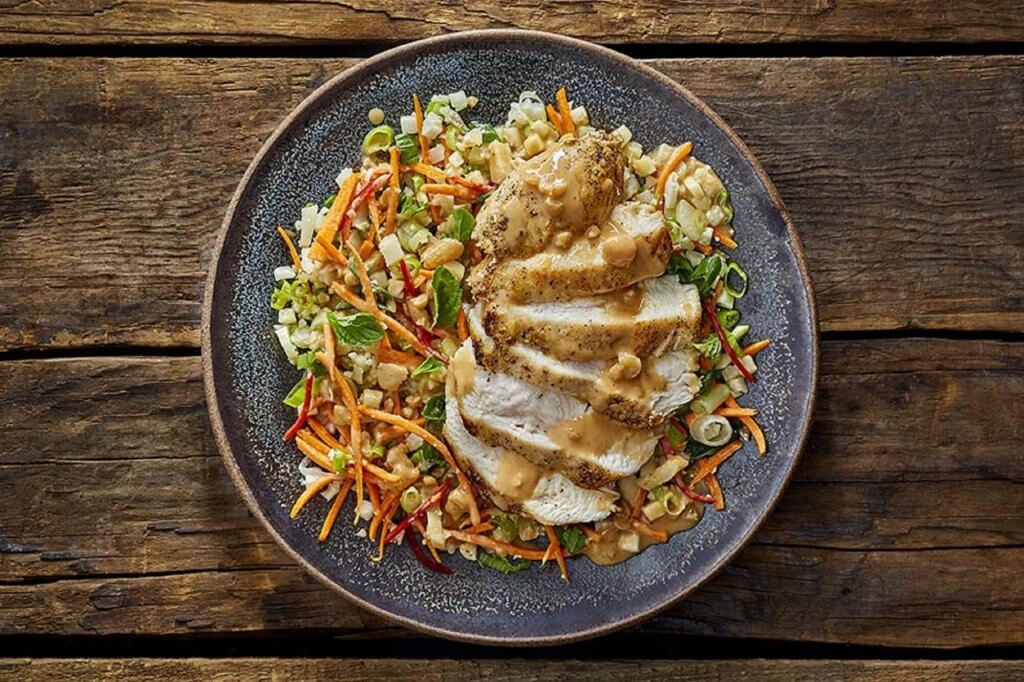 Green Chef
By definition, Green Chef's keto plan is also low carb. Because Green Chef is a USDA Certified Organic company, you can trust that you'll receive fresh, high-quality ingredients that are easy to whip up into delicious dinners. Although they don't offer a specific low carb plan, you can count on their Keto Plan to provide healthy low carb, gluten-free dinners.
Green Chef offers an updated menu weekly, so you can always choose from a variety of new recipes. A few of their yummy low carb keto recipes, inspired by international cuisines, include Beef Fajita Lettuce Wraps, Kenyan Chicken Curry, and Roasted Fennel-Cumin Shrimp. To open a subscription, choose the Keto Plan and start receiving weekly organic ingredients that arrive pre-measured and prepped along with easy to follow step by step recipe cards with photos.
Meal Plan Summary: With the 2-person plan, get three dinners for two people per box; with the 4-person plan, get two dinners for four people per box.
Price: Starting at $9.99 per serving (for the plant-powered plan).
Delivery Area: Green Chef delivers everywhere in the contiguous U.S., except for parts of Louisiana.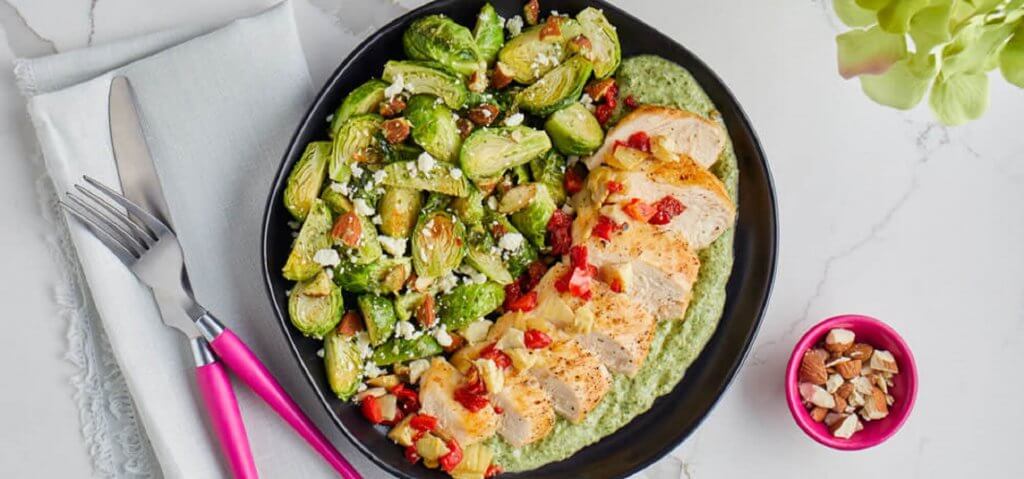 Home Chef
Home Chef offers excellent flexibility for low-carb followers. On the home page, click 'Our Menu' then click on 'Carb Conscious' to see the mouth-watering meals you can select for your plan. Some delicious options include Peppercorn Cream Chicken, New England-Style Fish Cakes, or Chicken and Chipotle Crema with Corn and Crispy Zucchini.
Every Monday, Home Chef will send you an email with 21 meal options that change weekly. All you have to do is reply with your low carb choices by Friday of the same week. If you don't respond, Home Chef sends preselected recipes. With this meal kit, you can also upgrade or swap meals or double up on your favorite protein for some recipes. Skip your deliveries or pause your account any time you wish.
Meal Plan Summary: Choose a plan for 2, 4, or 6 people, with 2-6 meals per week.
Price: Starting at $9.95 per serving.
Delivery Area: Home Chef delivers to most of the contiguous U.S. Double check delivery to your zip code during the sign-up process. Home Chef also sells its meal kits in dozens of Kroger grocery stores across the country.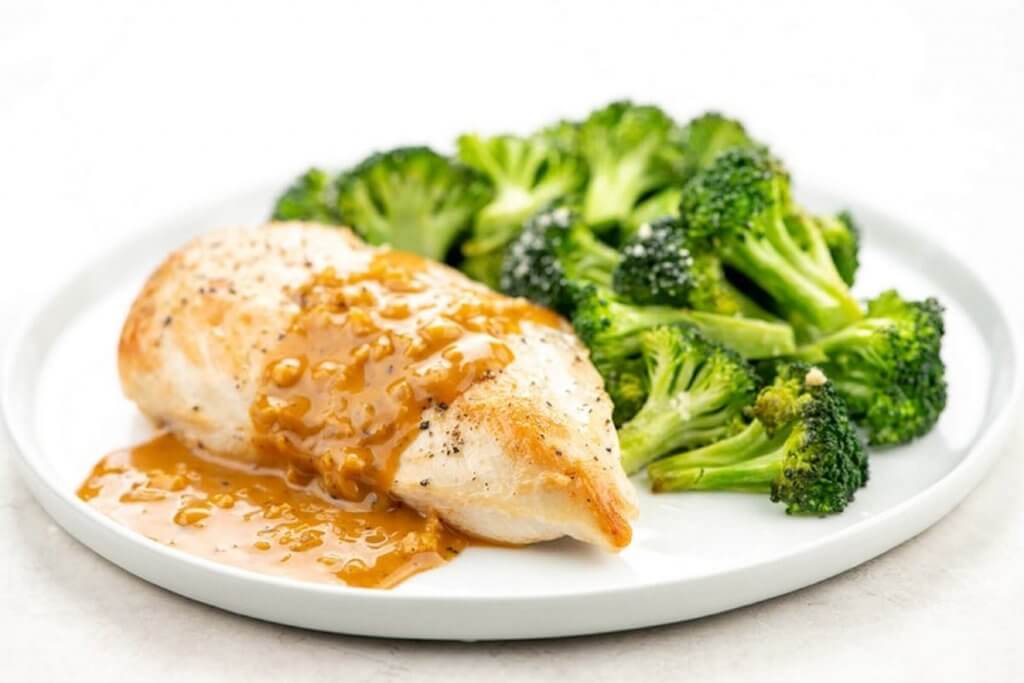 Blue Apron
Although Blue Apron doesn't specifically offer a low carb plan, each week, its Signature for 2 Plan has at least one recipe that is at or below 48 grams of net carbs per serving. These dishes are tagged "Carb Conscious," so they're easy to identify when you're making your weekly meal selections from the "On the Menu" page.
Some delicious carb-conscious dinners from previous menus include Oregano Chicken & Fresh Tomato Pan Sauce with Farro & Zucchini and Seared Steaks & Lemon-Caper Butter. Most Blue Apron meals are ready in 40 minutes or less. Each box will arrive with detailed recipe cards, seasonal produce, and all the ingredients you'll need to cook chef-designed delights. You can skip orders up to five weeks in advance and cancel at any time.
Meal Plan Summary: Choose the 2-serving plan with 2 or 3 recipes per week or the 4-serving plan with 2-4 recipes per week.
Price: Starting at $7.49 per serving (for the 4-person signature plan).
Delivery Area: Blue Apron ships everywhere in the contiguous U.S. Enter your zip code during sign up to see what delivery options are available in your area.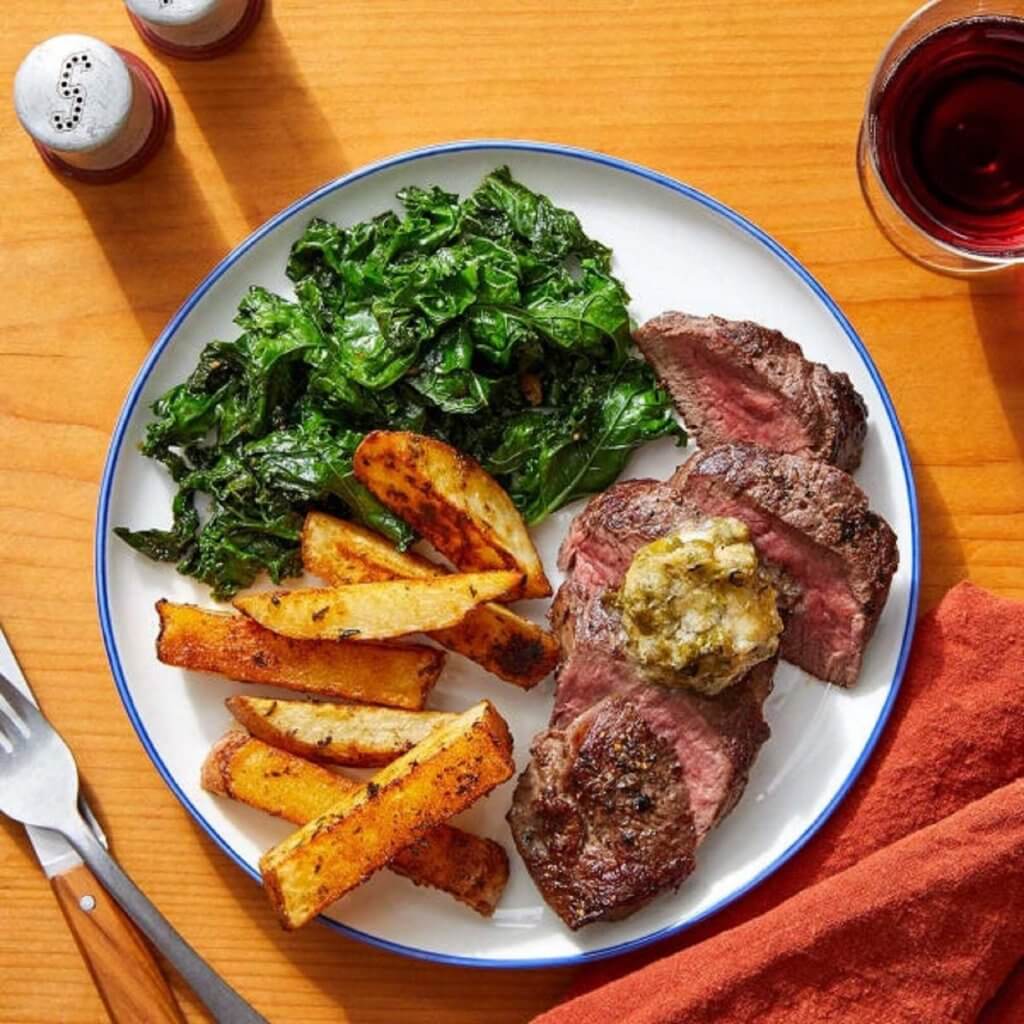 Marley Spoon
Marley Spoon and Martha Stewart have partnered to offer you 22 weekly recipes, some of which have the 'low' carb tag. You can choose to have anywhere between two to six dinners per week with both the 2- and 4-person plans. Choose the plan that works for you then select the recipes you want to receive.
Some delicious and satisfying low carb meals include Roasted Citrus Pork Tenderloin & Broccoli, Greek Pan-Roasted Salmon, and Parmesan-Thyme Chicken with Roasted Romaine Salad. You can also add protein packs to your order. You'll receive everything you need to cook delicious recipes except for a few pantry basics such as oil, salt, pepper, and eggs. Shipping is $8.99, and you can skip any week.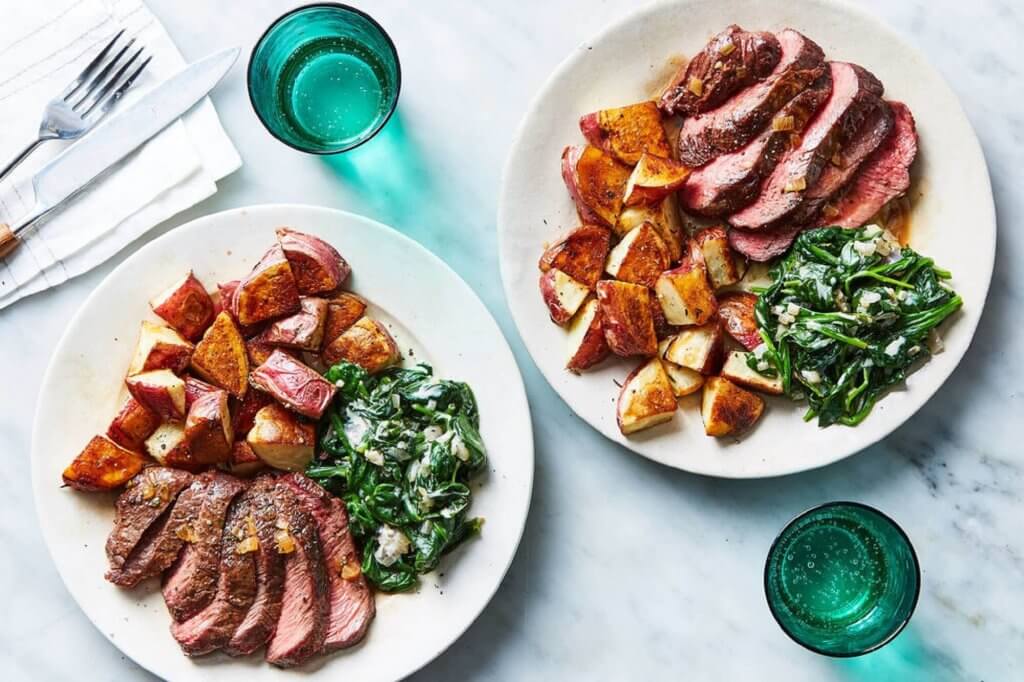 Low Carb Prepared Meals
If you're just starting a low carb diet or happen to be an experienced low carb dieter who's just too busy to cook every night of the week, ready-to-eat low carb delivery meals can save the day. For those just starting a reduced carb diet, these premade meals take all the guesswork out of meal planning. Instead of wondering what food to buy or how much, these services do it all for you. Or if your lifestyle is so busy that shopping for low carb foods and cooking them just isn't in the cards, low carb prepared meals definitely will save you valuable time.
The low carb prepared meal delivery services that we recommend source high-quality, nutrient-dense low carb foods that professional chefs transform into absolutely tasty dishes that you'll love. And you'll also enjoy the additional benefits – there's no food waste and no cleanup – just delicious meals.
Snap Kitchen
Along with accommodating several other diet-specific plans, Snap Kitchen offers a low carb premade meal plan. On this plan, each meal maintains a balance of approximately 30% protein, 30% carbs, and 40% fat. Not only does Snap Kitchen have you covered with fantastic dinner entrees like Chicken Chile Enchiladas and Chicken Tenders with Turnip Mash, but they have breakfast and lunch options too! Start the morning right with Banana Pancakes or Spinach & Goat Cheese Frittata. Yum! Most meals have between 320 and 560 calories.
Click 'Shop Meal Plans' on the home page, then choose the 'Low Carb' option. Snap Kitchen pre-fills your order with suggestions, but you can easily swap them out by clicking the "Edit" button, which will enable you to see the entire menu. Snap Kitchen makes it easy for you to skip, reschedule, or cancel your order.
Meal Plan Summary: Choose a plan with 6 or 12 meals per week.
Price: Starting at $9.58 per meal.
Delivery Area: Snap Kitchen currently delivers to 38 states, including Alabama, Arkansas, Connecticut, Delaware, Florida, Georgia, Illinois, Indiana, Kansas, Kentucky, Louisiana, Main, Maryland, Massachusetts, Michigan, Mississippi, Missouri, New Hampshire, New Jersey, New York, North Caroline, Ohio, Oklahoma, Pennsylvania, Rhode Island, South Carolina, Tennessee, Texas, Vermont, Virginia, and West Virginia. They also deliver to parts of Arizona, Colorado, Iowa, Nebraska, New Mexico, Wisconsin, and Wyoming.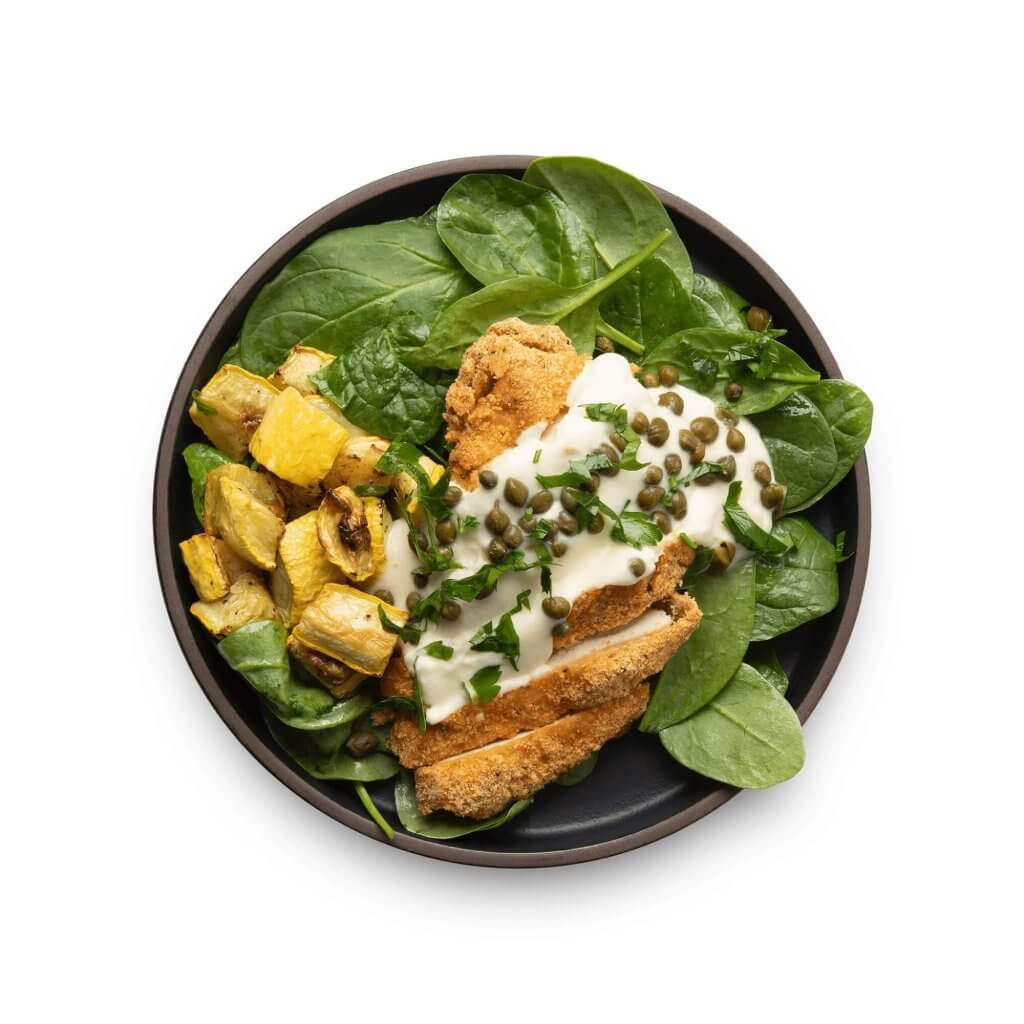 Freshly
Freshly offers a weekly rotation of about 30 dishes; typically, about eight to ten of those are low carb meals with under 35 grams of carbohydrate.s You'll set your preferences to 'low carb' when you sign up, then you can easily order meals that match your diet goals. Freshly lets you select from 4, 6, 9, or 12 delivered meals per week. A few of the delicious low carb dishes on the menu include Steak Peppercorn and Tomato-Glazed Turkey Meatloaf with Cauli-Potato Mash.
On the home page, click 'View Plans & Menu' then under 'On the Menu' select 'All Meals' in the Menu Category drop-down list. You can quickly identify low carb meals by looking for the bread symbol tag. Click on the icon to see specific carb content, calories, ingredients, and more.
Meal Plan Summary: Choose a plan with 4, 6, 9 or 12 meals per week.
Price: Starting at $7.99 per meal.
Delivery Area: Freshly delivery area currently covers all 48 states in the continental US. However, shipping is limited by zip code in some places. Click here to see if they deliver to your neighborhood.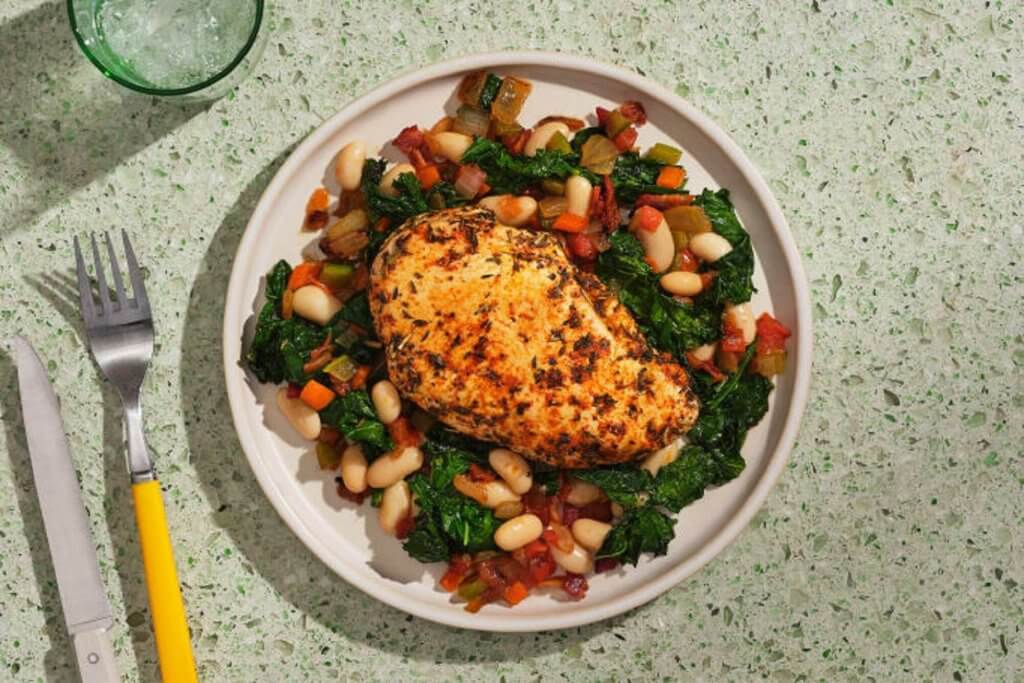 Trifecta
The Keto Chef's Choice Plan cuts carbs to the lowest levels possible, which makes it ideal for anyone trying to stick to a low carb lifestyle. Average macronutrients for the Keto plan include 35 grams of protein, 35 grams of fat, 9 grams of carbs, and an average of 500 calories.
You can choose how many Trifecta prepared meals you want to eat each day: options include breakfast, lunch, dinner, as well as a 3rd entrée (perfect for athletes or ravenous eaters). Then, you choose if you'd like to receive meals five or seven days per week. Trifecta's chefs use 100% organic ingredients, wild-caught seafood, and grass-fed meats to create delicious, filling meals like Beanless Chili Con Carne, Ginger Glazed Salmon and Spinach, and Crustless Quiche. You can easily pause or cancel your plan whenever you want, and shipping is always free.
Meal Plan Summary: Choose a 5- or 7-day plan, with your choice of between 1 and 4 meals per day.
Price: Starting at $10.29 per serving (for the vegan and vegetarian plans).
Delivery Area: Trifecta delivers to all 50 states.
Promo Code: No discount offers currently available.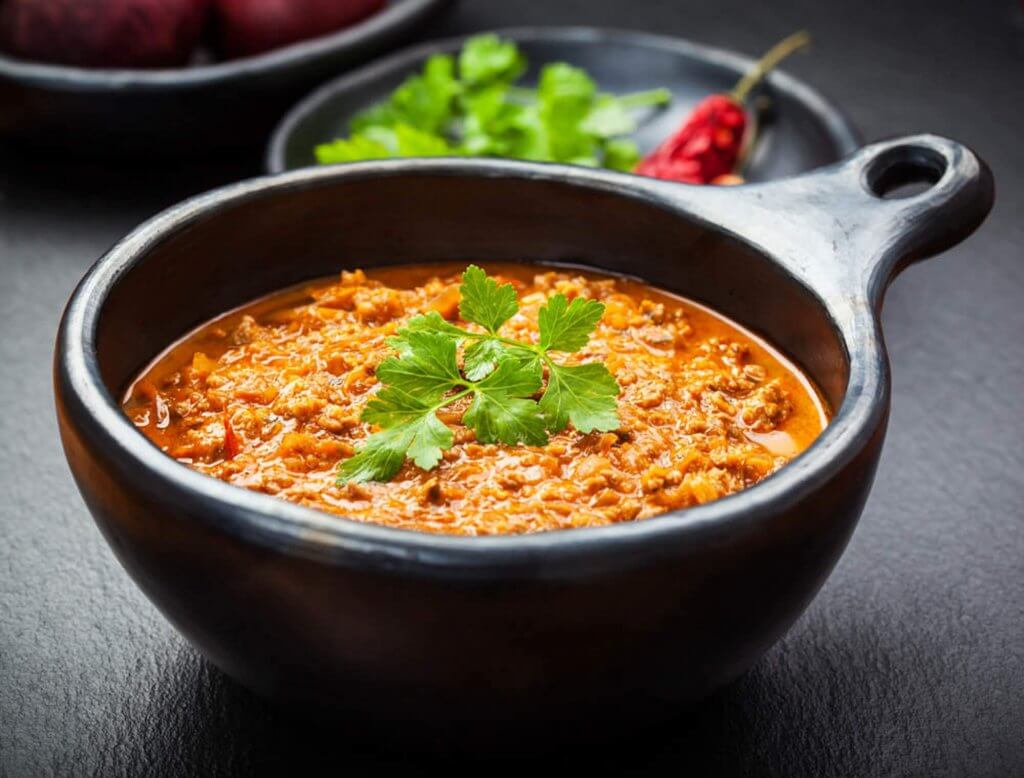 Fresh N' Lean
Three of Fresh N' Lean's meal plans cater specifically to low carb diets. The Keto Plan has the lowest carb ratio with meals that contain an average of 15% carbohydrates. Entrees on the Paleo and Low Carb Vegan Plans average around 21% and 28% carbs, respectively. All meals are delivered weekly, arrive fresh, never frozen, and the certified-organic menus change weekly.
The Keto Plan includes organic ingredients woven into delicious recipes like Cage-Free Turkey Bacon and Scrambled Egg and Grass-Fed Steak with Grits and Broccoli. The Low Carb Vegan Plan will satiate you with recipes like Cilantro Cream Roasted Vegetables, or Heirloom Vegetables with Herbed Olive Oil.
To learn more about Fresh N' Lean low carb meals, scroll to the bottom of the home page. Under 'Meal Delivery,' click on 'Low Carb Meal Plan.'
Meal Plan Summary: Choose a 5- or 7-day plan with your choice of 1, 2, or 3 meals per day.
Price: Starting at $7.93 per serving (for the vegan standard plan).
Delivery Area: Fresh N' Lean delivers nationwide!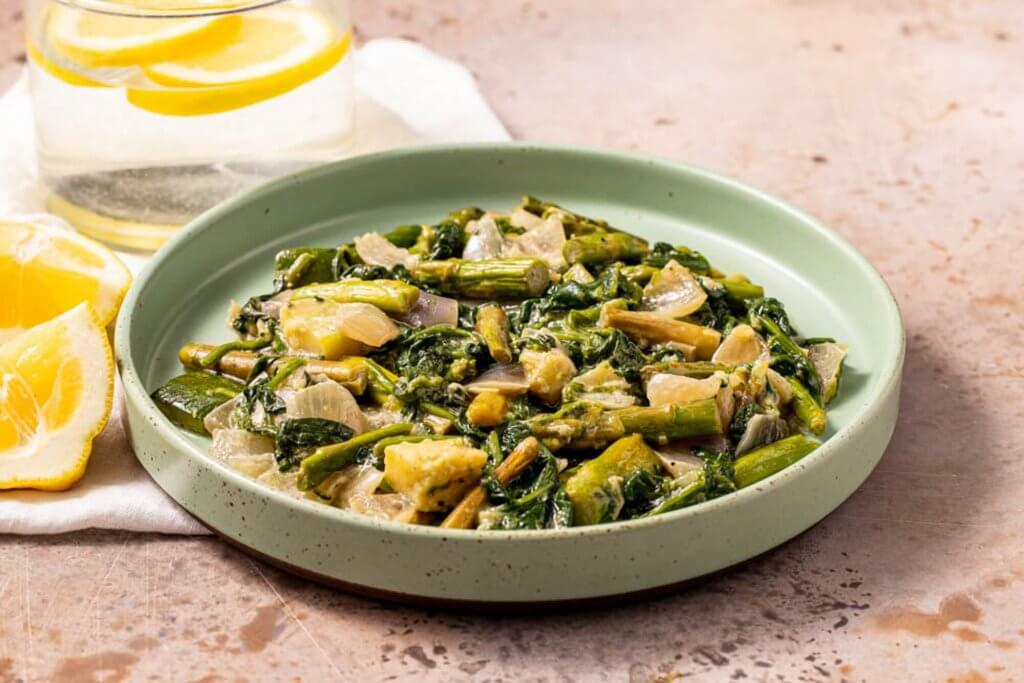 Factor 75
In-house dietitians work with Factor 75 chefs to create an ever-changing rotation of breakfast, lunch, and dinner entrees. You can quickly identify low-carb meals on the menu by looking for the bread symbol – the typical menu has at least a dozen low-carb options.
With Factor 75, you can feel great about the foods you're eating, thanks to the fresh, high-quality ingredients used for every recipe. Meats are grass-fed and pasture-raised, poultry and eggs are antibiotic- and cage-free, and salmon is BAP-certified. Additionally, produce is non-GMO and organic when possible. The menu is also entirely gluten- and soy-free, with no refined sugars. Some popular low carb meals include Queso Fundido, Spicy Turkey Poblano Bowl, and Blackened Salmon. You can also add soups, proteins, snacks, and cold-pressed juices to your order.
You have the option of choosing the meals in your weekly delivery, or you can let Factor 75 choose for you, based on your preferences. When you subscribe, you can schedule a free 20-minute nutrition consult to jumpstart your low carb diet plan.
Meal Plan Summary: Choose 4, 6, 8, 12, or 18 meals per week, then customize your box with desired breakfast, lunch, and dinner entrees.
Price: Starting at $11.00 per meal.
Delivery Area: Factor delivers everywhere in the contiguous U.S.
Promo Code: No discount offers currently available.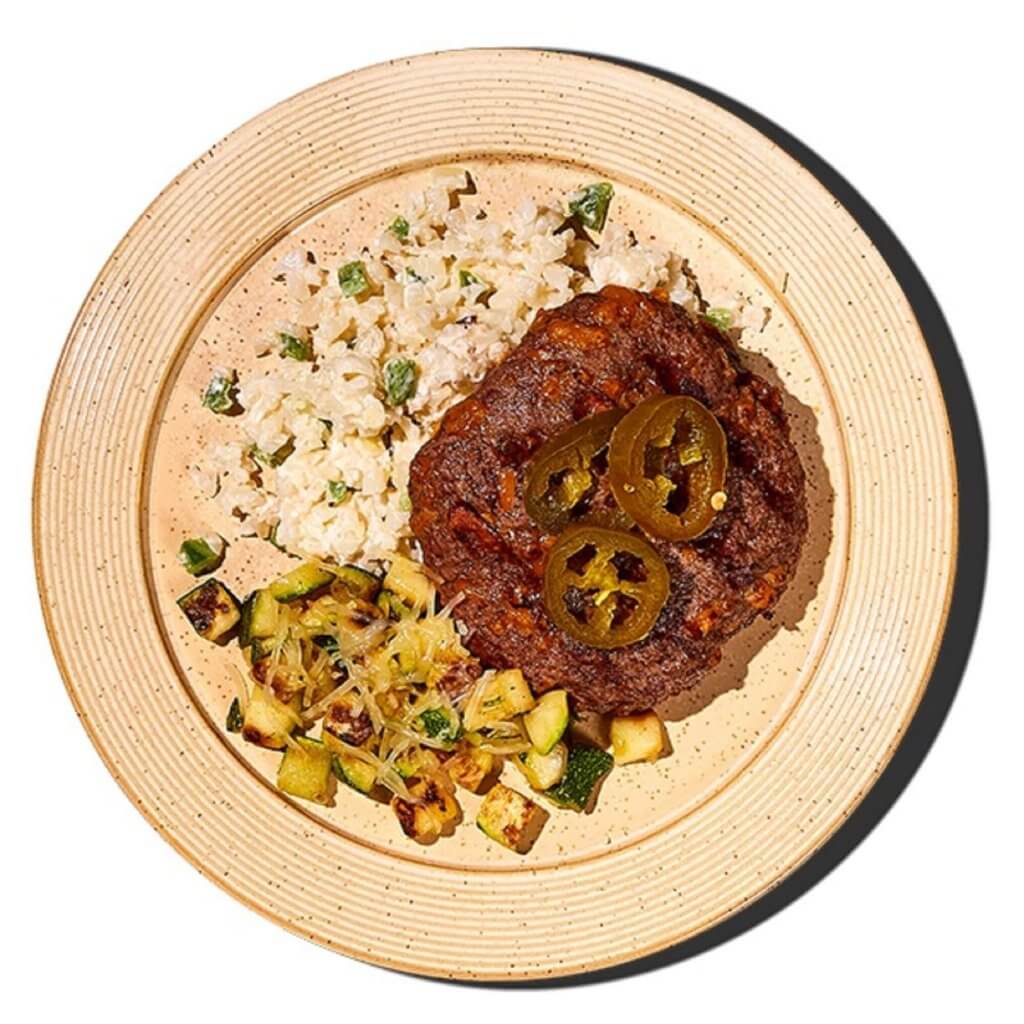 Low Carb Frozen Meals Delivered
Stocking your freezer with a variety of low carb frozen meals is one of the easiest ways to stick to your low carb lifestyle. You know this scenario – you're starving but too busy to shop for the specific low carb ingredients you need, so you quickly put together what you have on hand. On no, not macaroni and cheese! Or perhaps you're eating a low carb diet, but your family isn't. With frozen meals on hand, you can quickly heat a low carb dinner for yourself and cook macaroni and cheese for the kids.
The companies we recommend don't just deliver the bland meals you might find on the freezer aisle. These services offer nutritionist planned, chef-crafted meals made of high-quality ingredients. Thanks to flash-freezing methods, many top-quality frozen meals are more nutrient-dense than their fresh counterparts. Flash freezing immediately after harvesting traps in nutrients.
Pete's Paleo
While Pete's Paleo is better known for its fresh paleo-friendly meals, this long-standing meal delivery company also offers a great selection of frozen low carb meals on its Eat What You Love Ketogenic Menu. The meals in this plan contain a ratio of 5-25% protein, 60-75% fat, and no more than 20%  carbs.
Menus change weekly, with recipes created from seasonally harvested ingredients such as Grilled Grass-Fed Tenderloin with Sautéed Garlic Spinach & Grilled Avocado and Chipotle Braised Chicken with Swiss Chard & Roasted Cauliflower. You're assured of some delicious taste treats because Pete is a classically trained Le Cordon Bleu chef.
Click 'Start Here' on the home page then click on 'Eat What You Love.' Select Ketogenic from the drop-down menu. If you place your order by Monday night, you'll receive your meals by Friday. How's that for convenience?!
Meal Plan Summary: Choose a 5, 10, or 14 meal plan (ideal for 1–2 people) or opt for the Family Plan (5 meals, four servings each). You can also order the Vegetarian Plan (10 meals) or select a minimum of 5 meals from the keto-friendly "Eat What You Love!" frozen meal menu. These bundles are also available: "New You" 4-week plan with meals 3 or 5 days per week; "Pete's Paleo Lite" with seven meals; and "21-Day Sugar Detox".
Price: Starting at $9.90 per serving (for "Eat What You Love!" Chef's Choice bundle of 10).
Delivery Area: Pete's Paleo delivers nationwide, including Alaska and Hawaii!
Promo Code: No discount offers currently available.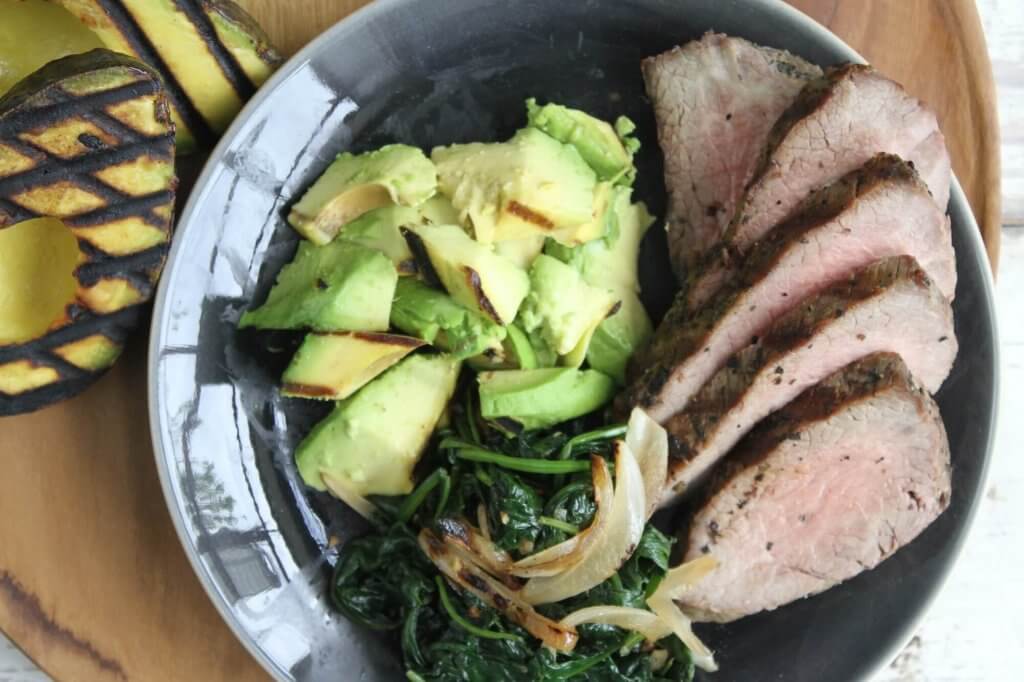 Freshology
Freshology's Keto-Carb30 plan follows an Atkins-style, carb-restricted diet to help you lose weight. This frozen meal service offers nutritionally-balanced, flash-frozen breakfasts, lunches, and dinners. On average, each Keto-Carb30 meal has around 30 net carbs.
To get started, go to 'Plans,' then choose the 'Keto-Carb30 Plan.' You can choose a 5- or 7-day plan, with two or three meals per day. Preview a sample menu by clicking 'Menus' in the navigation bar on the homepage. On the Menus page, scroll down to view a summary of the Keto-Carb30 plan. Then you can click on 'View the Sample Menu' to see all the delicious selections. Popular meals include the Western Omelet and Spinach Quiche for breakfast, Old Fashioned Pot Roast and Chicken & Bacon Cheddar Melt for lunch, and Beef Tenderloin with Red Wine Sauce and Eggplant Manicotti for dinner.
Once you place your order, you can customize your meal preferences. Meal choices rotate every five weeks. Freshology doesn't require long-term commitments so you can change, pause, or cancel your subscription at any time.
Meal Plan Summary: Choose a 5- or 7-day plan, with two or three meals per day
Price: Starting at $8.57 per serving.
Delivery Area: Freshology delivers everywhere in the contiguous U.S.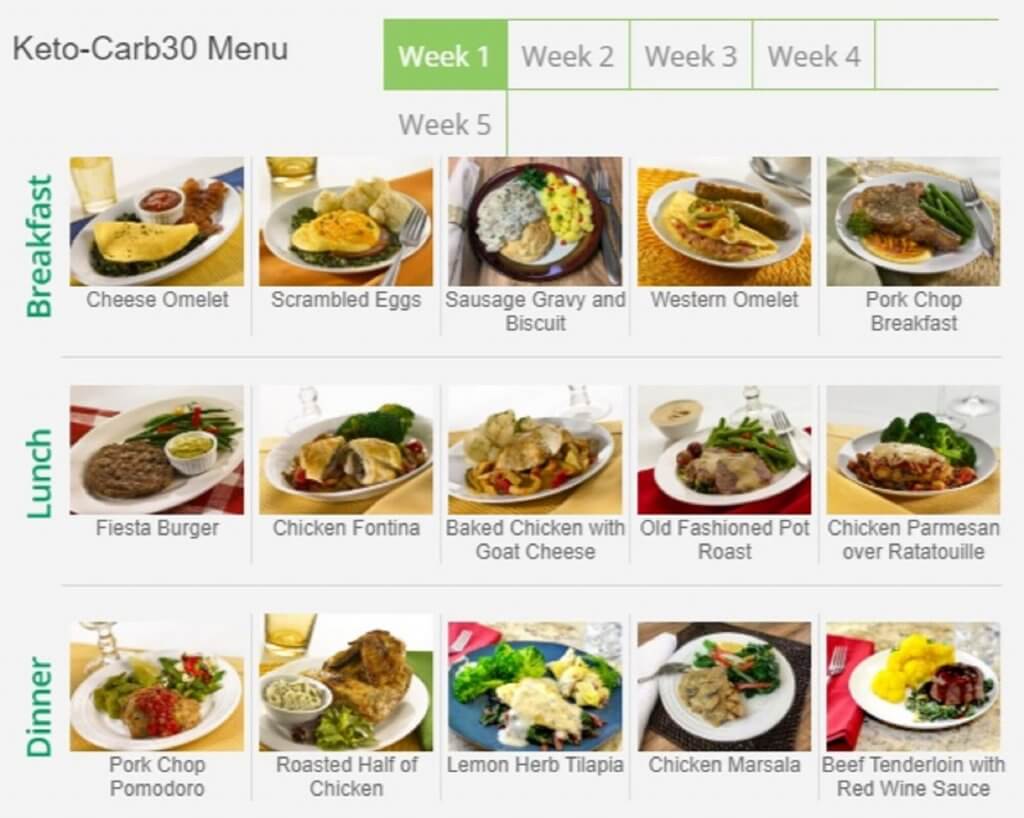 Daily Harvest
See Daily Harvest reviews here
Daily Harvest creates a menu of 80 frozen smoothies, harvest bowls, soups, chia bowls, scoops, and bites from mostly-organic fruits and vegetables. Sign up for a weekly or monthly subscription, with 9, 12, or 24 items per delivery. After your first delivery, you can customize future orders by adding additional items, swapping selections, skipping deliveries, and more. It's super easy to manage your account on the iOS app.
Finding low carb options is easy. Click 'Browse' from the navigation bar on the home page, then select 'All.' Click on the filter icon, then select 'Dietary Needs' and 'Low Carb' from the list of preferences. This filter will display the two dozen-plus low carb options – from smoothies to lattes. Try a Cold Brew + Almond Smoothie for an early-morning energy boost or reward yourself with a guilt-free sweet treat in the form of a pint of Strawberry + Rich, Rippled Berry Compote. Click on any image to see nutrition facts, ingredients, and more.
Meal Plan Summary: Choose a weekly subscription with 9, 14, or 24 items per box or a monthly subscription with 24 items per box.
Price: Starting at $5.49 per item.
Delivery Area: Daily Harvest ships to 95% of addresses in the continental U.S. To see if they deliver to your zip code, click the "Get Started" button on the homepage and enter your zip code and email address.
Promo Code: $40 Off Your First Box (exclusive to BoxedMealz)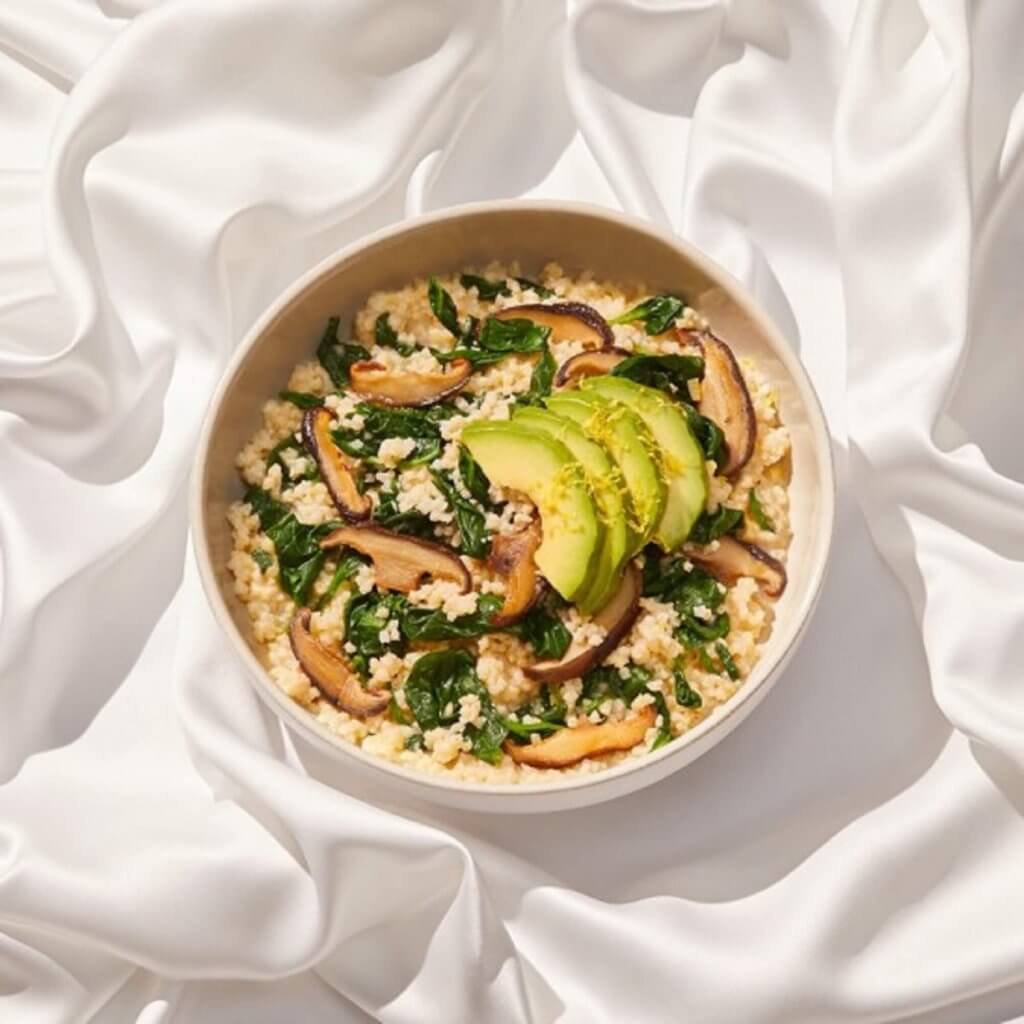 Ketoned Bodies
See Ketoned Bodies reviews here
Offering inspired blast-frozen entrees, Ketoned Bodies' keto-compliant meals are also low carb. Meals range from traditional standard comfort foods, like Cheesy Cauliflower and Hot Dog Casserole, to internationally-inspired dishes, like Ropa Vieja. On the menu, click on an image of any meal to see the complete list of ingredients, nutrition facts, and the total carbohydrate count. For example, the Cashew Beef and Broccoli has 11 grams of carbs, 70 grams of protein, and 54 grams of fat.
To order, select your meals from the Eco Keto Meals Menu. If you order ten or more entrees in one order, shipping is free. On the checkout page, you can place a one-time order or opt-in for weekly or bi-weekly subscription service.
Meal Plan Summary: Order a la carte or choose a meal plan with 10, 15, 21, or 84 meals.
Price: Starting at $13.51/meal when purchasing a package; from $14.95/meal when purchasing a la carte.
Delivery Area: Ketoned Bodies delivers nationwide!
Promo Code: No discount offers currently available.