Moink Reviews, Pricing, Discounts & More - Complete Review
Ethical Meat. Exceptional Taste.
Support U.S. farmers when you buy top-quality meats and seafood from Moink. This meat subscription service delivers ethically-sourced meats, including wild-caught salmon, grass-fed and grass-finished beef, pasture-raised pork, pasture-raised chicken, and grass-fed and grass-finished lamb, all raised on small family-owned farms. Moink is 100% owned by U.S. farmers committed to distributing the best possible animal products, which means no hormones or antibiotics. Sourcing your family's proteins from Moink, instead of the grocery store, means you get to support small American farmers while ensuring that the meat you put on the dinner table is humanely-raised and healthy. It's a win-win!
Moink Meats
Moink farmers pride themselves on maintaining small farms where they can raise animals humanely and ethically. These responsible farming practices enable them to deliver some of the highest quality meats available. 
100% Grass-Fed, Grass-Finished Beef
Unlike cattle raised in mass production, which are fed supplements to accelerate growth, the cows raised by Moink farmers are 100% grass-fed and finished. Moink's cows spend their time roaming pastures and eating grass, rather than living cooped up in a holding pen. Raising cows with this holistic approach produces beef that is lower in fat and richer in heart-healthy Omega 3s and antioxidants like Vitamin E than typical store-bought beef.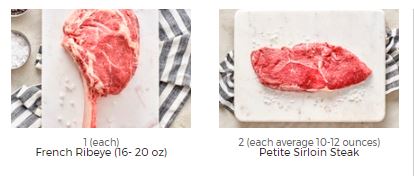 Wild Alaskan Salmon
Moink's salmon is 100% wild-caught salmon from Alaska's Bristol Bay. Because these salmon come from the wild, you don't have to worry about many of the issues that come with consuming farm-raised salmon. Wild-caught salmon never receive vaccines, antibiotics, and chemical feeds commonly given to farm-raised salmon, nor do they contain many of the toxins that their counterparts do. With Moink, you can feel good about eating seafood that's full of Omega-3s, B vitamins, and antioxidants, without any of the worries.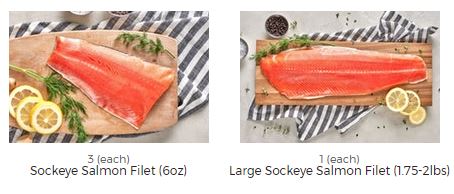 Pasture-Raised Pork
Moink pigs get to spend their lives rooting around on pastureland, as they should. From the pork chops to the bacon, all pork products in Moink boxes are free of hormones, antibiotics, MSG, nitrates, sugars, and dyes, so you can feel great about what you're consuming!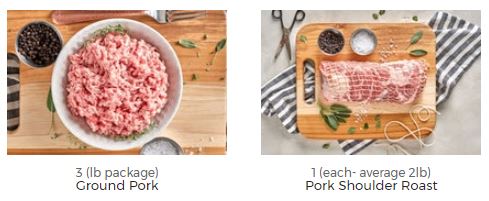 Grass-Fed, Grass-Finished Lamb
Sheep are susceptible to a wide gamut of diseases and parasites, which means that most of the lamb meat you find at the grocery store comes from either disease-ridden animals or sheep pumped full of antibiotics and deworming agents. In contrast, Moink lamb comes from sheep raised on a 100% grass-fed diet, without the introduction of antibiotics and dewormers.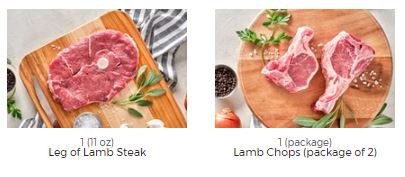 Organic, Free-Range Chicken
A lot of the chicken that Americans consume comes from mega-chicken farms where birds live in inhumane confinement and receive a steady diet of hormones, antibiotics, and chemicals. Not so with the chickens raised by Moink farmers. Moink's poultry products come from 100% free-range, organic chickens and are hormone-free, antibiotic-free, and GMO-free. 
Moink Box Prices
Moink subscription meat boxes cost $129 for small sampler boxes and $159 for full-size boxes.
Moink Box Plans
Moink offers two basic subscription plans: the sampler box and the full-size box. Sign-up for delivery every 3, 4, 6, or 8 weeks. While default boxes typically come with a combination of beef, pork, and chicken, you can always customize your box for the exact types and cuts of meats that you prefer. For example, you can swap out petite sirloin steaks in favor of lamb chops or a sockeye salmon filet: 
The Full-Size Box:

This box includes 13-16 lbs. of meat. For example, a default full-size box may consist of 2 lbs. of beef bone-in short ribs, a 3-lb. beef chuck roast, four boneless pork chops, 3 lbs. of 85/15 ground beef, 2 lbs. of ground pork, 2 10-12 oz. petite sirloin steaks, and 2 lbs. of pork shoulder steak.

The Sampler Box:

This box includes 8-12 lbs. of meat. For example, a default small sampler box may consist of 2 lbs. of beef bone-in short ribs, a 3-lb. beef chuck roast, 3 lbs. of 85/15 ground beef, 2 10-12 oz. petite sirloin steaks, and a 2-lb. pork shoulder roast.

The full-size Moink box includes between 13-16 pounds of meat. You are always free to customize your box for the cuts and types of meat you prefer.
Moink Box Promo Code
No discount offers currently available.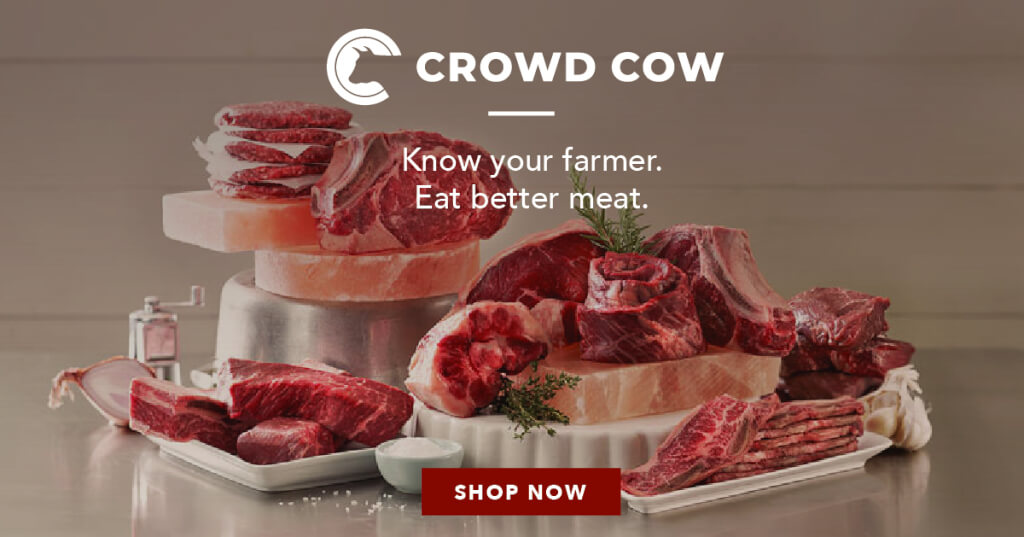 Sponsored Advertiser
Moink FAQ:
How much does Moink cost?
Moink offers full-size and small sampler boxes, all of which are customizable. The full-size box costs $159, while the small sampler box costs $129. See full pricing details below:
Moink Box Pricing
| Box | Pounds of Meat | Price per Box |
| --- | --- | --- |
| Small Sampler Box | 8-12 lbs. | $129.00 |
| Full Size Box | 13-16 lbs. | $159.00 |
How many calories are in the typical Moink meal?
Calories in meat products vary according to the type of meat and cut.
When are Moink meals delivered?
Moink ships boxes on Mondays, with deliveries arriving 1-3 days later, depending on where you live.
How much does shipping cost?
Where does Moink deliver?
Moink delivers everywhere in the contiguous U.S.
How do you skip a week of Moink meals?
Skip your next Moink delivery by logging in to your account, then navigating to "My Account," "Delivery Schedule." Click on the week or weeks you need to skip, to skip those weeks. All changes must be made by Thursday at midnight before an upcoming Monday delivery.
How do you cancel Moink?
To cancel your Moink account, log-in and go to "My Account," then "Account Settings" and click the big red "Cancel Account" button.
How do you contact Moink?