Crowd Cow Reviews, Pricing, Discounts & More - Complete Review
High quality craft beef and meats from farms and ranches around the world.
If you regularly hit up the meat counter at your local grocery store, you may be left wondering where in the world your meat came from and how it was raised. These are the questions that led Crowd Cow founders to develop a farm-to-consumer meat subscription service built on total transparency. With Crowd Cow, you can say farewell to mystery meats. This company has relationships with a network of small, independent ranches that raise their meats ethically with regenerative farming practices. You can read about each of the farms that Crowd Cow partners with to learn about their specific farming practices, see real pictures from the ranch, and view the products that farmer sells on Crowd Cow. Armed with this information, you can feel confident about the origins and quality of the meat you're putting on your dinner table!
Crowd Cow Meats
From beef to lamb, Crowd Cow offers a wonderful variety of meats and cuts to stock your freezer.
Crowd Cow Craft Beef
You can shop cuts of both 100% grass-fed, pasture-raised beef, as well as slightly more affordable pastured grain-finished beef. For comparison, a 12 oz. grain-finished New York Strip Steak costs $21, while the same cut from a grass-fed cow is $21.75. The leaner grass-fed beef usually takes less time to cook and is higher in heart-healthy omega-3s. Available cuts include everything from basic ground beef to bone-in ribeye and bacon-wrapped sirloins.

Crow Cow Wagyu Beef
If you're a true beef connoisseur, then you'll be amped about Crowd Cow's Wagyu beef selection. Wagyu beef is known for its unique flavor and tenderness, which have made it the prized meat of some of the finest kitchens and restaurants the world over. Originating in Japan ("Wagyu" literally translates to "Japanese cow"), this cattle breed was initially used in agricultural practices that favored animals with physical endurance and intra-muscular fat cells. Dispersed throughout the muscle, these fat cells, more widely referred to as "marbling," are what lend exceptional flavor to Wagyu beef. Not only is Wagyu more flavorful than its conventional counterparts, but it's also healthier with higher levels of stearic and conjugated linoleic acids. Crowd Cow offers an impressive selection of both Japanese and American Wagyu beef.

Crowd Cow Chicken
Crowd Cow also offers several cuts of free-range and pasture-raised chicken, from breasts and thighs to whole chickens, drumsticks, wings, and even chicken feet. As with grass-fed beef, pasture-raised chicken, which grazes in open pastures, is higher in Omega-3s. It's also lower in fat than conventional chicken and boasts more vitamins and nutrients. Free-range chickens have some access to the outdoors but have a diet supplemented with non-GMO feed.

Crowd Cow Pork
Shop Crowd Cow's selection of all-natural and heritage porks, which include chops, tenderloin, bacon, butt roast, and some very tempting-looking St. Louis spareribs. All-natural pork means that farmers do not give animals antibiotics, added hormones, or growth stimulants. Heritage pork, on the other hand, comes from certain breeds of heritage pigs, like Berkshire and Duroc, that have traceable family pedigrees stretching back hundreds of years. Heritage pigs are not crossbred, so they produce fattier, more flavorful meat than other breeds. Both all-natural and heritage pigs are typically pasture-raised and spend their time roaming and foraging. 

Other Meat and Seafood Offerings
Though not always in-stock, Crowd Cow does sometimes offer lamb and pasture-raised turkey. Additionally, they have several sustainable seafood options (both wild-caught and farm-raised). At the time of writing, Crowd Cow has smoked salmon, smoked black cod bellies, and Icelandic Arctic Char, while sold-out inventory includes delights like wild Maine lobster and Alaskan halibut. 

Crowd Cow Prices and Subscription Plans
When you sign up for a Crowd Cow subscription, you'll save 5% on every box and receive free shipping. Subscription plans automatically default to monthly shipments, but you are free to change the frequency of your deliveries once you create your account. The three basic subscription options are:
Custom Box (starting at $99)
With the custom box option, you start by choosing from around 16 of the most popular cuts – like grass-fed bone-in ribeye steak or ground beef. Once you start building your box, you can add any cuts of meat you'd like (even those not listed on this subscription plan) by browsing around the site. Note, the minimum order amount is $50, while free shipping kicks in once you get to $99. 
Steak Lovers ($159)
The Steak Lovers subscription features various cuts of hand-carved steaks based on current availability. For example, the existing box includes 5.5 pounds of steaks and filet. 

Japanese Wagyu ($249)
Featuring Wagyu beef raised in Japan, the Japanese Wagyu subscription is the Rolls-Royce of the Crowd Cow's offerings. You can have the same meat used in Michelin-rated restaurants delivered to your door! Here's an example of what you might find in your box:

While subscriptions are easy to adjust or cancel, if you don't feel like committing just yet, you can always place a one-time order. Shop by cuts of meat or buy a pre-bundled pack (like the bodybuilder pack). Alternatively, you can shop by the farm, which we think is one of Crowd Cow's coolest features. Browse through the farms, learn about their farming practices, and find one that aligns with your values.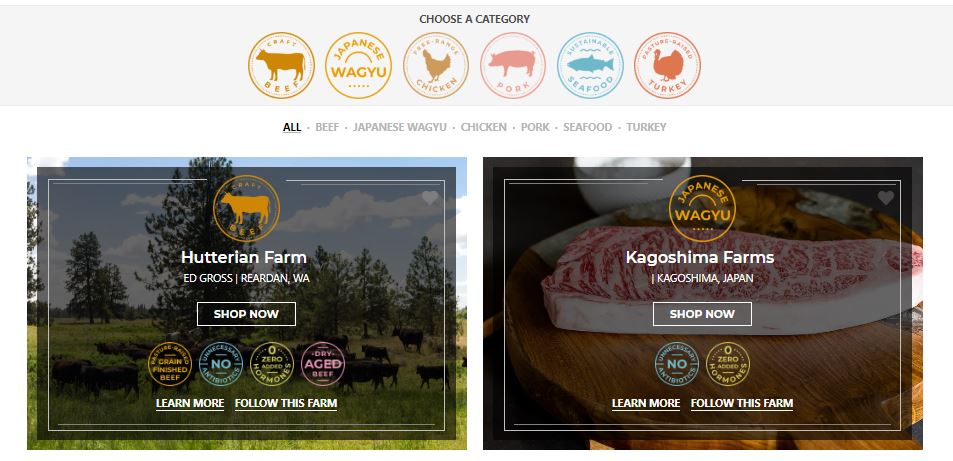 Crowd Cow Shipping
As part of its eco-commitment, Crowd Cow uses 100% recyclable and compostable packaging to ship meats to your front door, including eco-friendly foam derived from non-CMO cornstarch. Additionally, each order is 100% carbon neutral. Meats are frozen at peak freshness, vacuum-sealed, and packed on dry ice for shipment.
Crowd Cow Promo Code
Get 5% off + FREE shipping when you sign up for a subscription auto-ship plan; no coupon code needed! Click "See Current Promo" below to get started.
See Current Promo

Sponsored Advertiser
Crowd Cow FAQ:
How much does Crowd Cow cost?
Crowd Cow has three subscription plans. The Custom Box costs $99 or more, the steak lover's subscription costs $159, and the Japanese Wagyu subscription costs $249. All subscription plans include free shipping.
When are Crowd Cow meals delivered?
After you place an order, it takes Crowd Cow up to five days to process the order, pack your box, and ship it. After shipping, it will take another 1-3 days to arrive at your address, depending on where you live.
How much does shipping cost?
Shipping is FREE with all subscriptions over $99.
Where does Crowd Cow deliver?
Crowd Cow ships everywhere in the contiguous U.S.
How do you skip a week of Crowd Cow meals?
To change a delivery date, log-in to your account and navigate to the "Your Orders" section. From here you can select an order and push out the delivery date. Note, you must change your delivery before Crowd Cow's team starts packing your shipment.
How do you cancel Crowd Cow?
You can cancel your subscription from your account menu.
How do you contact Crowd Cow?
See Current Menu