Daily Harvest Reviews | Cost & Pricing + Promo Trial Discounts
Choose From: Ready-to-Blend Smoothies & Ready-to-Heat Soups
Daily Harvest Dietary Options
Whether you have a demanding work schedule or a hectic home life, Daily Harvest understands that sometimes you simply don't have the time to prepare a healthy, home-cooked meal. Founder Rachel Drori had the vision to help busy people like herself have access to quick, nutritious meals on-the-go. This ingenious delivery service offers delicious ready-to-blend smoothies, ready-to-heat soups, oat bowls, chia bowls, and harvest bowls, as well as protein bites and lattes, for health nuts who don't always have the time for meal prep. All-natural ingredients are picked at the peak of maturity to ensure maximum nutritional value, with no added sugar or preservatives. Choose from four different plans – 9, 14, or 24 items weekly, or delivery of 24 cups once-a-month.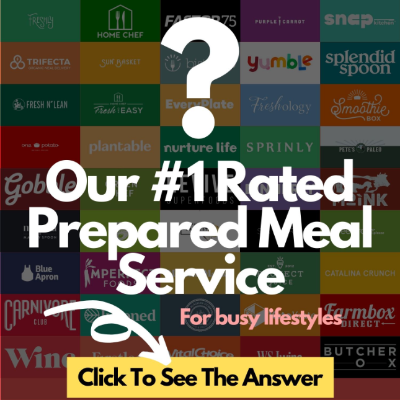 Sponsored Advertiser
Daily Harvest FAQ:
How much does Daily Harvest cost?
The cost is $69.75 for 9 smoothies a week ($7.75 per smoothie), $89.88 for 12 smoothies a week ($7.49 per smoothie), or $167.76 for 24 smoothies a week ($6.99 per smoothie).
| Plan | Cost per Box | Cost per Smoothie or Soup |
| --- | --- | --- |
| 9 Weekly | $69.75 | $7.75 |
| 12 Weekly | $89.88 | $7.49 |
| 24 Weekly | $167.76 | $6.99 |
| 24 Monthly | $167.76 | $6.99 |
How many calories are in the typical Daily Harvest meal?
Calories vary by cup but typically range between100-500 calories. For additional details, see below.

Smoothies: Most Daily Harvest smoothies are between 120 - 510 calories per cup (before adding your liquid of choice). If you're looking for higher calorie, workout recovery smoothies check out blends like the Cacao + Avocado Smoothie (510 calories) or the Chocolate + Hazelnut Smoothie (490 calories).

Harvest Bowls: The Harvest bowls range between 110 - 370 per bowl. On the lighter side, are options like Spinach + Shiitake Grits (140 calories) and Lentil + Tomato Bolognese (140 calories), but if you're looking to beef up, you might want to try heartier options like the Broccoli Rice + Dill Pilaf bowl (370 calories).

Soups: Most Daily Harvest soups are between 80 - 360 calories. Lighter options include Cauliflower + Leek Stew (80 calories) and Turmeric + Lemongrass Broth (110 calories). If you want something a little more filling, try the Green Chickpea + Kale Curry (360 calories).

Bites: These energy bites range between 80-130 calories per bite. With 7 bites per container, there are enough enjoy this little "pick-me-up" as a daily treat (or you could devour the entire cup of 560-910 calories in a single sitting).

Oat Bowls: If you're looking for a hearty breakfast option to start the day right, Daily Harvest's oat bowls are the way to go. Each bowl has two servings, but if you eat the bowl in its entirety (which, let's be honest, you likely will), it will be somewhere between 340-520 calories, plus the calories for your milk of choice. The lightest option is Mulberry + Dragon Fruit (340 calories), while the most calorie-dense option is Cinnamon + Banana (520 calories).

Chia Bowls: Like the Oat Bowls, the Chia bowls also have two servings per container. These bowls range between 380-560 calories in total. Factor in additional calories for your milk of choice. Try the decadent Chocolate + Almond (560 calories total) which tastes like a mousse (dessert for breakfast? yes, please!) or stick with the lighter, energizing Mango + Tumeric bowl (380 calories).

Lattes: Who doesn't love a mid-morning or post-lunch latte break? Each Daily Harvest latte cup comes with three latte pods that range between 80-160 calories per serving (add additional calories with your preferred liquid). The lightest option is Ginger + Turmeric (80 calories per serving), while the Coffee + Cardamom Latte is 160 calories.
How long does it take to cook a Daily Harvest meal?
All Daily Harvest cups come ready for fast and easy preparation, in under six minutes. Eating healthy meals and snacks on-the-go has never been more convenient!

To make Daily Harvest smoothies, you'll add liquid (like almond milk or coconut water), add everything to your blender, blend, then enjoy! This process should take 2-3 minutes tops.

Harvest bowls, soups, oat bowls, and chia bowls take anywhere between 3-6 minutes to heat up either on the stovetop or in the microwave.

Depending on whether you're looking to warm up or cool off, you can make your Daily Harvest lattes hot or iced. Hot lattes take just 1-2 to heat up, while the iced version takes just a couple of minutes to run through the blender.

Superfood bites are ready to eat immediately - no prep time required.
When are Daily Harvest meals delivered?
What day your Daily Harvest box arrives depends on your zip code. You can view shipping information at checkout.
How much does shipping cost?
Where does Daily Harvest deliver?
Daily Harvest ships to 95% of addresses in the continental U.S. To see if they deliver to your zip code, click the "Get Started" button on the homepage and enter your zip code and email address.
How do you skip a week of Daily Harvest meals?
You must update your account delivery schedule by 6pm EST the Sunday before your box is set to ship. To skip a week, log-in to your account and go to the "Delivery Schedule."
How do you cancel Daily Harvest?
With Daily Harvest, you can cancel online in your account settings or also by sending an email to hello@daily-harvest.com. You can either pause your deliveries indefinitely or completely cancel your subscription. To do the former, log-in and navigate to "My Plan," then "Manage Plan." Under "Plan Status," click "Pause This Plan." To completely cancel, click "Edit Plan," and "Cancel My Plan" in the pop-up window.
How do you contact Daily Harvest?
The Daily Harvest team is available to answer your questions daily from 9 AM - 9 PM EST.