Winc Reviews, Pricing, Discounts & More - Complete Review
Hand picked, world-class wine.
Are you tired of staring at rows upon rows of wine at the grocery store, paralyzed by the seemingly endless options? Save time and skip the grocery store by ordering wine online with Winc wine delivery. Though it sounds like an enviable job, Winc's team of wine enthusiasts has done the hard work of finding gems in the sea of wine choices. They curate an ever-changing list of delicious wines representative of various regions, varietals, bodies, and sweetness levels, so you're sure to find what you like, without the overwhelm of hundreds of options. 
Just how does the Winc wine subscription work? When you create an account, you'll start by taking the Winc wine quiz, which in six short questions (like "how do you take your coffee?" and "how do you feel about berries?") homes in on your wine palate. Next, you choose your box mix. Do you want all reds, all whites, or a combination? On the final screen, you can review the wines selected just for you based on your profile. If you don't like what you see, you can always edit the box and choose from the dozens of bottles that Winc offers. Are you really into Zinfandels or loving Portuguese varietals right now? Filter the list to display the types of wines that you know you like, then adjust the box as you wish. As you uncork and enjoy, rate each bottle in your account so that Winc can provide even better suggestions for the next box!

Winc Reviews
One of the most helpful aspects of using Winc's wine subscription service is the real user reviews of each bottle. Every wine has a star-rating based on feedback from other Winc customers. While some bottles have a few dozen reviews, other bottles have thousands of reviews. With these ratings and reviews, it's easier to determine which wines are tried-and-true crowd-pleasers and which bottles you may want to reconsider adding to your box.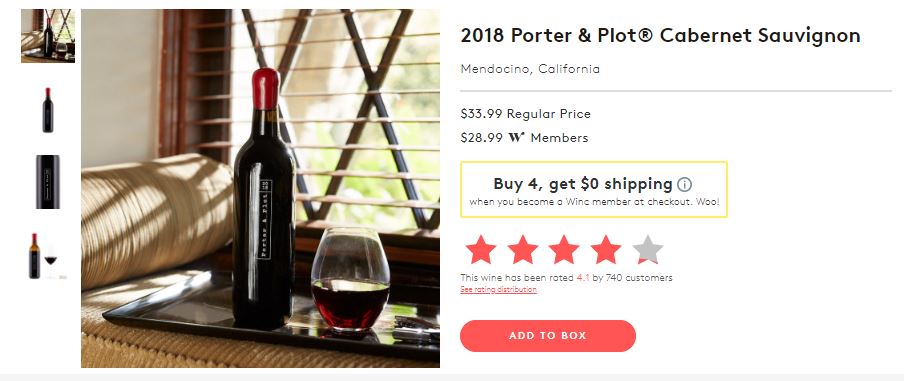 Winc Wines
At the time of this writing, Winc has 65 wines from which to choose – a selection that offers plenty of variety without too many options.
Red Wines
When it comes to reds, Winc has 44 bottles that run the gamut from tart and brambly medium-bodied grenache to peppery, full-bodied Cabernet Sauvignon. Top-rated picks based on customer reviews include two 2018 Folly of the Beast Pinot Noirs and a 2017 Baseline Pinot Noir (all priced $39.99 and up), as well as a more reasonably-priced 2017 Porter & Plot Syrah ($29.99) and 2018 Lost Poet Red Blend ($14.99). No matter your preferred flavor profile, you're sure to find some red wines that tickle your taste buds, while sticking to your budget.

White Wines
As for white varietals, Winc offers about 21 options, from classic, buttery Chardonnay to bright, floral Gewürztraminer. Customer favorites include a 2019 Alma Libre Sauvignon Blanc ($12.99), a 2017 Field Theory Albarino ($21.99), and a 2019 Outer Sounds Sauvignon Blanc ($14.99). Whether you typically prefer sweet, light-bodied Rieslings or crisp and dry Pinot Grigios, you're sure to find Winc whites that you'll love.

Rosé
The unofficial drink of summer, Rosé is perfect for days spent lounging poolside or hitting the beach with your posse. Not to worry, Winc always has Rosés in its line-up. Right now, members have six Rosé options, including a bubbly variety as well as a four-pack of cans ideal for relaxed backyard or lakeside hangouts.

Winc Wine Club Pricing
Just how much is Winc? Winc's monthly subscription costs $59.95. This monthly charge counts as a credit towards the four bottles you receive in your monthly shipment. Bottles range in price, between $12.99-$49.99 per bottle, and any unused credits roll over to the subsequent billing cycle. For example, if you select four bottles that total $51, the remaining $8.95 in credits is applied to your account to use on your next order. Shipping is $9 for any orders of less than $50 but is free for orders over $50.
Winc Promo Code
Sign up today and enjoy $20 off your first box of Winc wines, no coupon code needed!
See Current Promo
Featured Advertiser


Featured Advertiser
Winc FAQ:
How much does Winc cost?
Winc wine memberships cost $59.95 per month.
When are Winc meals delivered?
Winc orders ship within two days of processing your monthly payment. Typical shipping time is 3-7 days. You may contact customer service to adjust the day of the month your payment processes.
How much does shipping cost?
Shipping is FREE on orders over $50. A flat shipping rate of $9 applies to orders under $50.
Where does Winc deliver?
Due to state and local shipping restrictions, Winc cannot ship to addresses in Alaska, Alabama, Arkansas, Delaware, Hawaii, Kentucky, Michigan, Mississippi, Rhode Island, South Dakota, and Utah, as well as to select zip codes in Florida, New Hampshire, Connecticut, and West Virginia.
How do you skip a week of Winc meals?
To skip a month's delivery, log-in to your account, navigate to "My Membership" and click "Skip a Month." Note, you must skip 48 hours before your order date to prevent the order from shipping.
How do you cancel Winc?
Cancel your Winc membership through the site's live chat function or by calling customer service at 855-282-5829. Customer service is available Mon-Fri 6am-5pm PT or Sat-Sun 7am-4pm PT.
How do you contact Winc?
Mon - Fri: 6AM-5PM PT Sat - Sun: 7AM-4PM PT
See Current Menu