Marley Spoon Reviews, Prices, Discounts, FAQs, Promos, Cost & More!
Seasonal, pre-portioned ingredients with rotating menu of recipes.
Marley Spoon meal delivery offers customers the opportunity to whip amazing meals just like its brand ambassador, America's domestic diva, Martha Stewart. Using seasonal ingredients and Martha's best recipes, this meal delivery service allows you to cook delicious, homemade meals without the fuss of meal planning or grocery shopping. In your weekly box, you'll find pre-portioned ingredients sorted by meal, along with step-by-step instructions for each recipe approved by Martha Stewart herself. Choose from the 2- or 4-person box, and receive deliveries of 2-4 meals each week. The menu updates weekly, so you can choose the recipes that best suit your taste profile (some vegetarian options are available). Why try this service over rival meal kits like Home Chef and Blue Apron? Read our full review below!
Marley Spoon Promo Code
Marley Spoon is offering new customers $80 off. To apply this discount to your first order, click the "See Promo Code" button below.
See Current Promo
Featured Advertiser

Featured Advertiser
Marley Spoon FAQ:
How much does Marley Spoon cost?
Both meal plans come with either 2, 3, or 4 meals per week. The 2-person meal kit costs between $41.00-$67.92 per box and between $8.49-10.25 per portion. The 4-person plan costs between $67.92-$111.84 per box and between $6.99-$8.49 per portion. Note, shipping is an additional $8.99 per box.
2-Person Plan Pricing
| Meals Per Week | Price per Serving | Price per Box |
| --- | --- | --- |
| 2 | $10.25 | $41.00 |
| 3 | $8.99 | $53.94 |
| 4 | $8.49 | $67.92 |
4-Person Plan Pricing
Shipping and handling are an additional $8.99 per box.
How many calories are in the typical Marley Spoon meal?
Varies by dish, but when we checked the nutrition info on the latest menu, most recipes were between 600-1100 calories per serving. For example, these Cheesy Veggie Calzones have 886 calories. This meal kit does offer healthier low-calorie and low-carb options on the menu each week.
How long does it take to cook a Marley Spoon meal?
While cooking time varies by recipe, most Martha Marley Spoon meals are designed to be ready in under 40 minutes. Each week, the menu also features several recipes tagged "Under 30 Minutes" that are ready in 15-30 minutes, making it easy to get dinner on the table quickly. This Sesame Ginger Beef Stir-fry can be whipped up between 20-30 minutes. After cooking a gourmet dinner, you'll still have plenty of time to watch re-runs of your favorite Martha Stewart episodes.
When are Marley Spoon meals delivered?
How much does shipping cost?
Shipping is $8.99 per box.
Are there places where Marley Spoon doesn't ship?
At this time, Marley Spoon does not ship to Alaska and Hawaii. Martha Marley Spoon does deliver to most of the contiguous United States, but you can double check availability in your area during the sign-up process.
How do you skip a week of Marley Spoon meals?
Skip a week's delivery at least 5 days before the next scheduled delivery day. This meal kit offers users the flexibility of adjusting their delivery schedules up to seven weeks in advance.
How do you cancel Marley Spoon?
Cancel online by logging into your account and navigating to "My Settings". For additional questions, contact customer service via email or phone.
How do you contact Marley Spoon?
Customer service is available 24 hours/day.
See Current Menu
If you've long envied Martha Stewart's domestic and culinary prowess, then Marley Spoon is the meal box for you. Martha teamed up with Marley Spoon to bring Americans a meal kit that enables ordinary folks to cook delightful meals that look Martha-worthy and taste even better. This meal kit is fantastic for people without many dietary constraints who enjoy hearty, delicious homecooked meals. Curious to know more? Keep reading below. Already intrigued? Click "Claim Deal" now to lock-in the best Martha Marley Spoon promo code available.
Read More
Marley Spoon Plans
This meal kit offers two plans. The plan for two people is perfect for couples or roommates. And, even though the four-person plan is designed for families, it's also great for having friends over or for enjoying leftovers. Both plans come with 2, 3, or 4 recipes each week and offer the flexibility of adjusting the amount if your food needs vary from week-to-week. The plan for two people is between $8.49-$10.25 per portion, while the four-person box is between $6.99-$8.49 per portion. Want to try your first foray with this Martha Stewart meal kit for less? Check out the latest discount offer by clicking "Claim Deal" below. Marley Spoon will automatically apply the promo code at checkout.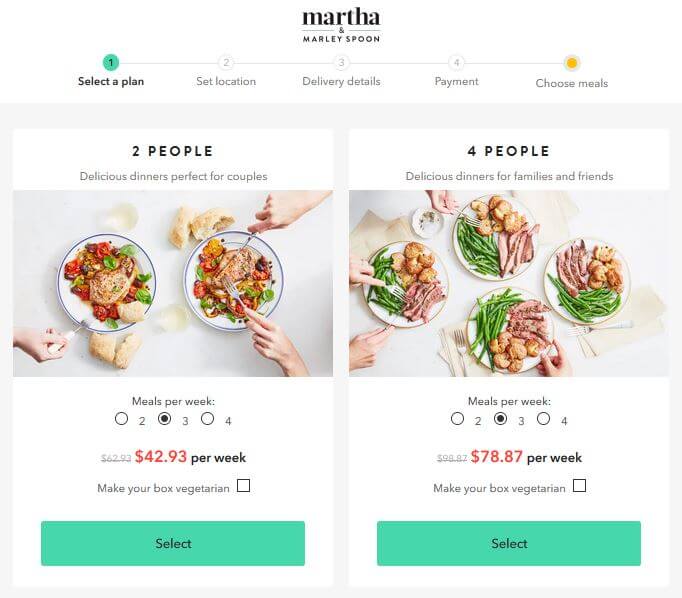 Marley Spoon Menu
Each week, subscribers choose from 22 recipes (20 lunch/dinner entrees and two smoothie recipes) from five major categories: Health & Diet, Vegetarian & Vegan, Meat & Fish, Under 30-Minutes, and Family-Friendly. This is far more selection than many meal kit services offer (for example, Blue Apron only has 11 menu items each week). Marley Spoon does have plenty of meal options to create an entirely Vegetarian box. However, if you're following a specific diet plan (like keto or paleo) or have severe food allergies (i.e., nuts or gluten), this may not be the best meal delivery kit for you. If you're looking for a plan to adhere with a strict diet, you may want to try Sun Basket. We love the way this meal kit tags each recipe, so it's easy to find recipes that meet specific criteria. For example, you can easily see all the meals that are gluten-free, dairy-free, low-calorie, etc. Tags on this Roasted Gnocchi indicates that it's vegetarian, kid-friendly, and fast (one-pot & under 30 minutes) – and doesn't it look yummy?!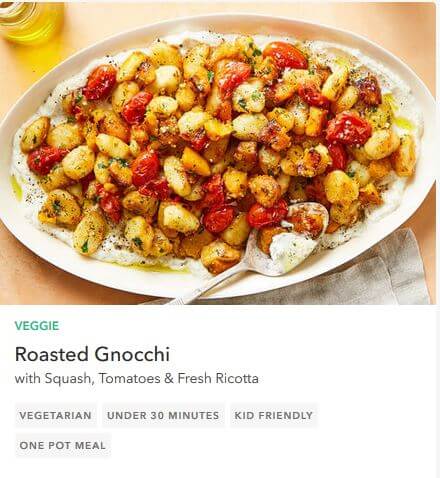 We found that Martha Marley Spoon portions tend to be more substantial and calorie-dense than many of its competitors. Since my husband and I are both runners, this is a huge plus, because we need the generous portions to power our workouts. However, if you're counting calories or carbs, there are also plenty of menu options geared towards healthy eating. For example, this week's menu features a Parmesan-Rosemary Pork Tenderloin (630 calories and 52g of carbs per portion) and a Low-Carb Chicken Fajita Casserole (620 calories and 22g of carbs per portion), which both look divine. After making your selections and choosing your delivery date, Marley Spoon ships the food directly to your doorstep, so you can start cooking like Martha Stewart without having to visit the grocery store!
Packaging and Shipping
Marley Spoon ships to most zip codes in the lower 48, unless you live in some off-grid location out in the boonies. Visit the website and enter your zip code and email address to see if they deliver to your area. Once you do this, you can also view your delivery day options.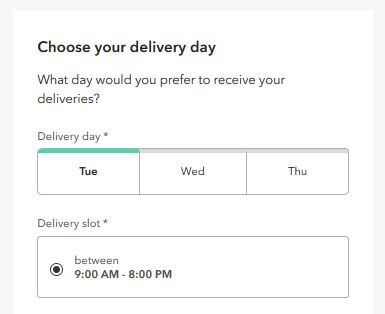 In our area, we can choose from delivery on Tuesday, Wednesday, or Thursday. No matter where you live, shipping is a flat $8.99 per box. Thanks to Marley Spoon's packaging, food stays fresh even if you're not home to receive the delivery. And, even better, according to the company's recycling instructions, 100% of the packaging is recyclable, right down to the ice packs.
Boxes, paper bags, and box insulation liner: These items are all 100% paper and can go in any paper recycling bin.
Plastic bags, cool pouch plastic film, and ice pack plastic: These plastic items can all go to any recycling facility that collects #4 plastics.
Cotton insulation: Recycle this natural insulation at any facility that accepts #60 cotton.
Bottles and containers: These food vessels are #1 plastics, which most recycling programs accept.
Foil pouch: Recycle this pouch anywhere that takes #7 plastics.
Every week, you'll receive a Martha Marley Spoon box filled with all the farm-fresh ingredients and meat products (along with spices and items you may not have in your pantry like herbs de provence and red wine vinegar) to create dishes that promise to get you out of your cooking rut. All you need on-hand are basics like salt and olive oil! From smothered pork chops with cheddar grits and green beans to sriacha butter shrimp with coconut rice, this meal plan delivers incredible-tasting meals with relative ease. This meal service pre-sorts the ingredients you'll need by recipe, so it's simple to see what you need for a given meal. Each shipment includes easy to follow recipe cards that explain each recipe in just six concise steps. The cards also include photos to reinforce proper cooking techniques. After you're finished cooking, you can toss the recipe cards or keep them for future reference. Note, Marley Spoon also publishes all of its recipes online for free. So, if you regret not ordering last week's coconut shrimp masala, you can still access the cooking instructions later with the online recipe card!
Martha & Marley Spoon Review
Our full review is coming soon! In the meantime, we'd love to hear from you! Have you given Martha Stewart's meal kit a try? Leave your rating and feedback below! Still thinking about trying this meal delivery service? Click the "Claim Deal" link to view the current Marley Spoon promo code and get a discount on your first order!