Marley Spoon
Seasonal, pre-portioned ingredients with rotating menu of recipes.
Marley Spoon meal delivery offers customers the opportunity to whip amazing meals just like its brand ambassador, America's domestic diva, Martha Stewart. Using seasonal ingredients and Martha's best recipes, this meal delivery service allows you to cook delicious, homemade meals without the fuss of meal planning or grocery shopping. In your weekly box, you'll find pre-portioned ingredients sorted by meal, along with step-by-step instructions for each recipe approved by Martha herself. Choose from the 2- or 4-person box, and receive deliveries of 2-4 meals per week. The menu updates weekly, so you can choose the recipes that best suit your palate (some vegetarian options are available).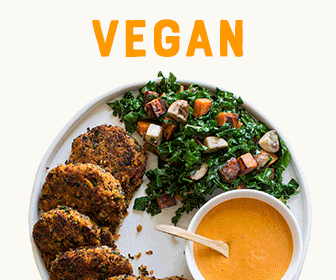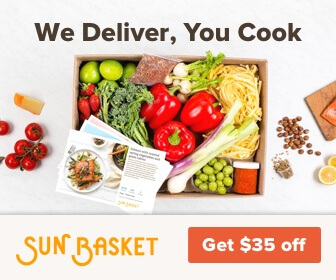 Featured Advertiser
Marley Spoon FAQ:
How much does Marley Spoon cost?
All plans come with either 2, 3, or 4 meals per week. The 2-3 person plans costs $48.00, $61.50, or $76. The 4-person plans costs $76.00, $106.80, or $139.20.
2-3 Person Plan Pricing
| Meals Per Week | Price per Serving | Price per Box |
| --- | --- | --- |
| 2 | $12.00 | $48.00 |
| 3 | $10.25 | $61.50 |
| 4 | $9.50 | $76.00 |
4 Person Plan Pricing
How many calories are in the typical Marley Spoon meal?
Varies by dish, but when we checked the nutrition info on the latest menu, most recipes were between 600-900 calories per serving. For example, these Cheesy Veggie Calzones have 886 calories.
How long does it take to cook a Marley Spoon meal?
While cooking time varies by recipe, most Marley Spoon meals are designed to be ready in under 40 minutes. Each week, the menu also features several recipes that are ready in 15-30 minutes, making it easy to get dinner on the table quickly. This Sesame Ginger Beef Stir-fry can be whipped up between 20-30 minutes.
When are Marley Spoon meals delivered?
Varies by location - To get exact delivery times available for your zipcode, select a plan, then enter your zip code to see delivery times.
How much does shipping cost?
Are there places where Marley Spoon doesn't ship?
At this time, Marley Spoon does not ship to Alaska and Hawaii. Marley Spoon does deliver to most of the contiguous US, but you can double check availability in your area during the sign-up process.
How do you skip a week of Marley Spoon meals?
Skip a week's delivery at least 5 days before the next scheduled delivery day. Marley Spoon offers users the flexibility of adjusting their delivery schedules up to two months in advance.
How do you cancel Marley Spoon?
Cancel online by logging into your account and navigating to "My Settings".
See Current Menu
Sponsored Promotion