Firstleaf Reviews, Pricing, Discounts & More - Complete Review
Discover the best way to find your new favorite wines.
Firstleaf is a subscription wine club that uses a sophisticated algorithm to pair you with wines that you'll love – it's like an online matchmaking service for wine! Start your membership by taking a quiz that homes in on your unique wine palate. Based on this quiz, your first order will include wines custom-selected for your tastes. Then comes the fun part. Get that corkscrew out and get busy sipping. As you polish off each bottle, give it a thumbs up or thumbs down in your account. Firstleaf's algorithm will use these data points to refine the wine selections for your next box. Over time, your boxes will improve as they more closely match your preferences.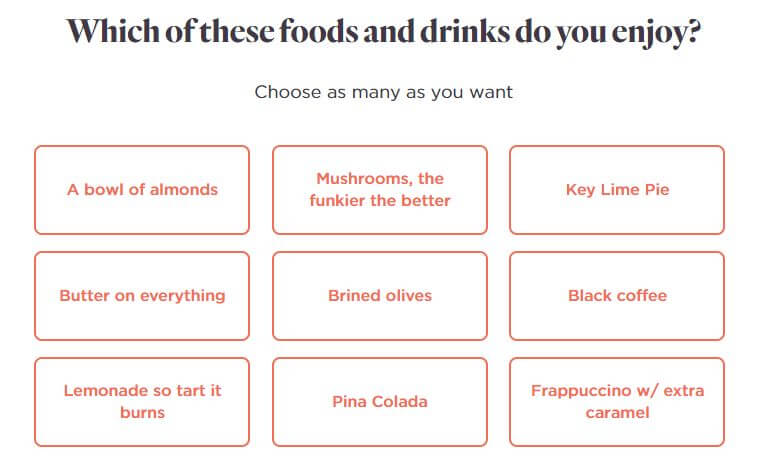 Firstleaf Wine Club Subscription & Pricing
The Firstleaf Wine Club subscription costs $79.98 per delivery, plus $9.95 for shipping. Once you order the first box, you'll be enrolled to receive monthly shipments. You can easily change delivery frequency to every 1, 2, or 3 months, or push back the date of a future delivery. Members can also order wines a la carte from the store at the same club pricing (six bottles at $15 per bottle, which includes shipping).
While Firstleaf will generate a shipment of wines customized to your palate, you can always adjust your order before it ships. You'll receive a reminder about upcoming deliveries nine days before shipment. If you want to replace any of the bottles, just log-in to your account, navigate to "Club," then click "Swap" next to any wine that you want to switch. 
Firstleaf Wines
At the time of writing, Firstleaf has 188 wines in inventory from its online store, including 115 reds, 69 whites, and seven rosés. The majority of these (120) are U.S. wines, while other represented regions include France, Italy, and Spain, among others. Firstleaf wines have hundreds of awards and accolades, which, for the novice wine drinker, provides some reassurance that you're getting great bottles. For example, these Devil's Advocate bottles both have an exhaustive list of awards to their names.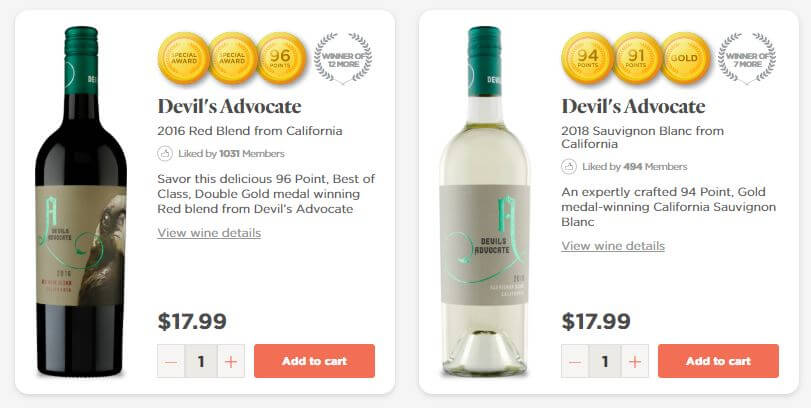 You can click on each bottle, to read more about the wine, its origins, tasting notes, and flavor profile. This Devil's Advocate Red Blend has notes of black cherry, coffee, and oak, and pairs well with pork loin, dark chocolate, and grilled ribeye. Yum!

Firstleaf Promo Code
Firstleaf has a fantastic deal on your first box! Get $50 off on your intro box ($39.95 plus tax + free shipping) when you complete the quiz and place your order. Just click the "See Current Promo" button, then go to "Take the Quiz" to get started.
See Current Promo

Sponsored Advertiser
Firstleaf FAQ:
How much does Firstleaf cost?
The Firstleaf wine subscription costs $79.95 per delivery, plus $9.95 for shipping. That works out to approximately $13.33 per bottle.
When are Firstleaf meals delivered?
Check your account for your delivery date. You can always adjust this date as needed. Orders ship via FedEx and UPS, and you'll receive tracking information once your shipment is on the way.
How much does shipping cost?
Shipping is $9.95 per delivery.
Where does Firstleaf deliver?
Firstleaf currently ships to AZ, AR, CA, CO, CT, DE, DC, FL, GA, IA, ID, IL, IN, KS, LA, ME, MD, MA, MI, MN, MO, MT, ND, NE, NV, NH, NJ, NM, NY, NC, OH, OK, OR, PA, SC, SD, TN, TX, VT, VA, WA, WV, WI, and WY.
How do you skip a week of Firstleaf meals?
To skip or delay an order, log-in to your account, then navigate to "Your Next Club Order". Click on the date, then select a new date from the calendar. Alternatively, you can email service@firstleaf.com for assistance.
How do you cancel Firstleaf?
To cancel your subscription, log-in to your account, then go to firstleaf.club/unsubscribe. Choose a reason for canceling, then click "Cancel Subscription" and follow the prompts.
How do you contact Firstleaf?
See Current Menu