Home Chef Reviews, Prices, Discounts, FAQs, Promos, Cost & More!
Home cooking made simple
For people who love to cook, but who don't have the time to pore over recipes or fight lines at the grocery store, Home Chef offers the perfect solution. This service delivers pre-portioned ingredients along with easy-to-follow recipes that make weeknight home-cooked meals a delight, rather than a chore. Have to go to the grocery store anyway? Thanks to Home Chef's partnership with Kroger, you can now pick up Home Chef kits at participating Kroger locations across the U.S. Home Chef understands that time is limited, so it designs its recipes to take less than thirty minutes to prepare, from box to plate. This meal service also offers a limited selection of ready-to-eat meals each week, including two oven-ready dinners and two entree salads. Choose from a wide selection of dinner entree options that are refreshed weekly and add on breakfasts, a smoothie or a fruit bowl to your order. Home Chef offers gluten-free menus as well carb- and calorie-conscious recipes. Choose from flexible meal plans that allow you to order for just the two of you or for the whole family.
Home Chef Promo Code
Right now, Home Chef is offering new subscribers $80 off. Click "See Promo Code" to apply this discount to your first Home Chef order!
Featured Advertiser

Featured Advertiser
Home Chef FAQ:
How much does Home Chef cost?
All Home Chef meals start at $9.95 per serving and the total box price will vary depending on how many meals you choose. Shipping is free for orders over $40. For orders under this amount, there is a $10 shipping fee.
Home Chef Plans
There are no set plans with Home Chef. Unlike other meal delivery kits that have a predetermined number of recipes and servings per recipe, Home Chef allows customers to design their own custom meal kit every week. Due to this convenience, your box price will depend on how many meals and how many people you intend to serve with a given order. In addition to lunch and dinner entrees, you can add smoothies and protein packs to your delivery kit.
How many calories are in the typical Home Chef meal?
Most Home Chef meals have between 700-1000 calories per serving. For those watching their waistlines, this meal delivery service also offers 'Calorie-Conscious' meals (with fewer than 625 calories per serving) and 'Carb-Conscious' meals (fewer than 35 grams per serving).
How long does it take to cook a Home Chef meal?
Home Chef's Classic Meals take between 25-55 minutes to prepare. For those short on time, Quick Meals take between 10-15 minutes to prepare. Entree salads take about 5-10 minutes to pull together for a fast meal. Home Chef also offers oven-ready meals, which take approximately 25-35 to cook (but no prep or clean-up required). You may preview the estimated cooking time on each recipe before placing your order.
When are Home Chef meals delivered?
Home Chef offers weekly delivery Monday through Friday. You can choose which weekday to receive your delivery, though options may be limited depending on where you live.
How much does shipping cost?
For orders less than $40, shipping is $10. All orders over $40 are shipped for free!
Are there places where Home Chef doesn't ship?
Home Chef delivers to most of the U.S. Double check delivery to your zip code during the sign-up process. Home Chef also sells its meal kits in dozens of Kroger grocery stores across the country.
How do you skip a week of Home Chef meals?
You can easily skip deliveries by logging into your account. You must do so before 12 PM CST on the Friday prior to the scheduled delivery day. You may also change delivery frequency to receive meals biweekly and monthly (every two or four weeks, respectively).
How do you cancel Home Chef?
To cancel Home Chef, log into your account and navigate to the "Account Information" tab. Here, you'll see a link to pause your account. This feature makes it easy to resume ordering in the future.
How do you contact Home Chef?
Mon - Fri: 9am - 6pm CT Sat: 10am - 2pm CT
Our Complete Home Chef Review
We've heard a lot of hype about the Home Chef meal delivery service, so we decided to try it out. Three recipes later, here's our complete review of this meal kit.
Read More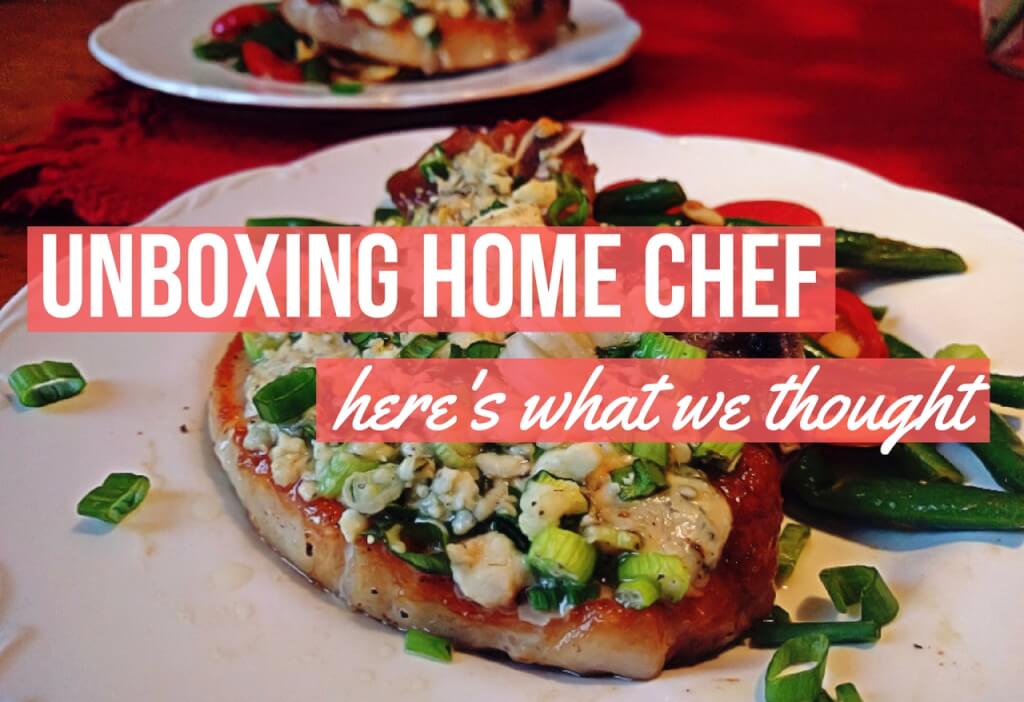 Brief Company History
Home Chef, the brainchild of Pat Vihtelic, launched in June of 2013, just ten months after industry behemoth Blue Apron got its start. Vihtelic, a former investment banker, founded Home Chef out of his need for easy-to-cook homemade meals. Working in finance was demanding and left little or no time for grocery shopping or meal prep. He quit the finance grind to focus full time on his start-up, and now, just four years later, Home Chef delivers over 1.5 million meals annually to hungry customers across the United States. We were delighted to try Home Chef for the first time last week – here's our complete Home Chef review.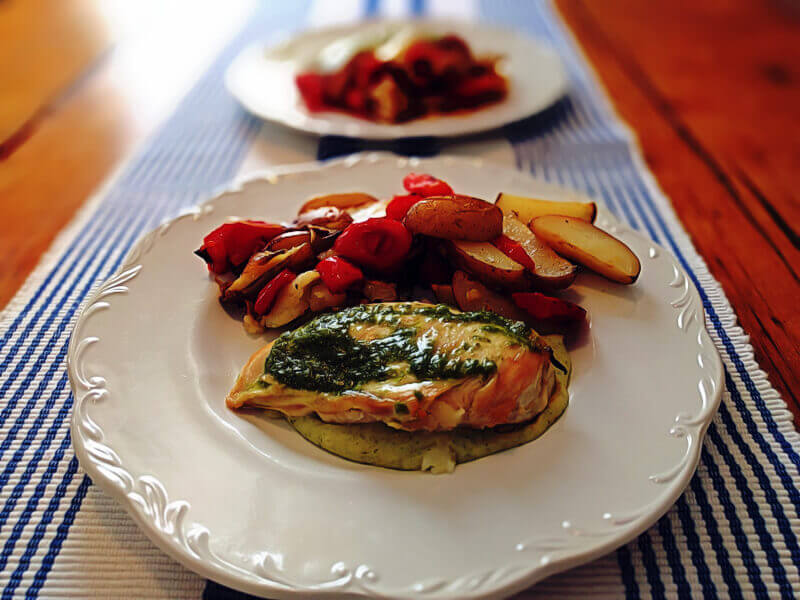 Ordering Home Chef and Pricing
Home Chef pricing
is one of the more affordable meal plans on the market, ringing up at just $9.95/serving. Unlike Blue Apron or one of the other competitors, Home Chef does not lock users into a defined meal plan (i.e. a 2-person or 4-person plan). In your account settings, you may adjust your delivery options to receive anywhere from 2-8 meals, with 2, 4, or 6 servings per meal. You can also select to add in a fruit basket or smoothie (at $4.95/serving), or premium meal when choosing your weekly menu. The weekly recipes include a rotation of 13 recipes with some vegetarian, low-carb, low-sodium, soy-free, gluten-free, dairy-free, and nut-free options. Shipping is free on all orders of $45 or more.
Home Chef Delivery and Packaging
Users choose from the available delivery days (Wednesday, Thursday or Friday every week). Changes can be made to your scheduled deliveries up to the 12 p.m. CST the Friday before your scheduled delivery. Currently, Home Chef delivers to 98 percent of the country, though the site doesn't mention the areas that it doesn't service (you can check deliverability to your zip code on the site). We ordered the service from a tiny town on the coast of Maine, so my guess would be that the 2 percent includes only very remote areas of the U.S. Shipment from the Home Chef facility took two days according to the shipping labels, arriving at our house on a Wednesday afternoon. We unpacked the box (check out the video), finding the ingredients very well-insulated in the eco-friendly packaging. On top were the week's recipe cards, then under the first layer of ice packs, I discovered the bags with the ingredients neatly packed for each meal. Digging through several additional ice packs, finally got to the bottom of the box which contained the packages of meat. Since this was our first order, there was also a thin white binder enclosed in which to place our recipe cards (which were already hole-punched for this purpose). Great idea! All Home Chef packaging is 100 percent recyclable. To recycle the ice packs, allow to thaw, then snip a corner and drain the contents into the sink with running water. The plastic can go in with the rest of your recycling. Likewise, all plastic containers used for packaging sauces and dressings can be rinsed and recycled. The cardboard box and the insulation (made from recycled denim) are recyclable too.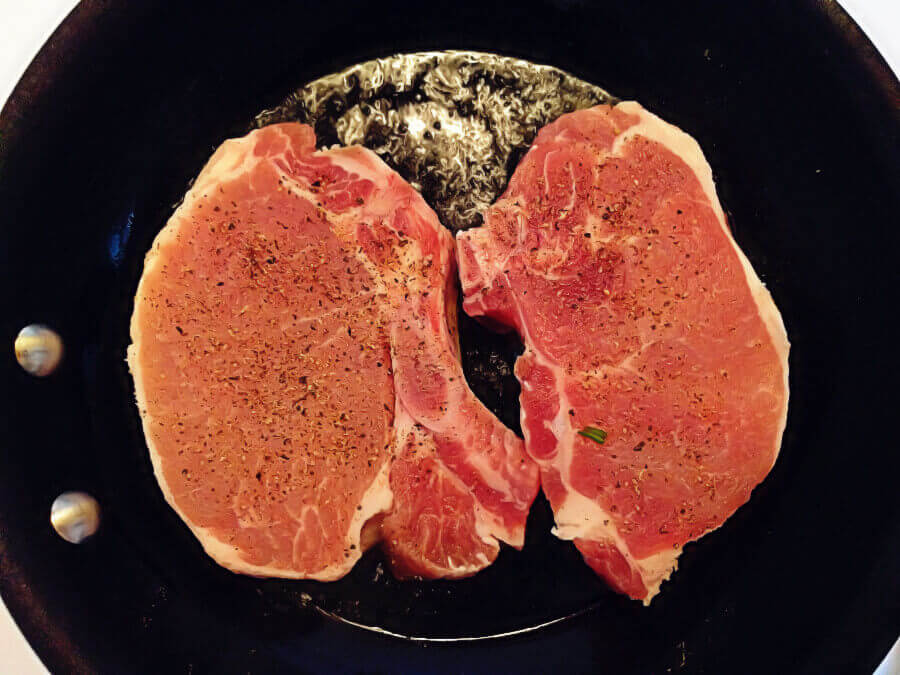 Cooking with Home Chef
Recipes
We chose to receive three meals with two servings each. Here's an overview of the ones we tried:
Japanese Chicken with Cucumber-Edamame Salad
Blue Cheese and Green Onion-Crusted Bone-In Pork Chop with Green Bean and Grape Tomato Almondine
Chicken with Basil-Pecorino Cream Sauce and Roasted Vegetables
All the recipes were delicious and easy-to-make. Here's what we thought about the overall experience:
Ease of Prep
If you remember my Blue Apron review, one of my harshest critiques was how time-consuming and involved most of the recipes were. Cook time is one area where, in my opinion, Home Chef does a better job. Recipes were simple, easy-to-follow, and we were always able to prep and cook within the allotted time (anywhere from 20-50 minutes). Furthermore, the recipes didn't require the use of more than 2-3 major kitchen utensils (i.e. a pot and pan or a pan, bowl, and cutting board). Most of the time, we had the kitchen completely clean (except for a pot or pan) before the meal was finished cooking. If fast meal prep is important to you, when ordering, you can click on the individual recipes to see the estimated time to completion and choose the ones with the fastest prep times.
Freshness of Ingredients
Ingredients remained perfectly chilled in the box during shipment. All ingredients looked fresh except for the green beans that accompanied the Bone-in Pork Chop. These had brown spots, which gave them the appearance of being haphazardly selected out of a grocery store bin. We used them anyway, and they tasted fine. To ensure freshness, Home Chef recipe cards indicate how many days you have to cook each recipe. I thought this was a helpful addition.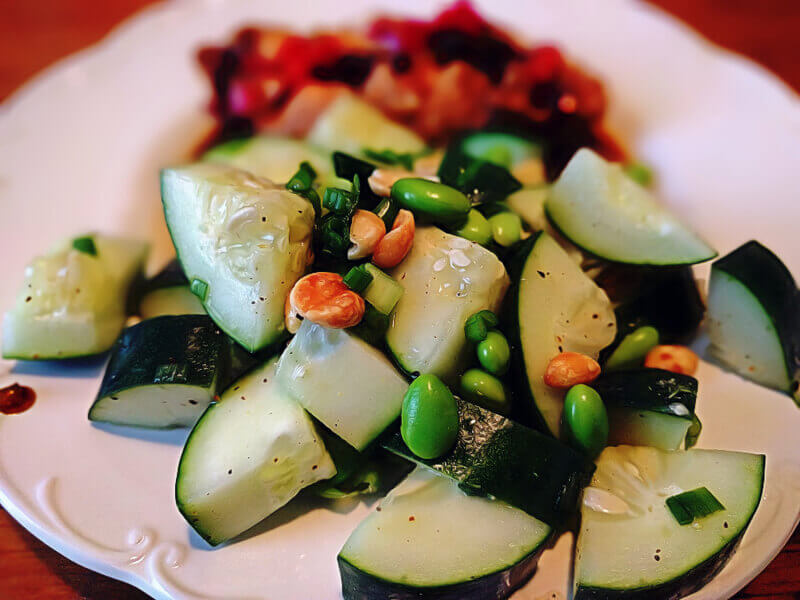 Serving Size
Most meals are between 500 and 800 calories per serving and packed with protein to leave you feeling full long after the meal is over. I was most skeptical about the Japanese Chicken, but the edamame and cucumber side salad proved to be so filling that I had to pass my plate off to the hubs to finish. We also saved some of the delicious Basil-Pecorino cream sauce to toss over noodles for a pre-run meal the next day. Portion sizes did not leave anything to be desired.
Nutrition
Each recipe comes with basic nutrition information per serving – calories, carbohydrates, fat, protein, and sodium. The good news – all the recipes we tried had meat, so they contained 50+ grams of protein. According to WebMD, women need about 46 grams of protein every day and men need about 56 grams. While the recipes certainly met our protein needs, they were also high in fat and sodium. According to the FDA, a 2000-calorie diet should limit fat intake to 65 grams. The Pork Chop and Chicken with Basil-Pecorino Cream Sauce had a staggering 42 and 52 grams of fat per serving, respectively. Additionally, Daily Value of sodium is 2400 mg per day. The Japanese Chicken, smothered in soy sauce, boasted 1733 mg of sodium – almost 75 percent of the daily recommended value. The other two recipes had about half the recommended daily sodium limit per serving. Thankfully, we selected low-carb recipes, which contained around 10 percent of the recommended 300 grams of carbohydrates. Even though the recipes we chose weren't the healthiest regarding fat and sodium, you may choose healthier options by reviewing the nutrition information for each recipe before you order. For example, on the menu for next week, the Buffalo Turkey Meatball Salad has just 573 calories, 16 grams of carbohydrates, 32 grams of fat, 59 grams of protein, and 866 mg of sodium.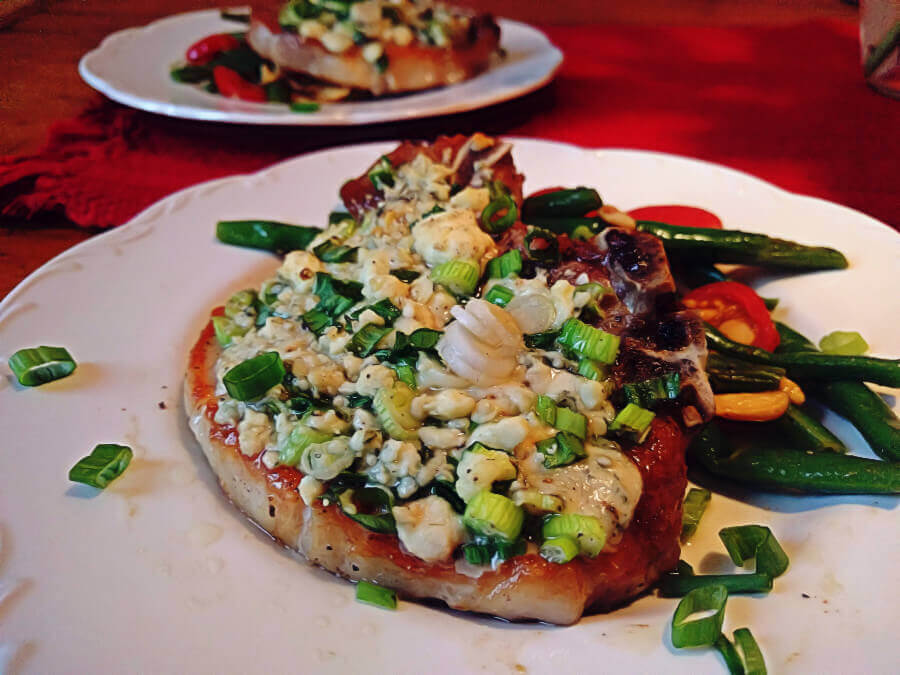 Overall Take
Home Chef features delicious recipes that are easy to make. If health-conscious, choose your meal selections carefully.