Sun Basket
Weekly delivery of seasonal, organic ingredients and easy-to-follow recipes
Sun Basket proudly offers easy, delicious meals made from fresh, USDA-certified organic ingredients responsibly sourced from American farms, fisheries, and ranches. Receive a weekly box full of pre-measured ingredients along with easy-to-follow recipes designed to be ready in half an hour. Choose from Paleo, Gluten-Free, and Vegetarian dinner recipes, or check out Sun Basket's breakfast and family options. Sun Basket's Classic Plan offers delivery of 3 recipes a week for 2 or 4 people, while the Family Plan offers 2 or 4 kid-friendly recipes a week for a family of four. In addition to healthy ingredients, Sun Basket is also eco-friendly, with recyclable, compostable packaging.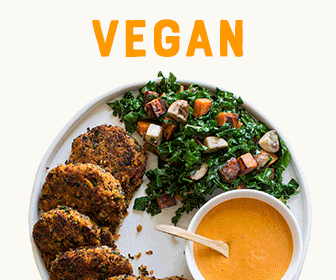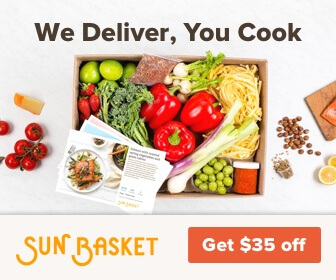 Featured Advertiser
Sun Basket FAQ:
How much does Sun Basket cost?
Sun Basket offers two basic plans - the Classic Menu and the Family Menu. The Classic Plan costs $68.94 or $137.88. The Family Menu costs $79.92 or $159.84.
Classic Menu Pricing
| Meals Per Week | Servings Per Meal | Price per Serving | Price per Box |
| --- | --- | --- | --- |
| 3 | 2 | $11.49 | $68.94 |
| 3 | 4 | $11.49 | $137.88 |
Family Menu Pricing
| Meals Per Week | Servings Per Meal | Price per Serving | Price per Box |
| --- | --- | --- | --- |
| 2 | 4 | $9.99 | $79.92 |
| 4 | 4 | $9.99 | $159.84 |
How many calories are in the typical Sun Basket meal?
The typical Sun Basket meal has between 500-800 calories per serving.
How long does it take to cook a Sun Basket meal?
Prep time varies by recipe, but most Sun Basket recipes are ready in 25-40 minutes. Each week, Sun Basket designates "20 minute meals" that are quick and easy.
When are Sun Basket meals delivered?
Meals are delivered Monday - Thursday between 8am - 9pm.
How much does shipping cost?
Shipping costs $5.99 per delivery, but is free with your first order.
Are there places where Sun Basket doesn't ship?
Currently, Sun Basket does not ship to AK, HI, MT, and parts of NM. To make sure they ship to your zip code, start the sign-up process.
How do you skip a week of Sun Basket meals?
Skip a delivery by the Thursday (Noon PST/3 PM EST) the week before your scheduled delivery. Log into your account, go to your schedule and skip weeks you don't wish to receive.
How do you cancel Sun Basket?
To cancel your Sun Basket subscription, call support at (855) 204-7597 or send an email to help@sunbasket.com.
See Current Menu