Magic Spoon Reviews, Pricing, Discounts & More - Complete Review
Healthy keto, low-carb cereal that tastes too good to be true.
Magic Spoon Dietary Options
Healthy cereal doesn't have to taste like cardboard! Magic Spoon is a keto-friendly cereal company that has reimagined your favorite childhood cereals with less sugar and fewer carbs. Adulting has never been better – now you can wake up and start your day with delightful flavors like Blueberry, Fruity, Cinnamon, Frosted, Cocoa, and Birthday Cake (limited edition), without any of the guilt. How do they do it? Magic Spoon's team spent an entire year tinkering with their recipes, using healthy ingredients to concoct these magical cereals. The resulting blend of milk and whey proteins, coconut oil, and tapioca flour, with a dash of natural sweetener blend and flavors, is high-protein, gluten-free, and grain-free. This low-carb cereal is perfect for keto dieters or, more generally, for those who want to eat fun foods responsibly.
Magic Spoon Keto Cereal
Magic Spoon's keto cereals may taste like the beloved brands you grew up with, but they are MUCH healthier. Flavors include:
Frosted:

Bad news kids – your favorite cartoon tiger has been pushing "great" cereal that's probably not the greatest for you. Instead of eating a bowl with 24 grams of net carbs and one paltry gram of protein, you could be noshing on Magic Spoon's Frosted, which has just 3 grams of net carbs and a whopping 11 grams of protein.

Blueberry:

Blueberry cereal doesn't have to be scary. Trade the "boo," with 2 grams of protein and 23 grams net carbs, for a kind that has 11 grams of protein and 3 grams of net carbs.

Cocoa:

Crazy for that cocoa flavor? Now you can ditch the Cuckoo Bird kind (which has 23 grams of net carbs and 1 gram of protein) in favor of a healthier variety. Magic Spoon's cocoa-flavored cereal has 11 grams of protein and just 3 grams of net carbs.

Fruity:

These colorful loops from Magic Spoon have 11 grams of net carbs and 3 grams of sugar. The variety pushed by that enthusiastic toucan has 21 grams of net carbs and 2 grams of protein, plus a typical 1 cup serving has 10 grams of sugar.

Cinnamon:

Your favorite toasty cinnamon cereal as a kid had 21 grams of net carbs and 9 grams of sugar. By comparison, this Magic Spoon treat has 4 grams of net carbs and 0 sugars. Plus, its 11 grams of protein will help keep you full!

Birthday Cake:

This limited-edition cereal (made with edible glitter!) tastes like a party in your mouth. With just 3 grams of net carbs and 100 calories, plus 11 grams of protein, breakfast is a celebration! Compare with a popular name brand that has 23 grams of net carbs and almost no protein!

Magic Spoon Cereal Ingredients
Magic Spoon's basic recipe includes the ten following ingredients: 
Milk protein isolate:

a powdery derivative of skim milk that's 90%+ protein, sans lactose and minerals

Whey protein isolate:

a powdery derivative of whey (a byproduct of making cheese) that's 90%+ protein

Coconut oil:

an oil that's high in healthy fatty acids and boasts numerous health benefits

Tapioca flour:

a gluten-free flour that comes from cassava root

Allulose:

a naturally occurring sugar found in some foods such as wheat, figs, raisins, and maple syrup

Monk fruit extract:

a sweetener derived from a fruit widely grown in southeast Asia

Stevia extract:

a sweetener derived from the stevia plant

Chicory Root fiber:

a soluble fiber from the chicory plant that has numerous health benefits

Natural flavors:

from things found in nature like spices, fruit, and plants

Salt
Some flavors include additional ingredients.
Magic Spoon Subscriptions and Pricing
Place a one-time Magic Spoon order or save 10% with a subscription.
1 Case (4 Boxes):

The four-pack costs $39 for a one-time order or $35.10 with a subscription. Try the variety pack (fruity, frosted, cocoa, and blueberry) or order an entire case of your favorite flavor.

Mini Box Variety Pack (12 single-serve boxes):

The mini box pack costs $29 for a one-time order (not available with a subscription).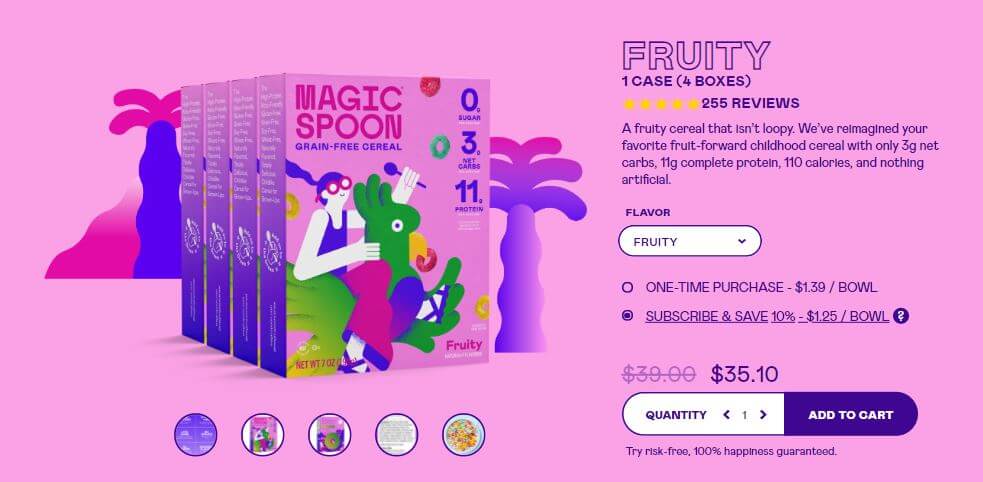 Each regular-size box contains 7 ounces of cereal, which is slightly less than the typical box of cereal from the grocery store. According to the label, each box contains approximately seven ¾-cup servings. A case will supply your cereal needs for about four weeks (if you can limit yourself to a bowl per day).
Magic Spoon Discount Code
Featured Advertiser


Featured Advertiser
Magic Spoon FAQ:
How much does Magic Spoon cost?
Magic Spoon's subscription 4-pack costs $35.10 per delivery or $1.25 per bowl.
How many calories are in the typical Magic Spoon meal?
Magic Spoon cereal has 110 calories per 3/4-cup serving.
When are Magic Spoon meals delivered?
Magic Spoon deliveries take 2-5 business days to arrive via standard shipping and 2 days to arrive via expedited FedEx shipping.
How much does shipping cost?
Standard shipping is FREE on all subscription orders and is also free on any one-time orders over $50.
Where does Magic Spoon deliver?
Magic Spoon delivers everywhere in the U.S.
How do you skip a week of Magic Spoon meals?
To skip a delivery, log-in to your account, then navigate to "Delivery Schedule," and click "Skip" next to the delivery date you'd like to skip.
How do you cancel Magic Spoon?
To cancel your Magic Spoon subscription, log-in to your account, go to the "Subscriptions" tab and click "Cancel" next to any subscription item that you'd like to cancel.
How do you contact Magic Spoon?