Hungryroot Reviews, Pricing, Discounts & More - Complete Review
A modern way to shop for, cook, and love healthy food.
Hungryroot Dietary Options
Hungryroot grocery delivery makes healthy eating easy and convenient! Order fresh produce, pantry staples, proteins, ready-to-eat foods, and sweet treats without having to leave your couch. After you set up your profile and answer a series of questions about your eating habits, Hungryroot creates a personalized plan with easy-to-make recipes as well as ready-to-eat meals and treats to match your lifestyle and preferences. Based on this plan, you'll receive a curated box of ingredients and prepared foods each week. You can always go back and adjust your plan size and preferences, swap out meals or elements, and add additional grocery items to your box as needed. With this grocery subscription service, the only things you'll need from a regular grocery store are basics, like your milk and toilet paper.
How Does Hungryroot Work?
Start by setting up your profile. Hungryroot walks new users through a questionnaire to identify your unique eating needs and habits. For example, you'll answer questions about how many people you're feeding, your daily eating habits, dietary restrictions, and food preferences.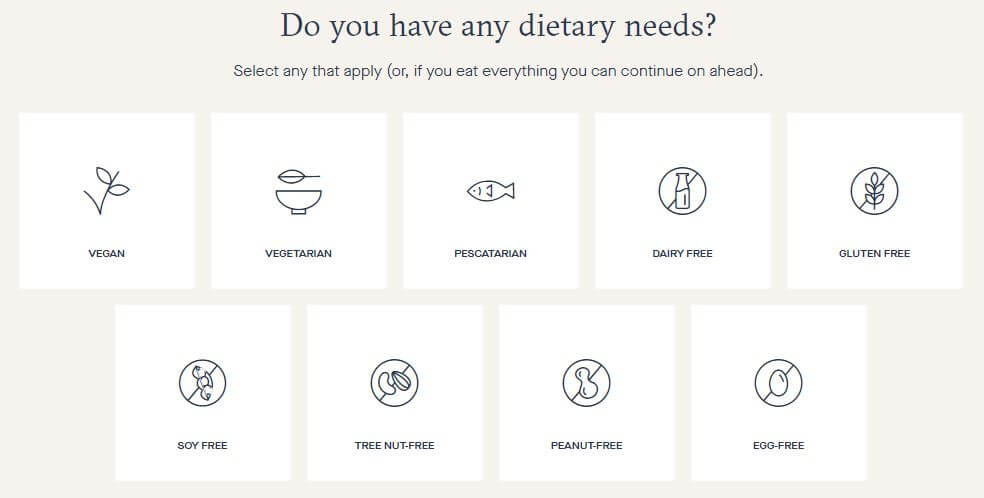 Using this information, Hungryroot will generate a grocery plan customized for you. For example, I walked through a series of questions for my household, two adults who: 
Eat breakfast, lunch, and dinner, no snacks, and the occasional sweet treat

Have no specific dietary needs
Based on this information, Hungryroot recommended the following plan: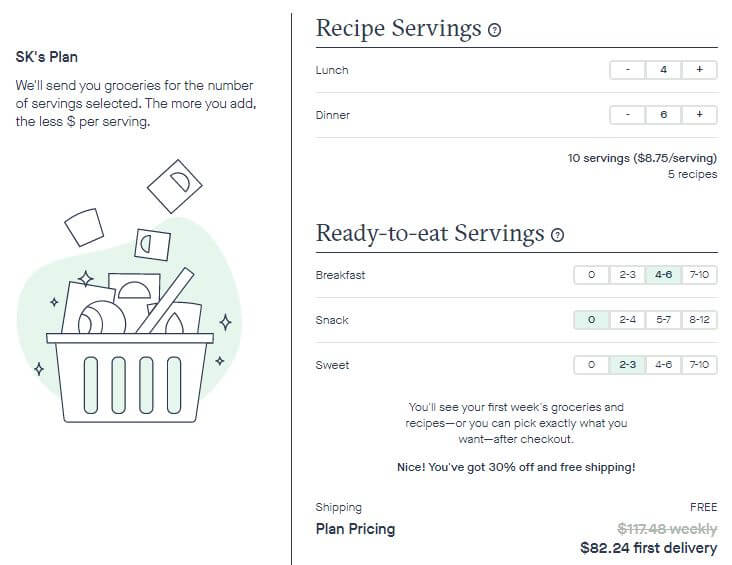 About the grocery types:
Recipe Servings:

For my plan, these are lunch and dinner recipes with two servings each. With 3-4 simple ingredients, these recipes come together in about ten minutes. While my plan defaulted to ten total lunch and dinner servings, I can adjust total recipe servings to anywhere between six and 16 total servings. Prices range between $8.49 and $9.99 per serving, depending on how much you order.

Ready-to-Eat Servings:

Just as the name implies, these are prepackaged and ready-to-eat. For every incremental addition to any of these categories, the price of the delivery goes up by $9.99. For example, if I switch from 2-3 breakfast servings to 4-6 breakfast servings, the total cost of my box increases by $9.99. 
While your Hungryroot will preselect ingredients and foods for your upcoming delivery, you can customize any delivery. Swap out meals that don't interest you or completely rebuild your basket from scratch. If you remove any part of your delivery, your account will reflect the deleted items as credits. Use these credits to add additional grocery items to your shipment.
Hungryroot Foods & Nutrition Philosophy
All foods that Hungryroot sources are free of partially hydrogenated oils, artificial sweeteners, corn syrup, artificial colors, and artificial preservatives, so you can feel good about what you're putting on the table. Hungryroot's offerings change weekly, but fall into seven major categories:
Fresh Vegetables
At the time of writing, Hungryroot has about 16 vegetables per week that come washed to reduce your prep time. You'll find basics like rainbow baby carrots and broccoli alongside more interesting picks like Kohlrabi noodles.

Grains and Pasta
Hungryroot's assortment of grains and pasta includes plenty of gluten-free options. In a given week, you might find everything from Ancient Grain Pancake Mix to Chickpea Pasta Shells to Spinach Ricotta Ravioli.

Proteins
Whether you're following a plant-based diet or you're a meat-loving carnivore, you'll find plenty of protein options to suit your taste buds. The menu frequently features vegan Beyond Meat products and tofu, as well as more traditional proteins like grilled chicken breasts and grass-fed meatballs.

Sauces and Dressings
Many of Hungryroot's 10-minute recipes incorporate their assortment of flavorful sauces and dressings. Almost all are vegan, gluten-free, nut-free, and soy-free, so they are compatible with many diets. The menu features an assortment of exotic and exciting flavors like coconut curry and Thai peanut.

Pantry
Pantry items include staples you might need like almond butter and spices.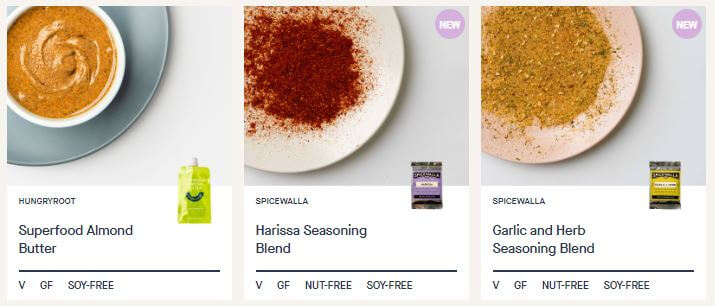 Snacks
When the munchies roll around, Hungryroot helps you ensure you're snacking on something healthy instead of just eating empty calories. Try mini-meals like the lemon artichoke quinoa cup or grab a handful of coconut cashew grain-free granola.

Sweets
Have a sweet tooth? Indulge it with guilt-free options like Almond Chickpea Cookie Dough or Black Bean Brownie Batter.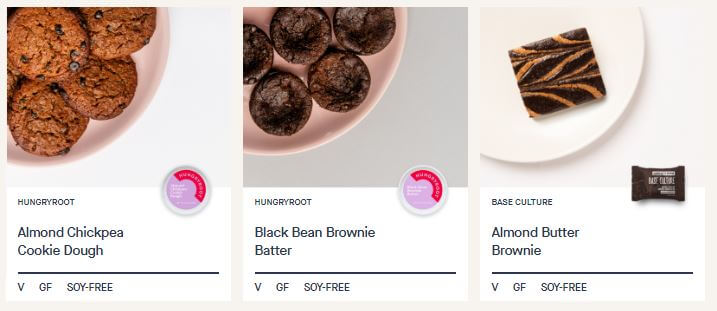 Hungryroot Promo Code
Right now, Hungryroot is offering 30% off plus free shipping on all first-time orders over $99, no coupon code needed.
Featured Advertiser


Featured Advertiser
Hungryroot FAQ:
How much does Hungryroot cost?
Hungryroot recipe servings cost between $8.49-$9.99 each. Ready-to-eat breakfasts and sweets range between about $3-$5 per serving, while snacks are between $2.50-$5 per serving.
How many calories are in the typical Hungryroot meal?
Most Hungryroot lunch and dinner recipes are between 300-700 calories per serving.
How long does it take to cook a Hungryroot meal?
Hungryroot recipes come with prepped ingredients and take around ten minutes to finish cooking or putting together. All breakfasts, snacks, and sweets come ready-to-eat.
When are Hungryroot meals delivered?
You can choose a preferred delivery day based on availability in your zip code.
How much does shipping cost?
Shipping costs vary based on your zip code; however, first-time orders over $70 ship for free.
Where does Hungryroot deliver?
Hungryroot ships to most locations in the contiguous U.S.
How do you skip a week of Hungryroot meals?
To skip a delivery, log-in to your account, then navigate to the "In your future" page. From here, click the "Reschedule" button, then "Skip It".
How do you cancel Hungryroot?
To cancel your Hungryroot subscription, log-in to your account, then go to the account settings. Click "Account Details," then "Cancel Account".
How do you contact Hungryroot?