Misfits Market Reviews, Pricing, Discounts & More - Complete Review
Ugly and imperfect produce, delivered to your door.
Love purchasing organic produce but can't handle the sticker shock? Put down those overpriced pineapples and step away from the produce aisle. Now you can order amazing organic produce from the comfort of your home for up to 40% off traditional grocery store prices. Misfits Market rescues odd-looking fruits and vegetables that aren't "pretty" enough for the store from the landfill. These completely edible and unspoiled "misfits" may look a little funny, but they still taste perfectly delicious. With a subscription, you'll receive a weekly or bi-weekly delivery of fresh, in-season fruits and vegetables sourced from certified organic farms from across the country. Eat them raw or use the contents of your box to create healthy, wholesome meals! 
Misfits Market Subscription Boxes & Pricing
Currently, Misfits Market offers two box sizes available for weekly or bi-weekly delivery: 
The Mischief ($22):

Ideal for couples, this smaller box contains 10-13 lbs. of fruits and veggies. Expect a mix of approximately 12 different types of produce – from leafy greens and fruit to many popular varieties of vegetables. 

The Madness ($35):

Perfect for larger families who like to cook, this larger box has 18-22 lbs. of organic produce and includes a mix of 14 various seasonal fruits and veggies.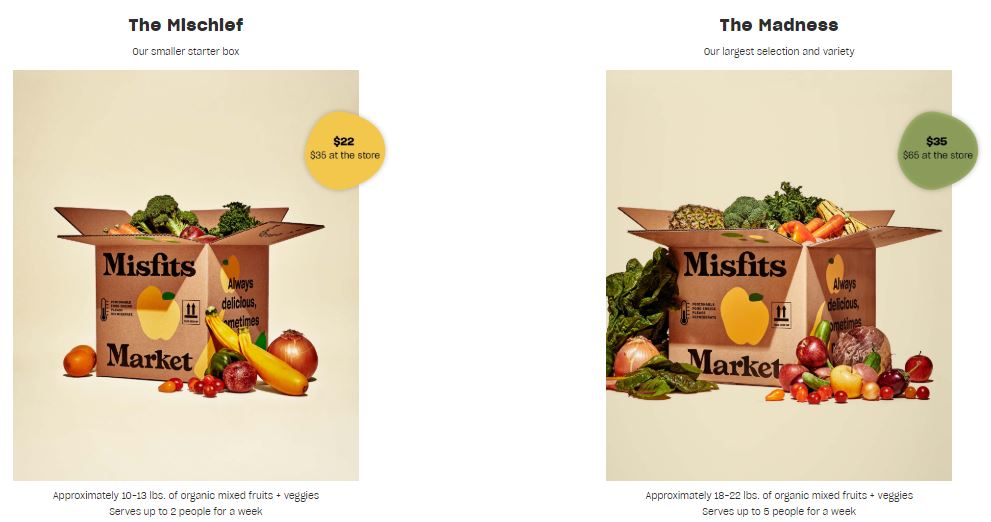 Right now, you can't choose what's in your box, though plans are in the works to allow customers to customize their boxes in the future.
Featured Advertiser


Featured Advertiser
Misfits Market FAQ:
How much does Misfits Market cost?
The Mischief Box costs $22 per delivery and the Madness Box costs $35 per delivery. Shipping is an additional $4.50 per box ($5.50 per box for deliveries in FL and TN).
Misfits Market Subscription Pricing
| Box | Size in Lbs. | Cost | Price per Lb. |
| --- | --- | --- | --- |
| Mischief Box | 10-13 lbs. | $22.00 | $1.69-$2.20/lb. |
| Madness Box | 18-22 lbs. | $35.00 | $1.59-$1.94/lb. |
When are Misfits Market meals delivered?
Misfits Market delivers Tuesday-Saturday, though delivery days may vary by zip code. You can select your preferred delivery day when you sign-up.
How much does shipping cost?
Shipping costs a flat $4.50 per box. Note, shipping is $5.50 per box for customers in Florida and Tennessee.
Where does Misfits Market deliver?
Misfits Market currently ships to the following states: Alabama, Connecticut, Delaware, Florida, Georgia, Illinois, Indiana, Kentucky, Maine, Maryland, Massachusetts, New Hampshire, New Jersey, New York, North Carolina, Ohio, Pennsylvania, Rhode Island, South Carolina, Tennessee, Vermont, Virginia, Washington D.C., and West Virginia. The company is expanding its service area rapidly; if you don't see your state listed, you can sign up for the waitlist and receive a notification when shipping is available to your zip code.
How do you skip a week of Misfits Market meals?
To skip a delivery, log-in to your account and click "Manage Subscription". Click "Skip Delivery" next to any delivery you don't want to receive. You can also change your delivery frequency under "Switch Delivery Interval". Be sure to make any changes by the Saturday before the billing date for that box.
How do you cancel Misfits Market?
To cancel, log-in to your account and click "Manage Subscription," then click the "Cancel" button.
How do you contact Misfits Market?