Porter Road Reviews, Pricing, Discounts & More - Complete Review
Pasture-raised beef, pork, lamb, and chicken delivered straight to your door.
The folks at Porter Road work on the scene to make sure every Tennessee and Kentucky farm and ranch they partner with uses the highest standards and practices in raising their organic, free-range, and cage-free animals. All animals roam outside, eat vegetarian feed that's free of GMOs, and receive appropriate attention at every stage of their lives. At Porter Road, they say, "meat that's raised better tastes better."
All meats are hand-cut at the Porter Road facility in Kentucky. Beef gets dry-aged for a minimum of 14 days to intensify flavor and tenderness. In addition to flavorful cuts of beef, this outfit also offers humanely-raised chicken, beautifully-marbled lamb, and pasture-raised pork. You'll notice the difference in quality not only in the flavor of the meat but in its hues as well. For example, Porter Road chicken takes on a deep yellow color, and the pork, beef, and lamb meat is darker than what you typically see in grocery stores. The color disparity is the natural result of raising animals in nature, where they are free to graze and roam, rather than in a mass meat production facility. 
Porter Road's goal is to make the best meat available nationwide. Order through the company's new subscription service, which makes procuring the best meats for your table easy and convenient.
Porter Road Meats
Porter Road delivers fresh, vacuum-sealed meat on your schedule (a few larger cuts, as well as sausage and ground beef ship frozen). You'll receive the finest quality beef, pork, lamb, or chicken, full of flavor and ready for your favorite recipes.
Beef
Porter Road sources responsibly- and humanely- raised pastured beef. While it's not 100% grass-fed, it is 100% pasture-raised, then finished on a custom grain blend. Each piece gets dry-aged for two weeks before it gets boxed and shipped, locking in incredible flavor that rivals that found at the finest steakhouses. You'll find dozens of cuts that your local butcher shop might not even carry, including: 
Steaks:

Bone-in or Boneless Ribeye, Hanger Steak, Chuck Eye Steak, Blade Steak, Large or Small Skirt Steak, Flank Steak, Flat Iron, Heart Steak, Tenderized Steak, New York Strip Steak, Filet Mignon, Sirloin Filet, Bavette Steak, Denver Steak

Bones:

Beef Marrow Bones, Beef Bones

Ground Beef:

Dry-Aged Ground Beef, Chili Grind, Sugar-Free Beef vs. Bacon Mix, Burger Patties

Ribs:

Boneless Short Ribs, Texas Short Ribs, Korean Short Ribs, Beef Back Ribs

Roasts:

Round Roast and Chuck Roast

Other Cuts:

Stew Meat, Beef Bratwurst, Beef Osso Buco, Whole Tenderloin, Oxtail, Whole Brisket, Whole Bavette, Picanha, Tenderloin Tips,  Teres Major, Tri-Tip, Sliced Beef Liver, Beef Bacon Ends, and Beef Stock.
Whew! That's an exhaustive list. If you feel overwhelmed by the selection or wonder how in the world you cook a hunk of Picanha, Porter Road has some helpful hints. Icons under each product selection indicate the best cooking methods (i.e., grilling, oven, sous-vide, on the skillet, or in the crockpot).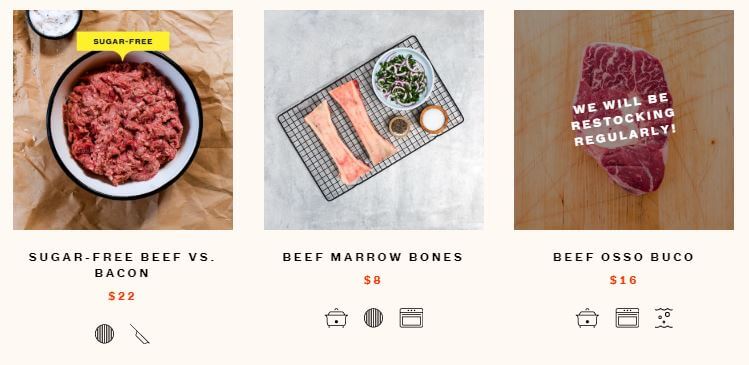 You can also click on a product to read more about it, including what part of the animal it comes from and the way to cook it. Here's what they have to say about Picanha, in case you were wondering: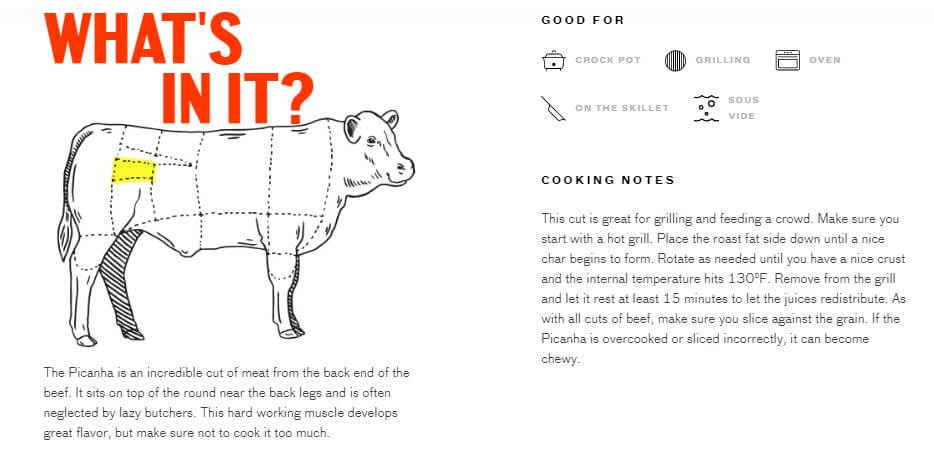 Pork
Porter Road pork is pasture-raised and sourced from Rittenberry Farms in Burna, Kentucky. These pigs spend their lives freely rooting around in the woods, as they would in the wild, rather than being pent-up in holding pens. If pork is your passion, these cuts will make you happy as a pig in the sunshine:
Sausages:

Loose Chorizo Sausage, Loose Country Breakfast or Italian Sausage, Loose BP Sage Sausage, Country Breakfast Sausage Patties, Memphis BBQ Sausage, and Bacon Maple Breakfast Sausage

Links:

Chorizo Links, Italian Links, Kielbasa Links, Bratwurst Links, Andouille Links

Ribs:

St. Louis Pork Ribs, Spare Ribs, Short Ribs, Back Bacon, and Rib Tips

Bacon:

Sugar-Free Beef vs. Bacon, Sugar-Free Bacon, Bacon, Bacon Ends, Ham Bacon, and Jowl Bacon

Other Cuts:

Boneless or Bone-in Chop, Uncured Park Belly, Half or Whole Pork Butt, Brisket, Shanks, Pork Wings, Tenderloin, Ground Pork, and Pork Cheeks
Porter Road recommends enjoying or freezing your pork products within five days of receipt to ensure freshness.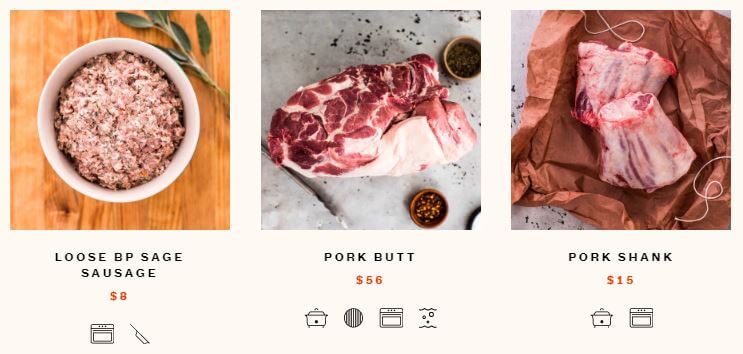 Lamb
Porter Road sources its pasture-raised lamb from a farm in Tennessee. Whether you plan to grill on the barbecue, roast, or braise, you'll enjoy choice cuts that are perfectly marbled and full of flavor. Cuts include Ground, Bone-in Leg, Neck, Shoulder, Boneless Leg of Lamb, Shanks, Ribs, T-Bones, Chops, Merguez, Stew Meat, Rack, Curry Links, and Chimichurri Links. Be sure to consume or freeze your lamp within seven days of delivery.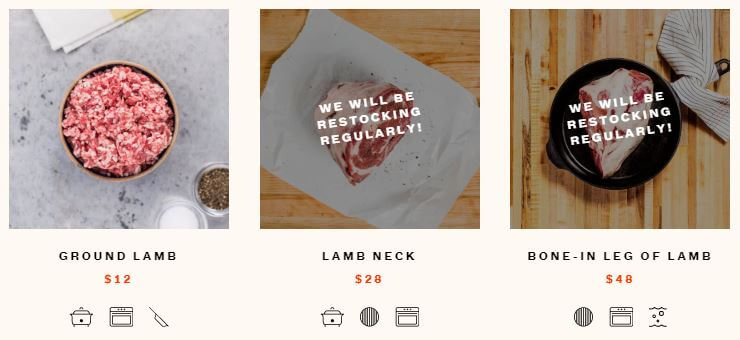 Chicken
Free of hormones, antibiotics, or cages, Porter Road chicken is some of the best you can put on your table. Once you try Porter Road chicken, you'll definitely be able to taste the difference between grocery store chicken and Porter Road's. Chicken is available whole, both in medium and large sizes, Bone-in Skin-on Breast, Large 8 Piece Pack, Medium 8 Piece Pack. You'll also find Chicken Soup Bones and Chicken Stock.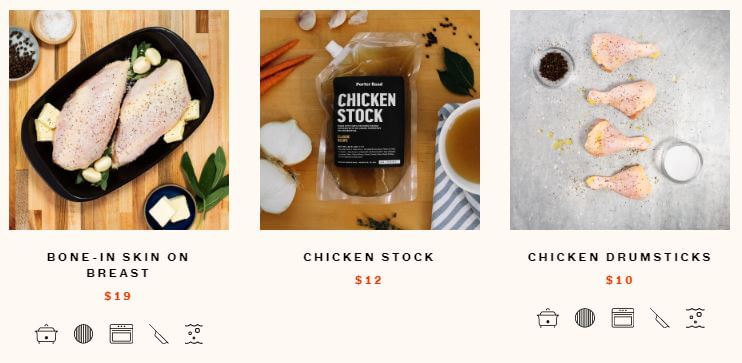 Porter Road Subscription Boxes and Pricing
You can easily order any item a la carte, but if you're looking for the most straightforward and convenient way to keep your kitchen stocked with top-quality meat, go with a subscription. Additionally, a subscription saves you money over a la carte pricing. 
It's easy! Simply choose your favorite selection from the four Curated Boxes. Then select how often you want to receive the box – every 2, 4, or 8 weeks. Shipping is always FREE with orders over $100, and there's absolutely no commitment – you can cancel at any time. You can customize any box with select add-ons like Chili Grind, Dry-Aged Ground Beef, Loose Chorizo Sausage, Ground Lamb, Loose Italian Sausage, Loose Country Breakfast Sausage, Pork Back Bacon, Country Breakfast sausage Patties, or Ground Pork. Once you select your preferred box and the shipping frequency, you'll see the list of various add-on meats so you can tailor your subscription to your family's tastes.
Butcher's Choice Box ($127)

– In this 10-pound box, you'll receive two dry-aged steaks, two pork chops, 1 pound of bacon, plus selections that change monthly. This box saves you 10% over buying the items a la carte.

Best of Porter Road Box ($100)

– This is the most popular box that includes a variety of pasture-raised meats, from bacon to chops to ground meats. With this box, you receive eight pounds of meat.

Beef + Pork Box

($100)

– With nine pounds of meats, this subscription box includes two dry-aged sirloin fillets, two pork chops, five one-pound packs of dry-aged ground beef, and two one-pound packs of ground pork.

Grill Master Box ($70)

– Love to BBQ? Then this is the perfect subscription box for you. A 6-pound box of patties, links, and chops will arrive ready for the grill.

Stay

–

at-Home Bundle ($90) –

Living the quarantine life? Avoid having to visit the grocery store meat counter with this fantastic bundle. This box includes eleven pounds of meat, including five pounds of dry-aged beef, two pounds of ground pork, two pounds of Loose Italian Sausage, and two one-pound packs of Country Breakfast Sausage.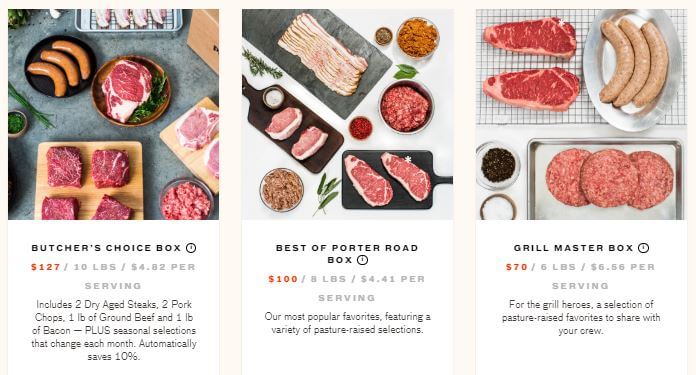 Featured Advertiser


Featured Advertiser
Porter Road FAQ:
How much does Porter Road cost?
Porter Road offers five subscription plans that cost between $70-$127:
Porter Road Subscription Pricing
| Box | Pounds of Meat | Cost per Serving | Total Cost |
| --- | --- | --- | --- |
| Butcher's Choice | 10 lbs. | $4.82 | $127.00 |
| Best of Porter Road | 8 lbs. | $4.41 | $100.00 |
| Grill Master | 6 lbs. | $6.56 | $70.00 |
| Beef + Pork Basics | 9 lbs. | $4.17 | $100.00 |
| Stay-at-Home Bundle | 11 lbs. | $3.07 | $90.00 |
When are Porter Road meals delivered?
It takes approximately 2-3 days for an order to arrive via standard shipping.
How much does shipping cost?
All subscription boxes and any a la carte orders over $100 include FREE shipping.
Where does Porter Road deliver?
Porter Road delivers everywhere in the contiguous U.S.
How do you skip a week of Porter Road meals?
To manage your subscription, log-in to your account.
How do you cancel Porter Road?
To manage your subscription, log-in to your account.
How do you contact Porter Road?