Vital Choice Reviews, Pricing, Discounts & More - Complete Review
Home delivery of the world's finest wild seafood and organic fare.
Vital Choice delivers wild fish, seafood, premium supplements, organic foods, and pastured meats that are often difficult or impossible to find at your local grocery store. Their wild-caught, sustainably- and ethically-harvested seafood comes from fisheries certified sustainable by the Marine Stewardship Council or Alaska's Responsible Fisheries Management Program, or considered sustainable by experts like Seafood Watch and the Monterey Bay Aquarium. 
The crew at Vital Choice believes that nothing impacts our lives more than our food choices – and that food should not only benefit our bodies but please our senses without harming the planet. The founders are committed to providing premium wild seafood from well-managed, healthy fisheries around the world. But Vital Choice doesn't stop at seafood. They also offer premium marine-sourced supplements, select organic foods – from wild berries to dark chocolate – and pasture-raised meats. Vital Choice offers some of the finest products available anywhere – and you can have them delivered right to your door.
Vital Choice Products
If you're looking for the highest-quality sustainably-sourced, wild-caught seafood or select organic foods and supplements, you'll be delighted with Vital Choice products. 
Vital Choice Seafood
Wild Salmon:

Vital Choice is probably best known for its outstanding salmon. They offer everything from single-serve portions to salmon dogs, burgers, jerky, sausages, smoked salmon, and more.

Wild Fish:

The choice of wild fish includes everything from Wild Pacific white fish, halibut, ahi, and albacore tuna, to cod, Chilean sea bass, Mahi Mahi, and petrale sole. 

Shellfish:

Vital Choice offers an assortment of shellfish. Try the Wild Alaskan, Atlantic, or Patagonian sea scallops; cultured live clams; live and frozen cultured oysters; live Pacific blue mussels; wild peeled & deveined blue shrimp; cooked and cleaned Oregon pink shrimp; wild shell-on spot prawns, both regular and jumbo; wild shrimp burgers; Alaskan King, Dungeness, and Tanner crab; wild Maine lobster (whole split, tails, and shucked meat); cleaned wild Atlantic or Pacific calamari. 

Canned and Pouched:

If you prefer your seafood in a can or pouch, Vital Choice offers much more than your local grocery store. Check out their selection, which includes wild sockeye salmon, wild tuna, anchovies, wild Pacific Dungeness crab, smoked cultured mussels, wild Portuguese mackerel, wild seafood samplers, wild Oregon tiny pink shrimp, heat & eat seafood soups, wild fish; and wild Portuguese sardines.

Other Foods
In addition to top-quality fish and shellfish, Vital Choice offers a range of superior pasture-raised and organic meats, seasonings, wild berries, premium supplements, and more. 
Premium Proteins
Many of Vital Choice's premium pastured, organic proteins work great for those following keto or paleo diets. Choices include:
Paleo-friendly pasture-raised pork – chops, bacon, sausage, and bratwurst  

Grass-fed bison – burgers and hot dogs

Organic grass-fed beef by Skagit River Ranch – Wagyu tenderloin fillets, top sirloin, ribeye, and New York strip steaks; ground meat; stew meat; stir-fry strips; chuck roast; and patties 

Pasture-raised chicken – available as whole birds and eight pieces 'best of fryer.'

Burgers – salmon, organic Wagyu grass-fed beef, wild shrimp, free-range bison

Hotdogs – free-range bison and wild Alaskan salmon either plain or spicy jalapeño. 

Bone broths – wild fish, organic chicken, organic beef

Organic jerky 

Marine Supplements
Select from a range of sustainably-sourced, expertly formulated premium nutritional supplements that are lab-tested for purity. Supplements are free from dairy, wheat, starch, yeast, sugar, soy protein, gluten, GMOs, artificial preservatives, colors, stearates, and binders. 
Omega-3 supplements 

Vitamin D3

Liquid fish oil 

Brain health 

Joint health 

Eye health 

Heart health

Inflammation support 

Stress support

Immune support 

Vital Omega-3/6 HUFA Test™️

Organic Food and Seasonings
These items are perfect for complimenting your recipes or for extra-special treats
Organic oils & vinegar – organic extra-virgin cold-pressed olive oil, organic red or white balsamic vinegar

Organic marinades, rub mixes, & seasonings – salmon marinade mix, steak rub, wild salmon bacon bits, signature salmon seasoning, seafood rub, lemon pepper seasoning 

Cultured garlic flowers, seaweed salad, and kelp cubes 

Soups and chowders – smoked salmon or classic clam chowder, savory seafood bisque, and northwest cioppino

Organic frozen raspberries, strawberries, wild blueberries  

Organic extra dark chocolates and organic trail mix

Vital Choice Ordering, Pricing, and Shipping
Vital Choice offers the convenience of ordering their products a la carte or by subscription. The website lists the price of each item individually. With the Vital Rewards program, you have the opportunity to earn one point for every dollar you spend and can redeem your points for discount coupons. Shipping is FREE on orders over $99. 
Vital Choice guarantees all its products. If you're not completely satisfied with your purchase, the company will refund your money or replace the product, whichever you prefer.
Vital Choice Subscriptions
Subscribing to 'Vital Box' is easy, super-convenient, and there's no commitment. After you open your account, your first box will ship automatically. Subsequent boxes won't ship until you respond to a reminder email to confirm, skip, or cancel your order. You can select from three boxes: Wild Salmon Box, Wild Fish Box, or Wild Seafood Box. 
The Wild Salmon Box:

priced at $129, contains single-serve portions plus salmon burgers, dogs, sausages, smoked salmon, and more (but no shellfish).

The Wild Fish Box:

priced at $169, contains wild salmon and other fish such as cod, halibut, sole, tuna, and sablefish, plus salmon burgers, dogs, sausages, and more (but no shellfish). 

The Wild Seafood Box:

priced at $199, contains salmon, wild fish, and shellfish, plus salmon burgers, dogs, sausages, and more.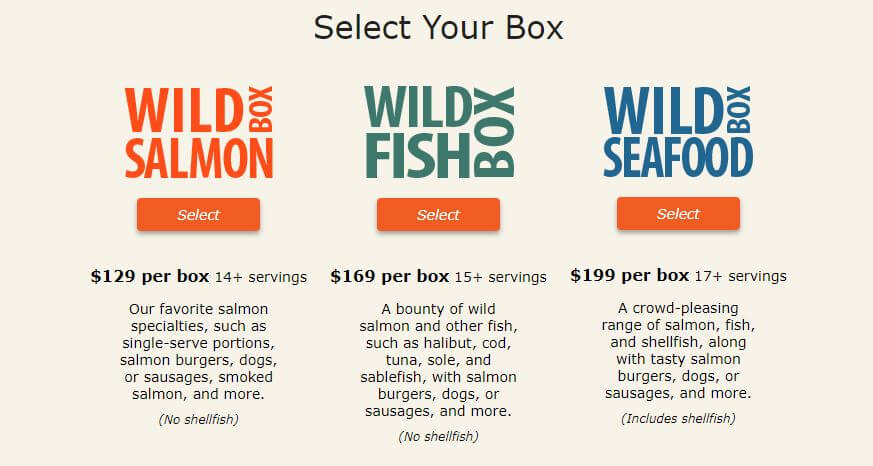 Featured Advertiser


Featured Advertiser
Vital Choice FAQ:
How much does Vital Choice cost?
Vital Choice has three subscription plans. The Wild Salmon Box costs $129, The Wild Fish Box costs $169, and The Wild Seafood Box costs $199. All subscription plans include free shipping. Other items are available a la carte.
When are Vital Choice meals delivered?
Subscription boxes arrive the second week of each month. Each box ships UPS Ground, and you'll receive an email with the tracking number when it's on the way.
How much does shipping cost?
Shipping is FREE on all orders over $99 for delivery in the contiguous U.S., including one-time and subscription orders.
Where does Vital Choice deliver?
Vital Choice ships everywhere in the U.S., including Hawaii and Alaska.
How do you skip a week of Vital Choice meals?
It's easy to skip a Vital Box subscription shipment. Each month, you'll receive a confirmation email before your box ships. Just click the "Skip the Shipment" button to skip the upcoming delivery.
How do you cancel Vital Choice?
To cancel your Vital Choice subscription, log-in to your account and cancel, or call Customer Care.
How do you contact Vital Choice?