EveryPlate Reviews, Pricing, Discounts & More - Complete Review
America's Most Affordable Meal Kit
It's tough coming up with new and exciting dishes to cook every night for your family or significant other, especially when you're on a budget AND work full time. Luckily, EveryPlate meal prep delivery kits are here to help! For less than $5 a serving, EveryPlate enables you to cook delicious, filling meals for 2-4 people quickly, easily, and affordably.
EveryPlate is a flexible meal kit subscription service that provides you with filling, classic, home-style recipes made from fresh ingredients delivered right to your doorstep. Each meal comes with easy-to-follow, 6-step instruction cards that will have delicious dinners on your table in 30 minutes or less. The kit includes everything you need, with pre-portioned ingredients, so you won't have to buy expensive seasonings you use once and never touch again.
EveryPlate Menu
Even the most kitchen-challenged should find EveryPlate's recipes easy to prepare and pleasing to the pickiest of eaters. Each week, you choose from a menu of nine or ten delicious, affordable recipes. Meals change weekly, so there's always a tasty new dish to anticipate. If you're looking for light, low-carb fare, this might not be the plan for you as EveryPlate meals are satisfyingly hearty. The menu focuses on meat and potato-type dishes, creamy pasta bowls, and chunky soups. Sample menu items include cranberry-glazed pork chops with crispy potatoes & green beans, chicken sausage penne with zucchini and chili oil, and loaded baked potato chowder with bacon, cheddar & jalapeño. Yum!

EveryPlate Meal Plans
If you cook for just yourself, the Dinner for 2 Plan is perfect for both lunch and dinner. This plan is also ideal for busy couples on-the-go. The Dinner for 4 Plan features four adult-sized portions, so it might be enough to feed a family of five. Each meal costs just $4.99 just per serving, plus $8.99 for shipping an entire week's worth of food. EveryPlate's affordable pricing really allows you to stretch your grocery budget.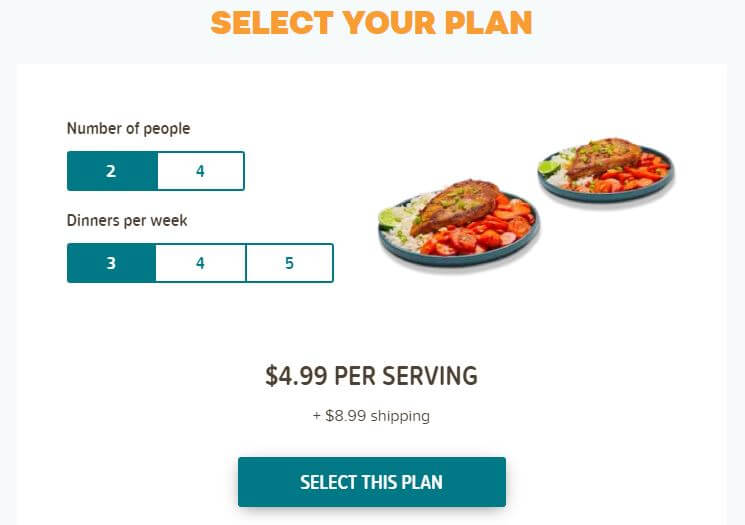 EveryPlate Packaging & Shipping
EveryPlate's focus on value and convenience carries through to its packaging as well. The company keeps costs down by using less packaging, all of which is sustainable. Boxes and separators are 100% curbside recyclable, and the ice packs and box liners (once emptied) can go in the recycling bin as well. EveryPlate is now available across most of the contiguous U.S. (sorry, residents of Alaska and Hawaii!). To ensure delivery availability and days in your area, enter your zip code at checkout. Besides bringing tasty value, EveryPlate is also convenient. You can skip weeks or cancel any time…no commitment necessary!
EveryPlate Reviews
Customers are overwhelmingly excited about the service, with more than 2,000 people leaving positive reviews on the service's Facebook page and an average of 4 out of 5-star ratings. EveryPlate also got the nod from USA Today's 10 Best Readers' Choice 2019 awards. It was the only meal kit to make this list that's under $5 per serving. What are people saying about EveryPlate? Many of the reviews we scoured cited the service's affordability, delicious recipes, and convenience for busy lifestyles.
EveryPlate Promo Code
Get meals for just $3.99 per serving! Click here to apply this offer.
See Current Promo
Featured Advertiser


Featured Advertiser
EveryPlate FAQ:
How much does EveryPlate cost?
EveryPlate offers plans for two or four people. The two-person plan costs between $29.94-$58.89 per box and includes 3-5 meals per week. The 4-person plan costs $59.88 per box and includes three meals per week.
2-Person Plan Pricing
| Servings Per Meal | Meals Per Week | Price per Serving | Price per Box |
| --- | --- | --- | --- |
| 2 | 3 | $4.99 | $29.94 |
| 2 | 4 | $4.99 | $48.91 |
| 2 | 5 | $4.99 | $58.89 |
4-Person Plan Pricing
| Servings Per Meal | Meals Per Week | Price per Serving | Price per Box |
| --- | --- | --- | --- |
| 4 | 3 | $4.99 | $59.88 |
Shipping is an additional $8.99 per box.
How many calories are in the typical EveryPlate meal?
Most EveryPlate meals are between 600-900 calories.
How long does it take to cook a EveryPlate meal?
Meal prep with EveryPlate typically takes between 25-35 minutes.
When are EveryPlate meals delivered?
EveryPlate offers delivery Tuesday-Saturday, but your delivery day options will depend on where you live.
How much does shipping cost?
Shipping is always $8.99 per box.
Where does EveryPlate deliver?
EveryPlate delivers to most of the contiguous U.S. To check availability in your area, enter your zip code at checkout.
How do you skip a week of EveryPlate meals?
You can easily skip EveryPlate meals by logging into your account and going to "My Menu." Select "Skip Week" under the menu options. To skip a week, be sure to do so five days before delivery at 11:59 EST.
Deadline for Tuesday delivery is Thursday
Deadline for Wednesday delivery is Friday
Deadline for Thursday delivery is Saturday
Deadline for Friday delivery is Sunday
Deadline for Satuday delivery is Monday
EveryPlate allows customers to skip up to four weeks of deliveries.
How do you cancel EveryPlate?
You can easily cancel EveryPlate via the web portal or on the app:
On the web: Log-in to your account and go to "Settings." Under the "Account" section, select "Deactivate Your Plan." Enter the reason for canceling and confirm the deactivation.
On the app: Go to "Settings," then "Edit my Account." This will redirect you to the web, where you'll follow the steps outlined above.
Be sure to cancel five days prior to your last delivery to avoid getting charged for another box.
How do you contact EveryPlate?
EveryPlate live chat is available 24/7 on the website. Phone support is available Monday-Friday 9 AM-11 PM EST.
See Current Menu