Trifecta Reviews, Pricing, Discounts & More - Complete Review
Eat like you train.
Are you an athlete? Or are you merely trying to get in shape? Trifecta could be the meal delivery system you've been looking for. Trifecta offers science-backed meal plans designed to help you lose weight, add muscle, and feel great. With dishes for every lifestyle, the program comes with all kinds of advice and community support tools to help you achieve your goals.
With Trifecta, all you need to do is 1. Choose a plan (you can choose up to four meals a day, so you're completely covered). 2. Make an account to manage your orders from your phone or desktop. 3. Download the free Trifecta app to track your food, keep yourself accountable, and measure your results. As a subscriber, you can also join Trifecta's Facebook group to stay connected with the Trifecta community.

Trifecta Menu
Once you subscribe, you can enjoy the ever-changing weekly menus. Created by in-house chefs, Trifecta's fully prepared meals are not only fresh, but help you to hit your macronutrient goals with lean protein, complex carbs, and nutrient-dense veggies in each meal. You choose from a variety of specialty plans, including Keto, Clean, Paleo, Vegan, and Vegetarian. Or there's a broad range of Classic Meals and à la carte selections for folks with fewer requirements.
Keto meals

promote weight loss with healthy fats, grass-fed meats, and wild-caught seafood. Examples of mouth-watering keto selections include tuna cakes with lemon dill aioli or meatloaf and mashed cauliflower. 

Clean meals

focus on a balanced approach to eating, with entrees that incorporate whole grains, lean proteins, and veggies without any added preservatives or artificial ingredients. Sample clean menu choices include chicken breast mushroom risotto or tangerine chicken with brown rice. 

Paleo meals

are high in protein with organic seasonal veggies, lean proteins, and healthy fats. Trifecta's Paleo meals sound irresistible with choices like a Western omelet and flat iron steak, or sweet potato frittata. 

Vegan meals

are 100% plant-based and animal-free with macro-balance in mind. These heart-healthy and fiber-rich dishes include garlic rice pasta and cherry tomatoes, or for a sweet treat, double chocolate gluten-free muffins. 

Vegetarian meals

are similar to vegan options but include eggs. Sample meals include lemon coconut loaf or blueberry chia for breakfast, lime tofu with quinoa and veggies for lunch, and pasta Bolognese for dinner.

Classic meals

provide a perfect balance of 4 oz protein, 4 oz veggies, and 4 oz carbs to get all your nutrients in while you're trying to lose weight. Dishes in this category are straightforward, with options like a turkey patty with brown rice and mixed veggies or salmon with mashed sweet potatoes and grilled vegetables. 
Meals come ready-to-eat in vacuum-sealed containers that last ten days in the refrigerator and three months in the freezer. You can reheat meals in a microwave, oven, air fryer, or on the stovetop.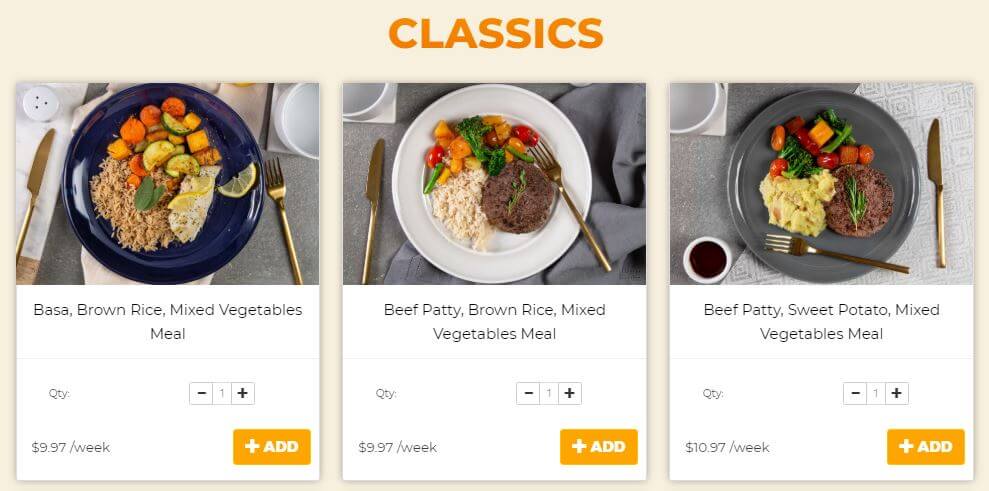 Trifecta Meal Plans
Keto, Clean, and Paleo meal plans start from $108.43/week. Vegan and Vegetarian meal plans start from $113.90/week. With any of these plans, you can choose delivery five or seven days a week, with your choice of up to four meals per day. In addition to meal plans, you can also order proteins, carbohydrates, vegetables, classic meals, and snacks a la carte.
Trifecta Promo Code
Click below to check out the latest discount from Trifecta!
Featured Advertiser

Featured Advertiser
Trifecta FAQ:
How much does Trifecta cost?
Trifecta offers five meal plans to meet various dietary preferences: Clean, Keto, Paleo, Vegan and Vegetarian. The keto, clean, and paleo plans start at $108.43 per week. The vegan and vegetarian plans start at $113.90 per week. See more specific pricing details below:
Keto, Clean (Chef's Choice) & Paleo Meal Plans Pricing
| Days Per Week | Meals Per Day | Price per Meal | Price per Week | Meals Included |
| --- | --- | --- | --- | --- |
| 5 | 2 | $14.79 | $147.90 | B/L |
| 5 | 3 | $14.29 | $214.35 | B/L/D |
| 5 | 4 | $13.79 | $275.80 | B/L/D/3 |
| 7 | 1 | $15.49 | $108.43 | L or D |
| 7 | 2 | $14.79 | $207.06 | B/L |
| 7 | 3 | $14.29 | $300.09 | B/L/D |
| 7 | 4 | $13.79 | $386.12 | B/L/D/3 |
Vegan & Vegetarian Meal Plans Pricing
| Days Per Week | Meals Per Day | Price per Meal | Price per Week | Meals Included |
| --- | --- | --- | --- | --- |
| 5 | 2 | $11.39 | $113.90 | B/L |
| 5 | 3 | $10.79 | $161.85 | B/L/D |
| 5 | 4 | $10.29 | $205.80 | B/L/D/3 |
| 7 | 2 | $11.39 | $159.46 | B/L |
| 7 | 3 | $10.79 | $226.59 | B/L/D |
| 7 | 4 | $10.29 | $288.12 | B/L/D/3 |
B = Breakfast
L = Lunch
D = Dinner
3 = 3rd Entree
Note, prices above include tax and shipping. You may also add additional proteins, carbohydrates, vegetables, classic meals, and snacks to your order a la carte.
How many calories are in the typical Trifecta meal?
Most Trifecta entrees have between 350-500 calories per meal. The average calories by meal plan are:
Keto - 615 calories
Clean - 526 calories
Paleo - 350 calories
Vegan - 350 calories
Classic - 360 calories
Vegetarian - 350 calories
How long does it take to cook a Trifecta meal?
Trifecta meals come ready-to-eat, just reheat by microwave, oven, or stove-top.
When are Trifecta meals delivered?
Trifecta deliveries ship on Thursdays with deliveries on Friday between 8 AM-8 PM.
How much does shipping cost?
Are there places where Trifecta doesn't ship?
Trifecta ships to all 50 states, making it one of the few meal delivery services that ships to Alaska and Hawaii.
How do you skip a week of Trifecta meals?
With Trifecta meal plans, you may skip a week at anytime. Just be sure to skip by the Friday before your next delivery.
-Log-in to your account and navigate to the My Account Page
-On the left-hand side, click ""Subscriptions""
-Click on ""View"" your current Subscription
-Select ""Skip Weeks""
-Select from the upcoming 4 weeks delivery dates
-Skipped weeks will turn black and the SKIP button will change to UNSKIP.
How do you cancel Trifecta?
To cancel your Trifecta subscription, call (530) 564-8388.
How do you contact Trifecta?