Factor 75 Reviews, Pricing, Discounts & More - Complete Review
Nutritionist designed, chef prepared meals, delivered right to your door.
Factor 75 is all about nutrition. If you've decided that it's time to take your wellness into your own hands, Factor 75 might just give you the jump-start you need. Whether you've decided to eat paleo, keto, low carb, high protein, or low cal, Factor 75 has a fresh, nutritious meal for you. And if you aren't quite sure where to begin, you'll be excited to know all subscriptions include one complimentary 20-minute consult with a registered dietitian.
Factor 75 home meal delivery service allows you to choose from dozens of tasty, good-for-you dishes, either chosen from the weekly menu or crafted to meet your personal preferences based on the types of ingredients you can't or don't eat. Each tastefully wrapped meal is cooked by Factor 75's team of chefs from fresh ingredients and shipped to you, ready to heat, taste, and enjoy.
Factor 75 Menu
Factor 75 meals combine nutritional science and great taste, providing your body and mind with the nutrients you need to perform optimally. The website thoroughly describes each diet type and how Factor 75 meals meet diet specifications. The company also never uses processed or hydrogenated fats or oils that can cause inflammation like corn, soy, or safflower.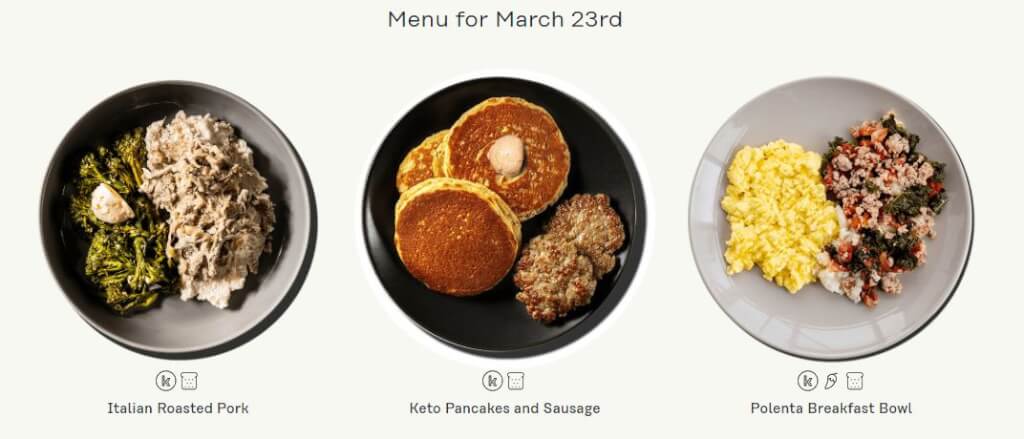 Factor 75's weekly menu has 15 breakfast, lunch, and dinner options, along with add-on proteins, wellness juices, and snacks. The meals are not only healthy but incredibly delicious. Shake up breakfast-time with a protein-packed and fiber-rich superfood breakfast quinoa bowl. One variety combines quinoa with mangos, chia seeds, hemp seeds, coconut milk, almond milk, and a side of blueberry sauce for a boost of antioxidants and walnuts for a healthy dose of fat. For lunch or dinner, you can indulge in dishes like horseradish crusted salmon with cauliflower mash – a spicy, ketogenic twist on a traditional salmon recipe. Hungry yet? On Factor 75, you can even enjoy snacks like brownie energy bites, that blend fiber-rich and naturally sweet dates with antioxidant-packed walnuts and cacao for bite-sized yumminess. 
Factor 75 Meal Plans
Meal plans include 4, 8, 12, or 18 meals a week. The more you order, the more economical the meals become. Four meals a week comes out to $15/meal, eight meals a week – $12.38/meal, 12 meals a week – $11.50/meal, and 18 meals – $11/meal. Add snacks and juices to your meal plan for an additional cost. All plans include free delivery. And again, a complimentary nutrition consultation with one of Factor 75's expert dietitians comes with all new subscriptions, setting you up for success from the very start.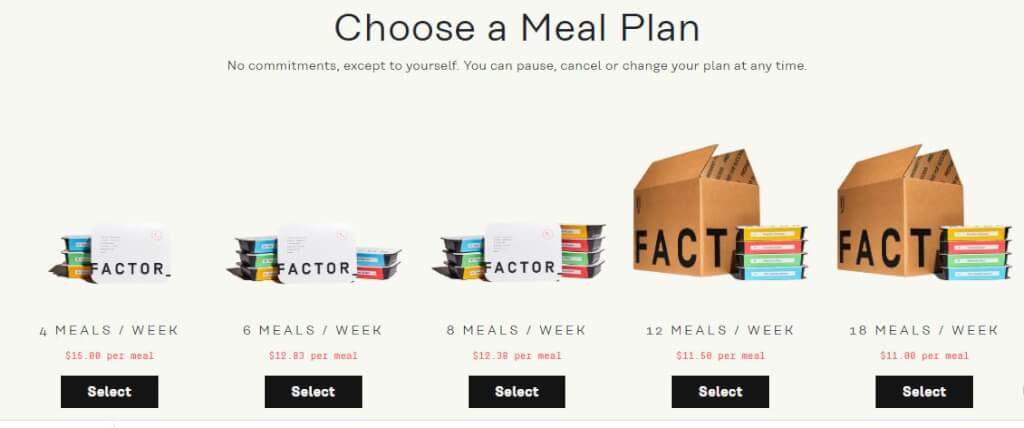 It's easy to order your chef-prepared, nutritionist-designed meals online each week. If you love certain meals, you can "favorite" them, or if a meal doesn't meet your satisfaction, customer service will work to resolve the situation quickly. And if you're finding Factor75 is working well for you, the company offers a variety of packages that you can choose from that further reduce the cost and provide access to additional counseling. 
Factor 75 Promo Code
Order your first delivery from this healthy delivery service with an intro coupon. Currently, you can save $40 over your first two weeks of Factor Meals. Click the "See Promo Code" button below to apply this special offer to your first order!
See Current Promo
Featured Advertiser

Featured Advertiser
Factor 75 FAQ:
How much does Factor 75 cost?
Factor 75 offers plans with 4, 6, 8, 12, or 18 meals per week. The 4-meal box is priced at $15.00 per meal ($60.00/box), the 6-meal box is priced at $12.83 per meal ($76.98/box), the 8-meal box is priced at $12.38 per meal ($99.04/box), the 12-meal box is priced at $11.50 per meal ($138.00/box), and the 18-meal box is priced at $11.00 per meal ($198.00/box). See the breakout below.
Factor 75 Pricing
| Meals Per Week | Price per Serving | Price per Box |
| --- | --- | --- |
| 4 | $15.00 | $60.00 |
| 6 | $12.83 | $76.98 |
| 8 | $12.38 | $99.04 |
| 12 | $11.50 | $138.00 |
| 18 | $11.00 | $198.00 |
Shipping is always FREE with Factor 75.
How many calories are in the typical Factor 75 meal?
Most Factor 75 meals range between 400-700 calories.
How long does it take to cook a Factor 75 meal?
All Factor 75 meals come ready-to-eat, which means no wasted time prepping, cooking, or cleaning. It takes just a few minutes to reheat your food in the oven or microwave. Each container of food includes specific reheating instructions.
When are Factor 75 meals delivered?
Factor delivers Monday through Wednesday. Your delivery date depends on your zip code.
How much does shipping cost?
Shipping is FREE with Factor 75.
Are there places where Factor 75 doesn't ship?
Factor 75 delivers to all 48 contiguous states but does not offer delivery to Hawaii and Alaska.
How do you skip a week of Factor 75 meals?
To skip your weekly delivery of Factor 75, log-in to your account and click the 'Skip' button next to the week you'd like to skip. You must skip a delivery before the weekly cutoff, which is always 11:59 pm CST on Wednesdays for delivery the following week.
How do you cancel Factor 75?
Cancel your Factor 75 via desktop or mobile.
On desktop: Log-in to your account and select your name at the top right of the Menu page. From the drop-down options, select "Account Settings," then "Cancel."
On a mobile device: Log-in to your account, and expand the menu at the top left corner of the page (click on the three horizontal lines). Scroll down and select "Account Settings," then click "Subscriber Status." From here, you can go through the steps to turn-off the automated component of the subscription.
How do you contact Factor 75?
Factor 75 customer service is available Monday-Friday, 9am-5pm CST via text, phone, and email.
See Current Menu