Plantable Reviews, Pricing, Discounts & More - Complete Review
Plant-based meals, health coaching, and support
Plantable Dietary Options
You've heard all the great news out there about the considerable health benefits of a plant-based diet, have wanted to try it, but haven't the vaguest idea where to begin. Well, rather than standing there confused in front of a fridge full of veggies, why not try Plantable, a meal delivery service that makes it easy with plant-based, chef-crafted meals delivered to your door, and a coach to help guide the way?
Plantable believes that given 28 days, you can learn to make new food decisions and transition into a new way of living that doesn't involve eating animal proteins. This shift can transform your health and well-being, changing how you look and feel with each bite you take. They'll take all the guesswork out of making this lifestyle change by delivering delicious, fully prepared, nutrient-dense meals while providing daily education and a personal coach to support you.
Plantable Nutrition
Plantable's chefs prepare delectable, satiating plant-based meals and deliver them right to your door each week. You get all the flavor with none of the work. Not only will you look and feel great, but your conscience will also get a boost, knowing you're doing good for the planet. Refined and processed foods will be a thing of the past, and your sugar cravings should start to disappear. In short, you'll be changing the way your body and mind use food. You'll have fewer crashes, more sustained energy, and feel better overall.
With Plantable, you'll learn to retrain your brain and create new habits with guidance from your own personal coach. Once you sign up, you'll have full access to a coach who will discuss your goals, recommend additional real-world recipes, and be available 24/7 to answer questions.

Plantable Menu
"But I hate vegetables," you say! Well, think again. What's not to like about dishes such as curried pumpkin soup with coconut cream sauce, quintessential quinoa quiche, or cauliflower Alfredo with red lentil penne? Brussels sprouts gratin with toasted pecans? Yes, please! Or how about a satisfying wild mushroom risotto or flavorful chana masala with Indian spiced brown rice?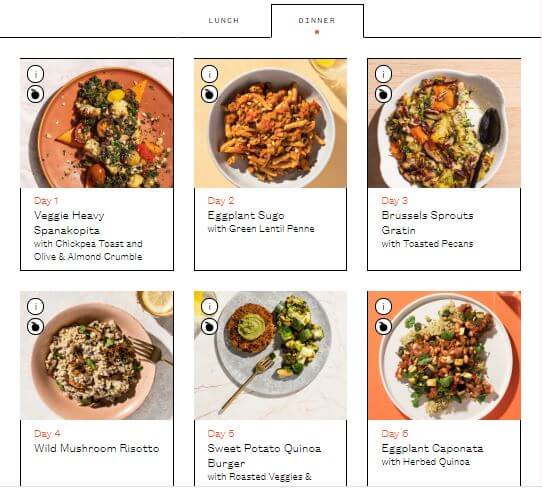 Plantable Meal Plans & Pricing
Plantable offers two main programs: Quickstart or Reboot. Quickstart ($225 per week) is a fast, one-week reset to learn the basics of a whole food, plant-based lifestyle. You'll receive 12 chef-prepared meals, along with daily education and seven days of coach support. With Reboot ($175 per week), you'll get four weeks of 12 chef-prepared meals that will help you achieve your goals with unlimited one-on-one support from your coach, daily education, and tips to continue a plant-based lifestyle.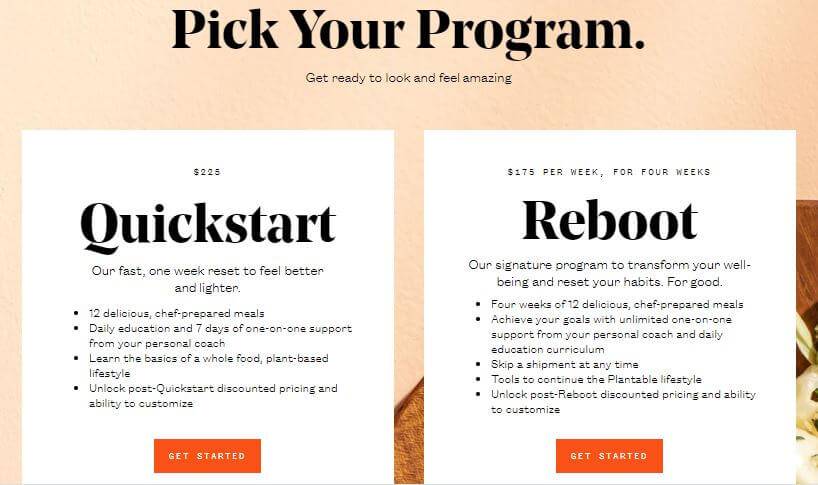 If you'd rather order food without the coaching, start with the Build Your Own Box. With this option, you choose 12 meals from the 30 a la carte options, choose a shipping date, then start enjoying your meals within a couple of days. The Build Your Own Box does not require a subscription, so you're free to order meals as needed on your schedule.
Featured Advertiser


Featured Advertiser
Plantable FAQ:
How much does Plantable cost?
Plantable offers two plans to get new users started. The Quickstart program costs $225 for one week of meals. The Reboot program costs $175 for one week of meals and lasts for four weeks. Alternatively, you can order a la carte with the Build Your Own Box plan.
Quickstart: 1 week - 12 meals/week (6 lunches & 6 dinners) - $225
Reboot: 4 weeks - 12 meals/week (6 lunches & 6 dinners) - $175/week
Build Your Own Box: 12 meals/week (6 lunches & 6 dinners) - $162.50/week
Note, the Quickstart and Reboot subscription programs include coaching and access to the Plantable support community. If you'd rather not subscribe, choose the Build Your Own Box option.
How many calories are in the typical Plantable meal?
Most Plantable meals are between 200-600 calories.
How long does it take to cook a Plantable meal?
Meals are ready-to-eat on the stovetop, in the oven, or in the microwave -- just follow the instructions on the package.
When are Plantable meals delivered?
Plantable ships all meals on Mondays via UPS, which means you'll receive your box on either Tuesday or Wednesday, depending on where you live.
How much does shipping cost?
Where does Plantable deliver?
Plantable delivers everywhere in the contiguous U.S., plus Alaska.
How do you skip a week of Plantable meals?
Log-in to your account to skip a delivery by Thursday at 11:59pm EST before your upcoming Monday shipment. Don't worry! You'll receive a reminder email the Tuesday before each week's deadline as a reminder.
How do you cancel Plantable?
Cancel your subscription before Thursday 11:59pm EST before your upcoming Monday shipment.
How do you contact Plantable?
Contact Plantable customer service via phone or email, and they'll get back to you as soon as possible.