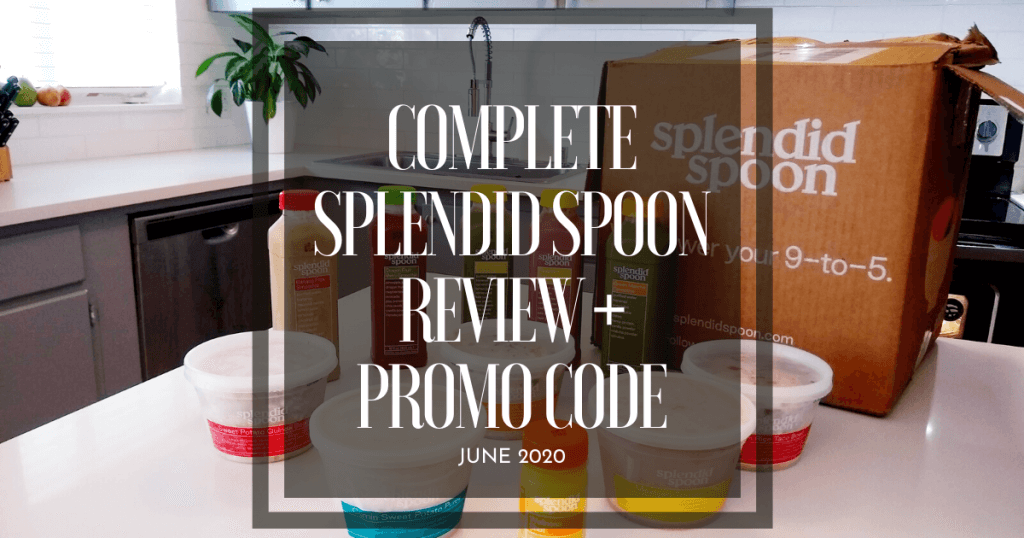 About the Splendid Spoon Meal Delivery Service
Splendid Spoon is a meal delivery service that ships prepared meals and smoothies to your door. The plant-based smoothies, grain bowls, and soups are the ideal portions for breakfasts and lunches. For breakfast, knock back an already-blended smoothie for a quick bite on-the-go, then at lunch reheat a quinoa bowl or hearty soup. With over 50 meals on the menu, you won't want for variety. All meals are gluten-free, soy-free, and vegan/vegetarian, and some are even Whole 30 and Paleo compliant, so the Splendid Spoon menu works for a variety of diet plans.
Splendid Spoon offers three subscription plans with delivery weekly, biweekly, or once a month (you can also easily adjust your schedule or change plans, as needed). Here's quick overview of the plans:
Breakfast Plan: 5 smoothies delivered weekly for $13 each ($65 total)
Breakfast + Lunch Plan: 5 smoothies and 5 bowls delivered weekly for $9.50 each ($95 total)
Breakfast + Lunch + Reset Plan: 5 smoothies, 5 bowls, and 1 full-day reset (consisting of five light soups) for $9.00 each ($135 total)
Meal Plan Summary: Choose the breakfast + lunch plan (5 smoothies + 5 bowls), lunch-only plan (5 bowls), or the breakfast + lunch + reset plan (5 smoothies + 5 bowls + 1 full-day reset).
Price: Starting at $9.00 per meal for the breakfast + lunch + reset plan.. See Splendid Spoon pricing information here.
Delivery Area: Splendid Spoon delivers everywhere in the contiguous U.S.
Read more info on this subscription service here: Splendid Spoon
What We Tried
Splendid Spoon was kind enough to send us a box at no cost, so we could share our experience with you!
We received a Breakfast + Lunch Plan box with a bonus Wellness Shot. The meals included:
Dragon Fruit Berry Smoothie
Banana Flax Smoothie
Green Matcha Smoothie
Raspberry Cacao Smoothie
Power Greens Smoothie
Cuban Black Bean Bowl
Sweet Potato Quinoa Bowl
Brown Rice Taco Bowl
Cumin Sweet Potato Puree
Mexican Tomato Chili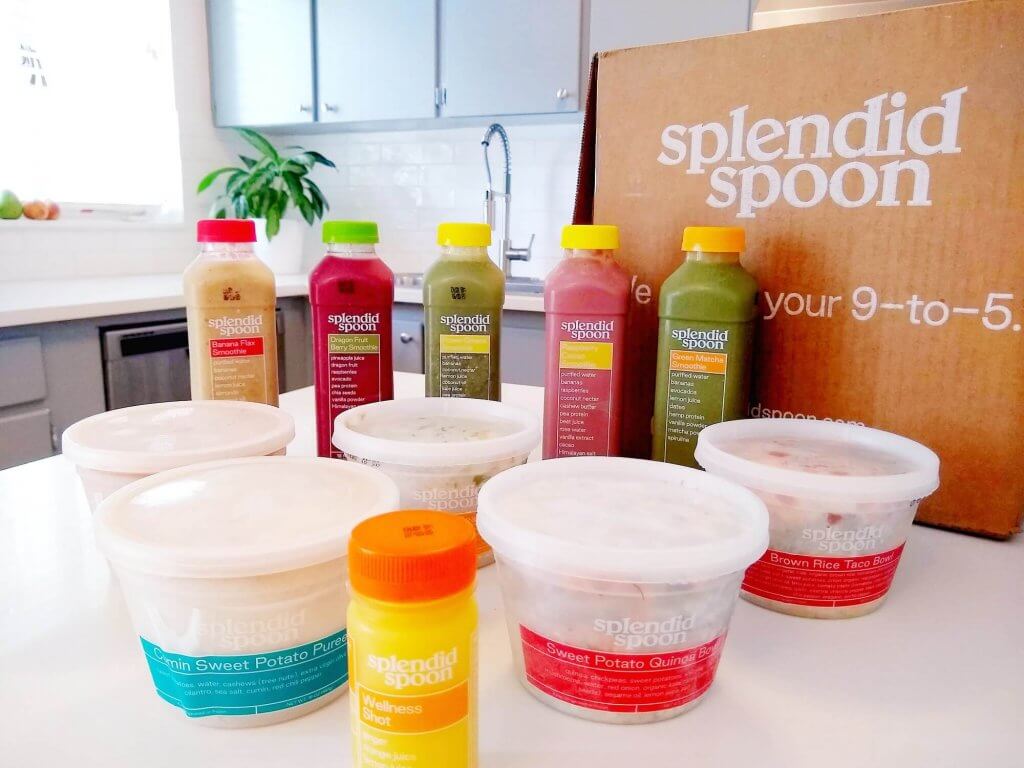 Splendid Spoon Packaging
Splendid Spoon is big on sustainability and ships its meals via FedEx in 100% recyclable packaging on dry ice. Most of our dry ice had already evaporated, so I put the little bit that was left in the sink to evaporate. We put the rest of the packaging out for our curbside recycling pick-up; check with your local recycling center to see what they'll accept.
Before shipment, soups and grain bowls are flash-frozen to lock-in nutrients and to simplify shipping. If you'll eat these meals within a week, just set in the fridge to thaw out, or safely store for up to three months in your freezer. The smoothies ship refrigerated and will keep for at least month (check the "Best By" date) in the refrigerator thanks to High-Pressure Processing.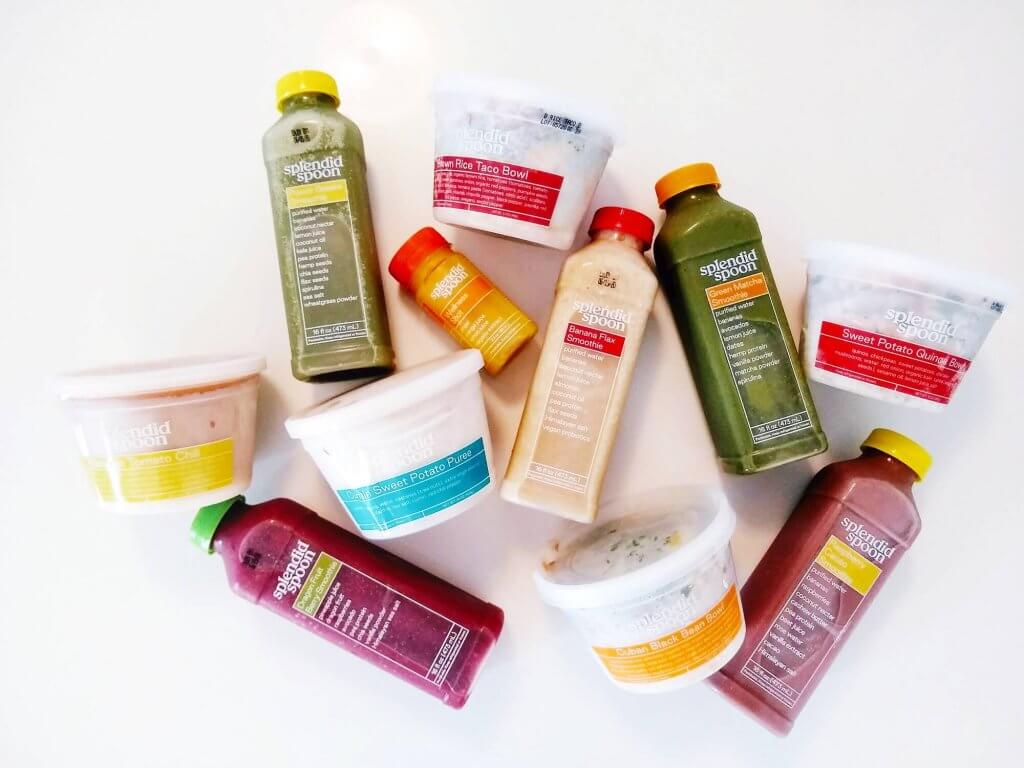 Enjoying Splendid Spoon
Smoothies
While everything we sampled was delicious, my favorite meals were the smoothies. Splendid Spoon smoothies were a wonderful change from other smoothie delivery services we have tried, because they are pre-blended and not frozen. Also, I really appreciated the way these were packaged in clear BPA-free plastic bottles, so you could see what was inside. Other smoothie delivery companies send a mess of unappetizing frozen ingredients packaged in flimsy cardboard cups that require you to haul out your blender and milk. It was unbelievably convenient just opening the fridge and pulling out a ready-to-drink smoothie whenever the mood struck.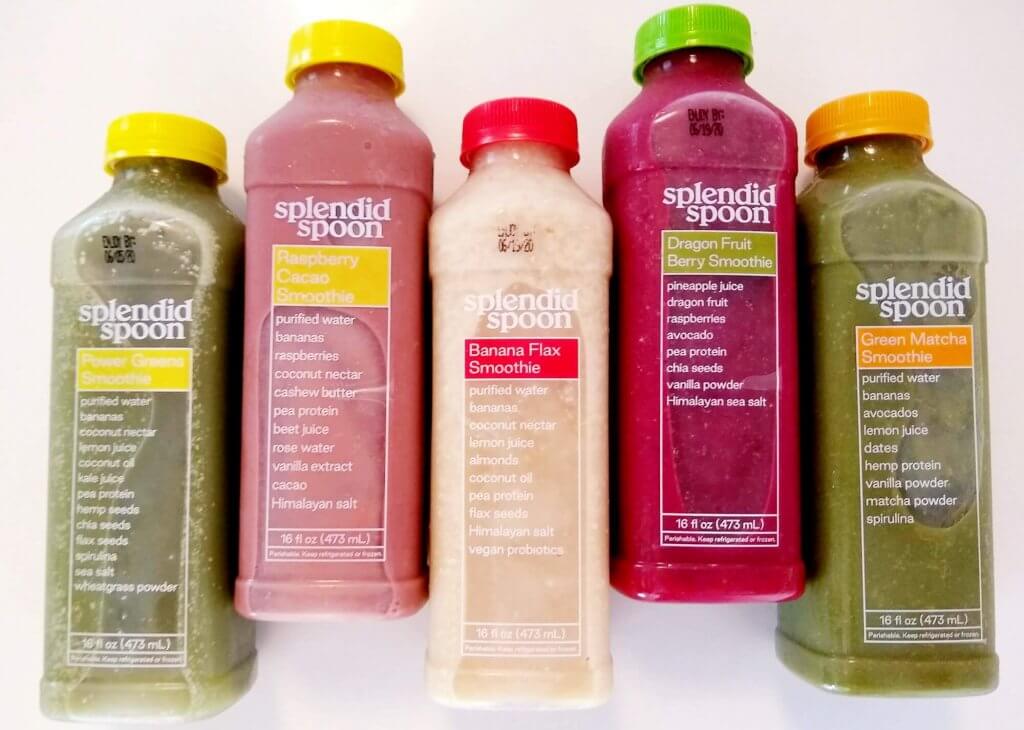 I drank the Dragon Fruit Berry Smoothie after a backyard workout during quarantine. It was extremely refreshing and flavorful!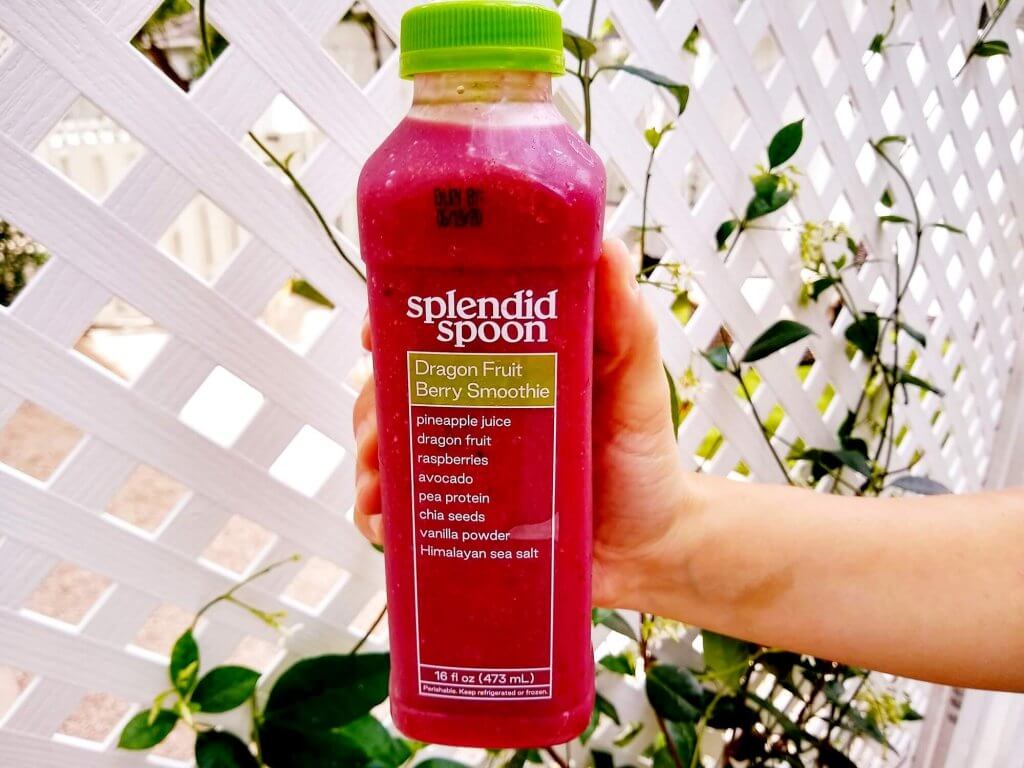 I practically inhaled the Raspberry Cocoa Smoothie after another workout because raspberries + cocoa = two of my favorite things! This one surpassed even my lofty expectations.  I could probably just order a box of this one flavor for weeks on end and never tire of drinking it.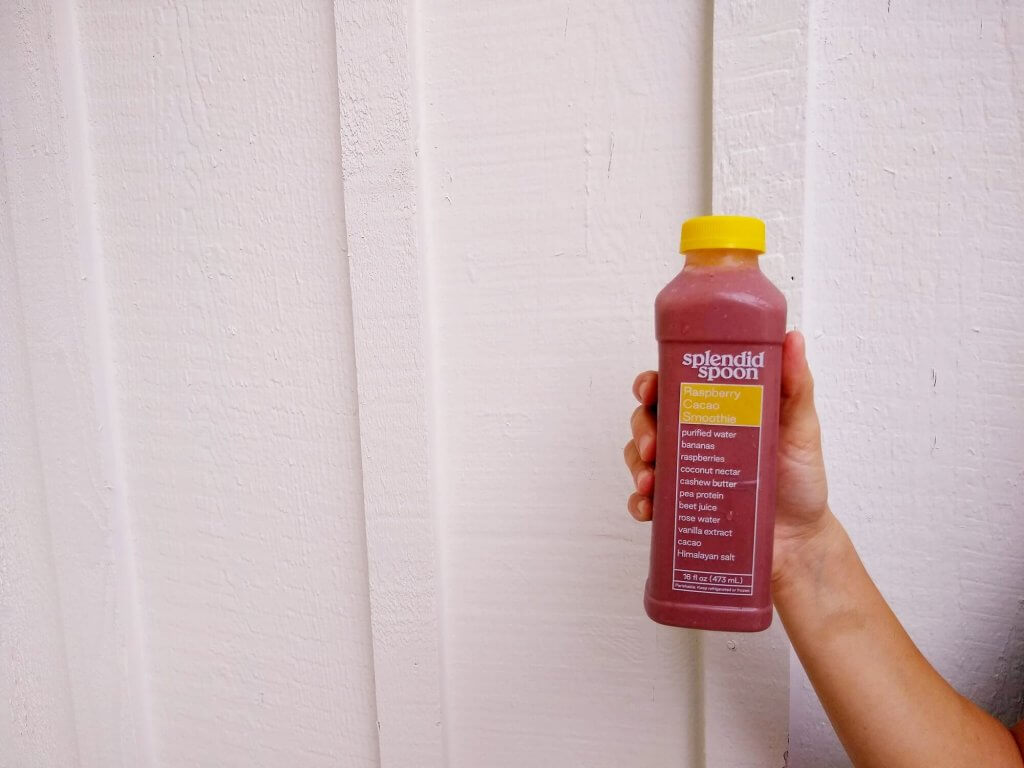 Another morning, my husband and I each enjoyed a smoothie along with some almond oat bars and pears – the Green Matcha Smoothie for him and the Banana Flax Smoothie for me.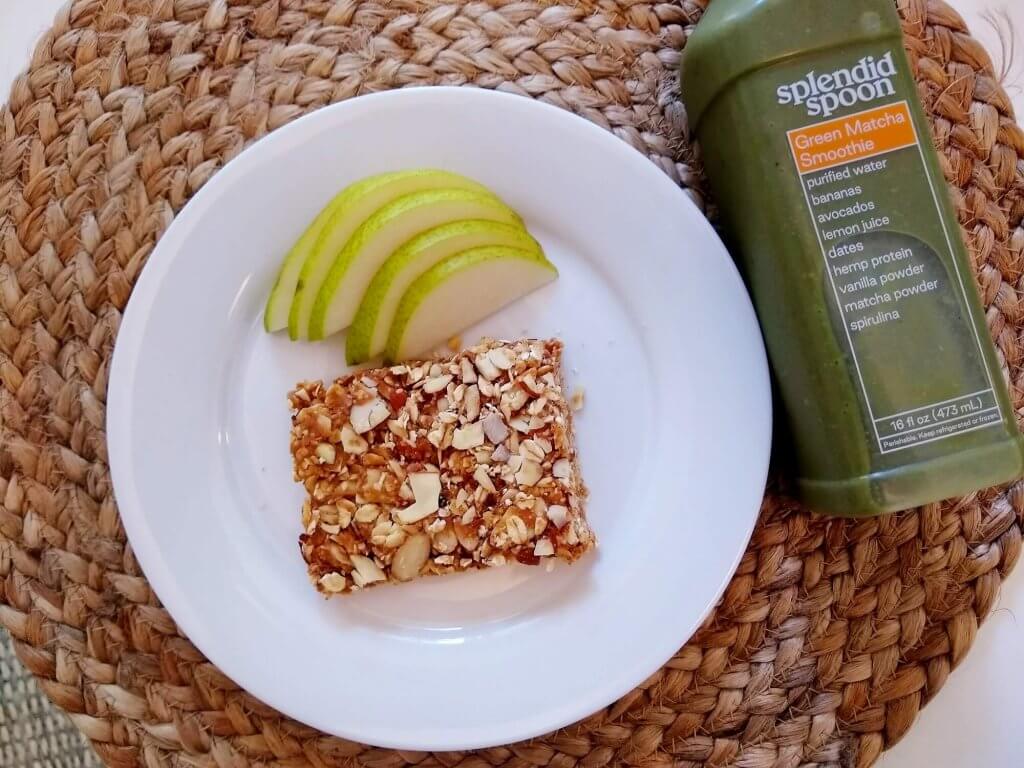 Also, did I mention that these smoothies are incredibly filling?! Each bottle we sampled had between 190-310 calories and an ample amount protein and fat (in the form of ingredients like pea protein, chia seeds, avocado, coconut oil, cashew butter, and almonds) to satiate.
Bowls and Soups
We kept our bowls and soups in the freezer, as we weren't sure when we'd eat them. Fortunately, you don't have to thaw the meals before reheating to enjoy (though it would make things easier and faster). We don't have a microwave, so we simply dumped the bowl's contents into a small saucepan to reheat. Though the Splendid Spoon FAQ don't mention this, I found that adding a touch of olive oil and water kept the meals from sticking to the pan and drying out. It took close to ten minutes to adequately heat the meals, so if I were to do it again, I'd likely let them thaw out in the fridge first. See more info on reheating here.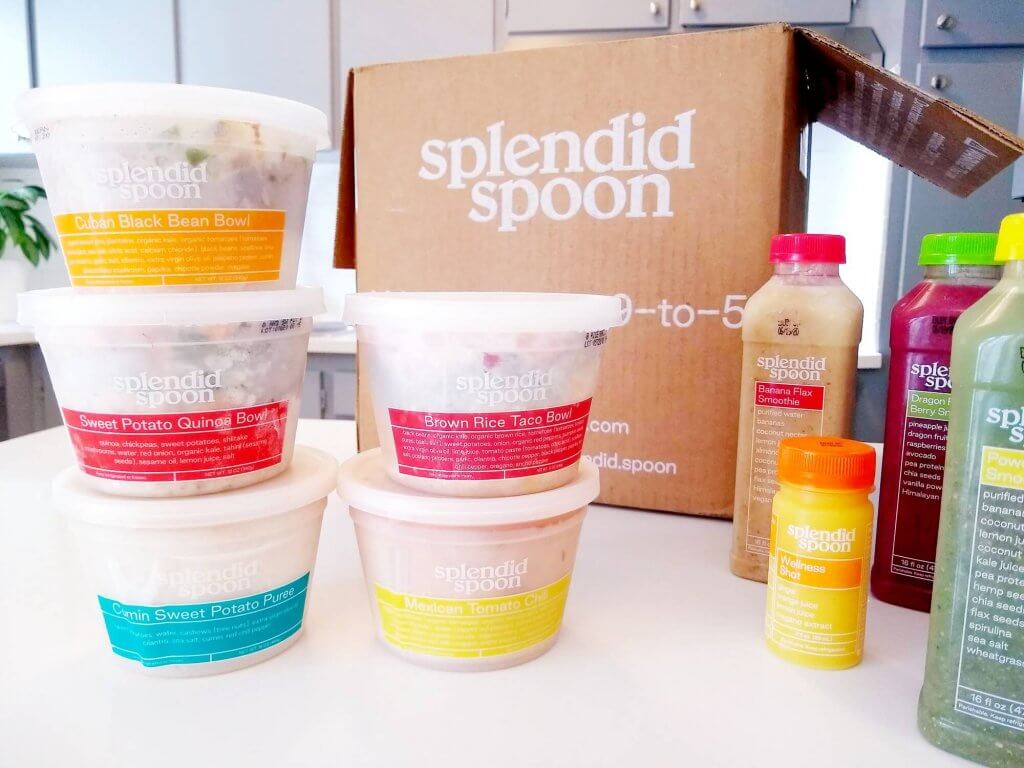 Here's a picture of the Sweet Potato Quinoa bowl. Though the list of ingredients is short, this bowl packed some amazing flavor, along with 480 filling calories and a whopping 16 grams of protein. As delicious as it was, I was so full by the end that I passed some off to my husband to finish.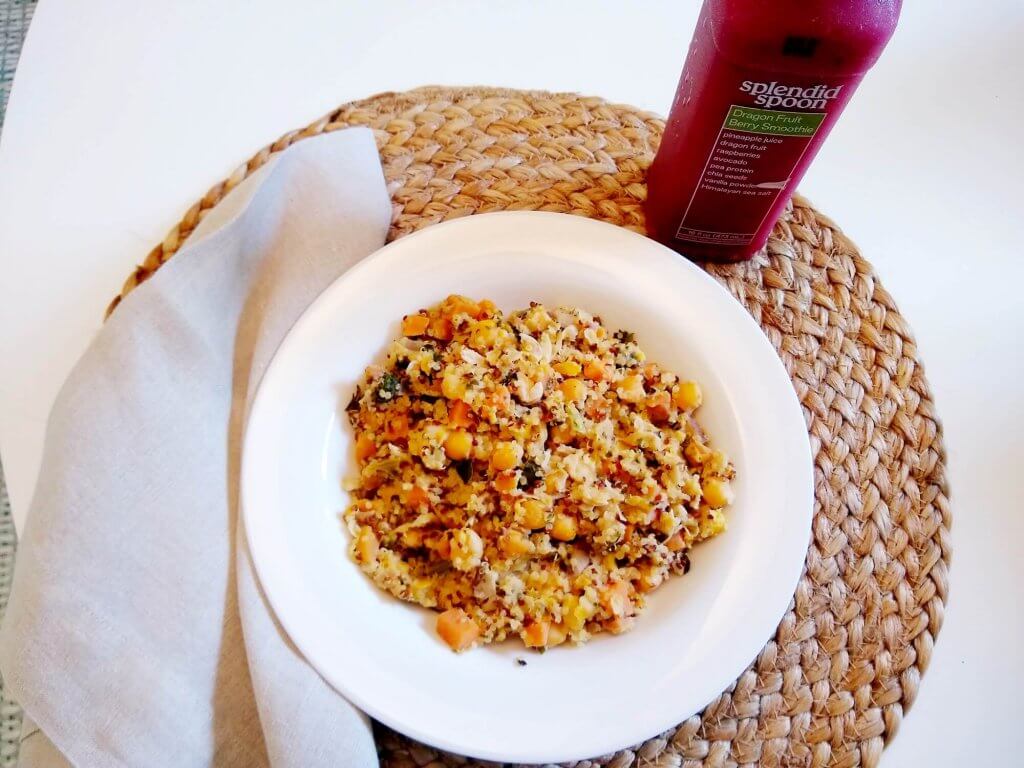 The Brown Rice Taco bowl draws from Tex-Mex cuisine with its savory combo of cilantro, poblano peppers, chipotle pepper, paprika pepper, red chili pepper, and a little kick of ancho chili pepper. With 340 calories and 14 grams of protein, this was another satisfying meal that I reheated for a light dinner.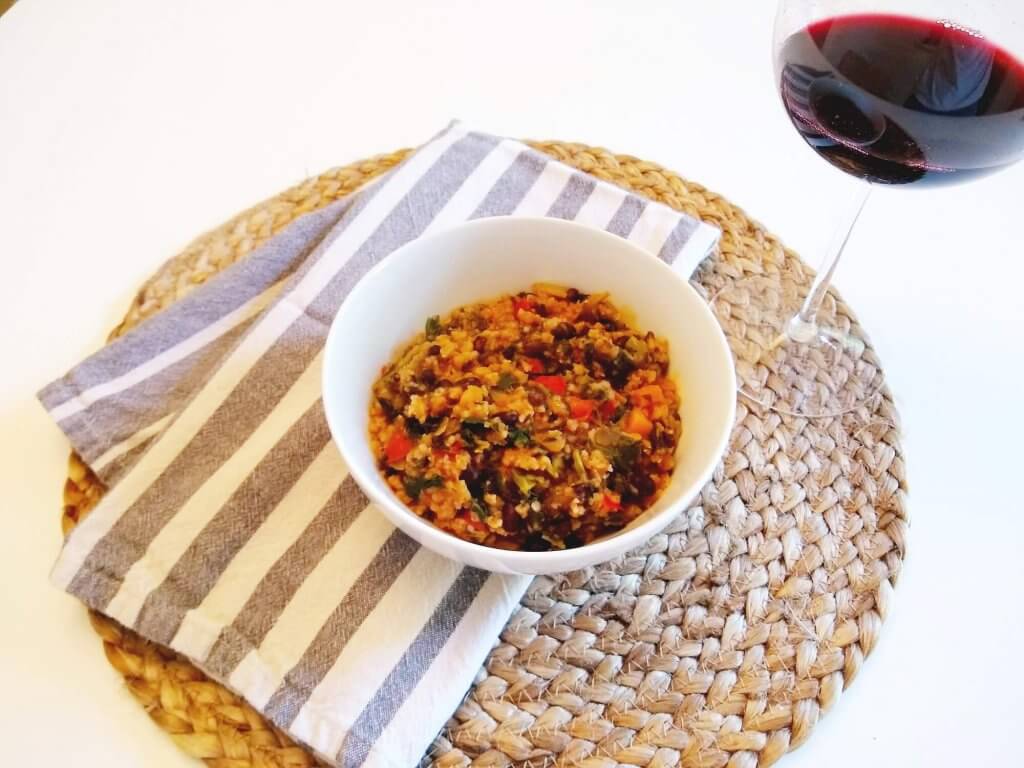 The Mexican Tomato Chili was probably my favorite bowl. I ate it on a very rainy, muggy Texas day in May with the AC blasting – indoors it almost felt like wintry chili weather! I went un-vegan and topped with cheddar cheese because I always eat my chili with cheese.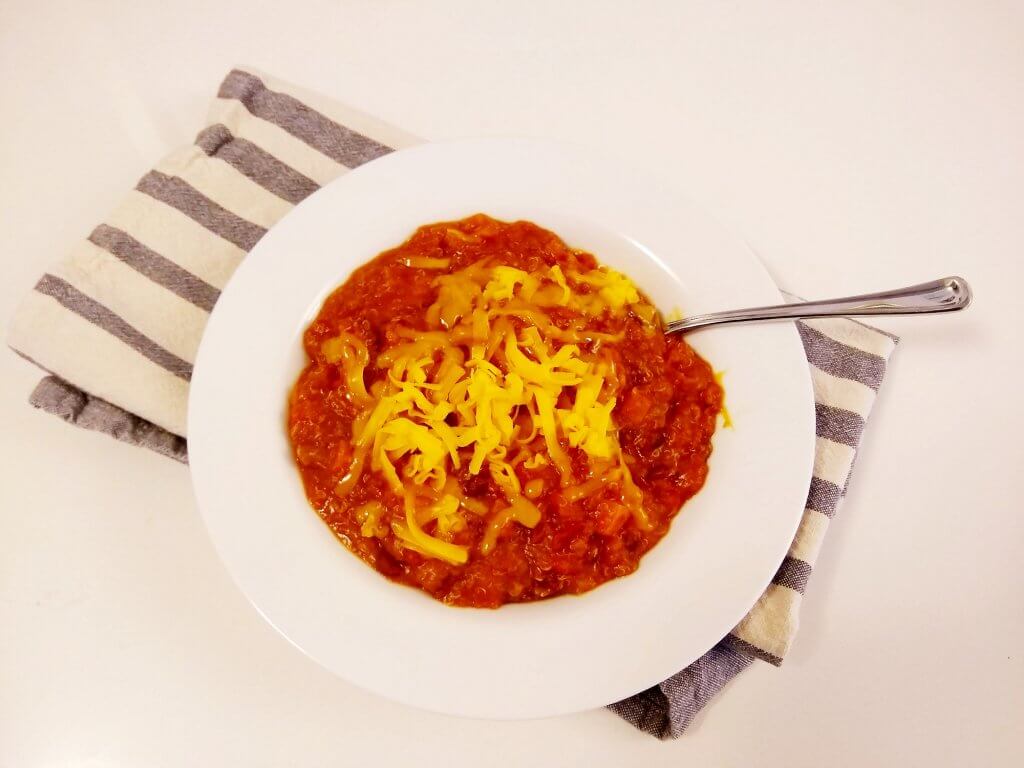 My husband tried the Cuban Black Bean Bowl, which he was really enthused about. This meal is packed with high fiber brown rice and protein-rich black beans, but his favorite ingredient was the plantain, which really lent the dish an authentic Cuban feel!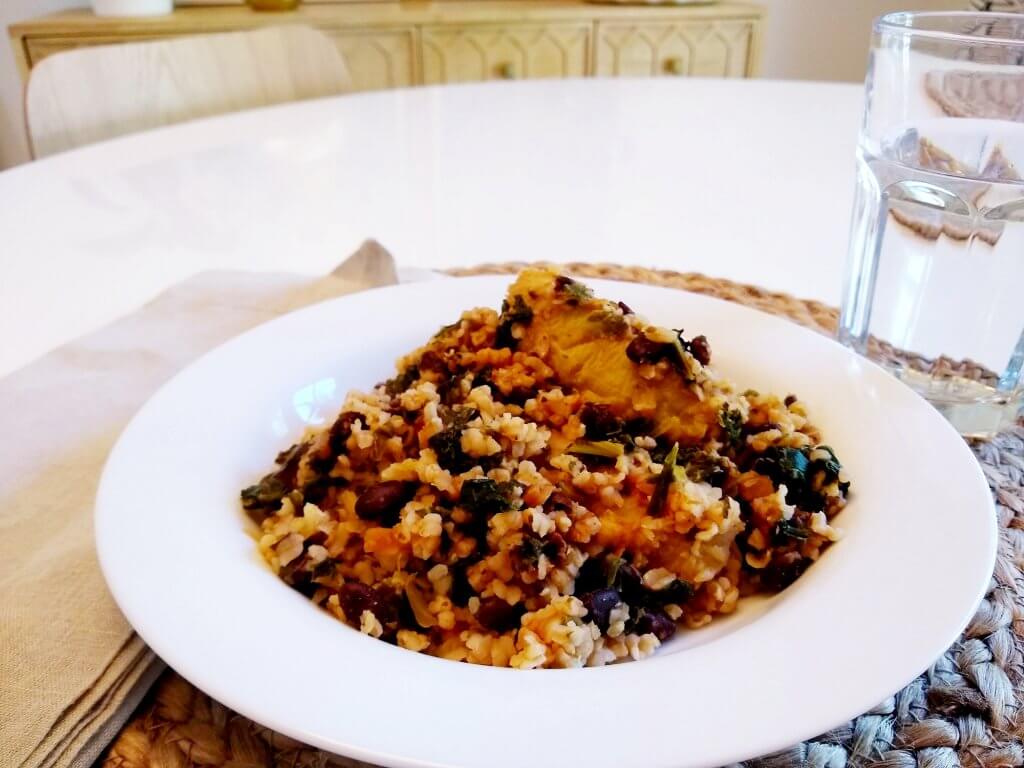 Our Final Verdict
I would hands-down order Splendid Spoon again. Here are some of the reasons I'd recommend it:
Convenience: It is by far my favorite smoothie delivery service thanks to its ready-to-drink, never-frozen blends. I also enjoyed the ease of reheating the bowls for a tasty, healthy meal on-the-fly.
Diet-Friendly: This entirely plant-based service takes the guesswork out of healthy eating for a broad range of dietary restrictions – it's vegan, vegetarian, Whole 30/Paleo, GMO-free, and gluten-free!
Healthy: Each meal is loaded with nutritious (and pronounceable) ingredients, plus plenty of protein and fat to keep you full. Click on a recipe from the Splendid Spoon menu to view nutrition information and get the DL on the superfood ingredients packed inside.
Sustainability-Focused: As previously mentioned, Splendid Spoon's packaging (which includes ClimaCell insulation, dry ice, cardboard, and #1, 4, and 5 plastics) is 100% recyclable. Additionally, every Splendid Spoon plant-based meal you eat reduces the production of greenhouse gases. The company even moved its distribution center to a more central location in Oklahoma City to reduce carbon dioxide emissions.
Variety: With dozens of options on the menu, you can create a box that suits your tastes or change it up whenever you want. Splendid Spoon also offers seasonal collections, like this year's Summer Collection, which features a Mango Guava Smoothie, Detox Shot, and Green Goddess Bowl which comes topped with a tangy, citrus dressing.
Ready to try for yourself? Order now and you'll receive $25 off your first delivery plus free shipping. Click here to apply this discount!
Not sure yet? Go here to read more and check out other Splendid Spoon reviews!