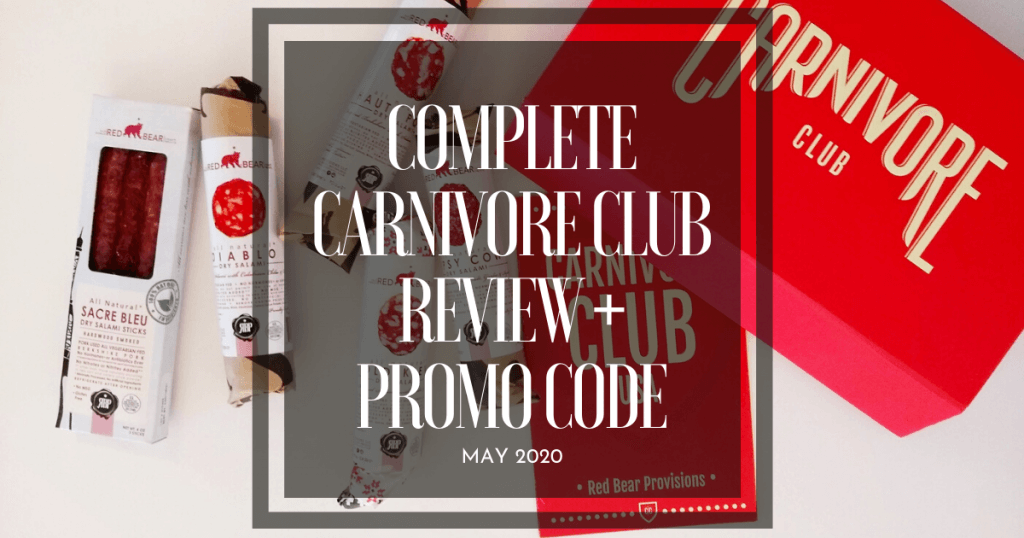 What is Carnivore Club?
Carnivore Club is the holy grail of subscription boxes for carnivores and meat connoisseurs. This meat subscription service ships a thoughtful selection of cured artisan meats to your door once a month. Build a curated charcuterie board (that's sure to impress) or use the meats in a variety of other creative ways to infuse flavor into your meals and snacks (see how we used ours below).
Carnivore Club offers two subscription sizes – a "snack" box that contains smaller portions of jerky and meat sticks ideal for snacking, as well as their "classic" box, which contains between 4-6 meats from the month's featured artisan. If you'd rather not subscribe, you can also place a one-time order for either box or shop a variety of other bundles (like an exotic jerk bouquet, wild game meats sampler, or a keto meat snacks sampler).
Read more info on this subscription service here: Carnivore Club.
What We Tried
Carnivore Club was kind enough to send us a box at no cost so that we could share our experience with you! We received the Classic Box from May 2020, which included five artisanal meats from Red Bear Provisions, a craft meat purveyor from Chicago. The selection included:
Old Kiev Salami (6 oz.): Made from vegetarian-fed, heritage-breed, pasture-raised pork.
Haute Pork Salami (6 oz.): Berkshire pork salami with black peppercorn and white wine.
Diablo Salami (6 oz.): Berkshire pork salami with Calabrian chiles and hot pepper.
Tipsy Cow (6 oz.): Angus beef salami with sea salt, garlic, and aged brandy.
Sacre Bleu Beef Sticks (4 oz): Snackable sticks of vegetarian-fed Berkshire pork.
Carnivore Club Packaging
All subscription boxes ship the first week of the month; we received our box on May 14th. Inside the shipping box, we found a beautiful red box emblazoned with the Carnivore Club logo, as pictured here: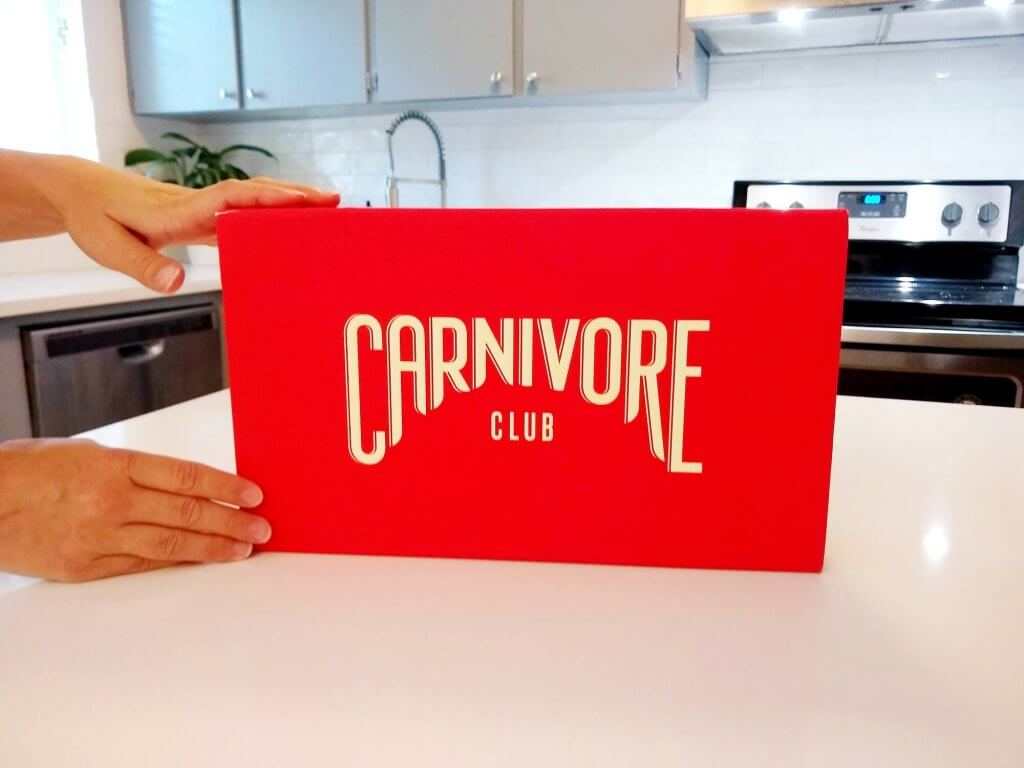 Inside were the nicely wrapped salamis, along with a glossy pamphlet with information on Red Bear Provisions and each of the meats.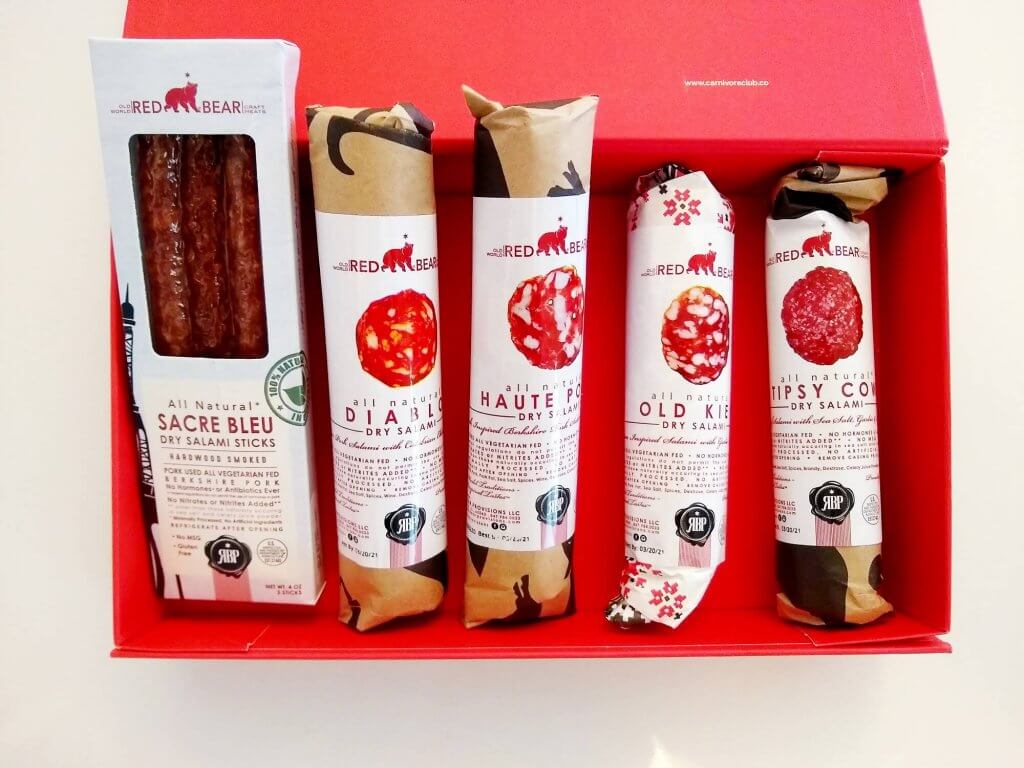 Enjoying Our Carnivore Club
We enjoyed our Red Bear Provision salami several different ways.
Charcuterie
If you browse the Carnivore Club Instagram account, you'll see photo after photo of drool-inducing charcuterie spreads. We love a good charcuterie board around here – we'll often make one for a casual dinner during a Netflix binge. This spread was a great way to sample all the meats at once with some excellent palette cleansers in-between: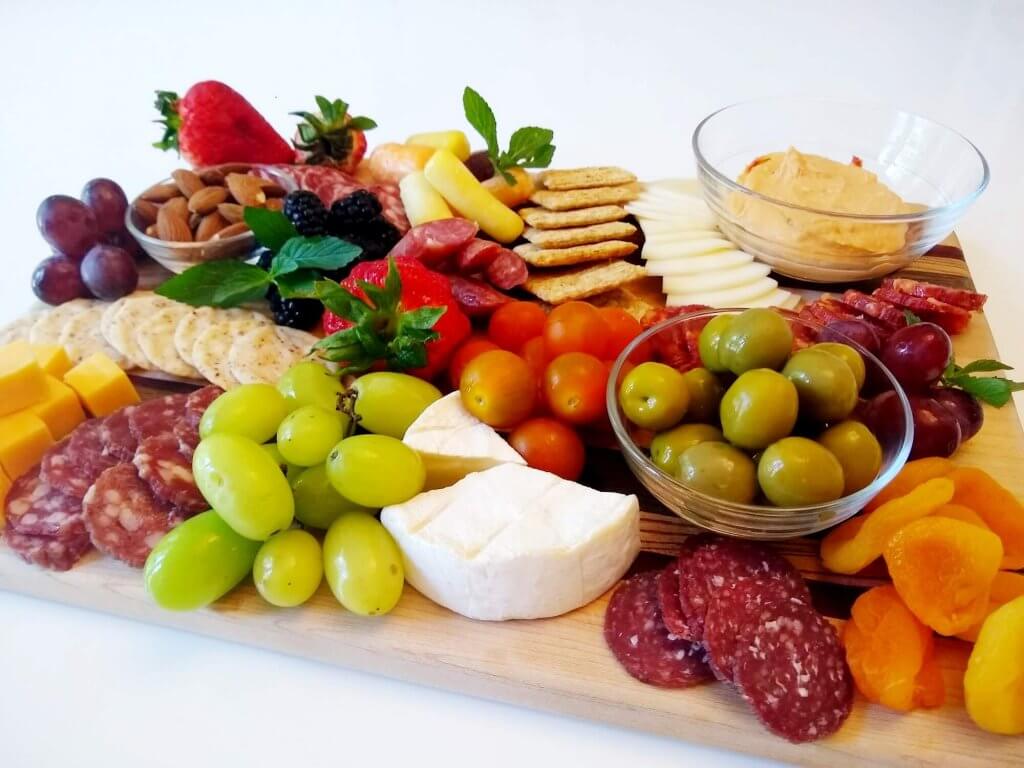 Unfortunately, I'm eight months pregnant, so while I could smell the mouthwatering, delicious aromas of the various salamis, I couldn't partake (though it was very tempting to disregard doctor's orders). My husband, on the other hand, had no problem eating for all three of us. He genuinely enjoyed each of the salamis – the Tipsy Cow and Sacre Bleu Beef Sticks were his favorites!
Pizza
Enjoying craft meats doesn't just stop at the charcuterie board. We thought of several ways to cook with the meats so that I could enjoy them too. We had homemade sourdough pizza several nights that knocked my socks off. Yes, the sourdough crust was terrific, but it was the salami that lent the pizzas a delightful flavor and gourmet edge.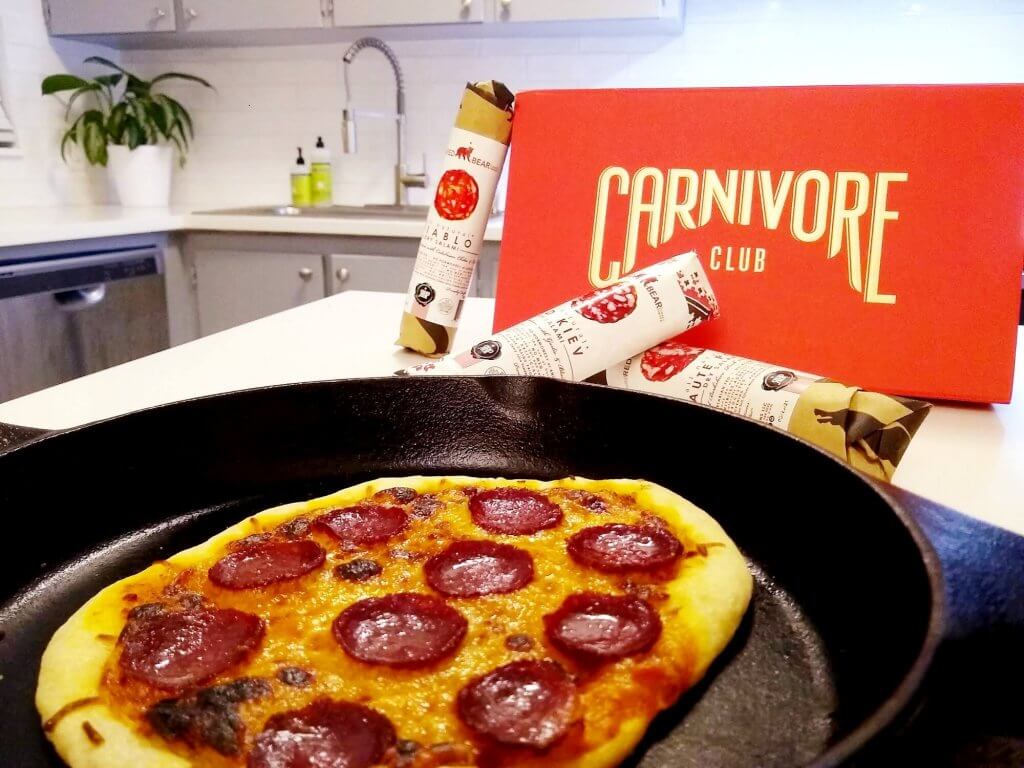 Omelet
One morning, we enjoyed omelets flavored with cubes of Old Kiev.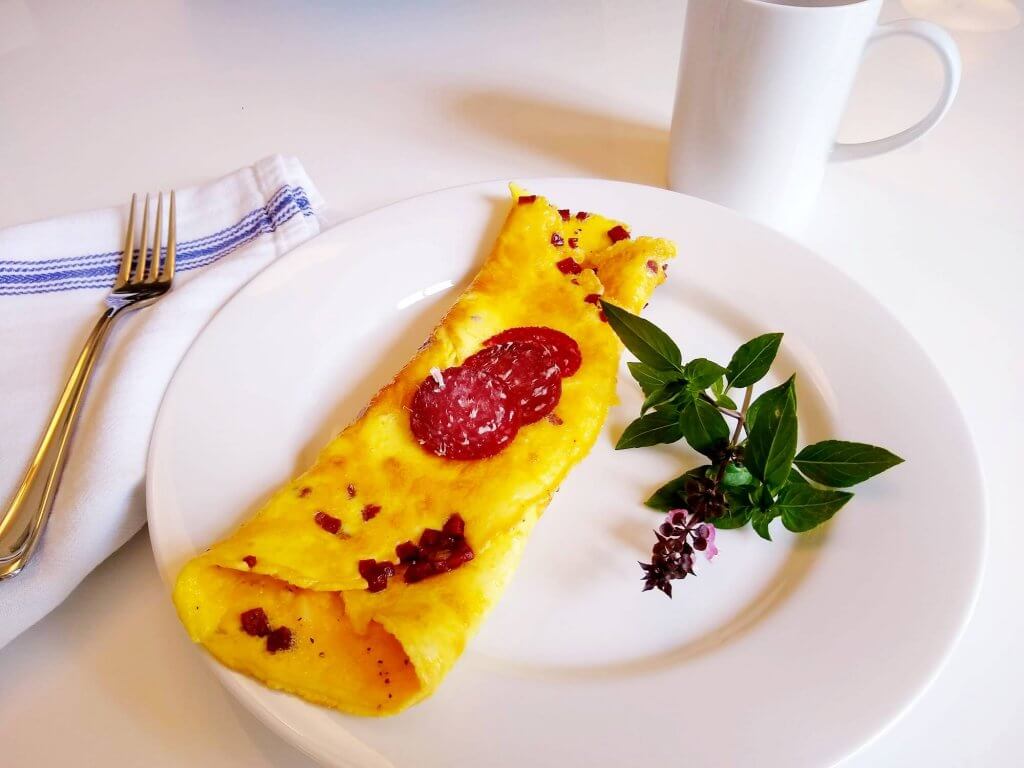 Italian Chopped Salad
And one evening, we added salami to this Cookie + Kate Italian Chopped Salad, which complemented the flavors beautifully.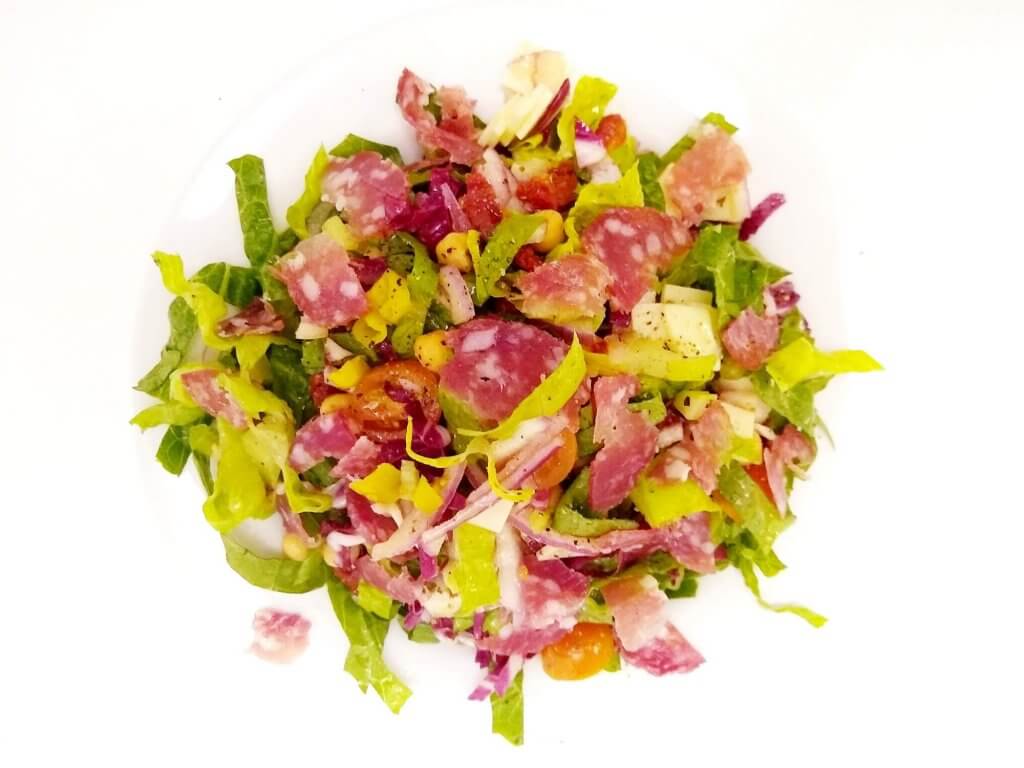 In short, there are many, many ways to enjoy Carnivore Club cured meats!
Verdict
Loved it! My husband and I both remarked that this was one of the best value subscription boxes we've come across in our years of sampling. Here are a few of the reasons I recommend it:
Great Value: If you add up the meat that comes with every delivery, it comes out to almost two pounds of artisanal curated meats for just $39.99, plus $9.99 shipping! By comparison, a 5.5 oz stick of Creminelli Italian Salami from Whole Foods will set you back $10.99. If you do the math, it's cheaper to get 28 oz. of artisanal cured meats from Carnivore Club ($49.98) than it is to purchase 28 oz. of something similar from the grocery store deli ($55.94.)
Versatility: Sure, it's great to throw in your picnic basket for an epic summer charcuterie spread, but there are myriad other ways to enjoy cured meats! It's nice to have salami on hand for a quick, protein-packed snack or to spice up a dish.
Rotation of Artisans: Every month, Carnivore Club features a different artisan, so you have the chance to sample new products. We loved the meats from Red Bear Provisions and would enjoy discovering other well-curated finds.
Healthy(ish) Meats: Okay, so I don't know that one can argue that cured meats are the healthiest food option, but we were pleased to find that all the Red Bear Provision meats were MSG-, hormone-, and antibiotic-free, with no added nitrates or nitrites. Plus, many of the meats are keto-friendly. Carnivore Club even sells a keto snack box for those looking for filling keto nibbles.
Beautiful, Gift-Worthy Packaging: If you're purchasing this as a subscription for yourself, it will feel like you're opening a Christmas gift every month! It also makes a GREAT gift for someone else. We enjoyed Carnivore Club so much that we ended up ordering a one-time classic box for my father-in-law's birthday.
Ready to try for yourself? Click here to see the latest offer.
Not sure yet? Go here to read more and check out other Carnivore Club reviews!