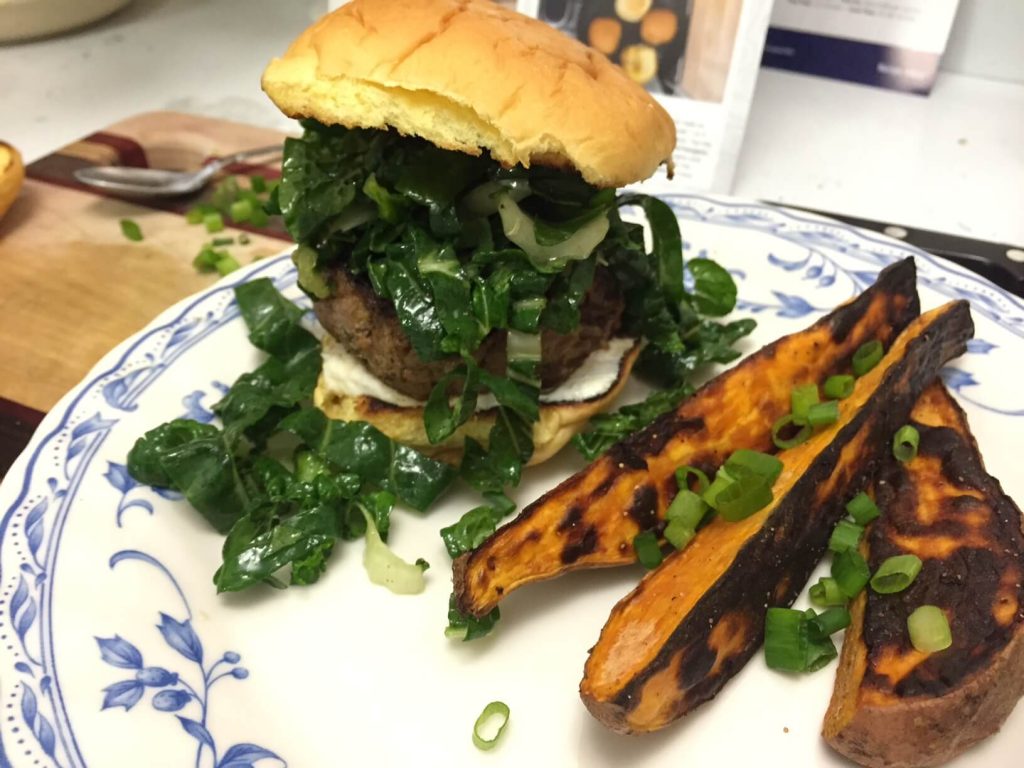 Overall Rating: 8.5/10
We loved all the accompaniments – from the potato buns and chopped bok choy to the sweet potato wedges.
Deliciousness
Rating: 10/10
I'm a total sucker for a good, old-fashioned juicy burger. Not those flat patties that get tossed on the grill frozen; I appreciate a plump and juicy handcrafted patty that drips on your fingers as you close your chompers around it. These burgers were no disappointment. The generously sized patties (5 oz. pre-cooked), were seasoned with a tantalizing mix of garlic, scallion, hoisin, salt and pepper, nestled between miso mayonnaised potato buns and topped with a bok choy, a refreshing reprieve from the typical iceberg or romaine. A side of roasted sweet potato wedges tossed with scallions nicely rounded out the dish. As we ate, my husband and I compared the Blue Apron burger with burgers from some of our favorite local joints. We honestly could not think of another burger we preferred. At a trendy, hipster burger & shake kind of place, this plate could sell for well over $10.
Nutrition
Rating: 7/10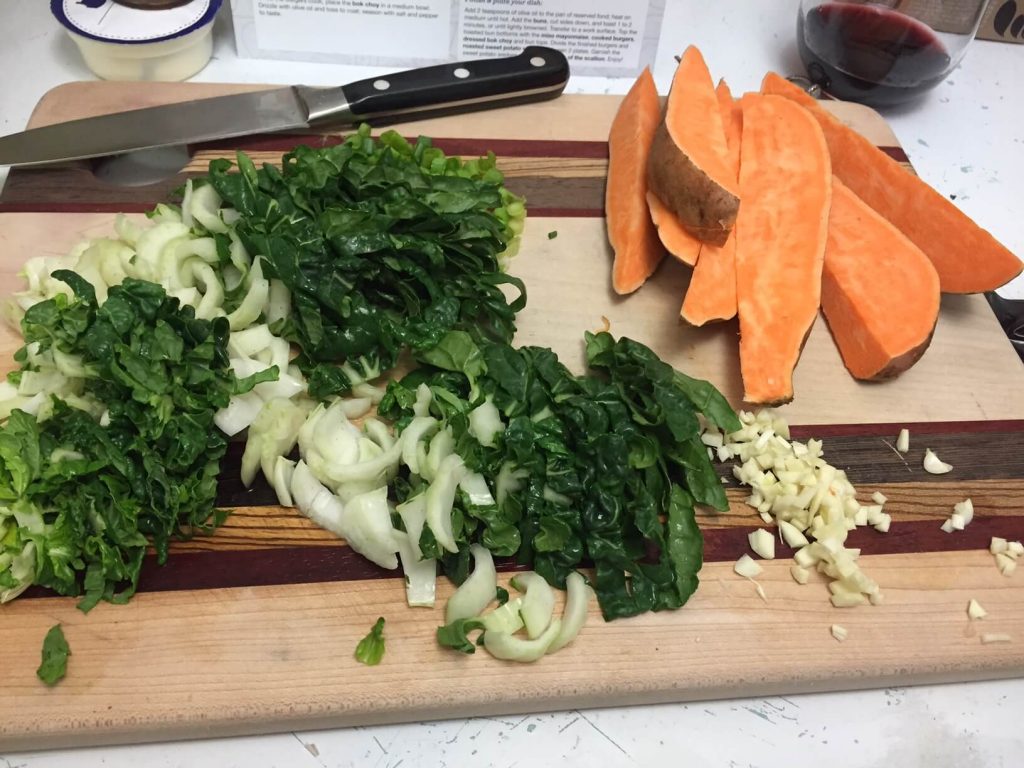 Rather than the traditional white bread bun, this recipe used potato buns, which are arguably the healthier option since they are higher in both protein and fiber. However, we try to maintain a semi-Paleo lifestyle, and it bothered me that I had no idea how these buns were made, or exactly what they contained. Undoubtedly processed, they were nonetheless amazing with their slight sweetness and delightfully soft but dense texture.  The other ding on the nutrition scale came in the form of mayonnaise, which we as a rule just don't eat. We tossed this straight in the trash and substituted with plain Greek yogurt, which did the trick. Aside from the potato buns and mayonnaise, the rest of the recipe offered great nutrition, especially the uncooked bok choy, which is packed with over 21 nutrients including high levels of Vitamin K (vital to blood clotting and bone health), Vitamin A, Vitamin C, potassium, and antioxidants. A one cup serving of sweet potatoes contains a whopping 214% of your daily Vitamin A and get their orange pigmentation from the nutrient beta-carotene. Both of these nutrients support vision, inflammation, and your immune system. Eat up!
Ingredients
Rating: 8/10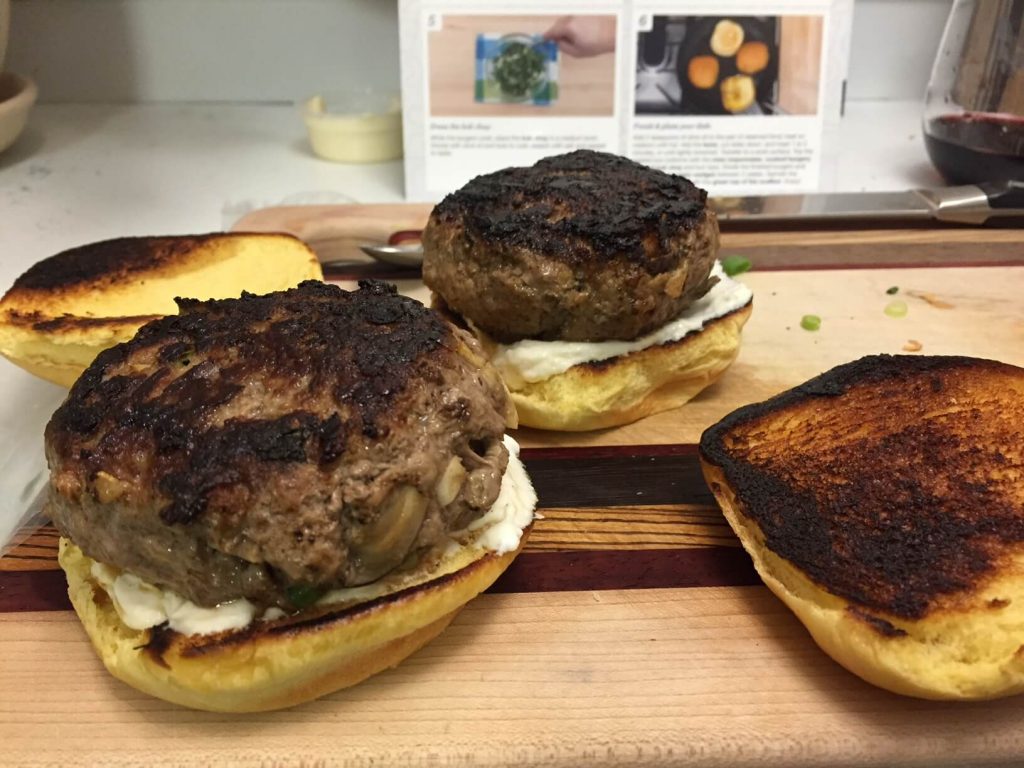 Potato – firm as expected
Garlic – fresh, no sign of growing sprouts
Scallions – still crispy
Bok Choy – While the dirt around the root suggested it was fresh off the farm, the bok choy sadly had already started to wilt. We received our box on a Wednesday and cooked the burgers Thursday, so the bok choy had only been in the fridge for about 24 hours. I tossed a few bad leaves and the rest served their purpose well chopped up atop the patty. I will say that the bok choy from Blue Apron looked better than the bok choy I passed up at the grocery store a few days prior.
Ease of Prep
Rating: 9/10
Recipe indicated approximately 40-50 minutes from box to plate. I snapped the first picture of my ingredients at 6:04 p.m. and my husband took pictures of the final product at 7:02 according to the time stamps on my phone, so 58 minutes total. I likely exceeded the allotted time because of our very limited kitchen supplies. For instance, the bowl I mixed the patties in had to be washed and reused for tossing the bok choy, so I won't count that against the Blue Apron review. There also wasn't an excessive about of chopping or dicing which made me happy.