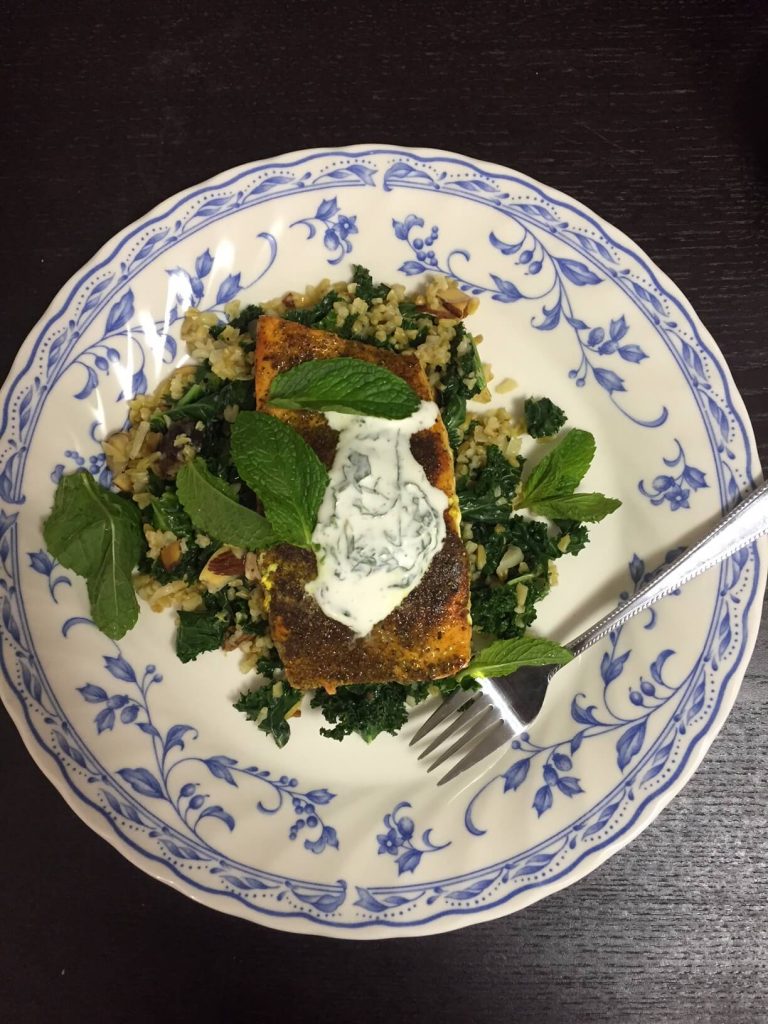 Overall Rating: 9.5/10
This recipe made for an excellent first impression of our Blue Apron experience. We started this Blue Apron review website to share with others our experience and our first impression was a good one!

Deliciousness
Rating: 10/10
Hailing from the beef-loving state of Texas, I'm not a huge seafood eater, though since my husband and I recently transplanted to the seafood-saturated state of Maine, I've been giving it a go. The savory flavoring of the turmeric and sumac spice seasoning the salmon melded perfectly with the delicate freshness of the lemon and mint in the labneh, removing any trace of fishiness.
Nutrition
Rating: 9/10
Most of the calories in this dish come from the freekeh and salmon, both of which have amazing nutritional value. The freekeh composing the bed of this Middle Eastern inspired dish is high in protein, more than double the amount of protein found in its more popular cousin, quinoa. It's also high in fiber, low on the glycemic index, and relatively low in carbohydrates. Salmon, while high in fat (but a lot of the good kinds – polyunsaturated and monounsaturated) and cholesterol, has an astounding 40 grams of protein per 198 gram serving, along with high levels of potassium, vitamin B-6, vitamin B-12, and vitamin C. Winner winner salmon dinner.
Ingredients
Rating: 10/10
This was my first recipe out of the box. I was pleased to see that though the box had been sitting on my porch for a few hours when I got home, the ingredients were still snuggly chilling between two gargantuan ice packs. The kale and mint used in this dish looked freshly plucked, no signs of wilting or pests. All the "knick-knacks" were nicely packaged in individual containers. You might be thinking "what about the earth?". Well, they thought of that. ALL packaging, from the cardboard box to the ice packs to the tiny plastic cups, is at least recyclable.
Ease of Prep
Rating: 9/10
The recipe card indicates 10 minutes of prep time and 20-30 minutes of cook time. I think I took close to the full 40 minutes, if not more, but I'm a somewhat slow food prepper. To me, spending zero time at the grocery store and only 40 minutes prepping a meal isn't bad.  I guess using fresh ingredients means you will be required to do things like chop and slice. If convenience were my only concern, I'd still be popping those radioactive mystery-ingredient Lean Cuisines in the microwave.