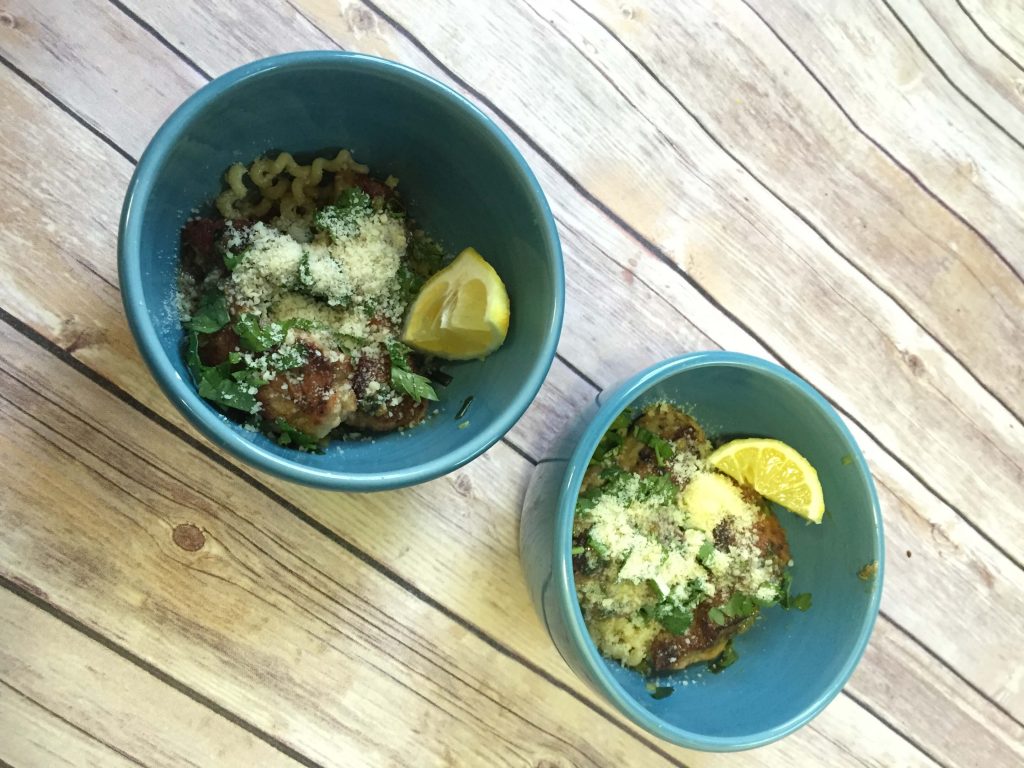 Overall rating: 7.5/10
Deliciousness
Rating: 8/10
I've never ventured to make chicken piccata at home, and never realized just how easy it could be. This meal really seemed like a snap to pull together, and though the portions looked microscopic in our oversized bowls, neither of us went to bed hungry. A simple flour coating was all it took to give the chicken a flavorful browning when cooked up in butter. We most enjoyed the demi-glace used to finish the chicken; unlike some versions of chicken piccata I've eaten, this demi-glace wasn't syrupy or gelatinous, but rather refreshing light, aided by the addition of fresh lemon, parsley, and garlic chives.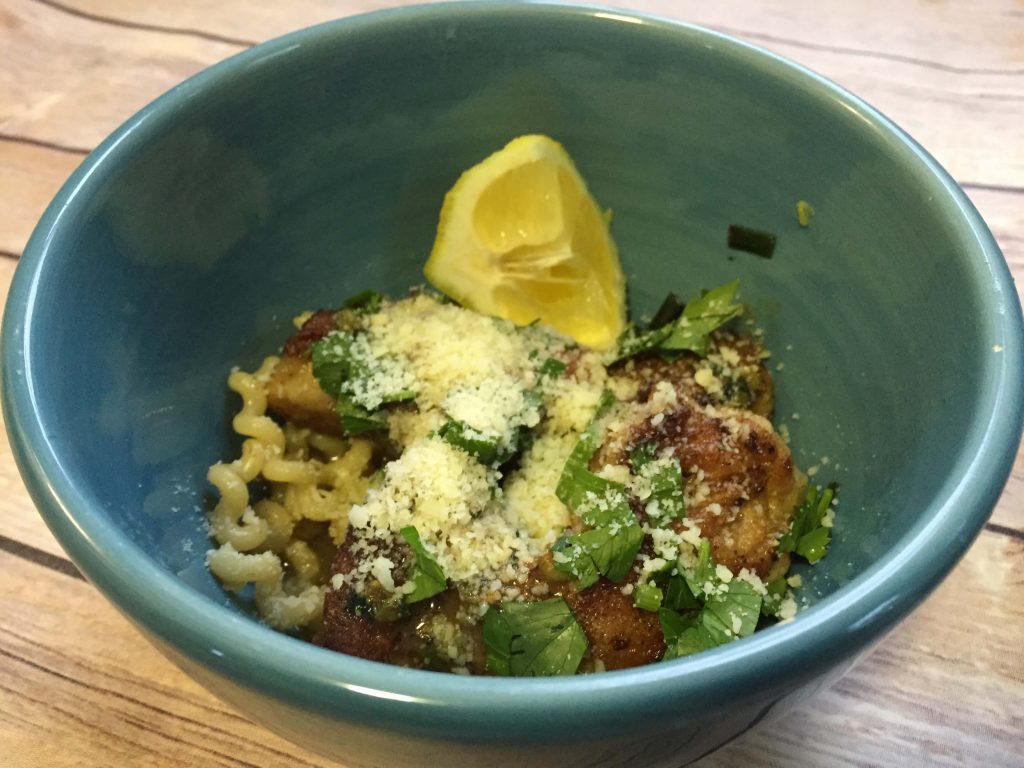 Nutrition
Rating: 3/10
Even though tasty and a great source of energy via carbs, this recipe does not scream nutritious.
White Flour and Fusilli Col Buco Pasta: These are the main reasons I wouldn't make this meal again. We were a little surprised that we even had a delivery this week, but apparently I had forgotten to skip, so we ended up with chicken piccata by default. The white flour used to coat the chicken and the pasta noodles themselves are both about as processed as carbohydrates can get. To achieve its smooth texture, white flour is stripped of its germ and bran, then bleached to a gleaming white. This processing removes fiber, vitamin B, and iron, and the wheat essentially becomes empty calories. Processed flour has been linked to increased addictive eating, weight gain, insulin resistance, and type 2 diabetes in recent years. Even as I'm typing this, I'm really regretting putting those habit-forming carbs in my body.
Lemon: One of the redeeming ingredients in this dish, lemon is a great source of Vitamin C.
Chicken Thighs: While dark meat is often more flavorful and moist than chicken breasts, the additional taste comes at price. Ounce per ounce, chicken thighs have 3 times the amount of fat and saturated fat than their white meat counterparts, and consequently also have more calories. Though chicken breasts would be a healthier option, chicken thighs are still a great source of protein.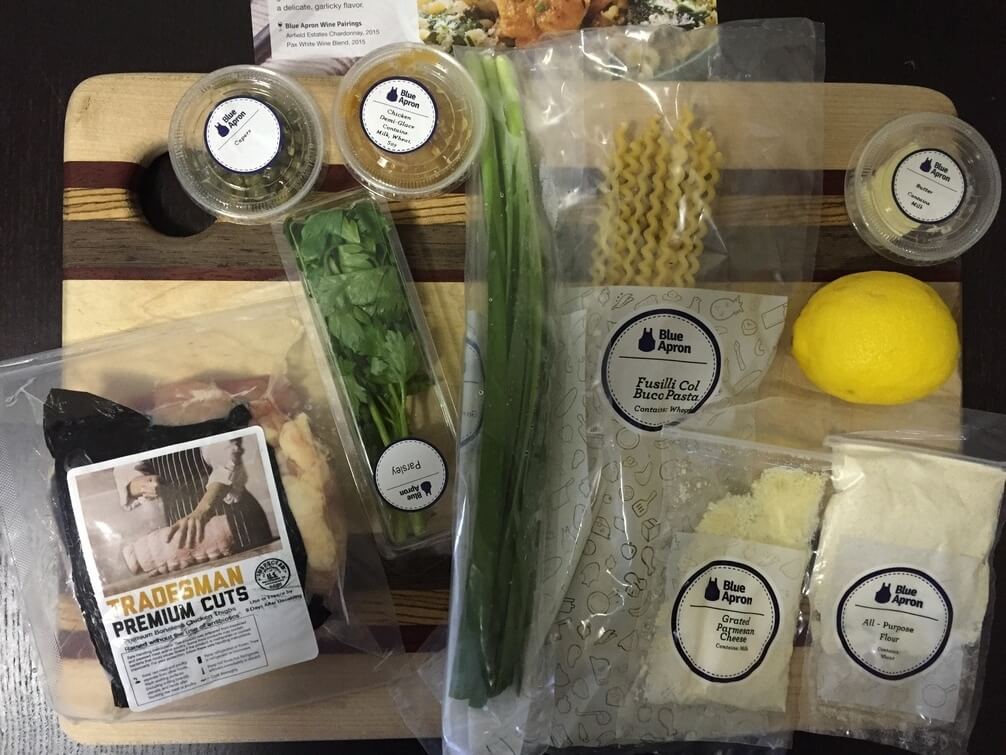 Ingredients
Rating: 9/10
After trying a box from Plated this week, I appreciated Blue Apron's packaging and ingredients so much more. We received our box on Wednesday, but had family in town and couldn't start cooking until Saturday. Even so, all of our ingredients were still crispy fresh, and as always they were packaged tidily.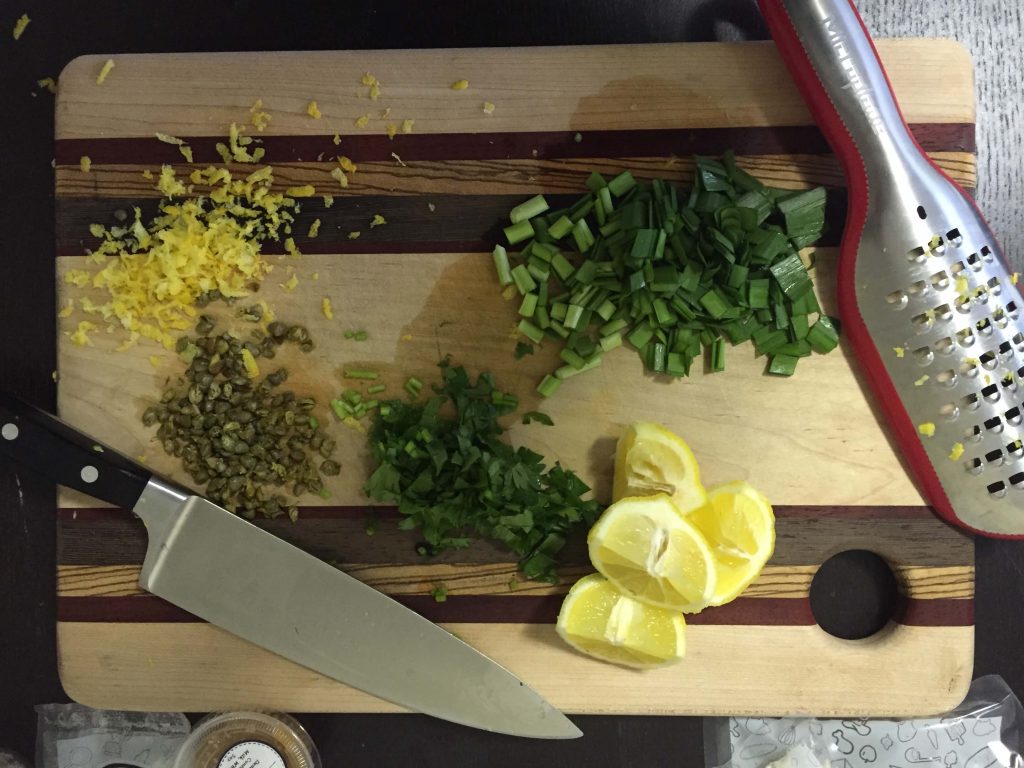 Ease of Prep
Rating: 10/10
I'm starting to realize how much faster it is when both of us cook together. The recipe indicated this meal should take approximately 30-40 minutes, and it only took us 32 minutes with cleaning time! If you're not picky about processed foods, this meal is an excellent one to repeat for a semi-fancy weeknight meal.
MealDeliveryServiceReviews.com is an independently owned site devoted to sharing honest reviews of Blue Apron and other "meal in a box" providers. We strive to give you the "average" cook's perspective on this meal delivery service.