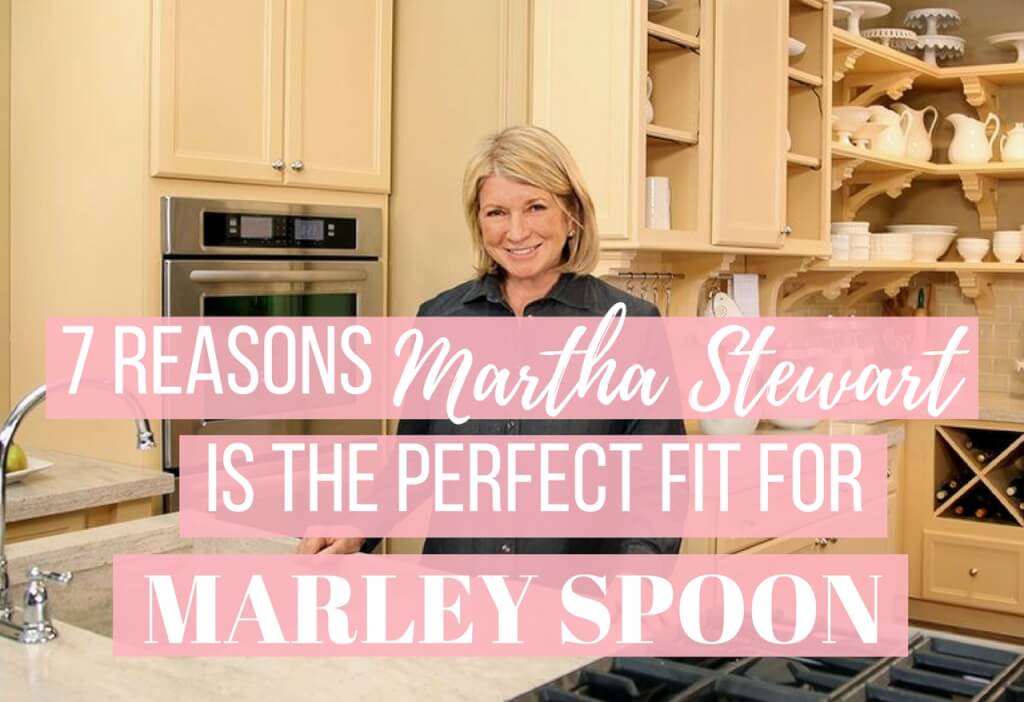 Marley Spoon is a home grocery delivery service that originated in Germany. After a successful business launch in Germany, the company set its sights on expansion to other countries, including to the U.S. It provides nutritious meals for two or four people, up to four times per week. But its fresh, tasty ingredients aren't the only thing the company has going for it. Martha Stewart has teamed up with Marley Spoon for its U.S. launch. Here are seven reasons why Martha Stewart is the perfect fit for Marley Spoon.
1. Instant Brand Trust & Recognition
Getting the word out about Marley Spoon could be challenging, according to an article on Tech Crunch. Most people just don't seek out food kit services when they search online. This means that the traditional means of marketing don't work. The upside of a partnership like this is having a celebrity chef that's instantly recognizable to the average American. The subtext in this partnership is that the same quality ingredients and ideas that go into a Martha Stewart recipe go into those created by Marley Spoon. It's a form of brand shorthand that Stewart's fans are sure to appreciate.
2. Plethora of Recipe Ideas
Although Marley Spoon's service replaces the need for grocery shopping at least some of the time, it doesn't completely do away with it. Enter the Marley Spoon blog which features recipes like those you'll find on the Martha Stewart blog. What's cool about this option is that even on the days that you don't get a food box delivered to your door by Marley Spoon, you still get great dinner inspiration.
3. Good Holiday Options
Anyone who has followed Martha Stewart for a while knows that her holiday recipes are something special. The Marley Spoon blog features some of the best holiday recipes a la Martha Stewart. (Check out these Easter ones.) Aside from giving you holiday-planning ideas, it's not too much of a stretch to think that some of these holiday yummies will wind up as options in a Marley Spoon box on some future occasion.
4. On the Cutting Edge
Martha Stewart has always been a little cutting edge in a homey kind of way. She made baking and homemaking fashionable during a time when it wasn't so. Now, she'll bring this same brand of genius to the Marley Spoon brand. She understands the people who are in the Marley Spoon demographic – empty nesters and young couples – and she'll be able to bring her insights into project development for the Marley Spoon brand in the years to come.
5. Seasonal Ingredients
Martha Stewart is known for using fresh, seasonal ingredients in her own recipes. Marley Spoon does the same. This is another reason why adding Martha Stewart to the Marley Spoon brand is such a good idea. There will be consistency across brands: Seasonal ingredients will become synonymous with both brands.
6. Whole Kitchen Help
Although Marley Spoon's blog concentrates on making delicious food for home delivery, it also gives homemakers tips on how to care for their cooking space. The advice provided keeps with Martha's hallmarks of good housekeeping.
7. AmazonFresh
Partnering with a brand like Amazon is made all the easier with a Martha Stewart partnership. Fans of Martha will find Marley Spoon on Amazon via the AmazonFresh program where they can order a meal kit and receive same-day delivery. Because Martha is the face of Marley Spoon, Amazon shoppers will know that it's a brand that they can trust.
Final Thoughts
It's probably not too much of a stretch to say that many a Marth Stewart lover would love to have Martha over to cook for them. And now, via the Marley Spoon brand, they get a bit closer to realizing their dreams. Marley Spoon's meal boxes combine everything that Martha Stewart is known for, including tasty seasonal ingredients and ingenious recipes. And now, they're delivered right to your front door.