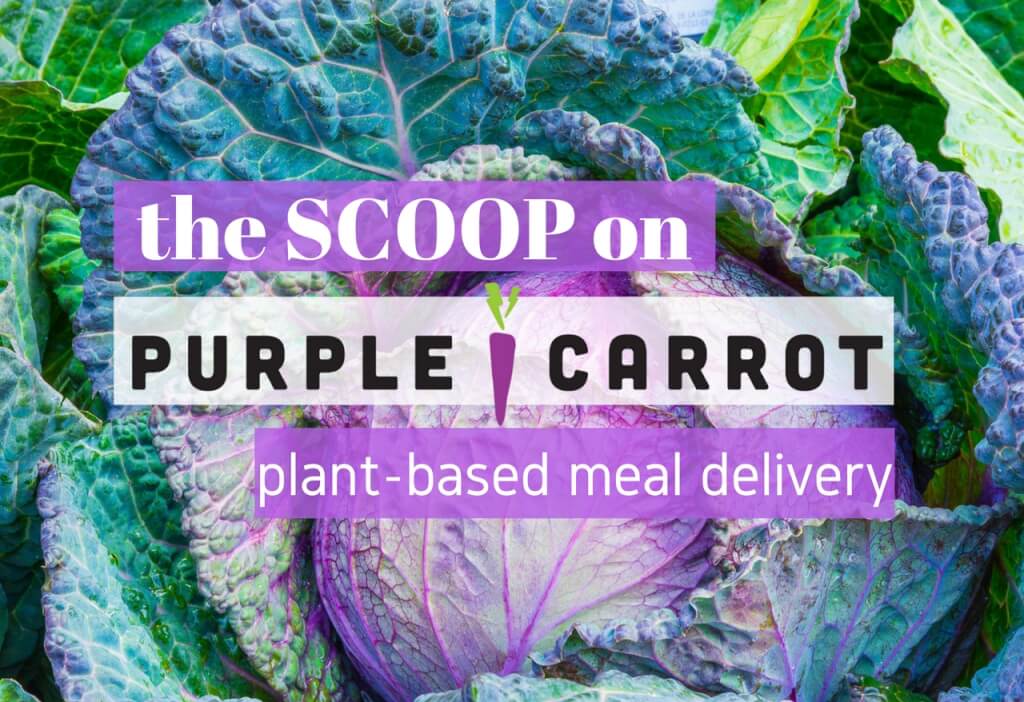 Benefits of Plant-Based Eating
Plant-based eating is all the rage these days, but it's not just a trend – it's a way of life that rejuvenates you in the short term, and improves your long-term quality of life. Maintaining a vegan lifestyle has been shown to prevent (and reverse) several diseases, aid in weight loss, reduce chances of depression, and combat the fatigue brought on by sugary and salty snacks.
Plant-based diets also benefit the environment by reducing greenhouse gasses emitted from meat production. Per capita, the greenhouse gasses emitted to fuel the average American beef consumption is as harmful to the environment as driving a car 1800 miles! Who knew you could reduce your carbon footprint by cutting meat out of your diet?!
Purple Carrot Meal Deliveries
There are a lot of misconceptions about plant-based diets, but chief among them are presumed inconvenience and lack of variety. However, Purple Carrot proves that plant-based eating can offer eaters endless variety and still be convenient. Just ask Tom Brady. The decorated quarterback teamed up with Purple Carrot to develop a line of plant-based meals designed for performance athletes. Brady credits his lengthy, successful career to a mostly vegan diet.
You don't have to be a superstar to reap the benefits. When you sign up with Purple Carrot, you get fresh ingredients delivered to your doorstep every week, along with easy-to-follow recipe cards. The tempting menu includes creative recipes like Spicy Jackfruit and Bell Pepper Fajitas with Lime Crema, Cauliflower L'Orange with Beets and Fresh Herbs, and Sesame Crusted Tofu Steaks with Chermoula Sauce.
Meal Plans Offered by Purple Carrot
This plant-based food delivery pioneer offers various plans. The 1-2 person plan yields 2 servings of 3 recipes for $68/week ($11.33/serving), while the 3-4 person plan yields 4 servings of 2 recipes for $74/week ($9.25/serving). See here for a breakout of Purple Carrot cost. Both plans have free shipping and no additional taxes. Locations in both New York and Los Angeles allow Purple Carrot to ship to most of the U.S. in 1-2 days.
Tom Brady's TB12 Performance Meals are $78 per week or $13 per plate for 3 meals. Every recipe is gluten-free and packed with protein for strength-building. Performance meals have limited amounts of refined sugar, ensuring that your natural energy level stays high.
Cooking Up Delicious Recipes
Mouth-watering, globe-trotting recipes are devised by Purple Carrot's culinary team every week, with menus posted on the Purple Carrot website each Wednesday. Pre-portioned ingredients stay garden fresh during shipping in their insulated, recyclable packages. And you are always free to skip a week if the menu doesn't suit you.
The typical Purple Carrot recipe contains 500-800 calories and takes less than an hour to prepare. Ingredients are bursting with complex carbohydrates, which are found in fruits, vegetables, nuts, and legumes, as opposed to the simple carbohydrates in candy and soda. You may need to use your own salt, pepper, vegetable oil, and olive oil to complete each recipe. Purple Carrot also requires some simple cooking tools. Be sure to have bowls, pots, pans, baking sheets, a strainer and a blender on hand.
Purple Carrot gives you the power to kick unhealthy eating habits. There's a greasy burger joint on every corner and an aisle full of junk food in every grocery store. But when wholesome ingredients and delicious recipes appear right at your door, you'll find it easier than ever to transform your diet.