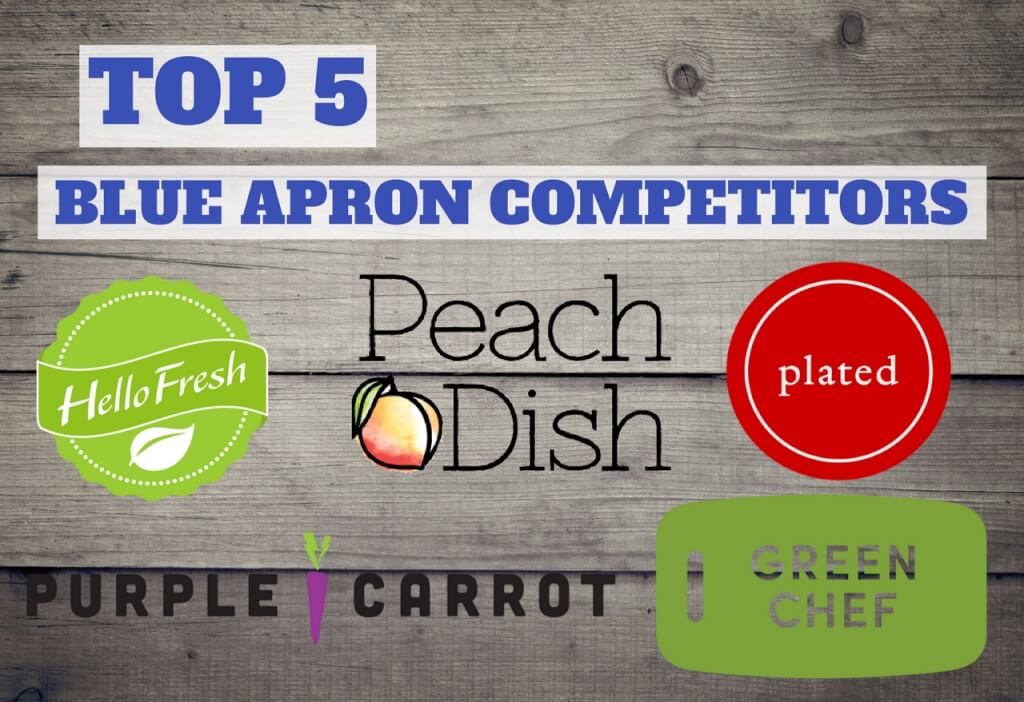 The newest way to incorporate fresh, healthy food choices for your family is with food delivery subscriptions. In the American market, Blue Apron has been somewhat of a pioneer, developing healthy food choices for people who have limited time to shop and meal plan. Although Blue Apron is a great option, there are several other services available that may be better for your family's needs. Here are 5 of the top Blue Apron rivals:
1. Hello Fresh
This service is perfect for those who have yet to master gourmet techniques in the kitchen. The meals are straightforward and simple to whip up. Recipe cards include step-by-step instructions, along with the nutrition facts for each meal. Hello Fresh partners with celebrity chef Jamie Oliver and use its own team of in-house dieticians to create meals that are both delicious and healthy.
Hello Fresh Plans & Pricing
Hello Fresh offers three basic plans from which to choose, including the classic, veggie, and family plan. With the classic plan, choose from six choices that include pork, chicken, beef, fish, and vegetarian options. If you order the vegetarian or family plan, you'll receive three new carefully-crafted recipes each week. Hello Fresh pricing is on par with Blue Apron, with free shipping offered on all plans. The classic plan and veggie plans are $9.99 per meal, while the family plan is $8.74 a serving.
2. Plated
This service offers subscribers a bit more flexibility in choosing which meals they would like to receive. Plated's recipes are great for anyone, whether you're a kitchen novice or a gourmet cook. The company focuses on sustainability and prides itself on meat proteins that are hormone- and antibiotic-free.
Plated Plans & Pricing
Each week, there are a dozen recipes from which to choose with a variety of protein options. Plated prices are a bit more expensive than Blue Apron: the 2-serving plan is $11.95 a serving, while the 3- and 4-serving plans ring up at $9.95 a serving. All plans come with free shipping, except for the 2-serving plan, 2 nights a week, which costs $7.95 to ship.
3. Green Chef
Unlike Blue Apron, Green Chef offers subscribers recipes that cater to specific diets, like gluten-free and Paleo. Additionally, Green Chef uses exclusively USDA certified organic ingredients that are free of harmful pesticides, GMOs, and preservatives. Though other meal delivery services allow users to pick out individual recipes, Green Chef selects meals for you based on your dietary preferences.
Green Chef Plans and Pricing
Green Chef offers six basic meal plans: Vegetarian, Omnivore, Vegan, Carnivore, Gluten-Free, and Paleo. Because of the company's dedication to using only organic ingredients, the price per serving is more expensive than Blue Apron (see here for other Blue Apron vs Green Chef comparisons) and several other meal kits. Prices range from $10.49/serving for the vegetarian plan to $14.99/serving for the Paleo plan. Each box is designed to feed 2- or 4-people and shipping costs $9/box.
4. Peach Dish
Peach Dish offers subscribers more flexibility than Blue Apron by allowing users to easily adjust the number of servings per meal. This service's weekly menu promises at least 4 seasonal recipes, two protein options, 2 vegetarian options, and a tempting dessert. Peach Dish adds a Southern-touch to the traditional meal delivery kit, making it the perfect subscription for those who love to throw dinner parties.
Peach Dish Plans and Pricing
The basic Peach Dish box comes with 2 meals for two, but as previously mentioned, servings can be easily adjusted. All servings are priced at $12.50, making this meal delivery service slightly more expensive than Blue Apron. While shipping is free to many states, delivery to some states costs $15/box. See here for the full list.
5. Purple Carrot
Purple Carrot is a plant-based meal delivery service, meaning that all recipes are 100% free of animal products. Ideal for vegans or for those who simply aspire to eat cleaner, Purple Carrot dishes up delicious, innovative plant-based recipes. Eating a plant-based diet has not only been linked to myriad health benefits but is also environmentally-friendly. So, why not try it out?
Purple Carrot Plans and Pricing
Purple offers three plans: a 1-2 person plan, with three meals per week; a 3-4 person plan, with two meals per week; and a performance plan (in partnership with Tom Brady) for one to two people, with three meals per week. Pricing ranges between $9 and $13/serving depending on the plan ordered. There is no additional charge for shipping!