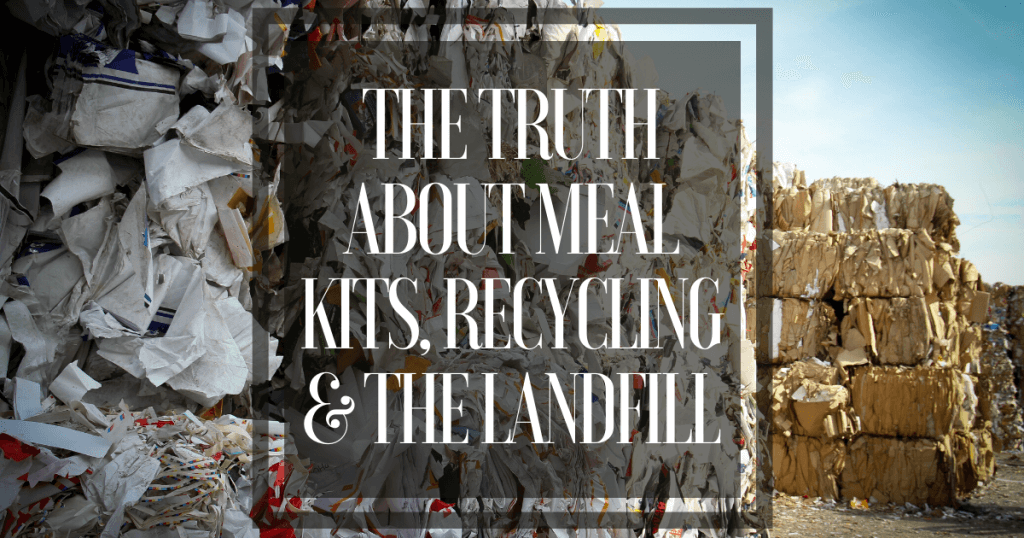 Lately, meal delivery kits have been getting lots of heat for the excessive packaging critics say winds up in the landfill. However, we beg to differ. After reviewing most of the major meal delivery services, we have not crossed one that doesn't have eco-conscious packaging.
Blue Apron and Others Make Recycling Easy
Blue Apron, the service most often under fire, goes to great lengths offering free return shipping on packing materials (for 2+ boxes). This return service makes it easy for customers without ready access to recycling to keep Blue Apron packing materials out of the landfill. While most of the others don't go to this length, they do attempt to make as much of the packaging recyclable as possible. Sun Basket, for example, ensures all its packaging is 100 percent recyclable or compostable with ice packs made from non-GMO cotton and water, insulation made from recycled water bottles, and boxes made of 98 percent post-consumer cardboard. Another, Terra's Kitchen, ships meals in a reusable vessel that is used for deliveries up to 100 times. This futuristic looking contraption is also recycled after its retired.
Gel Packs Get a Bad Rap for No Reason
The author of this article exaggerates the travesty of tossing gel into the landfill and making a mess of the kitchen trash. Poly gel packs are mostly comprised of water, which evaporates, and biodegradable, non-toxic materials. I picked up the phone and called Temperatsure, the makers of Nordic Ice Packs, to confirm this information. While the composition of the gel material is proprietary, the representative Katie told me, the Nordic packs are 100 percent non-toxic and biodegradable. The company recommends not dumping the packs down the sink or the toilet because the gel is thick and may cause plumbing issues. It is not, as the author implies, harmful to the water supply. Katie suggested opening the pack outside and dumping it in the lawn to evaporate if I wanted to avoid the mess of tossing it in the trash. Though she did note that the gel contains a lot of salt which not all plants will like, so be thoughtful of where you dump it. In short, these gel packs aren't a real issue; I'm surprised the author didn't do more research before lambasting them.
It's worth noting that the Nordic Ice poly gel packs used by Blue Apron and some of the others aren't used by all services. Home Chef, for example, gives users clear instructions that the gel packs it uses contain eco-compatible fluid that may be disposed of in the "normal waste stream" instead of being dumped in the garbage. Same with those used by Hello Fresh, who suggests subscribers empty the water-soluble contents into the toilet before recycling the bag.
Food Shipments Use Existing Routes
A final point I'd like to make is that most of the meal delivery services ship food via established FedEx and UPS routes, so it's not like the food creates additional shipping miles. Plus, no matter whether it comes in a box to your front door or you go pick it up at the local grocery store (to which it has been previously delivered), food must travel to get to your dinner plate.
Those who argue that food delivery is bad for the environment should do their research. Not only are almost all the components of meal kits recyclable, but companies also make efficient use of shipping routes that are already driven every day. In the end, the impact of food delivery is not much different than the stacks on stacks of Amazon Prime boxes that millions of Americans have delivered every day.