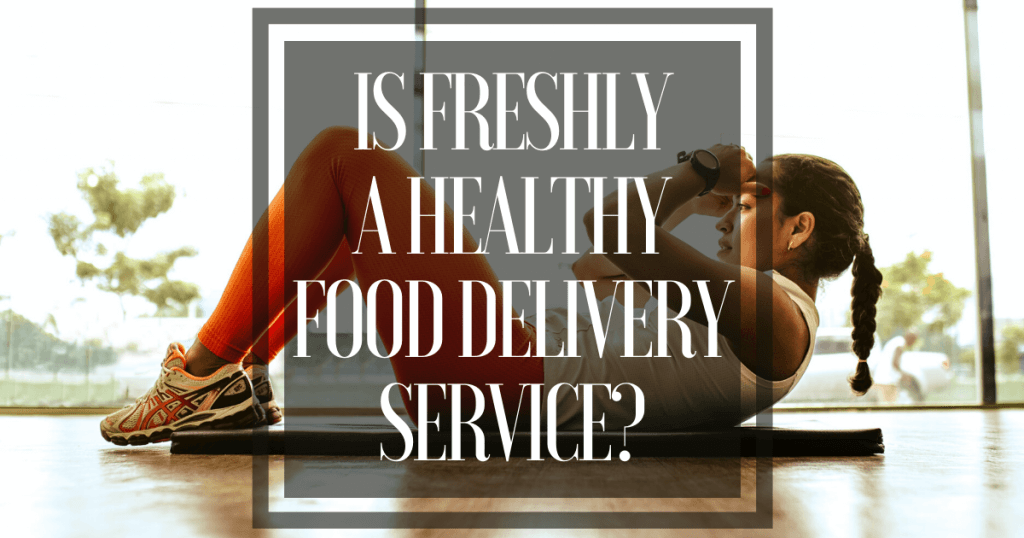 Freshly is a prepared meal delivery subscription that offers subscribers weekly deliveries of "chef-cooked, healthy meals." If you're looking for one of the healthiest meal delivery services on the market that doesn't require you to do any of the cooking, then Freshly might be the meal kit for you. Plans range from four to twelve meals per week, and you get to choose from a menu of over twenty-eight lunch and dinner entrees. But how nutritious are these ready to heat-and-eat meals? Keep reading!
Freshly Nutrition Philosophy
Freshly claims it delivers healthy food to your front doorstep, but what does healthy mean?
Whole, Unprocessed Foods
According to Reuters, research links ultra-processed foods (think all your favorite junk foods – like Cheetos, Pop-Tarts, Ramen noodles), with major health risks. The higher sodium, sugar, and fat content often found in these processed foods lead to all sorts of health problems, including cardiovascular disease, depression, cancer, obesity, increased cholesterol levels, and diabetes.
Are Freshly meals processed?
Unlike many prepared meals you might find in the freezer section of your local grocery store, Freshly meals contain no artificial ingredients, refined sugars, or hydrogenated oils. The company focuses on infusing its menu with less-processed ingredients, made from whole foods and real vegetables that are rich in vital vitamins and nutrients.
Sodium content
One of the primary concerns with commercially processed foods the addition of sodium, which is often used as a natural preservative. Consuming too much sodium can lead to several medical issues, including the risk for cardiovascular disease, chronic kidney disease, osteoporosis, and even cancer. The daily recommended intake of sodium is approximately 2300 mg. Most Freshly meals had between 25-40% of this daily recommended amount. If you're on a low-sodium diet, be sure to check the nutrition facts on each recipe before adding it to your Freshly delivery.
No Artificial Preservatives and Never Frozen
Preservatives are linked to myriad health complications, including hormone-imbalance, thyroid issues, and increased risk of cancer. In addition to championing whole, unprocessed foods, Freshly also ensures its meals are free of these harmful artificial and chemical preservatives.
How long do Freshly meals last?
Freshly entrees stay fresh in the fridge for 3-5 days. Though this does is a relatively short shelf life, it means customers get fresher, healthier food without the risks that preservatives present.
Organic and Non-GMO Ingredients
Organic Foods
The USDA organic stamp certifies the adherence to certain standards during agricultural production, which includes:
No synthetic chemicals (i.e., pesticides, fertilizers, etc.)
Exclusive use of non-GMO seeds
Specific requirements for the care of livestock
Periodic inspections by the USDA to ensure the farm or ranch meets organic standards
Sticking to an organic food diet reduces your exposure to harmful chemicals and toxins that can have lasting health effects.
Non-GMO Foods
Non-GMO certification means that ingredients do not derive from genetically modified organisms (GMOs) that have been altered artificially in a lab setting. GMO crops better resist pests, disease, and drought, and stand up to the use of herbicides and pesticides. This enhanced resistance to agricultural threats leads to higher crop yields. The safety of GMOs is hotly debated, but critics of GMOs cite long-term health effects to both humans and livestock, including toxic reactions and organ damage.
Freshly attempts to use organic and non-GMO ingredients whenever possible but cannot guarantee the exclusive use of these types of ingredients.
Freshly and Dietary Restrictions
Freshly does not specifically cater to diet plans (i.e., keto, paleo, etc.) as some of its meal kit competitors do. However, it does offer meals that satisfy certain allergies and intolerances, including the following options:
Gluten-Free: All Freshly meals are certified gluten-free by the Gluten Intolerance Group and produced in a facility that does not handle any gluten ingredients. This GIG-certification is fantastic news for those with Celiac disease or gluten sensitivity.
Soy-Free: Some individuals have mild to severe allergic reactions to ingredients derived from soybeans. Most of the entrees on Freshly's menu are soy-free.
Dairy-Free: An estimated 65% of the population has a reduced ability to process lactose, the sugar found in dairy products. Lactose intolerance can lead to uncomfortable digestive issues. Freshly does offer a variety of dairy-free menu options.
Freshly Weight Loss
If you're trying to lose weight but need help with portion-control, Freshly is a great option. Several of Freshly's meal options are designated as low-calorie and low-carb but are packed with plenty of healthy proteins to keep you energized and full. Look for the icon tags under each meal to see which recipes are better-suited to weight-loss.
Low-Calorie: Entrees tagged with a scale are fewer than 500 calories. The recommended daily caloric intake for the average adult varies based on age, gender, and activity level but generally falls between 1800 and 3000 calories.
Low-Carb: The bread icon under each recipe title indicates low carb prepared meals, with fewer than 35g per serving. Note the recommended daily carbohydrate intake for adults is between 225-325 grams, according to this article.
Sticking to a low-calorie or low-carb diet doesn't mean you have to starve! Freshly offers high protein meals to keep you satiated. Look for the flexed arm icon to find Freshly meals high in protein.
While Freshly can assist with portion control and monitoring the levels of carbs, fats, proteins, and calories you're eating, you should always discuss your specific dietary needs with your doctor or another health professional!
Freshly Nutrition Reviews by Registered Dieticians
Curious to get a professional opinion on Freshly's nutrition? We tracked down Freshly reviews from two registered dieticians. Here's a summary of what they had to say:
Brittany Jones, RD
This dietician notes that Freshly meals are more filling and tastier than their freezer-aisle counterparts while applauding the carbohydrate, fat, and sodium content. In her words, "the nutritionals really check out on this one!"
Megan Ware, RDN, LD
Megan Ware, a registered dietician from Orlando, also raves about the Freshly meal delivery service. She personally "LOVE[S] IT" and even recommends it to clients.
***
Are you ready to make Freshly a part of your healthy lifestyle or weight-loss plan? Get $60 off when you sign up today using this Freshly promo code.