Imperfect Foods Reviews, Pricing, Discounts & More - Complete Review
Grocery items that help reduce food waste—delivered for up to 30% less than national supermarket chains.
Imperfect Foods Dietary Options
Imperfect Foods is a grocery delivery subscription service that's on a mission to combat waste in the food supply chain. With this service, you receive weekly or biweekly deliveries of the groceries that you need to stock your fridge and pantry, including produce, meat & fish, snacks, pantry essentials, and dairy products. Most of the items in Imperfect's deliveries is perfectly good, quality food that otherwise might have ended up in the landfill due to minor imperfections that made it unworthy of supermarket shelves. For example, a lumpy or scarred piece of fruit or a bottle of olive oil with an approaching expiration date would typically get tossed. Imperfect Foods rescues these perfectly edible foods from going to the dump and ships them to your doorstep instead, for about 30% off traditional grocery store prices. So far, Imperfect Foods has saved over 116 million pounds of food from going to waste! It's a win-win!
How Imperfect Foods Works
When you sign up for an Imperfect Foods account, you'll take a short survey that points you towards the subscription for your needs.
You select the number of people in your household: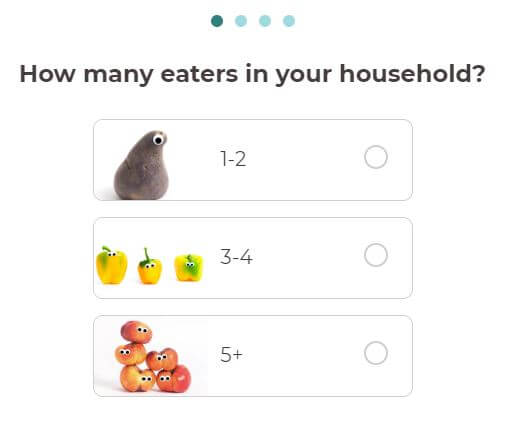 Then, indicate any dietary preferences: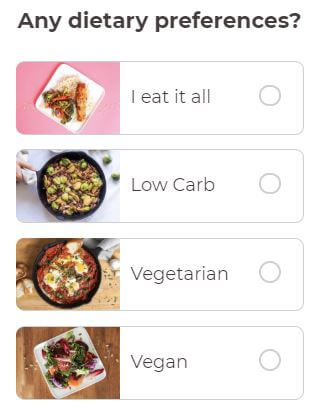 Select which meals are most important to you: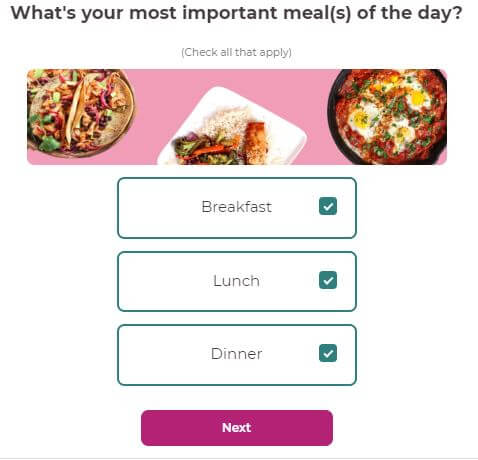 And your preference for conventional or organic foods: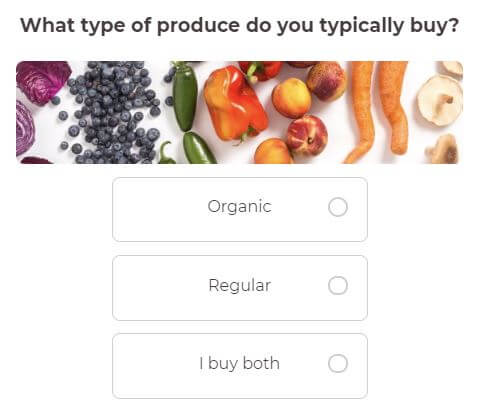 Imperfect Foods will then generate a default grocery plan to suit your needs. For example, this is the default plan generated for us: a 2-person household, with no dietary preferences, that typically buys a mix of organic and conventional produce.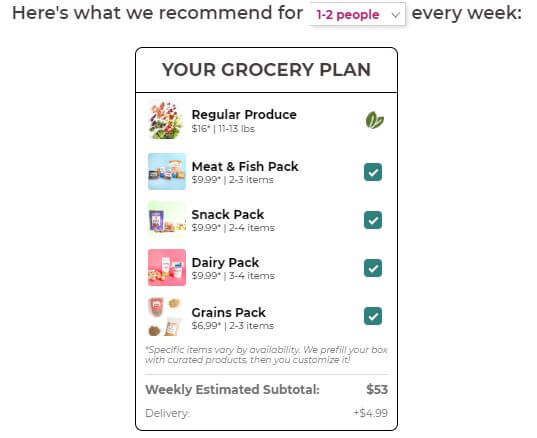 If you aren't happy with the default subscription created for you, you can always change it under the "Manage Subscription" section of your account! 
Imperfect Foods Subscription Boxes
Every Imperfect Foods subscription has ugly produce as its base. You can choose the type of produce (regular, all fruit, all veggie, or organic), as well as the size of your produce box (small, medium, large, or extra-large). Additionally, you can opt to include the following grocery add-ons:
Snack Pack

Dairy Pack

Meat & Fish Pack

Grains Pack
Each week, the Imperfect Foods team creates a curated box based on your default subscription. Then, a few days before your scheduled delivery date, you'll have the ability to customize your box. Remove any items that you don't want or need, then replace with foods you prefer. While there's an estimated price for your default plan, the final bill will change week to week as each item is priced individually. For example, the average dairy pack add-on costs $9.99, but your individual dairy items that week may only total $8.59.
Featured Advertiser


Featured Advertiser
Imperfect Foods FAQ:
How much does Imperfect Foods cost?
Imperfect Foods produce boxes cost between $11-$43 for conventional produce and between $15-$45 for organic produce. Each item is priced individually, so your final invoice for a particular order will vary according to what's in your box. Additionally, you can add the following packs to your subscription:
Snack Pack: average $9.99/week
Dairy Pack: average $9.99/week
Meat & Fish: average $9.99/week
Grains Pack: average $6.99/week
When are Imperfect Foods meals delivered?
Imperfect Foods will choose your delivery day based on your zip code. You'll see this information during the sign-up process or when you log-in to your account, under "Delivery Schedule".
How much does shipping cost?
Shipping costs between $4.99-$5.99 per box, depending on where you live.
Where does Imperfect Foods deliver?
Imperfect Foods delivers to most of the contiguous U.S., except for Montana, Wyoming, Utah, Arizona, Alabama, Florida, Georgia, and South Carolina. Check delivery availability in your area by going to imperfectfoods.com/join.
How do you skip a week of Imperfect Foods meals?
To skip an Imperfect Foods delivery, log-in to your account and navigate to the "Delivery Schedule". Click "skip" next to the delivery that you want to skip. Note, you can also change the frequency of your deliveries from weekly to biweekly.
How do you cancel Imperfect Foods?
To cancel your Imperfect Foods subscription, log-in to your account and navigate to "Manage Subscription". Under the grocery add-ons section, click the link that reads "Cancel My Whole Subscription".
How do you contact Imperfect Foods?
Mon-Sun: 8AM - 6PM PST (website chat support)