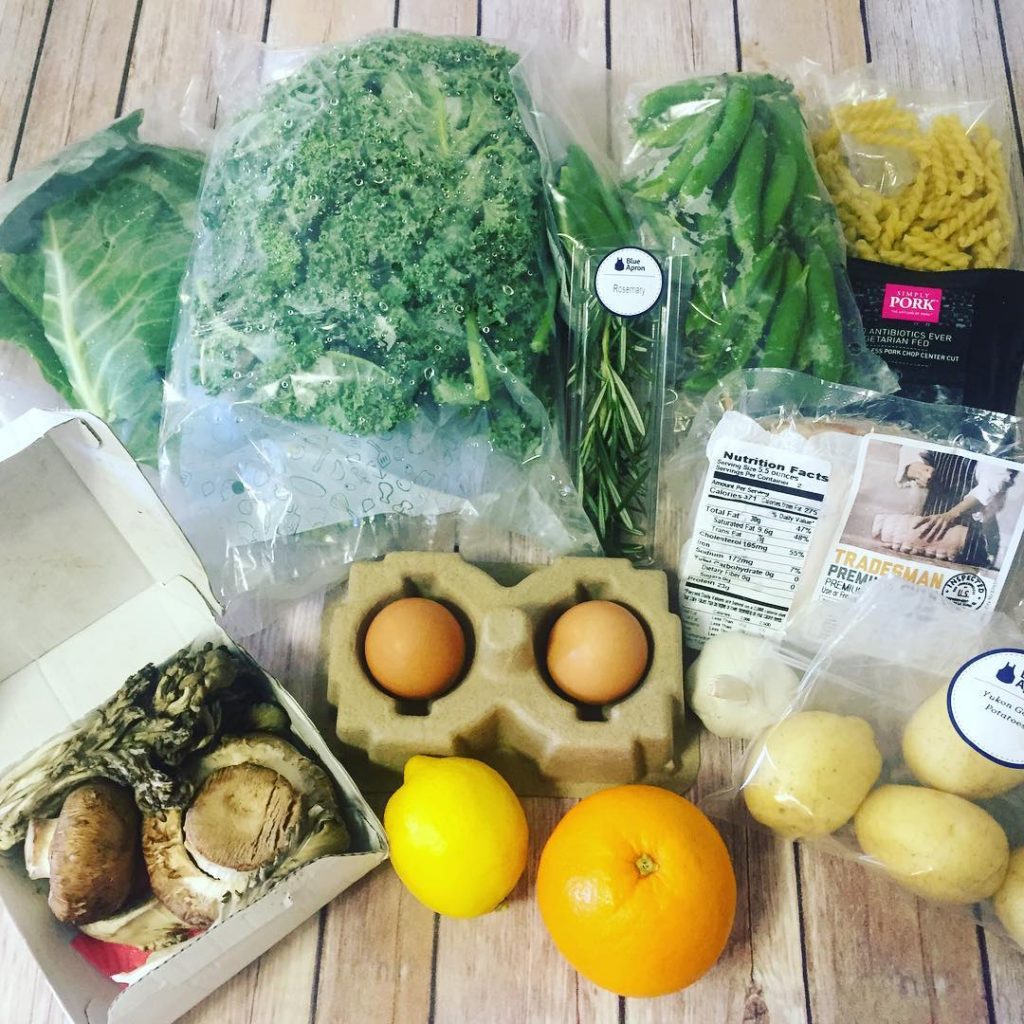 Review
Blue Apron is more than just food on the table – it's an experience!  Normally, we prep all of our food on Sunday, making a huge batch of one recipe that we portion out for the entire week. This saves us lots of prep and cleaning time during the week, but it also means that meal time turns into a "grab something as fast as you can and pop it in the microwave" kind of experience. Back when we were dating, we loved cooking together – mincing, chopping, dicing, and flirting our way through a bottle of wine. Prepping dinner together at home was not only romantic, but a much better value than going out to eat. When considering whether Blue Apron is worth the price for you, there are a few things to consider:
How much do you normally budget for groceries? Given your budget, does it make sense to spend $60 a week on 3 dinners?
What's your typical budget for dining out? A recent study from Business Insider gave the average price of dining out at various chain restaurants throughout the U.S. On the low end, the average check per person at hamburger chain Red Robin rang up at $12.17, while seafood giant Eddie V's meal ticket averaged $88 per person. While most week night dining experiences are probably more on the Red Robin end of the spectrum in terms of price, even then, cooking at home with Blue Apron is more affordable.
Consider it Quality Time If your date or family night out is geared towards talking and spending quality time together, what could be better than spending an hour cooking together within the intimacy of your own home?
Compare it to Other Meal Delivery Subscriptions I found that Blue Apron was the most affordable subscription of all the major ones we looked into. Green Chef, Plated, and Hello Fresh are all far more expensive. For more on this see the "Versus the Other Guys" section below.
Convenience
One of the biggest perks of Blue Apron that I've heard get tossed around is the convenience of having the meals pre-portioned and delivered right to your front porch. I'd view this convenience two different ways:
It Allows for Culinary Adventure without the Effort or Waste One of the things that kept us subscribing to Blue Apron was the experience of trying new foods. Most of my meal inspiration typically comes from Paleo food blogs or cliché recipe posts on Pinterest. I'm usually looking for recipes that are fast and healthy, which means dinnertime can be somewhat bland. We love that Blue Apron allows us to try new recipes that are outside of our normal realm without having to create a menu and buy an excess amount of unusual spices and ingredients. For instance, one of my favorite meals we've tried was the Za'atar Chicken & Pearl Couscous with Pink Lemon Compote. This Middle Eastern flavored dish calls for pink lemon, Za'atar spice and Aleppo pepper. I likely would never have stumbled upon this recipe and wouldn't even be able to find these exotic ingredients in our small town grocery store that can barely keep regular lemons in stock.
You Still Have to Go to the Store Considering that you still have several other meals to plan and consider for the rest of the week, having three dinners delivered to your doorstep doesn't mean your weekly grocery run goes away. While you might purchase less, you still have to deal with the inconveniences of stocking your pantry and fridge with food for the rest of the week.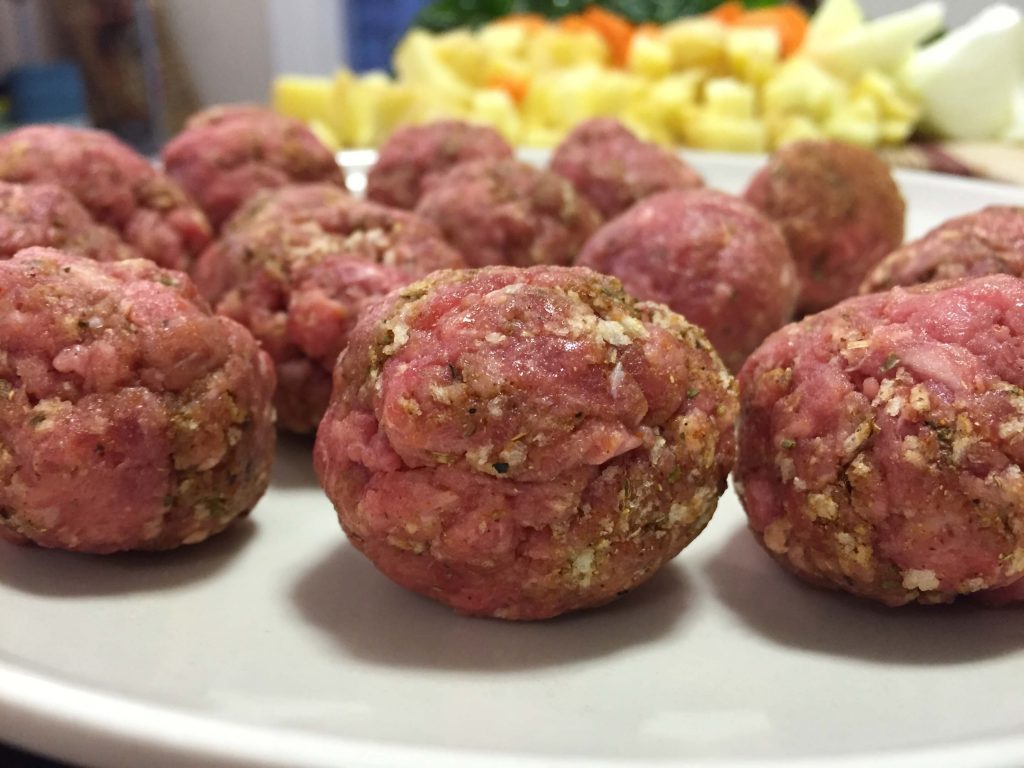 Quality of Food
Overall, almost all of the produce and meat we've received from Blue Apron has been crisp, fresh, and delicious, often going unspoiled for several days after we receive our box. The freshness of the ingredients gives us flexibility with cooking the meals, and often, if we receive a box on Wednesday, we won't finish cooking the last of the meals until the next Monday or Tuesday. The only notable issue I've had with any of the ingredients is the salmon, which comes with instructions to either freeze or cook immediately upon receipt. When we've frozen it and re-thaw it for cooking, it's ended up tasting pretty fishy and unappetizing. I will caveat that by saying I'm not a big seafood eater, and I'm very particular about the kind of seafood I'll eat so it could just be me.
If you only eat organic food, I would not recommend Blue Apron, because while the ingredients are fresh, they are not certified organic. If you're looking for an entirely organic experience, give Green Chef a try.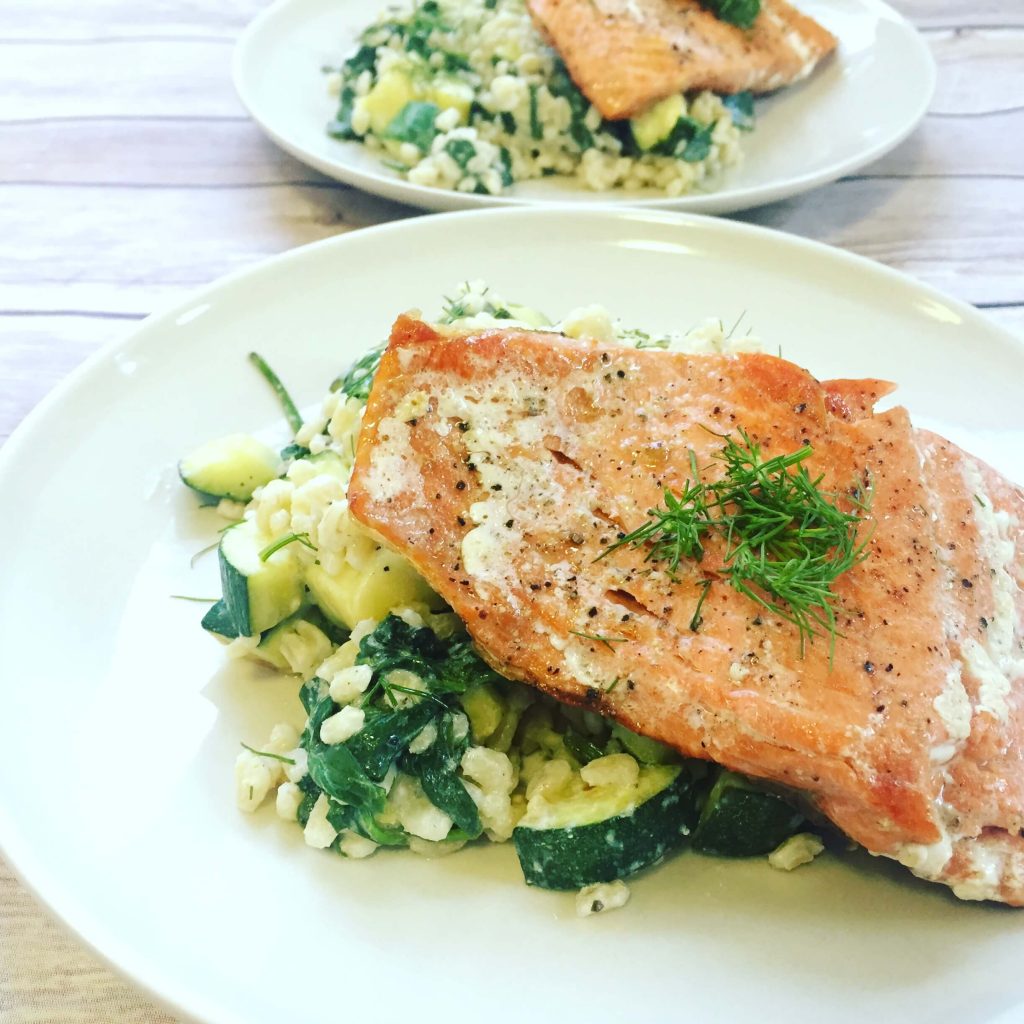 Eco-Consciousness
It's A Lot of Packaging
Blue Apron and other meal-kit-in-a-box companies have gotten lots of backlash about the footprint they're leaving behind with the excessive amount of trash that remains after each delivery. Since everything is pre-portioned for each meal, most of the ingredients come in a plastic bag, a tiny container, or a plastic clamshell container. Additionally, everything comes enveloped in a brown cardboard box with an insulating bag and two giant gel-filled ice packs to keep everything cool during the hours it sits on your front porch.
…But It's All Recyclable
While I repurposed most of the boxes for packing purposes, the rest of the items were a bit of a pain to deal with due to sheer volume. Our town does DIY recycling, which meant tromping to the recycling center and sorting out the plastics and paper every week into the appropriate bins. When we were getting a box every week, it was a major chore to deal with the recycling, but at least it wasn't all ending up in a landfill.
…And Blue Apron Will Pay for It
Blue Apron's response to their controversial packaging was to ensure that every last piece is recyclable and offer free return shipping to customers who are unable or unwilling to recycle the waste themselves. Save two weeks' worth of packaging, go here on the Blue Apron site, print your free return label, and the USPS can either pick it up on their route or you can drop it at the post office.
Time
For the busy professional or parent who is completely exhausted and doesn't have the time or energy after work to dream up a menu, go to the store, and execute a recipe, Blue Apron's pre-packaged meals and easy-to-follow recipes can be a lifesaver. They offer a healthier and cheaper alternative to most take-out and take the planning and stress out of conjuring up a home cooked meal.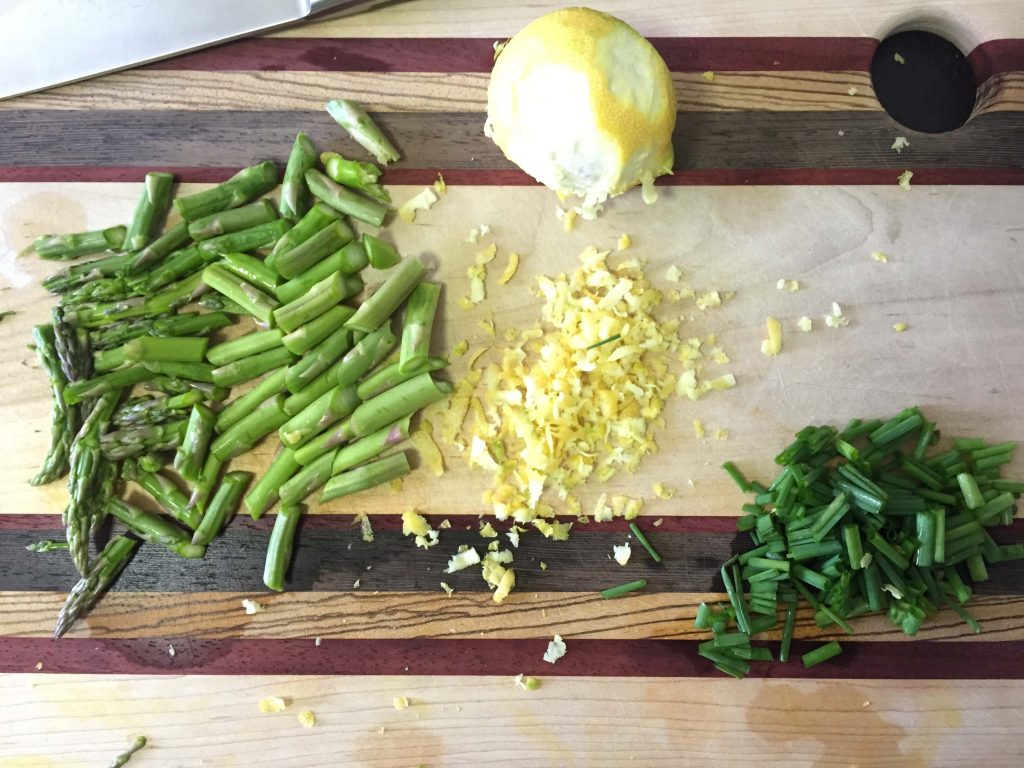 The time it takes to cook most of the recipes is anywhere from 30-45 minutes, which for most people is faster than any of the alternatives: going to the store, picking up take-out, or dining out. For us, we actually ended up spending far more time on meal prep with Blue Apron because we don't normally go to the store every day to figure out dinner, never consider take-out a viable dinner option, and only dine out with friends on special occasions. As I mentioned before, we usually prep all of our meals at the beginning of the week – one menu, one mess in the kitchen, and then we have all of our cooking done for the week. For us, cooking with Blue Apron meant having to set aside two hours three evenings a week to cook, eat, and clean up the tornado of a mess that was left behind. It's also worth noting that it took us a bit longer since we were reviewing the Blue Apron service every step of the way with pictures and videos.
Nutrition and Dietary Restrictions
This is a point that Blue Apron could majorly improve upon. While Blue Apron allows you to choose your proteins (chicken, pork, fish, etc.) or pick vegetarian-only dishes (not available with the family plan), it does not otherwise cater to any dietary restrictions like gluten allergies, nut allergies, vegan or paleo diets, or any other dietary restrictions. This was a huge drawback for us. For the last year, my husband and I have been trying really hard to eat clean. The semi-paleo diet we concocted consists of cutting out processed sugars, flour, and additives/preservatives. Blue Apron made it almost impossible to keep up our clean eating streak because a lot of the recipes contain gluten, flour, or sauces with sugar. If you're not a health freak or on a restricted diet, Blue Apron is the way to go. However, if you have dietary restrictions, you may want to go with a different meal delivery service, like Green Chef, which allows you to select vegetarian, paleo, and gluten-free menus. But, be warned that the extra choice does come with a larger price tag!
Skipping Meals and Canceling
We had several weeks during which we had guests in town and didn't have the time or need for Blue Apron deliveries. Blue Apron makes skipping deliveries extremely easy, with the simple click of a button. Just make sure you do it before the cut-off date, which is generally 7 days before your next delivery!
Since we are about to move, I decided to cancel my subscription because I know it will be a couple of months before we are resettled and I didn't want to forget to skip meals. Canceling was a really simple and pain-free process, so if you're thinking about ordering but are worried about getting stuck with a subscription you don't want, don't be! You could order one box, try it, and cancel with no questions asked if you decide it's not for you.
Versus the Other Guys
We are still working on reviewing some of the other subscription meal delivery services out there. If there's one you're curious about but don't see listed here, just let us know!