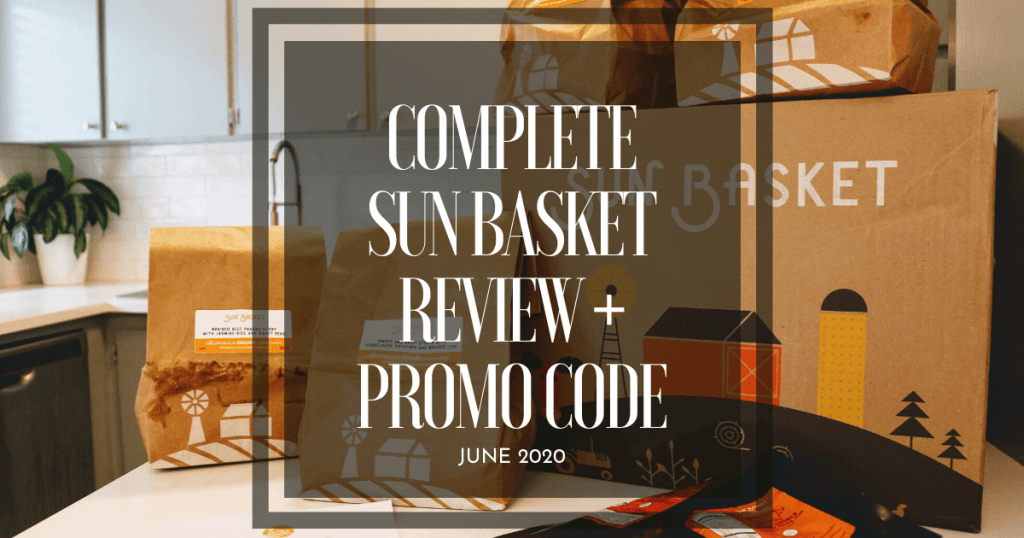 About the Sun Basket Meal Delivery Service
Sun Basket offers USDA-certified organic meal kits with chef-crafted, dietitian-approved recipes. Each week, subscribers receive fresh ingredients and easy-to-follow recipe cards that guide them through the process of whipping up a delicious dinner in 30 minutes or less. Sun Basket frequently makes our "best" lists because it offers plans to suit a variety of dietary preferences, including paleo, vegetarian, lean & clean, gluten-free, and carb-conscious options.
When we first reviewed Sun Basket in 2017, the company offered the standard cook-and-eat style meal kit. Now, they've expanded the menu to include oven-ready meals that don't require any cooking, plus a huge variety of ready-to-eat add-on items like breakfasts, lunches, pasta, proteins, and snacks. We were excited to circle back to Sun Basket and give the new oven-ready meals a try!
Sun Basket Menu and Plans
Sun Basket is all about delivering healthy, nutritionally balanced meals. In addition to sourcing seasonal organic produce, the company also uses antibiotic- and hormone-free meats and wild-caught seafood. You can choose from at least 22 dinner entrees each week, ranging from oven-ready dishes like pappardelle with wilted spinach, sweet peas, and fresh ricotta to cook-and-eat meals like summer steak stir-fry with sweet peppers and baby bok choy. After you choose your dinners, you can add other items to your delivery like egg bites or yogurt for easy grab-and-go breakfasts, juices and smoothies for that afternoon pick-me-up, and ready-made soups and grain bowls for effortless lunches. Sun Basket offers just about everything you need aside from produce and toilet paper.
Sun Basket offers a Classic Menu, designed to serve either two or four people, with your choice of 2-4 meals per week. You can set your account to default to a specific plan, like Paleo or Vegetarian. But, you always have the option to completely customize your weekly delivery, choosing from any of the entrees on the menu. Unlike other meal services, you won't pay a premium for meals that fall under a particular dietary preference. For example, Paleo-friendly meals cost the same as Vegetarian meals. You do, however, save per serving with the more meals that you order.
Classic Plan for 2: 2-4 meals per week, ranging from $10.99 to $12.99 per serving + $7.99 shipping
Classic Plan for 4: 2-4 meals per week, ranging from $10.99 to $12.99 per serving + $7.99 shipping
More about Sun Basket:
Meal Plan Summary: Choose a plan with 2, 3, or 4 dinners per week and 2 or 4 servings per meal.
Price: Starting at $10.99 per serving.. See Sun Basket pricing information here.
Delivery Area: Sun Basket delivers everywhere in the contiguous U.S., except for parts of Montana, North Dakota, and New Mexico.
Read more on this subscription meal kit here: Sun Basket
What We Tried
Sun Basket was kind enough to send us a box at no cost so that we could share our experience with you!
We received a classic box for two, with four dinners:
Turkey Bolognese with spaghetti (Oven-Ready | Soy-free)
Braised beef Panang curry with jasmine rice and sweet peas (Oven-Ready | Gluten-free, Dairy-free, Soy-free)
Pork carnitas tacos with pickled onions and salsa verde (Pre-Prepped | Dairy-Free, Soy-Free)
Sweet and spicy steaks with Hasselback potatoes and braised leek (Carb-Conscious, Gluten-Free, Soy-Free, Lean & Clean, Mediterranean, Diabetes-Friendly, Spicy)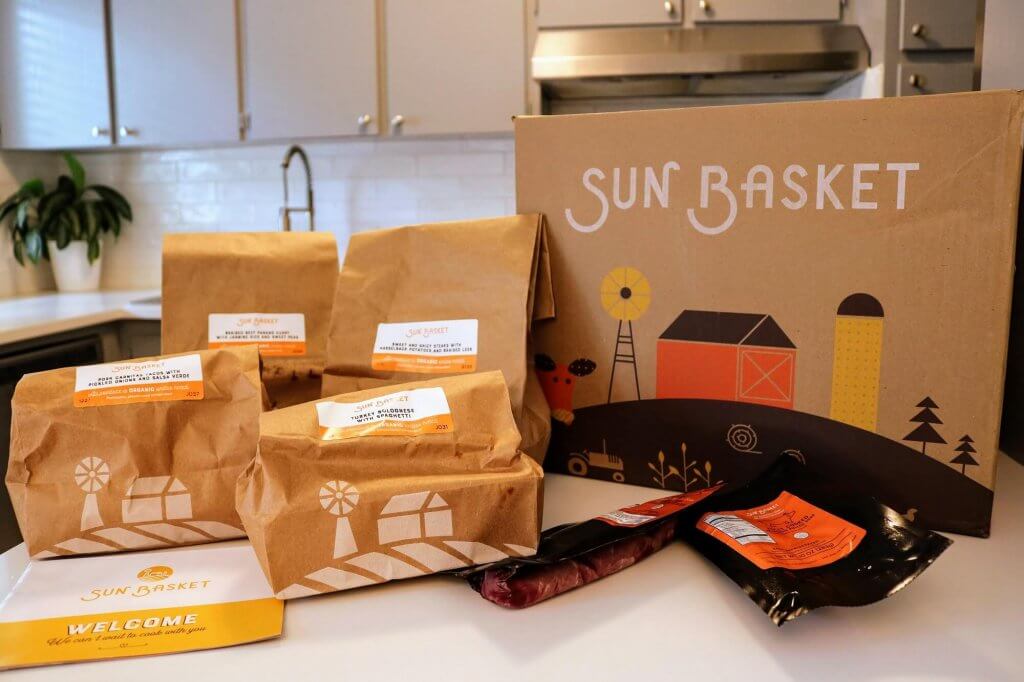 Sun Basket Packaging
Sun Basket ships meals via FedEx delivery and sends a notification with tracking information as soon as the shipment is on the way. Because our order included four meals, the delivery came in two boxes. This made me cringe a little because it seemed like so much packaging. However, I did feel better knowing that Sun Basket is very eco-conscious when it comes to packaging, using environmentally-responsible materials that are 100% recyclable. The box and insulation are both paper products that can go in regular curbside recycling. In heat zone areas (like where we live in Texas), the company swaps out standard insulation for high-heat insulation made from reclaimed denim. You can dispose of the denim anywhere that accepts #60 denim (or just throw in the trash, and it will biodegrade), and you can recycle the liner anywhere that accepts #4 plastics. The ice packs contain water and compostable cotton lined in #4 plastic. The containers, jars, and bags that the food comes in are a mix of #1, #4, #5, and #6 plastics.
Aside from the meat, which Sun Basket packages separately, ingredients for each meal come in paper bags labeled with the recipe. In addition to keeping everything for a single recipe in one place, these bags are also a convenient size for popping in the fridge. Oven-ready meals and meats have a "Use By" date stamp. Be sure to pay attention to these dates so that you can enjoy the meals at their freshest. I noticed some of ours had a date four days out from the date of delivery. We didn't have time to cook everything by then, so we ended up eating them day 5 or 6 and had no problems.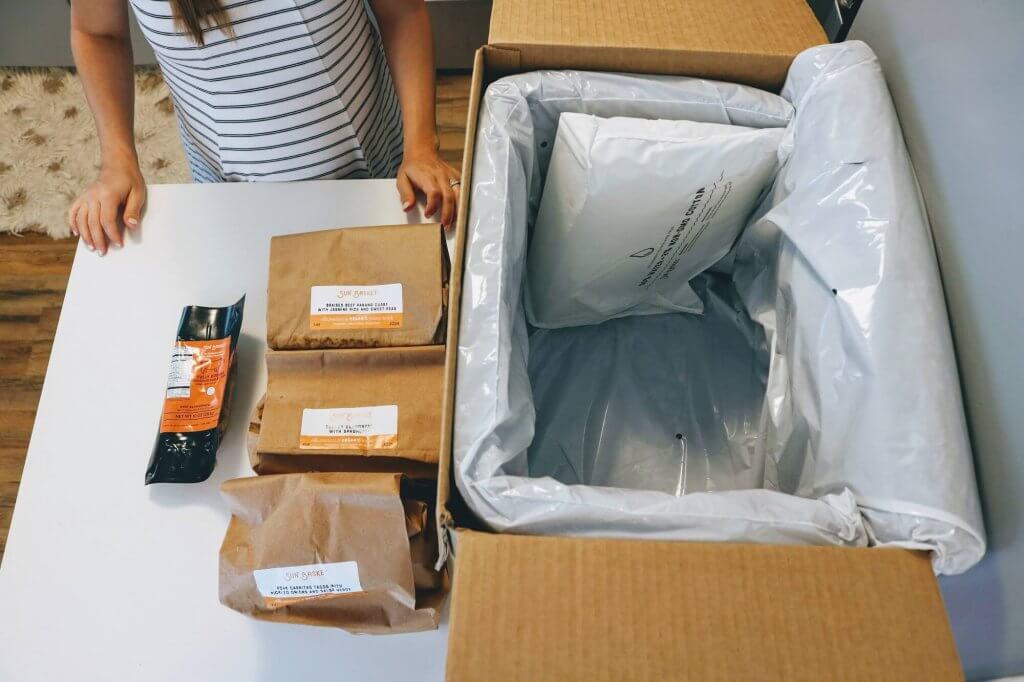 Enjoying Sun Basket
We received our delivery on a Monday. Since the beginning of the week is typically busier, we started off our sampling with the oven-ready meals.
Turkey Bolognese with Spaghetti
Eating delicious food could not get any easier! We heated this dish for a hearty lunch one day. In less than a minute, I removed the plastic wrap from the tray, poured in 2 tablespoons of water per the instructions, covered it with foil, and popped it in the oven. The hardest thing about "cooking" this meal was the anticipation because I was starving, and it looked delicious. It took 30 minutes to reheat in the oven, but if we owned a microwave, we could have heated it in about eight minutes.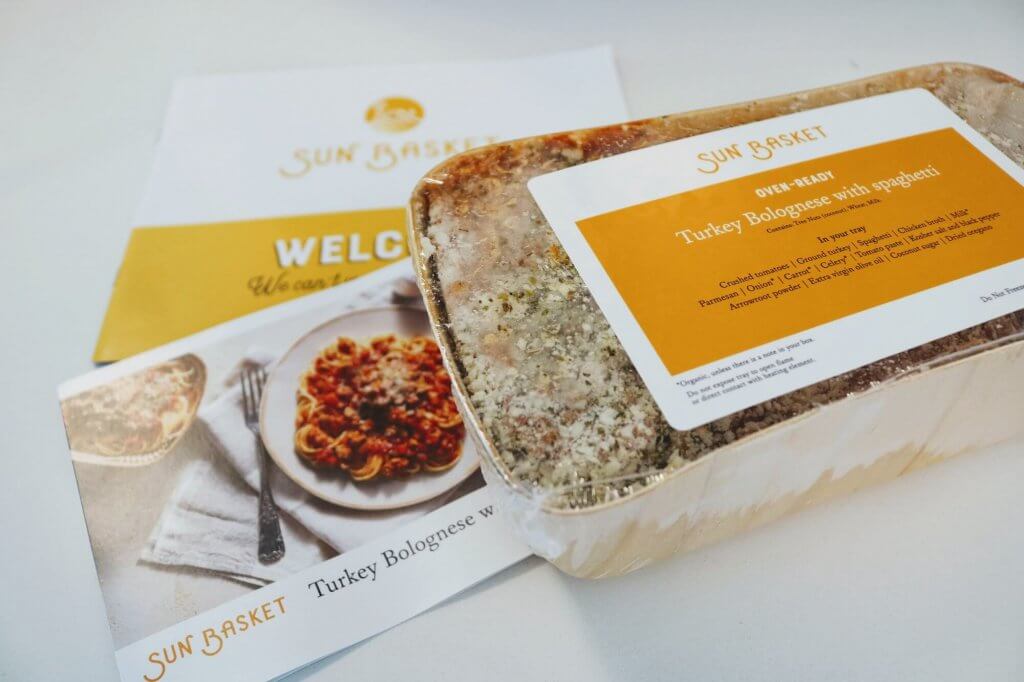 I would note that while the trays are super-handy because they are ready to pop in the oven, they are not leakproof. You may want to place a cookie sheet or piece of foil underneath it in the oven, so it doesn't make a mess.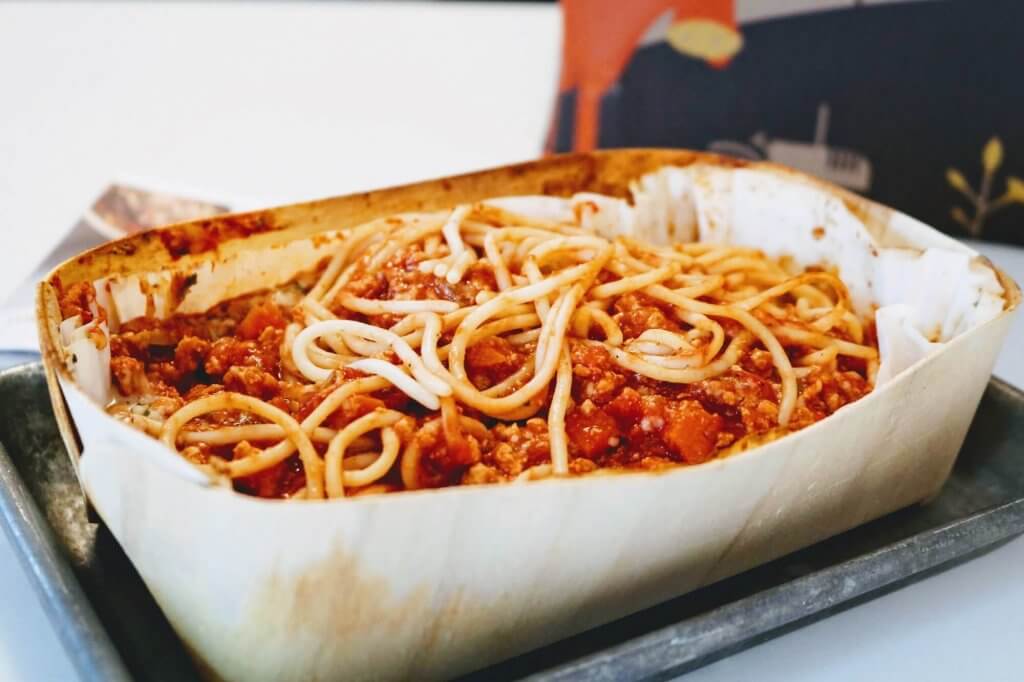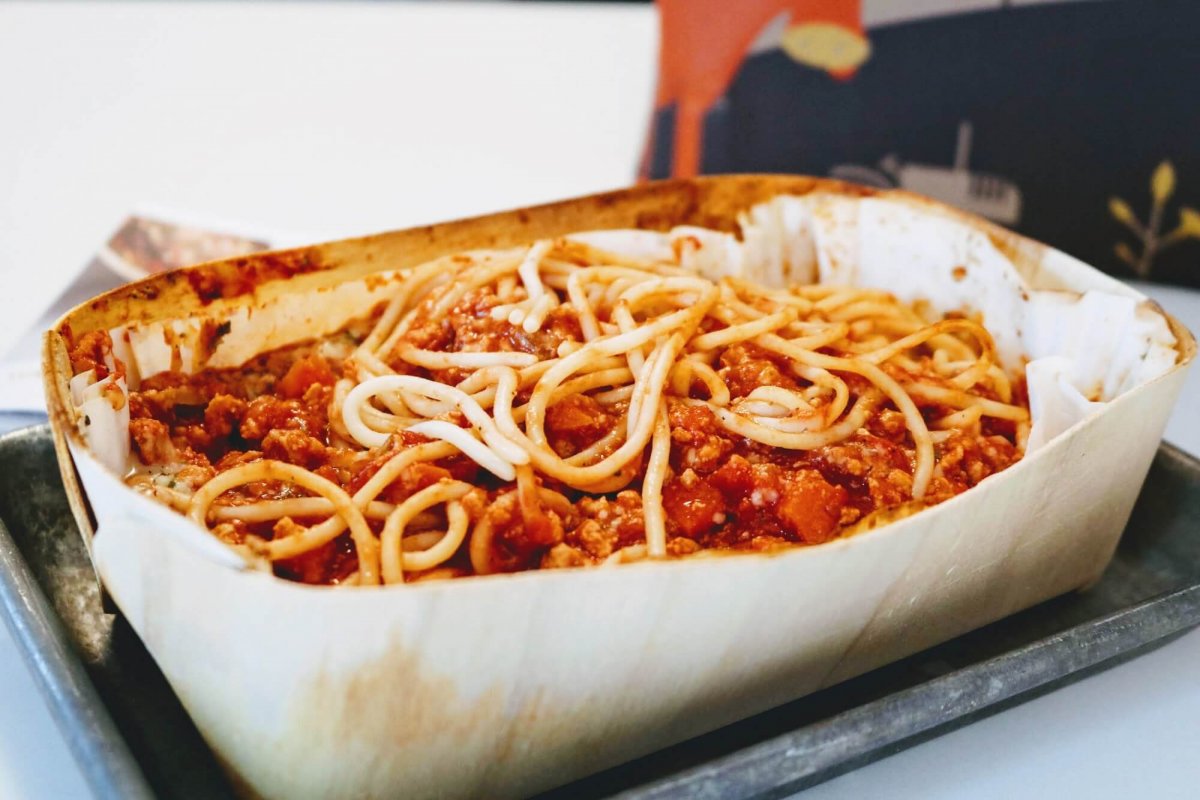 This dish was generous on the meat sauce, and we appreciated that it was turkey and veggies, so it was leaner than traditional Bolognese. Overall, the meal was very filling (with 30 grams of protein per serving) and flavorful. This type of oven-ready meal is great to have in your weekly rotation if you're busy or just too tired to cook. It would also pair nicely with a side salad if you were looking for a more rounded meal.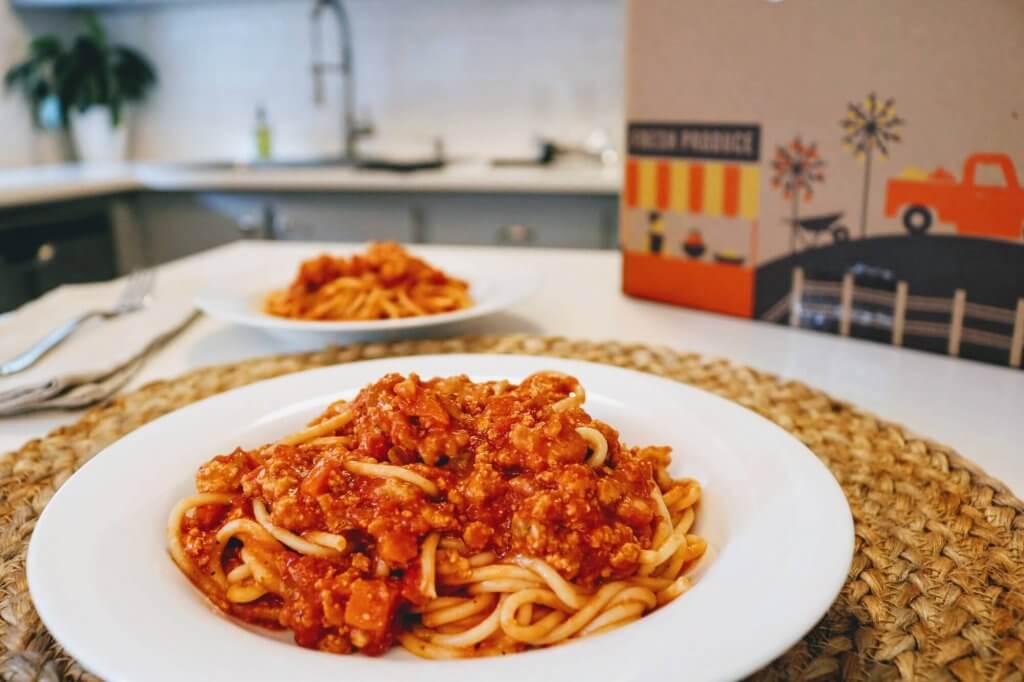 Beef Panang Curry
I let my husband choose our second meal. We both wanted something fast and easy, so we could eat lunch and get back to work, so he opted for the Beef Panang Curry. I reheated the beef curry in the oven-friendly tray per the directions and scooped the rice into a small casserole dish (since this came in a plastic container). Again this meal took about 30 minutes in the oven, but it takes less than 10 to heat up if you have a microwave.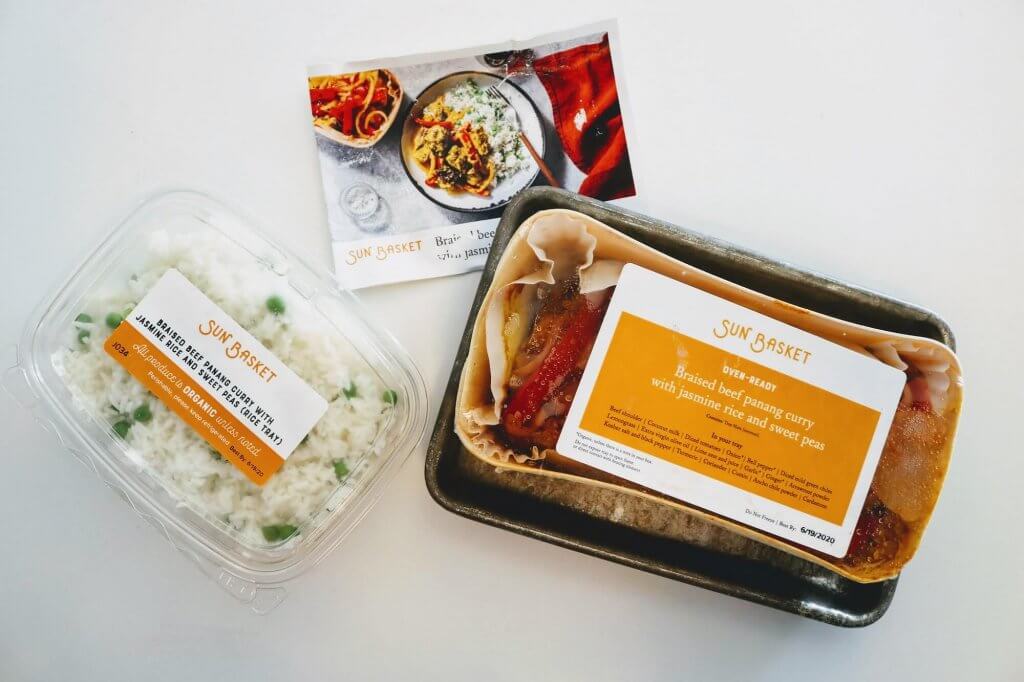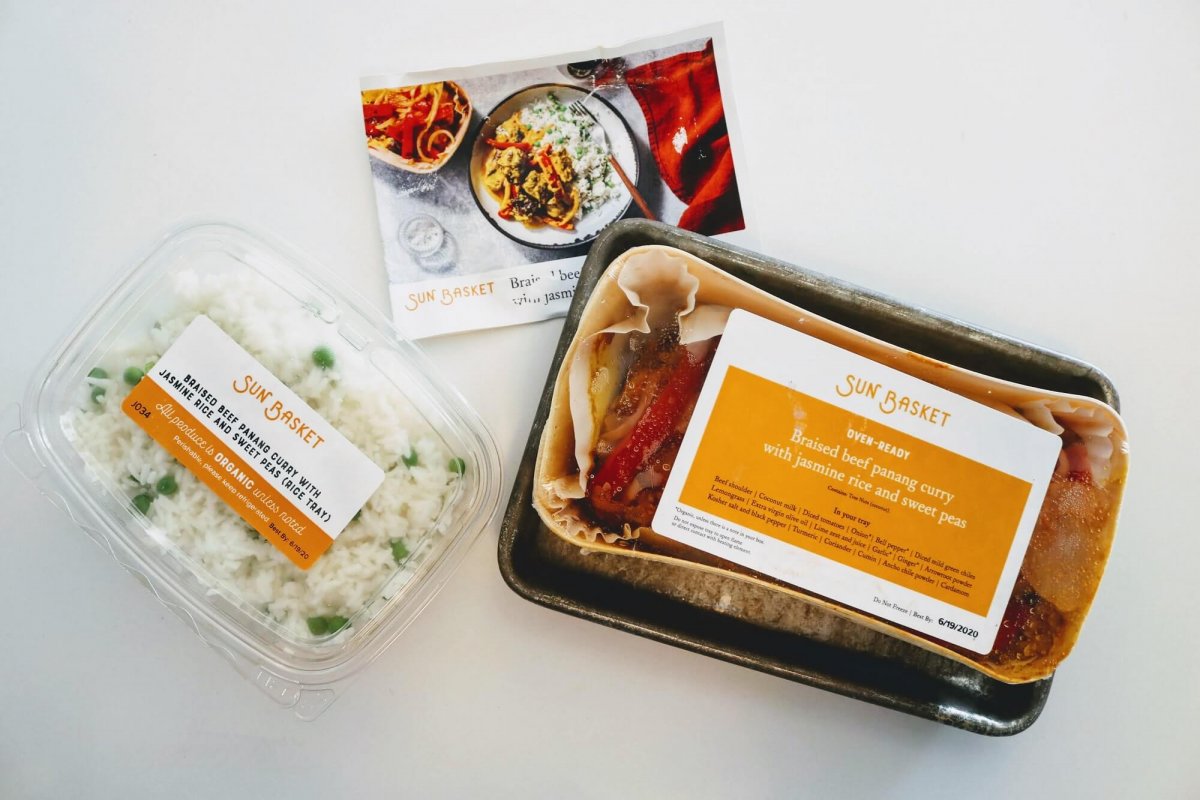 I could not believe how large the portions were (900 calories/serving)! I felt like I kept scooping and scooping the beef out of the container. My husband ate every bite of his half and loved it so much he took the time to scrape every last piece of rice out of the bowl. We both thought the meal had exceptional flavor – like something you would order from an authentic Thai restaurant. Though I enjoyed the dish, my serving was so large I couldn't finish it all. I saved what I couldn't eat, but my husband ate the leftovers before I could get to them.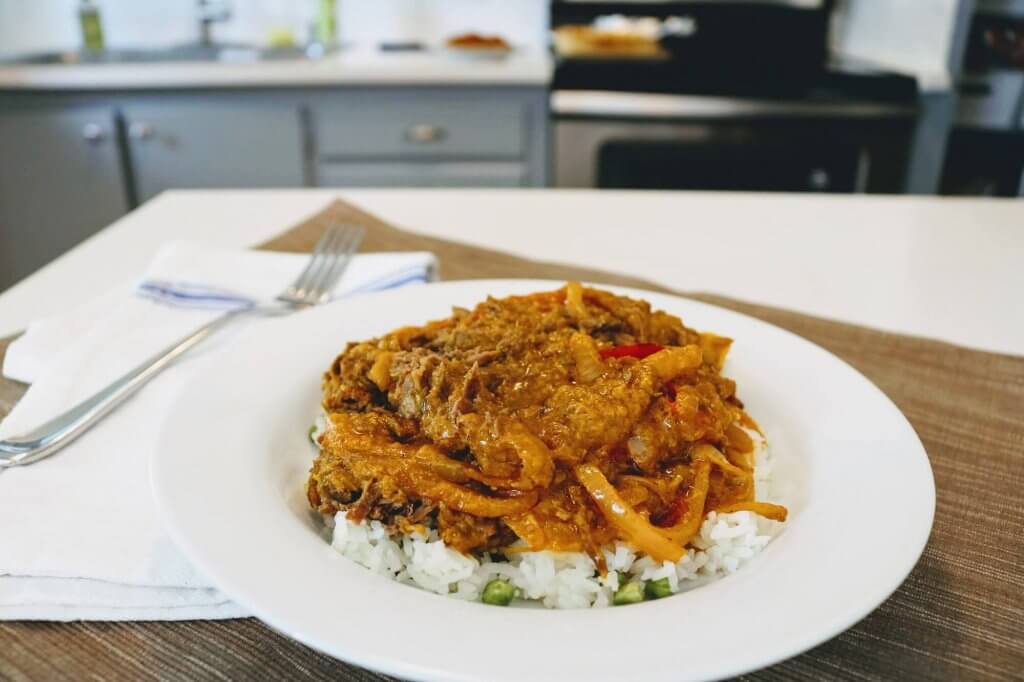 Pork Carnitas Tacos
In addition to fast-and-easy oven-ready meals, Sun Basket also has several pre-prepped meals on the menu each week. These recipes come with premade sauces and prepared side dish components, so they are straightforward and speedy to put together. We ordered the Pork Carnitas Tacos just to see whether these recipes are as fast to cook, as the description would suggest.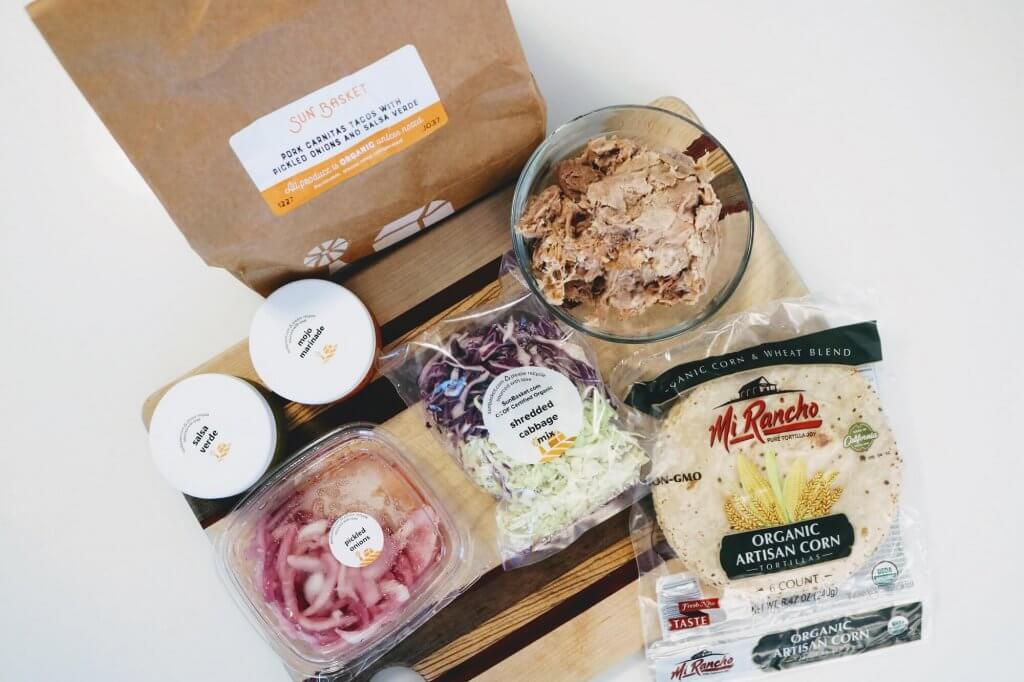 Before we rolled up our sleeves and got to cooking, we set a timer, so we could see how close we came to the 15-minute suggested prep time. We reheated the pre-cooked pork on the stovetop with the mojo marinade as directed. Instead of putting the tortillas in the microwave, we heated in these in a pan on the stovetop. It took about 13 minutes to get everything ready to eat from the time we opened the package of ingredients until we started assembling the tacos.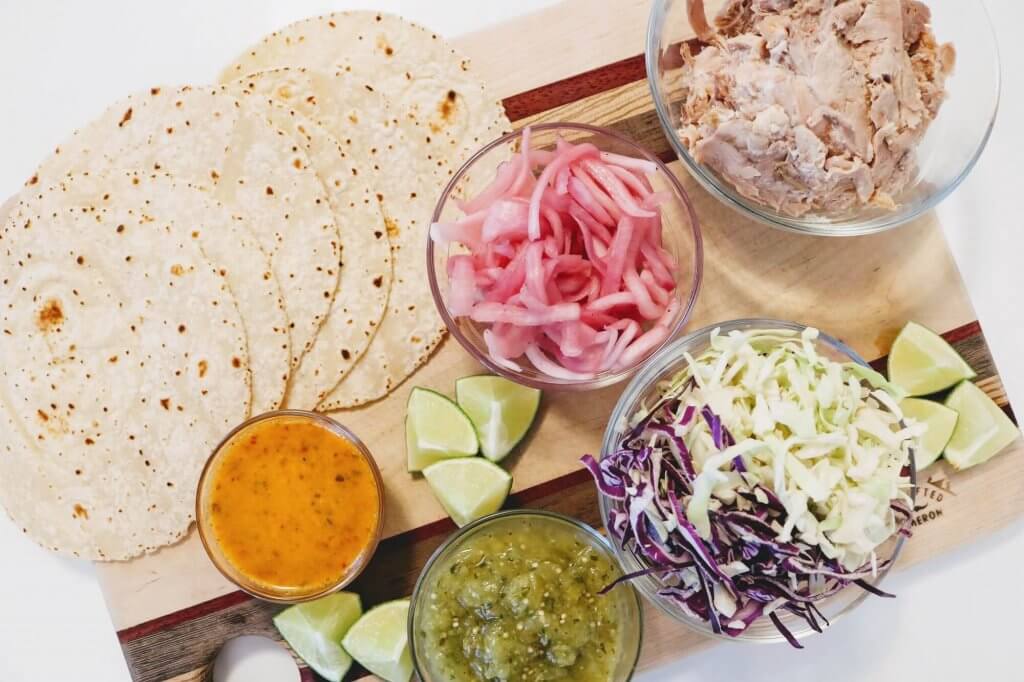 If these are on the menu, you must order! I can't even begin to describe how delicious these are. For starters, the artisan corn tortillas are substantial and packed with flavor – not the flimsy kind that come in jumbo packs that disintegrate as soon as go to put food in them. The meat was cooked to perfection – moist but not fatty. But the real clincher for me was the mojo marinade that gave the meat a wonderful citrus zing. Combine those elements with the crunch of the cabbage, savory pickled onions, and juicy salsa verde, and you have a meal that will make your tastebuds dance. As delicious as it was, I was completely stuffed after eating two out of the three tacos. The third taco made a great snack the following day. Of all the Sun Basket meals we tried, this was hands down our favorite! So incredible and so incredibly easy to prepare.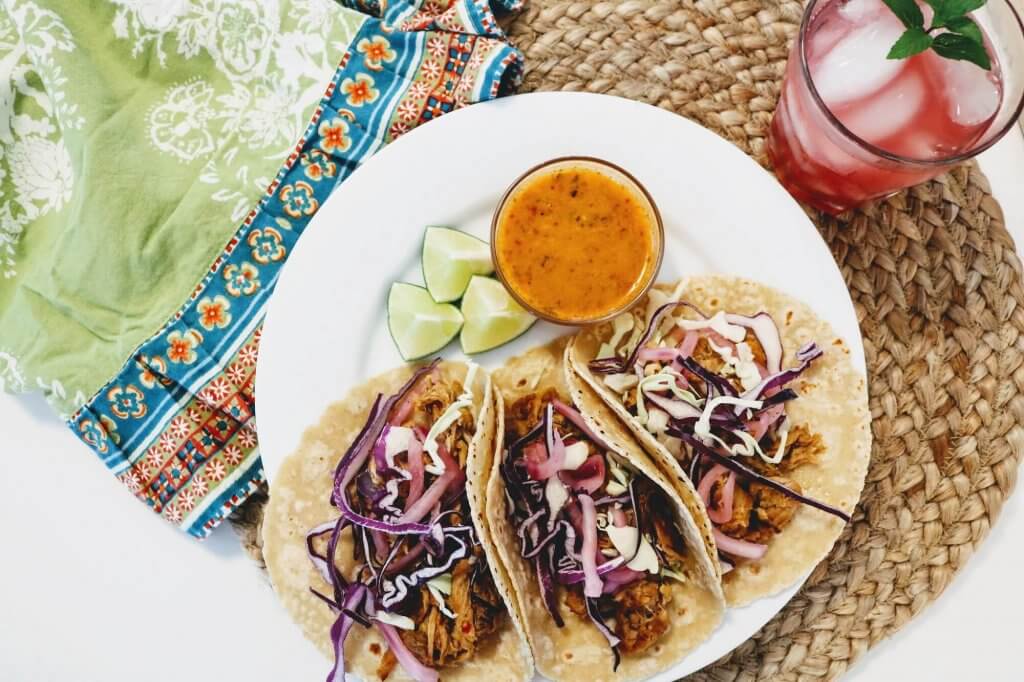 Sweet and Spicy Steaks
We saved this meal for the weekend as our date night treat when we had more time to enjoy cooking and savor the results. The estimated time to cook this meal is 35-50 minutes; it took us around 35 minutes to prepare and plate. The key to going faster is having your oven preheated for the potatoes. Thankfully we had the oven preheating while we took photos of the ingredients.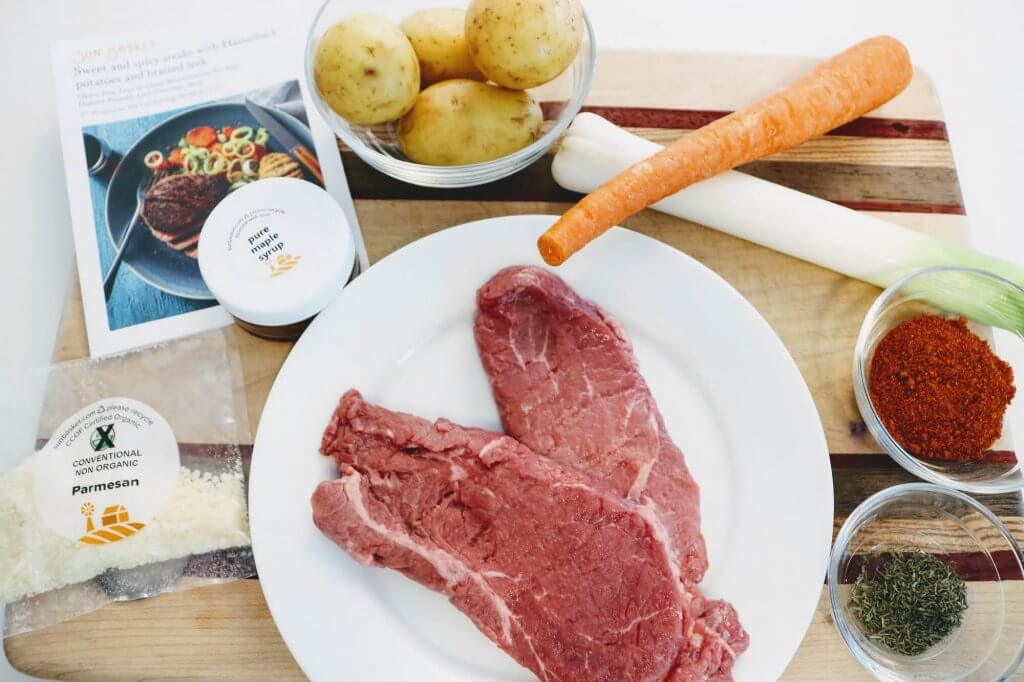 After our mini photo session, I set to work on prepping the potatoes. I had never heard of Hasselback potatoes, but after trying these, I will make this one of my go-to methods for future potato prep. A Swedish chef created this style of potato in the 1950s. They look super fancy, but in reality, are extremely easy to make. Once those were in the oven, my husband worked on cooking the steaks, while I chopped the vegetables.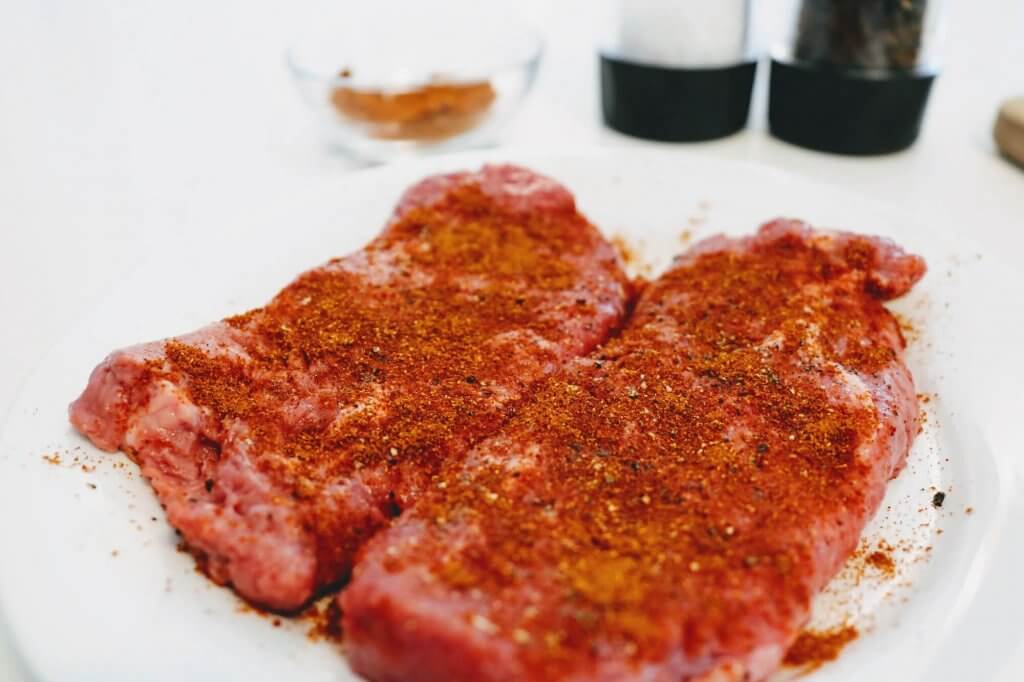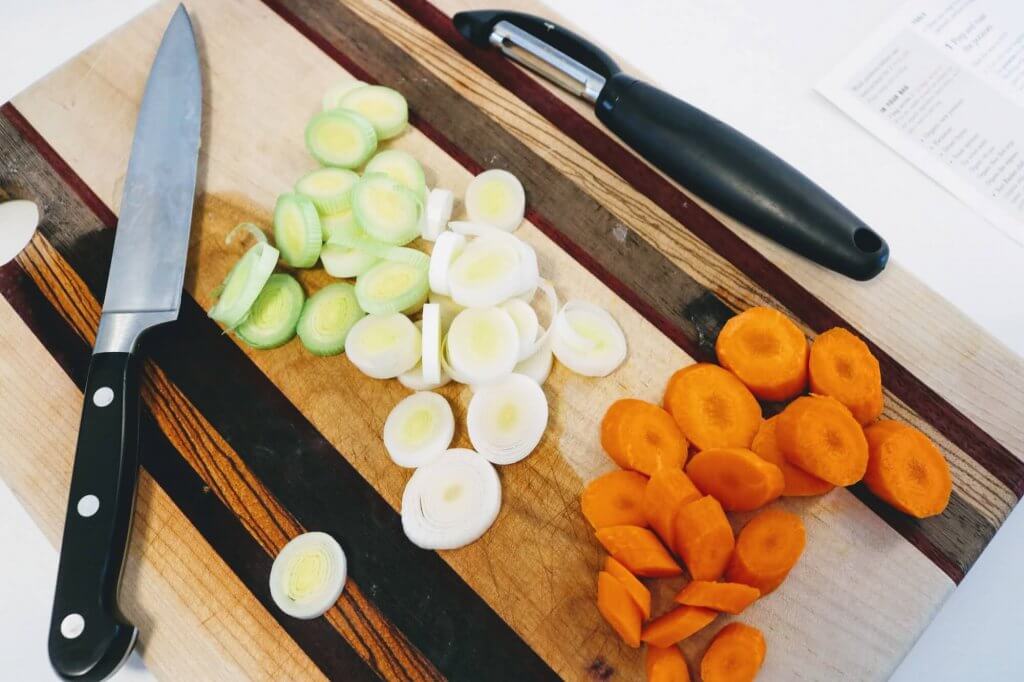 The steaks, which were on the thin side, were ready in just minutes, and the carrots and leeks cooked up fast as well. Once we had those ready, we were still left waiting on the potatoes to finish (which meant the rest of the meal lost temperature). If I had it to redo, I would probably hold off on cooking these elements until the potatoes were closer to done.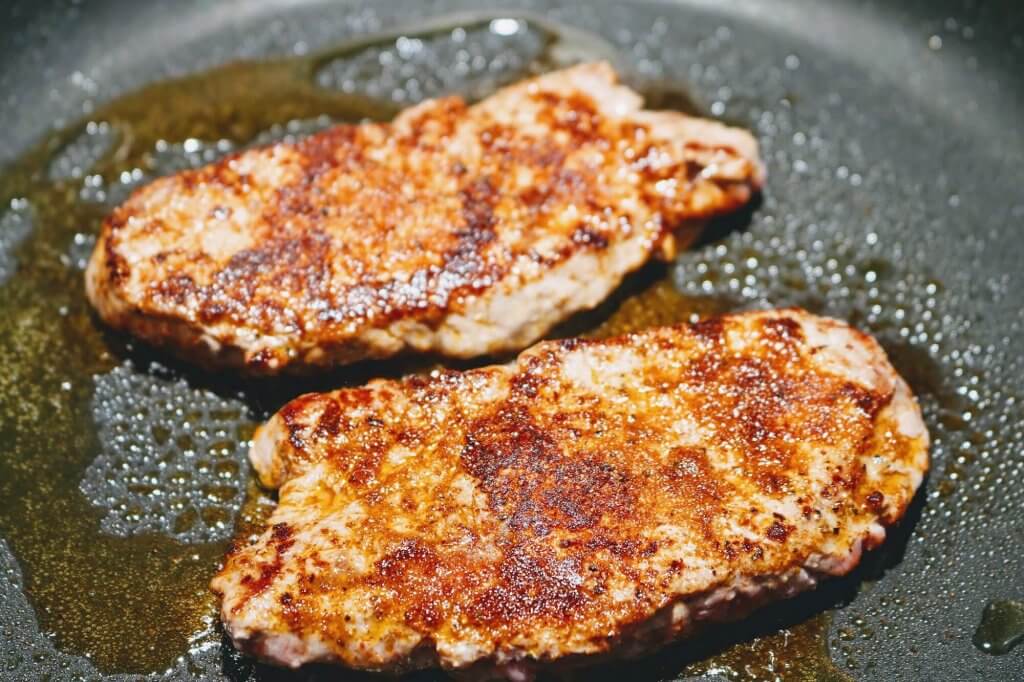 The potatoes were fantastic – crispy on the outside, but smooth and buttery on the inside. The side of carrots and leeks was also quite enjoyable. The carrots were fresh and colorful, while the leeks lent a pleasant but mild onion taste. Finally, the steaks. I am a huge steak fan, so I was honestly a bit disappointed with how these turned out. We cooked these according to the instructions, but the cuts of meat were so thin that they turned out very well done (almost resembling a pork chop). On the other hand, the seasoning was a sweet and spicy delight that helped mask the dryness of the meat. Because the cuts of meat vary depending on availability, you may want to amend the instructions to ensure the meat arrives at your preferred temperature.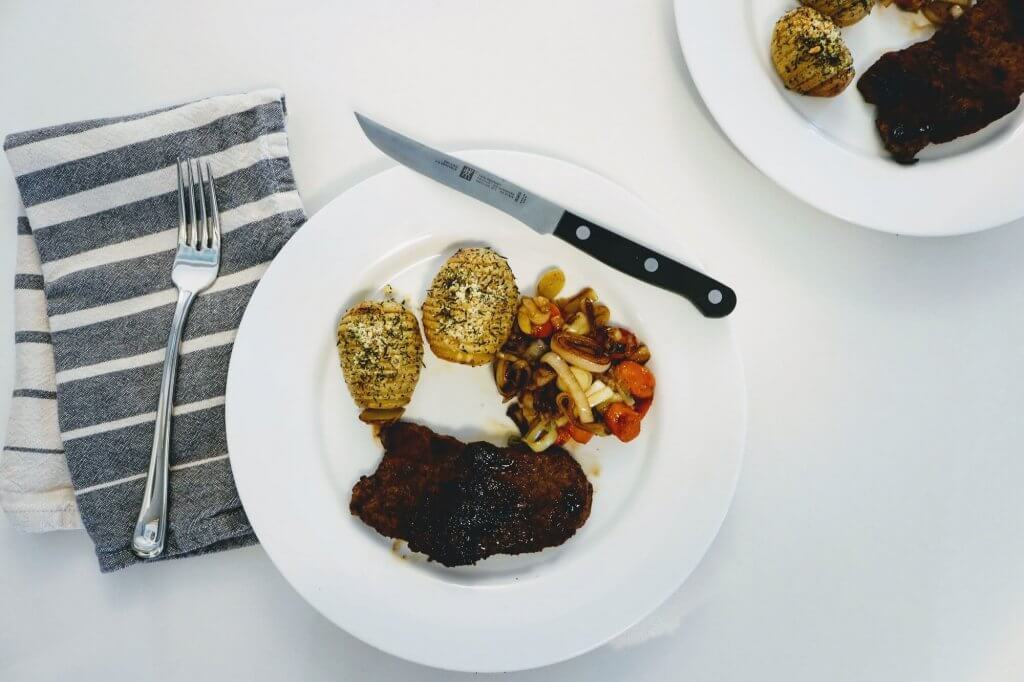 Verdict
Sun Basket tops our list of the best meal kits on the market. After our most recent experience, this is one that we'd be excited to order again – especially given the convenience of the pre-pepped and oven-ready meals. We're a couple of weeks away from having a newborn, and these almost ready-to-eat meals would be extremely helpful to have as part of our regular rotation.
Here are some of the reasons we'd recommend Sun Basket:
USDA-certified organic: Sun Basket (along with Green Chef and One Potato) is one of the few meal kit companies that's committed to using organic produce whenever possible.
Pre-prepped and oven-ready meals: While we do love cooking, sometimes it's just nice to have nutritious, balanced meals that don't require all the chopping and dicing. These speedy Sun Basket meals make it possible to put healthy meals made from wholesome ingredients on the table in just minutes.
Great variety for various dietary preferences: From diabetes-friendly to lean & clean, Sun Basket offers a range of meals to suit a multitude of nutritional choices. If you have a specific diet need, this should be one of your go-to meal kits.
Extensive add-on options: Sun Basket has an impressive array of add-on options, from snacks to breakfasts, to extra proteins. This feature is terrific for those crazy busy weeks when having a few extra meals and easy eats on-hand makes all the difference.
Ready to try for yourself? Get $35 off + 4 free gifts. Click here to apply this discount.
Not sure yet? Go here to read more and check out other Sun Basket reviews!