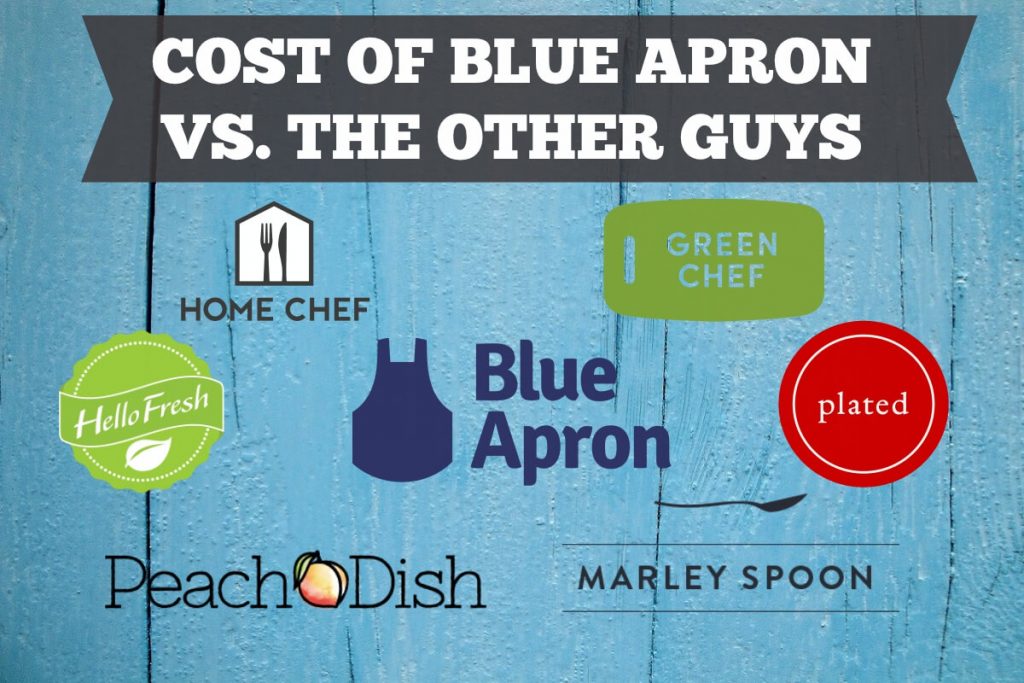 With shows like Top Chef, Chopped, Hell's Kitchen, and Masterchef flooding prime time, America's fascination with food doesn't appear to be coming to an end anytime soon. Fans sit on the edge of their sofas rooting for their favorite amateur chefs who hope to make it big by winning the season title. In this food incarnation of the American dream, it seems that anyone – from firefighters to handymen – could be the next great U.S. chef. If you find yourself living vicariously through these seemingly everyday people turn chefs, stop your binge watching and put down the remote.
For those riveted by food, but not necessarily skilled or creative in the kitchen, there's a chance to sharpen your knives and start learning. No, you don't have to book expensive cooking classes where an instructor does a lot of coddling and hand-holding. You can learn to cook or hone your existing skills, trying out a whole montage of new recipes, from the comfort of your own home.
Meal delivery subscription services from Blue Apron and a whole slew of followers are becoming increasingly popular. For a fraction of the cost of cooking lessons, all the ingredients and directions necessary to whip up delicious, gourmet cuisine in your own kitchen are delivered right to your front door. So just how much does it cost for such convenient service? We've broken out the cost of Blue Apron, along with six of its competitors.
Blue Apron Cost

Blue Apron keeps things simple with three different plans. Choose from a 2-person plan with three meals delivered weekly, or for the atomic 4-person family, there's a two-meal per week or four-meal per week plan. You can even throw in a wine subscription to get wines paired with your meals for the low, low price of $65/month. The best part, shipping is always FREE. Additionally, you can easily skip weeks or cancel at any time. Plus, Blue Apron has a wealth of resources online including additional recipes, video tutorials, and a store to make sure your kitchen is well-equipped. Don't miss our full Blue Apron overview.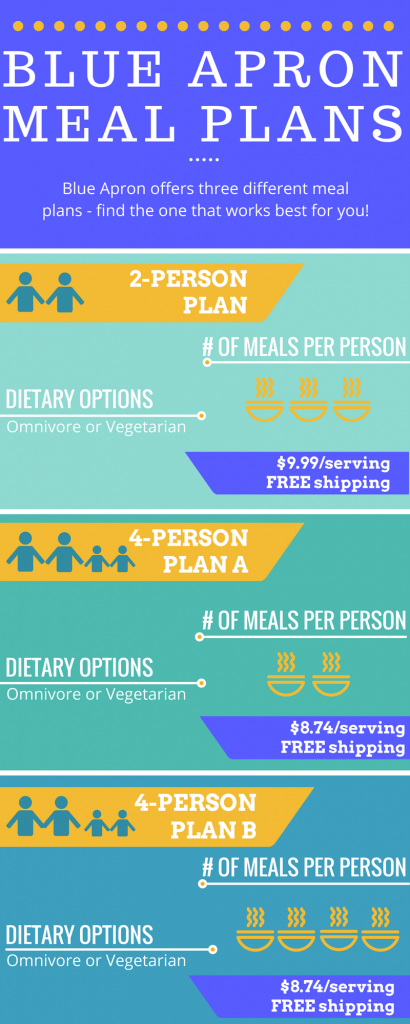 Share this Image On Your Site
Plated

Plated offers a bit more flexibility with its meal plans. Customers may choose between 2-3 servings and 2-4 meals per week, with the same easy cancellation policies as its nemesis in the blue apron. All meals are a flat $12/serving and on the downside, only the 4-meal/week packages come with free shipping. Plated does offer lots of great vegetarian options, and the meals tend to be pretty fast to prepare.
Green Chef
Green Chef offers a wide variety of meal plans conducive to several types of dietary restrictions, including vegetarian, vegan, paleo, omnivore, carnivore, and gluten-free. Individual plans range from $10.40/serving to $14.99/serving (the caveman plan is ironically the most expensive). Families may choose from the omnivore or carnivore plan, which are priced at $11.99/serving and $12.99/serving, respectively. In addition to relatively expensive prices, Green Chef also tacks on a $9 shipping fee (whomp, whomp). However, you will have the peace of mind of knowing that every single bite that passes through your lips is completely USDA certified organic.
Hello Fresh
Hello Fresh has superbly low pricing, with meals serving 2-4 adults either $9.08/serving for all veggies or $9.90/serving for meat eaters. Their family plan takes smaller tummies into consideration and comes out to a reasonable $8.75/serving. In addition to having one of the lowest subscription rates, Hello Fresh also keeps kitchen time to a minimum, with most prep times coming in at around 30 minutes.
Peach Dish
Peach Dish certainly seems to offer subscribers the most flexibility when it comes to determining the number of servings. Choose two dishes and select anywhere from two-twelve servings! The basic box with two dinners for two is $50, or $12.50 per serving. The Peach does offer price breaks for larger orders, so this could be a GREAT solution if you're hosting a twelve-person dinner party and don't know what to cook! Beware that there are several states where shipping isn't exactly free (and is rather expensive at $15/box). In addition to dinner, you can also order appetizers and desserts for a well-rounded meal experience.
Home Chef
Home Chef allows subscribers to choose anywhere from 2-6 meals per week with 2, 4, or 6 servings per each meal. As long as you order $40 worth of food, the shipping is free. Meals are only $9.95 per serving, and the service allows for lots of personalization, including choices to avoid certain foods, or choose from low calorie or low carb recipes.
Martha & Marley Spoon
Diehard Martha Stewart fans will happy to know that they can know cook just like America's favorite home chef. Marley Spoon originated overseas, but recently made the jump across the pond and selected Stewart to be its American posterchild.  Choose from one of six plans: the two-person box, with 2, 3, or 4 meals, or the four-person family box, with 2, 3, or 4 meals. The more meals you buy, the better the price for serving. Two-person servings range from $9.50-$12/plate, while the family plan ranges from $8.70-$9.50. And, like with Blue Apron, delivery is always free.