It's not an exaggeration! We've been eating and testing meal kits & prepared services since 2016. We've come across plenty that are boring, some that are ridiculously overpriced, and plenty that are low quality. Out of all the really good ones that remained, we narrowed it down to come up with our #1 recommendation for people that are busy.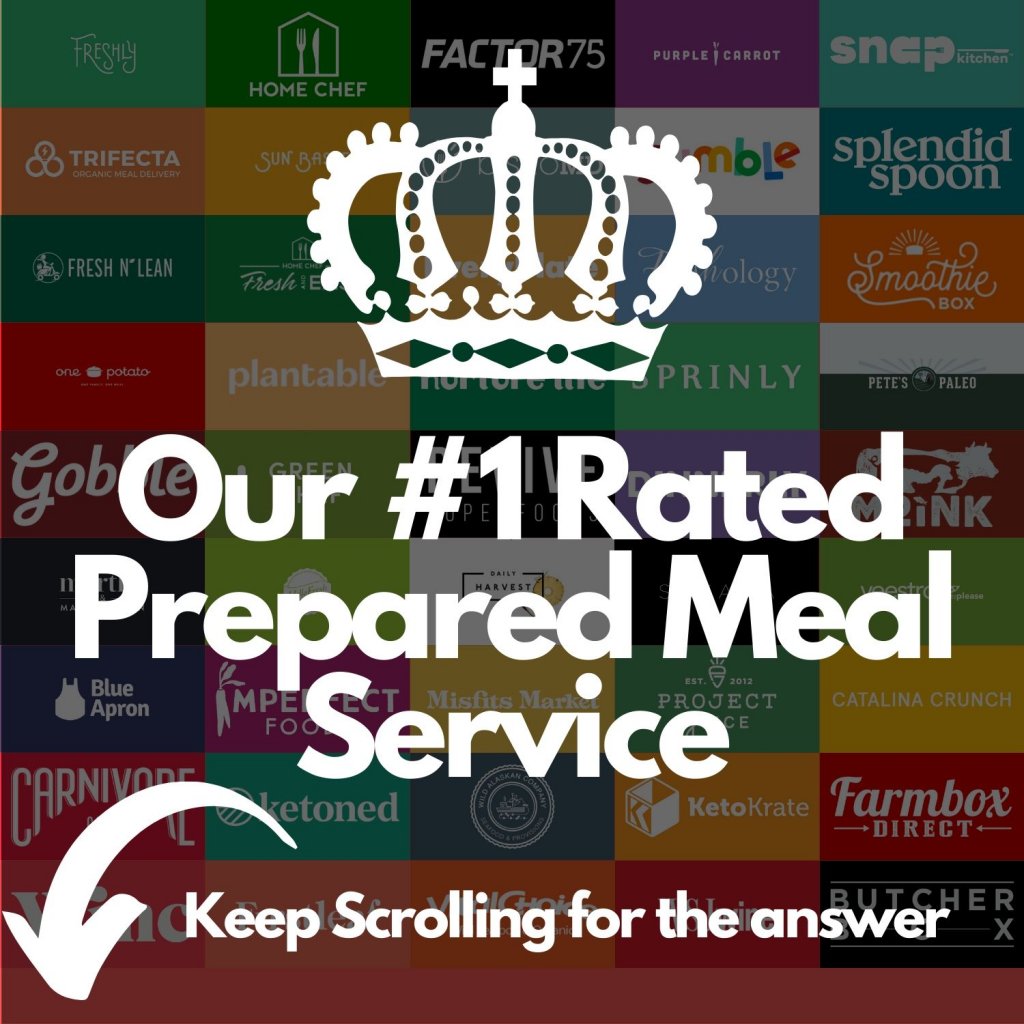 Any type of #1 declaration would be lost without some type of explanation regarding the criteria we used to come up with this assertion. And yes, we realize that what is most important to you is not the same as what is most important to us. But, there are some very commonly shared important criteria that most people are thinking about. In fact, these important criteria are so commonly shared that it's the reason we have been able to organize our entire website and sorting functionality around them. So, take a minute right now and think of what's MOST important to you when you're contemplating whether or not to order a new prepared meal delivery service. Have something in mind? Well, here is our list of important criteria that we review services with… is your important criteria on our list? I bet it is!
In no particular order of importance, here they are:
Price/Value
Quality & Freshness
Tastiness
Variety of Meal Options
Health Conscious Options
Specific Diet Options (Keto, GF, Vegan, etc)
Time Spent to Prepare the Meal & Cleanup Afterwards
Regional Availability & Day of Week Delivery Schedule
How Stinking Hard it is to CANCEL! / Overall Customer Support
Yes, it's a pretty exhaustive list. No, we're not just patting ourselves on the back (ok, maybe a little), we want YOU to understand that a lot of time, money, kitchen mess, and calorie consumption have gone into coming up with our #1 recommendations. We take them seriously! We have to. There are tens of thousands of people that are judging our judging standards every month. But, enough about how great our rating criteria is… you want to know what the #1 prepared meal service (for busy lifestyles) is right?
We'll get to the winner below (if you're already tired of listening to our explanation you can CLICK HERE to see the winner), but first let's see how the service stacks up against our rating criteria.
Price/Value: In terms of price, it is right in the middle of the pack compared to other prepared meal options. But, from a value perspective, we think it's one of the best options available. Plus, this service is almost always offering a really good signup bonus for new customers.
Quality & Freshness: In our opinion, this is where so many meal services get it wrong. They showcase delicious marketing and promo materials featuring perfectly staged shots of perfectly organized meals with produce that looks like it was plucked from the garden just minutes before. When, in reality, when your box shows up, it looks more like a closet before Marie Kondo had the opportunity to work her magic. We've seen it too! Soggy boxes from melted ice packs, mold on your produce, leaking cases of salad dressing, instructions that don't make sense, or aren't even included. Well, our #1 recommendation is the Marie Kondo to your eating habits. Clean, healthy, high-quality ingredients that are fresher than fresh. Yes, our #1 recommendation has the same perfectly staged photos of delicious meals, but this service actually allows you to produce equally good results in your own kitchen.
Note: If you're getting tired of reading our lengthy explanation (probably too lengthy… maybe?) you can skip straight to the answer to see the winner of our #1 meal service for busy lifestyles.
Tastiness: YUUUUUUUUUUUUUUUUUUUUUMMMMMMMMMMMMMMMM! Ok, that's not really a technical rating criteria and it's certainly not a qualitative variable that can be measured with any statistical significance… but who cares! We couldn't think of a better way to convey how good this service is. I mean, my mouth is salivating right now at just the thought of the steak au poivre that came out of our test kitchen microwave. No, that's not a typo, this insanely delicious gourmet meal full of vitamins and healthy nutrients CAME OUT OF A MICROWAVE! We were skeptical of the reviews and we doubted all the supporters. We liked to think that our "culinary business" (ie we have one of the billions of food blogs crowding the internet) lends our cooking standards to a loftiness that far exceeds that of microwave. The truth… we were wrong. These microwave meals transcended all of our preconceived notions. So, all we can really say at this point is: YUUUUUUUUUUUUUUUUUUUUUMMMMMMMMMMMMMMMM!
Variety of Meal Options: Finally, a criteria that you can trust the data instead of our long-winded explanations. There are several dozen options (usually around 30) to choose from each week with seasonally adjusted options.
Health Conscious Options: Health can mean so many different things to everyone. Seriously, try getting a paleo, keto, vegan, & plant-based person to agree on what's "healthy". As for what we can say about this services' "health conscious options": your doctor and your personal trainer will be happy with your eating habits.
Specific Diet Options (Keto, GF, Vegan, etc): Have you ever read one of those "best" or "top" review lists where everything just sounds too good to be true? Were you already thinking that about this #1 recommendation so far? Well, it's not all 5-stars & blue ribbon winners for this category. Unfortunately, this is not the area where our #1 recommendation shines brightest. All of the meals are gluten-free, but this service won't check any of your keto, vegan, or hard-core paleo specific boxes.
Time Spent to Prepare the Meal & Cleanup Afterwards: Way less time than you've already spent reading this guide. Really, you could make all the meals in the box in less time than it would take you to read this guide. It's as simple as zippity zap in the microwave and toss it in the trash (I mean recycling bin) afterwards.
Regional Availability & Day of Week Delivery Schedule: Nationwide, 7 days a week. If you are fighting with your spouse, partner, roommate or dog as to whether or not to buy this service and they were hoping that it would all come down to not being available in your area… they're gonna have to find another point to argue about. And, just so you can prove them wrong, here's the order link where you can see the delivery regions.
How Stinking Hard it is to CANCEL!: Think about the last time your internet went out and you called customer support. Now think about the refund experience you last had with Amazon? Our #1 prepared meal service isn't quite to the level of Amazon, but it's close.
And the winner is…..
We've eaten a lot of food, zapped a ton of meals in the microwave, and dirtied our fair share of dishes to figure out the best prepared meal delivery service for people with a busy lifestyle. We tried the good and the bad, so that you can stick to just the winners. So, without further adieu, our #1 prepared meal service for people with a busy lifestyle is…..