Terra's Kitchen
Meal Kits, Smoothies, Snacks & Sides - Freshness Guaranteed
Craving homecooked meals without all the dicing, slicing, washing, and prep work that comes with other meal delivery services? Offering a menu with over 50+ meals, Terra's Kitchen sends pre-portioned, fresh-prepped ingredients to your door, so you can have food cooked and on the table in just 15-30 minutes. Filter meals by dietary restriction (paleo, vegan, vegetarian, and more!) or by protein type. You can add on additional salads, smoothies, snacks, juices, plus extra proteins and sides. Everything is individually-priced, giving you the flexibility to create a meal plan that accommodates your lifestyle. TK uses a cutting-edge, reusable vessel for all shipments to ensure sustainability and the freshness of your food.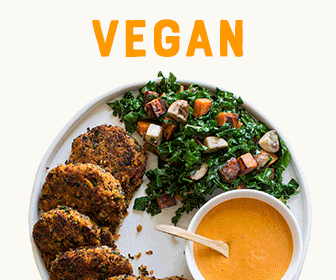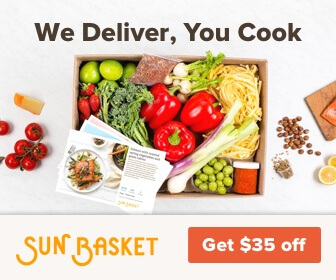 Featured Advertiser
Terra's Kitchen FAQ:
How much does Terra's Kitchen cost?
Entrees and sides are priced a la carte:
How many calories are in the typical Terra's Kitchen meal?
How long does it take to cook a Terra's Kitchen meal?
The typical TK meal takes just 15-30 minutes to whip up. Each meal listed includes a "Time to Table" letting you know approximately how long it will take. For example, these Grilled Chicken Tacos with Avocado Goat Cheese are listed as 30 minutes time to table.
When are Terra's Kitchen meals delivered?
Meals are delivered between 8 AM and 9 PM, but delivery day varies according to delivery area. To check the exact dates available for your delivery, start the signup process and enter your zip code.
How much does shipping cost?
Shipping is free with a $62.99 minimum order.
Are there places where Terra's Kitchen doesn't ship?
How do you skip a week of Terra's Kitchen meals?
TK allows users to skip deliveries for up to 4 weeks at a time. You must skip your next delivery a week prior to the delivery alert.
How do you cancel Terra's Kitchen?
Cancel online in your "Account Settings". Under the Subscription Settings, you can click "Cancel my Subscription".
See Current Menu
Sponsored Promotion
Terra's Kitchen
Get $35 Off
Meal Kits + sides, snacks, & smoothies. 50+ recipes to choose from.
Claim Deal